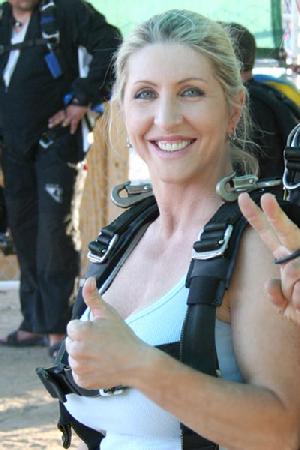 Skye Blue, all dressed up and ready to go. Down. Real fast.
July 12, 2006
Skye Blue hits the airwaves
The directrix tells the story of her latest (mis)adventures shooting people skydiving on Playboy Radio's Night Calls tonight. Here's the detail:

Skye Blue Shares Skydiving Feature Secrets on Playboy Radio.
Los Angeles, CA -- Platinum Blue CEO and President, Skye Blue, returns to
Playboy Radio Wednesday night, July 12, for Night Calls Radio as a guest
of Christy Canyon and Ginger Lynn. The show will be live from 4:00 to
7:00pm PDT through Sirius channel 198.
Skye's coming in to talk about her adventures while skydiving with porn
stars last week for an upcoming Platinum Blue feature, tentatively
called 'Airgasm.' Six porn stars took the plunge for the piece, and lots
of fucking was filmed in the hangars of the desert airfield.
Skye Blue's company has been up to quite a bit lately. Skye's hardcore
girl/girl piece 'Shock Pussy' went on the shelves this week. The
successful pro-am series 'Miami Maidens' 7 ships out this week and
Jennifer James' 'The Fed Who Loved Me' releases July 19. Platinum Blue
Distribution's 'Forbidden Fantasies' and 'Latin Extreme 2' just received
AAAA ratings this month. "Summer Slump" hasn't been evident at
Platinum Blue Productions and Distribution.
To see stills, trailers, and more of what Skye Blue's been up to, check
out
www.PlatinumBlueProductions.com
and
www.PlatinumBlueDVD.com
. Fans can
also check out
www.SummerSkyes.com
.
July 7, 2006
"Kinks in the armor"
Luke: "What do you think of AVN?"
Greg: "I suspect there are kinks in that armor. I bet a significant number of their advertisers are well behind on payment. If you look at the magazine, it hasn't gotten any bigger over the years. I bet that's why AVN has gotten so big in the consumer trade show business.
"If you want an honest to God trade publication, there's none finer than XBiz."

The possible re-direction of AVN from a magazine that delivers advertising to video stores to a consumer-show promoter is interesting. Would production companies be more or less likely to exhibit at AVN consumer shows if the magazine is further marginalized?


He writes books, too
Adam & Eve's Phil Harvey honored

Humanitarian award honors decades of leadership, including using proceeds of Adam & Eve to fund sex education and family planning programs in underdeveloped countries. Here's the story:

President and Founder of PHE, Inc Phil Harvey Receives AASECT Humanitarian Award

Hillsborough, NC -- Phil Harvey, President and Founder of PHE, Inc., the parent company of Adam & Eve, was honored on Friday, June 30, 2006, with the AASECT (American Association of Sexuality Educators, Counselors and Therapists) Humanitarian Award.

Held in St. Louis, Missouri, at the 38th annual AASECT Conference, this four-day workshop culminated with an Awards Luncheon attended by the most respected names in sexual education.

Lloyd Sinclair, a long-time AASECT member (and Adam & Eve colleague), presented the AASECT Humanitarian Award to Harvey for his outstanding contributions to the promotion of civil, sexual and human rights.

During the awards ceremony, Sinclair emphasized the crucial turning points in Harvey's career: from Harvey's initial selling of condoms by mail in the U.S. in 1970, when it was still illegal to do so... to fighting for First Amendment Rights in Adam & Eve's battle with the Justice Department (1986-1992), including a lawsuit which eliminated the "multiple, simultaneous" government prosecution strategy that annihilated a dozen other adult business... to choosing to institute a screening process for all Adam & Eve videos/DVDs, ensuring that the company provides only "sex positive" material... to Harvey's generous contributions to programs that promote reproductive health, family planning and AIDS prevention in some of the world's poorest countries.

"I am proud to be recognized by such a fine and compassionate group of professionals," says Harvey. "It is an honor to be a part of your organization."


Eva Angelina
Uh-oh
Eva Angelina is dancing this weekend, but it looks like she's unclear on the concept of where she'll be doing it. There's a difference between Hollywood and North Hollywood. Hollywood is glamour, pink stars on the sidewalks, Grauman's Chinese, street lights that sweep the sky like searchlights at a movie premiere. The venue for Ms. Angelina is in North Hollywood, in the shadow of Bob Hope Airport and near several all-night 49-cent taco restaurants. Not that there's anything wrong with that, I live a five-minute drive away from there. Press release, with appropriate emendations, follows:
EVA ANGELINA Comes to Create Havoc in (North) Hollywood This Weekend!
(Hollywood, Ca.) Superstar of Adult Entertainment, Eva Angelina returns to the (North) Hollywood scene this weekend by taking the stage at the Blue Zebra Cabaret Gentlemen's Club!
Everything everyone has loved about Eva Angelina's on screen performances, her incredible beauty, her ferocious sexuality, her extreme energy, is going to be brought to the stage as she sexily strips down!
This July 6-8th, Eva, in front of what is sure to be a packed audience, will be turning the volume up to 11 and give her faithful legion of fans the stage show they are ecstatic for.
"I can't wait to rock (North) Hollywood! It's the 'City of Stars' so I'm going to make these shows extra special" An enthusiastic Angelina said "My shows are fun and full of energy, this time my personal goal is to top them all!"
Eva has become one of the most popular Pornstars of the last few years with her incredible sexual performances in XXX Dvd's like Wicked Pictures' "The Cure Eternal" (for which she received a nom. for Best Supporting Actress from The Temptation Awards) ," Evil Angel's "The Hacienda," & Hustler's "The Perfect Date."
The Chinese/Cuban cutie's incredible talents have earned the 21 year old a nomination for 2006 Performer of the Year from Nightmoves magazine. A remarkable feat, to be sure.
If you want to see one of the hottest girls in porn do her thing, this weekend, the Blue Zebra is the only place to be. Eva Angelina will be there.
Eva Angelina @ The Blue Zebra
July 6-8th
Blue Zebra Cabaret
6872 Farmdale Avenue
North Hollywood, California 91606
http://www.bluezebracabaret.com/
Might as well go all the way
An unlikely candidate throws his hat in the ring for the 2008 election:
http://www.zod2008.com/
Monica Lewinsky nostalgia
Remember the good old days when the biggest problem facing the country was whether the president was getting blowjobs from a twenty-something intern? This guy does.
http://www.deanfriedman.net/flash/2006/IMissMonica/I_Miss_Monica-01b.html
Your escort for the evening
Have a Sunny night
Lethal Hardcore is offering a lucky fan a date with Sunny Lane, and just to sweeten the pot, the date is to a Ted Nugent concert. Have a look:
Lethal Hardcore's Win a Date With Sunny Lane Contest in Final Month
CHATSWORTH, Calif. - With less than a month left before a winner is chosen, the clock is ticking fast on Lethal Hardcore's latest contest, Win a Date With Sunny Lane.
One lucky enthusiast of Lane and Lethal Hardcore will win a date with her to see Ted Nugent on Aug. 19 in Los Angeles. Fans can enter at
www.stoneycurtisxxx.com/contest.php
, and a winner will be announced the week of Aug. 7. Tickets, a limousine to the concert and, of course, the award-nominated actress are included.
"We're excited to be able to offer them this once-in-a-lifetime opportunity to go to a rockin' Ted Nugent concert with one of the hottest X-rated stars for all the support our fans have given us," Stoney Curtis, owner of Lethal Hardcore, said. "I urge any fan of Lethal Hardcore and Sunny to enter the contest."
Lane shared Curtis' enthusiasm for the upcoming chance to show her fans the appreciation they've shown her since she's entered the adult video industry.
"I wish all my fans could win this contest -- but that one lucky fan who does win that date with me to see Ted is going to have a rockin' night!" Lane exclaimed. "I hope all my fans enter the contest!"
For more information visit
stoneycurtisxxx.com
. Distributors may e-mail Mike Ott at celestialproductions (at) socal.rr.com
Mainstream movies
The L.A. County Museum of Art starts a retrospective of Stanley Donen movies tonight with a screening of
Singin' In The Rain
and
Movie Movie
, and a Saturday screening of the classic
Charade
(where Donen out-Hitchcocks Hitchcock) and the sophisticated comedy
Indiscreet
.
Singin' In The Rain
is particularly impressive in the shared experience of a movie theatre: I saw it in 1973 at the Art Museum as part of a Great American Films retrospective, and the enthusiastic applause at the end turned into full-on insanity as co-director Gene Kelly walked on stage and received a
20-minute standing ovation
. If you haven't seen these movies on a big screen do yourself a favor and check 'em out.
http://lacma.org/programs/FilmListing.aspx#donen
A shock to the pussy
Skye Blue is getting back in the saddle, so to speak, with a new hardcore girl/girl line using foreign objects, as the phrase goes. Take a look:
Platinum Blue Jolts Porn Fans with 'Shock Pussy' 1
Chatsworth, CA -- Platinum Blue is stunning the industry July 5th, with the debut of the high voltage new hardcore girl/girl line, 'Shock Pussy'.
Skye Blue produces and directs the line herself. "I went back to my roots on 'Shock Pussy'," Blue said Monday before her upcoming skydiving shoot. "This goes back to my days working with Bruce Seven."
Directed by Skye Blue and starring Mistress Aradia, Dana DeArmond, Ariel X and Naudia Nyce, 'Shock Pussy' delivers voltage to the eyes with neon electric play, bizarre sex machines, guns, magnum bottles, pearls, lots of latex, water balloons, milk and... umbrellas? It's certainly not your average girl/girl movie.
"I love having sex with anything plastic," Ariel X said on the set. "I don't really have to tell them to do anything." Ariel gets it on with Naudia Nyce in a scene with vibrators, and fucking machines while decked out in green latex.
Naudia Nyce was stoked to do the scene with her "I've fucked this girl like a lesbian, electrocuted her, and she's asked me to stick stuff in her ass." Nyce proceeded to zap Ariel with a "violet wand" a device that delivers a scratch-like shock through neon tubes.
'Shock Pussy' starts shipping July 5th. To order 'Shock Pussy', and other exclusively distributed titles from Platinum Blue, see
PlatinumBlueProductions.com
, or contact Skye Blue at skye (at) platinumblueproductions.com.
I think she wore more on TV
Lori Lust is back and Janice Dickinson had her

One-time model Dickinson gives a number of models the once-over on her Oxygen TV show and comes out the better for it, according to the latest missive from Miss Lust Her Own Self.

Lori Lust on Janice Dickinson show 2x National TV

Lori Lust was on National mainstream TV twice in front of millions of viewers last 2 weeks due to the Janice Dickinson show on Oxygen TV.

She even had so much exposure that Janice even announced her whole name during the TV interview. Many compliments came from the mouth of Janice Dickinson the Super Model as she analyzed Miss Lusts entire body and presence. This was the same interview where Janice completely bashed the entire line of 20 girls before getting to Lori Lust.

What might shock the entire world is the girl who's known as the best body in the Industry actually received the stamp of approval to be on the show as one of the finalists before her director came in the room? He said she had to be over 5'7" tall. But the director said her body and beauty was amazing and she would be perfect for pinup, lingerie or fitness modeling during the interview.

We asked Lori Lust what she thought of the whole entire ordeal and she replied,

"I was so happy Janice didn't bash me like she did all the other models. One playboy model she ripped to shreds and made her cry right before she talked to me so I didn't know what to expect. I felt so honored when she picked me for the show. The crew interviewed me and my promoter like four 15 minute spots so I think I might be on the show some more times before it's over. Some even asked for my autographs and comp cards.

Janice Dickinson still said she loved my look and personality. She added that she might use me on some reality shows that she has coming up. Janice took all my information, modeling cards, plus two workout videos and gave me a hug. Kinda neat experience when you consider who she is and what she has accomplished. Either way for Janice Dickinson to like me that much, it made my day."

So Lori Lust scores high ranks with approval on National TV again. She is one of the few porn stars that has the presence and ability to please the mainstream elite. Not only her body but her personality seem to win the hearts of even the hardest critics.

It's easy to see why this girl who is like a chameleon can fit almost anywhere or in front of any audience you place her in. With this diversity adult and mainstream could almost put her anywhere. Anywhere could mean everywhere in the future as porn grows to find it's next generation of elite porn stars.


That's "Ducky" with a "D"
July 6, 2006
Darklady gets Ducky this afternoon
Writer/sex teacher/et cetera Ducky DooLittle sits down and talks with Darklady this afternoon on her Sexposé Internet radio program, which, it says here, runs at 2:00pm PST, but could well be PDT. It'll be available as a podcast if you miss it.
Darklady's "Sexposé"
Thursday, July 6, 2006
2:00pm PST/5:00pm EST
YNOTRadio.com
Log on. Listen. Join in the chat room conversation.
TOPIC: Sex and performance art w/Ducky DooLittle
GUEST:
Ducky DooLittle:
www.duckydoolittle.com
Ducky DooLittle has done a lot of clever and creative things while spreading sexual education and positivity throughout the country. She's been a Times Square peepshow girl, a stripper, a pro-domme, and a clown; she's sat on birthday cakes, used both flip books and flip charts, worked in New York City emergency rooms, and been trained by Planned Parenthood. Now she's penned "Sex with the Lights On," her first book.
Join Darklady for yet another lively online conversation, this time with the ebullient and articulate Ducky DooLittle, newlywed, writer, comic, and sex educator. Find out how Knockers the Clown became the cool and sophisticated beauty gracing the cover of the new "Sex with the Lights On" book and website – and where she's going from here. All this and more awaits you on "Darklady's "Sexposé."
"Darklady's "Sexposé" is re-broadcast on Wednesdays at 9am PST, Saturdays & Sundays at 9pm PST -- and archived NOW online. Podcasts are available via
http://feeds.ynotradio.com/sexpose
.
UPCOMING TOPICS:
07-13-06 = Maturing with brains and beauty in porn w/Tina Tyler
07-20-06 = Sex and the documentary process w/Noel Lawrence
07-27-06 = Fidelity and sex worker memoirs w/Tracy Quan
08-03-06 = Best of Darklady: Strap-ons and foot sex w/Brittany Andrews & Collin Rae
-- Darklady
Assistant editor, YNOT.com
Host, "Darklady's Sexpose," YNOTRadio.com
www.darklady.com
Shy Love
Shy Love starts tour in Riverside County tonight
The performer spends her next three weekends showing off her assets at two feature gigs in SoCal and one in Colorado. Note carefully, the Blue Zebra is the one over by Dodger Stadium, not the venue in North Hollywood.
Shy Love's National tour continues full swing in the month of July
Latina Sensation in your lap for another consecutive month!
(Canoga Park, CA) Feature Entertainer Shy Love's Crazy July Feature Dance Appearance Schedule is getting more exciting every day.
July promises a great deal of fan interaction with the Latina Sex Sensation, Shy Love. She will be appearing at three separate strip clubs this month, for a continuation of her ongoing national feature dance tour.
Shy kicks off with a 3 day visit to Spearmint Rhino Gentleman's Club in Rialto, California. Fans will be able to watch the Newest Hustler Contract Star slip and slide all over the stage and all over them as well. She will begin on Thursday, July 6th and follow with shows on Friday and Saturday night the 7th and 8th.
Next up, Shy leaves sunny California for the beautiful mountains of Colorado Springs, CO. Here Shy will be featured at the famous Appaloosa Gentleman's Club beginning Thursday July 13th, with performances on Friday and Saturday nights as well.
Last on the July tour schedule, Shy comes back home to Los Angeles where fans can go and meet her up close and personal at the Blue Zebra Gentleman's Club. Love will be appearing for another three night set of shows. The fun begins on Thursday July 20th and continues on Friday and Saturday night the 21st and 22nd.
The Sex Goddess will give individual attention to all those that are tough enough to handle her in their laps. Be there to experiences the sinsational sexuality of this bombshell first hand, be assured you will remember it forever.
Rialto Rhino is located at:
312 S. Riverside Ave., Rialto, CA 92376
Appaloosa Gentleman's Club is located at:
5975 Terminal Ave, Colorado Springs, Colorado,
Blue Zebra Gentleman's Club is located at:
2662 Lacy St, @ Ave 26 S of Figueroa, Los Angeles, California, USA
For more information on Shy Love or Shy's national tour schedule visit
www.shylove.com
Gina Lynn in NYC tonight
A DVD release party. Full details in the art. I love stuff like this. "No bottle service crap 2 enter V.I.P.!" You don't see things like that in L.A. They talk about valet parking.
Jenna Jameson, in her working clothes
Jenna's got the buzz
Apparently that recent Playboy-buys-Club-Jenna news item sent a lot of people to find out who this Jenna Jameson chick was. More people searched Jenna than searched a number of mainstream celebrities, including recently-married Nicole Kidman and recently-a-mother Angelina Jolie. Have a look:
JENNA JAMESON CLIMBS TO THIRD PLACE IN ACESHOWBIZ.COM CELEBRITY BUZZ INTERNET SEARCH RANKING
SCOTTSDALE, ARIZONA – Adult megastar Jenna Jameson has climbed to third place in the authoritative
AceShowbiz.com Celebrity Buzz
June 2006 ranking of most-searched celebrities on the Internet. By moving up a notch in the rankings, she displaced crossover-singing group IL Divo and beat out Mariah Carey (4) and Nicole Kidman (5) and Angelina Jolie (6).
Jameson was in the news in June when her own film production and multi-media management company, ClubJenna, Inc., was acquired by Playboy Enterprises (NYSE: PLA).
AceShowbiz is a popular entertainment online resource for entertainment news. With tens of thousands of readers daily, AceShowbiz is able to measure interest in specific celebrities.
Thai trip on tap

Ghost Pro adds a special extra something to one copy of Asian Suck Dolls: A free trip to Thailand, with a seven-day stay in Bangkok, and the joke you just came up with is just as good as whatever I could cobble up. Here's the detail:

Ghost Pro, distributed by Fifth Element is sponsoring an amazing GIVEAWAY to win a FREE trip to Thailand.

Do you remember Willy Wonka & the Chocolate Factory? Well instead of purchasing a candy bar and searching for the golden ticket in the package, Ghost Pro is authoring ONE special disk with a winning message for this chance of a lifetime vacation in the Land of Smiles! That's right, a simple purchase of Asian Suck Dolls v.1 DVD and you might be the lucky winner.

GRAND PRIZE: One winner will receive round-trip air transportation for one (1) from a major commercial airport in the continental U.S., Canada, Mexico, or Europe nearest the winner's home to Bangkok, Thailand. After flying to Bangkok, the winner will spend 7 nights at The Nana Hotel.

HOW TO PLAY: 1) Purchase or Rent any Asian Suck Dolls Volume One (1) DVD at any adult retail outlet or online store. 2) Open package, place DVD in any compatible DVD player. 3) Winner will receive the following message: Congratulations, you're the Grand Prize winner of a FREE trip to Thailand. Further instructions, including a redemption security code will be displayed on the winning disk.

Political poop

Limbaugh off the hook on latest prescription drug violation:
http://www.forbes.com/entrepreneurs/feeds/ap/2006/07/05/ap2859334.html

Alleged tranny Ann Coulter faces plagiarism investigation:
http://www.tpmmuckraker.com/archives/001055.php

Anti-abortion forces get clever. Buy building, evict abortion clinic:
http://www.duluthsuperior.com/mld/duluthsuperior/news/nation/14933355.htm

Pepsi helps foil Coca-Cola industrial-espionage plot

A guy who offered to sell Pepsi trade secrets stolen from the Coca-Cola Company has been arrested after Pepsi officials alerted Coca-Cola executives to the offer. The Coca-Cola Company called the FBI.

Quote of the day: Pepsi spokesman Dave DeCecco: "We only did what any responsible company would do. Competition can sometimes be fierce, but it also must be fair and legal."

Here's the story, from the Atlanta Journal-Constitution: http://www.ajc.com/business/content/business/coke/stories/0706cokeinfo.html



Ridin' high
Will Rider is adding to his portfolio. This weekend I was listening to Conway and Whitman on KLSX and they said how Rider had been there the other day (although with all the re-running on talk radio this week, "the other day" could have been months ago) and here we see that his videos are heading up the charts and with
Britney Spears 3
on the horizon next month he might be able to pull off a trifecta.
WILL RIDER ENJOYS 2nd CONSECUTIVE TOP 5 SMASH HIT
(HOLLYWOOD, CA) In today's highly competitive arena of adult DVD sales, it's quite an accomplishment when a movie breaks into the top of the sales charts. Even more impressive is when a movie director whose name is not Jules Jordan enjoys back to back consecutive hit titles.
Such is the case for fast rising director Will Rider as he enjoys his second consecutive smash hit near the top of the sales charts with Hustler's
Barely Legal School Girls
which sits in the # 5 position this week.
Barely Legal School Girls
follows closely on the heals of the mega smash hit movie
Britney Rears 2
which peaked at #2 a few weeks ago making it one of the biggest selling movies of 2006. With his latest hit, Rider is enjoying back to back chart topping hits as a sophomore director and cementing himself as a 'go to' hit maker.
"Hey, this is great and I couldn't be happier especially during this summer season with having some big smash hits. I try to have fun with every movie I direct and porn lovers of America seem to really enjoy this type of approach," Rider stated during a lunch at a Melrose eatery.
Known mostly for his humorous slant on younger-girl sex, Rider is getting noticed across the board. "Will Rider is becoming a new prince of the young and fun stuff," stated Drew Rosenfeld creative director of Hustler Video. "His movies are always among our biggest selling titles and we have great hopes for the third installment of the Britney Rears feature franchise. This guy just pays attention to every single detail, gets really cute girls and has a ton of fun making movies. Have you seen
Britney Rears 2
yet?"
In fact Britney Rears 3, due out on August 22nd seems poised to be Will Rider's biggest hit yet as the ever popular Hillary Scott wears the Britney Rears crown in what is rumored to be a spectacular movie of sights and sounds. With a flashback time machine journey, the disco themed
Britney Rears 3: Britney Gets Shafted
promises to be late summer's breakthrough hit.
"Oh man,
Britney Rears 3
is going to be a really fun movie that will be a lot of fun for everybody plus, I know the sex is the best I have ever shot. Hillary Scott is making a wonderful transition from gonzo princess to big time superstar," Rider rejoiced.
With current back to back hit movies, another mega-smash hit title on the way, the sky's the limit for Will Rider in his quest to direct and deliver fun loving porn for every man and woman on the planet. "Isn't this supposed to be fun?" Rider said while working on his latest movie starring Latina beauty Jasmine Byrne which pokes some new fun at celebrity status.
Look for
Barely Legal School Girls
and
Britney Rears 2
where fine adult movies are sold.
Check out
www.hustlervideo.com
for more information.
For sales inquiries contact: David Diamond, Hustler Video, ddiamond (at) lfp.com
New Tera title set for July 18 release

The titular tootsie heads to the tropics where she cavorts with a group of well-chosen performers, heading into uncharted territory, apparently, if the "all-anal" designation is accurate. Here's the latest:

TERADISE ISLAND

Studio: Teravision

Release Date: July 18, 2006

Tera Patrick, arguably the most gorgeous starlet in adult film, is marooned in a lush tropical paradise; Teradise Island. The land of forbidden sex, and unbridled passion. Tera Patrick, Nikki Benz, Lucy Lee, Alexis Amore, and Britney Skye, all taste the fruits of lust at the hands of Tommy Gunn, Kris Knight and Spyder Jonez, in this nonstop action - feeding frenzy of anal debauchery. Gorgeous landscapes, waterfalls and breathtaking ocean views are surrounded by crashing waves and magnificent sunsets. Creating the perfect backdrop for this all vingette series, which will prove to be an instant classic. Never before has there been a more beautiful exploration into the forbidden passage.

DVD Features:
SPECIAL! Behind the Scenes Footage - Photo Galleries & More!

Including a Video Sneak Peek at Teradise Island 2 - Plus Special Edition Collectors Packaging with Teradise Island 2 photos on the box

Shot In HD
Joanna Angel illustrates the concept
July 5, 2006
Help put the "boob" in Booble.com
Booble.com, which has developed a logo that illustrates the "boob," is seeking volunteer models to help spread the message. Strip to the waist, hold this sign in your right hand, hold that sign in your left hand, put your tits in the middle, and voilà! Here's the detail. If you know a pair of tits that could use some exposure, tell Booble that Tod sent ya.
Booble.com Wants You to Become a Booble Girl
Los Angeles, CA - Booble.com - the Internet's top adult search engine and porn directory – today announced it is converting its popular Booble fan sign program, in which adult models placed their OOs in between the big "B" and little "ble", into a full fledged contest.
Beginning July 1, Booble visitors will be able to vote on their favorite Booble cover girl every month. Winning models will receive a cash prize of $500, and entry into an annual contest which will award $5,000 to the winning model. Monthly Winners are automatically entered in annual contest.
"The first two models who gave us fan signs with their awesome OOs in between were Justine Sands and Zenia Hart," explained Booble founder and CEO Bob Smart. "Then at the AEE expo in Vegas, Joanna Angel, Jesse Jane and Shy Love helped us out, and we were off to the races." Booble has since received over 50 fan signs from some of the most popular models in adult entertainment, including Kelly Madison, Vicky Vette, and Taylor Wane. Kick Ass Pictures, Danni.com, Matt's Models, Naughty America, and BurningAngel have all contributed multiple models and have signed on as sponsors, promising to help more models help Booble, and hopefully help themselves to prize money. "These chicks love to put the boobs in Booble," says Smart. "It's fun, and it's funny. There is no better aphrodisiac than laughter."
The contest is open to professional models over the age of 18 only – meaning: you must have a web site or cam show, or appear on a web site or cam site, or appear in at least one commercially released DVD. All models must use the fan sign provided by Booble. A winner will be selected by the users of booble.com every month. Winning models will receive a cash prize of $500, and entry into an annual contest, which will award $5,000 to the winning model. Monthly Winners are automatically entered in annual contest.
Booble currently posts all the fan signs at
booble.com/fansigns
, but a beta version of the new contest site, which will also be promoted from Booble.com home page, visited by nearly two million unique visitors every month, is available now at
fansigns.booble.com
.
She's Shy, but she's workin' on it
Hustler gets Shy
Performer Shy Love has signed a new exclusive contract with Hustler Video. The contract calls for her to both perform and direct, but details of the contract – like length and number of productions – were not disclosed. Love's first project under the contract, a vid she directed called
Shy Love's Mass Destruction
, is expected next month. (Betcha a buck that they emphasize "ass" on the cover.) Here's the press release:
SHY LOVES HUSTLER
(HOLLYWOOD, CA) Adult film star Shy Love has signed an exclusive contract with Hustler Video. The joint enterprise is intended to promote the Shy Love brand under the coveted Hustler name.
The stunning Shy Love is one of the industry's most successful female performer/director combinations, and her new Hustler contract will emphasize her expertise in both areas. There are two essential components to the Hustler/Love deal: Love will appear as an exclusive Contract Star, performing in a number of Hustler titles, and she will direct her own line for LFP Video.
Jeff Hawkins, Senior Vice-President of LFP Video, comments, "I'm extremely excited to have a girl of Shy's caliber represent Hustler. She is a quality director, and we can't wait to work with her in all aspects."
Love's decision to sign the exclusive deal with Hustler Video was based chiefly on her prior relationship with the adult-industry giant. Shy says of the deal, "On a personal level, Hustler has been like family to me over the past three years. On a business level, working with an established company like Hustler will give me the opportunity to achieve more than I could by myself."
Love, who holds a master's degree in both accounting and taxation, is a skilled businesswoman who sees the partnership with Hustler as a means of expanding her name recognition and branding, while retaining her creative power.
Creative Director Drew Rosenfeld has a more practical reason for his enthusiasm about Shy Love joining the Hustler family. He stated, "We welcome Shy Love to the Hustler Contract Girl lineup. Shy is an extremely versatile performer, and we're excited about capturing all her talents as we put together her first big project."
Love's directorial debut for LFP Video, SHY LOVE'S MASS DESTRUCTION, will be released with much anticipation in August.
For marketing inquiries contact David Schlesinger at davids (at) lfp.com

One of the signs of the apocalypse
New Jersey plans to close its casinos in state budget dispute. One of the immutable laws of the universe is that gamblers keep gambling regardless, so you never close the gambling tables. SOMEbody didn't get the memo in Jersey.
http://news.yahoo.com/s/ap/20060705/ap_on_re_us/new_jersey_budget
All this time I was reading Kafka
Turns out they were taking a page from Brecht. Ya learn something every day.
http://www.huffingtonpost.com/frank-dwyer/the-resistible-rise-of-ge_b_24344.html

One less name for the January 2009 pardon list
Enron crook and crony of Our Esteemed President Kenneth Lay has reportedly died in a last-ditch attempt to avoid being sentenced after his conviction on conspiracy and fraud charges. Lee Atwater, Richard Nixon, John Mitchell and H.R. Haldeman have formed a committee to welcome him to Hell.
http://money.cnn.com/2006/07/05/news/newsmakers/lay_death/index.htm?cnn=yes
Our Esteemed President: I am shocked, shocked that the New York Times blew the whistle on my bank-spying program
Yep. Administration members had been gloating about it for years.
http://mediamatters.org/items/200607010004
News item: Shane Diesel has a big dick

Diesel is featured in the latest edition of New Sensations big-dick series "It's Huge," and if you're wondering who the audience is for this -- join the club. Press release follows:

VENGEANCE XXX GOES SUPER SIZE WITH IT'S HUGE 2

CHATSWORTH, Calif. – Vengeance XXX, the interracial division industry powerhouse New Sensations, has announced the upcoming release of It's Huge 2 featuring superstar Shane Diesel.

This latest installment features gorgeous new starlets Vanessa Figueroa in a rare interracial scene, the unsinkable Mysti May, Gwen Diamond, Sierra Sin and naturally big-breasted Carmella.

But the biggest selling point is its male cast, which includes Diesel. According to company President Scott Taylor, "Shane is a phenomenon. Sales of his products are unlike anything we have ever experienced."

Diesel, the star of Digital Sin's I Can't Believe I Took The Whole Thing and Blackzilla series, shares the spotlight with new comer Justin Long, who is also poised to make quite an impact with his formidable size.

"Vengeance XXX was created to give the fans of interracial and black on black product, a single production line to focus on. With Shane in this product we feel that it will broaden our fan base and acquaint more people to the brand and our quality" states Marketing Director Michael Siegle.
It's Huge 2 hits the streets July 3. For sales inquiries please contact johnm@newsensations.com


Those eyes look familiar...
Oh jeez

The diseased minds at JM Productions have opened up the vaults and put out a video of outtakes. This looks good.

JM Productions to Release Porn's Most Outrageous Outtakes

A hilarious look into the crazy world of pornography as only JM could deliver.
Chatsworth, CA – As anyone works behind-the-scenes in the porn world could tell you, every day is full of a unique blend of challenges, crises, and a patchwork of human drama that is unmatched in perhaps all other industries. This X-Rated insanity is rarely seen by outsiders, until now, that is. That's because, JM Productions is set to release Porn's Most Outrageous Outtakes, much to the pleasure of discerning perverts and porn fans everywhere.
For over 13 years now, JM Productions has been creating its unique and innovative brand of porn for consumers. Innovation in any field often poses many challenges. In porn, these creative challenges manifest themselves in countless catfights, meltdowns, bloopers, and leakage of various creepy bodily fluids. This is certainly stuff the whores (aka 'porn stars') don't want you to see. But thankfully, JM's cameras have been rolling and have captured it all for your viewing pleasure!
Porn's Most Outrageous Outtakes
contains over 2 hours of the most insane footage you'll ever see from the sets of JM's extremely popular series including American Bukkake, Gag Factor, Attention Whores, Lesbian Bukkake, White Trash Whore, and many more.
Each segment is preceded by an insightful and enlightening introduction from director Jim Powers into the circumstances surrounding the video clips. "We have gone through the immense JM video archive and selected only the most intense and hilarious moments we've ever lensed," explains Powers, "Shooting porn is a truly fucked up lifestyle and a lot of the fans don't realize what kind of drama goes on at these shoots. Now they can get a glimpse of what this life is like without having to worry about being beaten to death by a whore's angry boyfriend."
Porn's Most Outrageous Outtakes will have a tremendous appeal to casual fans of porn that are not yet familiar with JM, as well as those already familiar with the company's brand of hardcore filth. The DVD hits the streets on July 10th. For more information or to acquire your copy please visit
Jerkoffzone.com
on the web!
Is that a strap-on, or are you just glad to see me?
Quandary
Black Widow turns the tables on anal sex, giving the female performers strap-ons and having the guys take it up the caboose. The sound you hear is brains grinding as people ask themselves "If a guy takes it up the ass from a chick, is it gay?" No answers here, but if you want to look at it to help you make up your mind...
Black Widow's
Pegging 101
an Education in Anally-Receptive Men
NORTH HOLLYWOOD, Calif. -
Pegging 101
, in stores now from Black Widow Productions, features dildo packing femme fatales and is an introductory course to an anal movie of a different kind.
Starring Georgia Peach, Tyla Wynn, Kinzie Kenner, Jeanie Marie, Vixen and Annie Cruz,
Pegging 101
also features a cast of male newcomers, including John Bone, Scott, Antwon and Tom Dong.
Jeffery Warren, director of the title, said he stumbled onto the term pegging -- referring to men who enjoy anal sex from women with strap-ons -- while doing the initial preproduction work of the title.
"I've seen pegging in a scene here and there in a few different movies, but never an entire title devoted to it until now," Warren said. "The guys are all-new, and I recruited them from Web sites that pegging enthusiasts frequent. The girls also really seemed to like it - they had an opportunity to work out all their frustrations and be on the giving end of an anal scene for once, rather than the receiving."
Pegging 101
adds another original title to Black Widow's lineup, Lisa, head of sales for the company, said.
"There's definitely a market for
Pegging 101
and adult product today is all about catering to as many different fans as you can with as wide range of a catalog as a company can gather," she said. "While many companies are churning out the same titles everyone's seen, Black Widow will put out innovative DVDs for adult consumers."
To order go to
www.blackwidowproductions.com
. Distributors may contact Lisa
at lisa (at) blackwidowproductions.com.
July 4, 2006
What it's all about

Two hundred and thirty years ago, this statement against tyrrany was signed, declaring to the world that we had had quite enough of the colonial leadership and we were going to strike out on our own.
This would be a good day to read it.
IN CONGRESS, JULY 4, 1776

The unanimous Declaration of the thirteen united States of America

When in the Course of human events it becomes necessary for one people to dissolve the political bands which have connected them with another and to assume among the powers of the earth, the separate and equal station to which the Laws of Nature and of Nature's God entitle them, a decent respect to the opinions of mankind requires that they should declare the causes which impel them to the separation.

We hold these truths to be self-evident, that all men are created equal, that they are endowed by their Creator with certain unalienable Rights, that among these are Life, Liberty and the pursuit of Happiness. — That to secure these rights, Governments are instituted among Men, deriving their just powers from the consent of the governed, — That whenever any Form of Government becomes destructive of these ends, it is the Right of the People to alter or to abolish it, and to institute new Government, laying its foundation on such principles and organizing its powers in such form, as to them shall seem most likely to effect their Safety and Happiness. Prudence, indeed, will dictate that Governments long established should not be changed for light and transient causes; and accordingly all experience hath shewn that mankind are more disposed to suffer, while evils are sufferable than to right themselves by abolishing the forms to which they are accustomed. But when a long train of abuses and usurpations, pursuing invariably the same Object evinces a design to reduce them under absolute Despotism, it is their right, it is their duty, to throw off such Government, and to provide new Guards for their future security. — Such has been the patient sufferance of these Colonies; and such is now the necessity which constrains them to alter their former Systems of Government. The history of the present King of Great Britain is a history of repeated injuries and usurpations, all having in direct object the establishment of an absolute Tyranny over these States. To prove this, let Facts be submitted to a candid world.

He has refused his Assent to Laws, the most wholesome and necessary for the public good.

He has forbidden his Governors to pass Laws of immediate and pressing importance, unless suspended in their operation till his Assent should be obtained; and when so suspended, he has utterly neglected to attend to them.

He has refused to pass other Laws for the accommodation of large districts of people, unless those people would relinquish the right of Representation in the Legislature, a right inestimable to them and formidable to tyrants only.

He has called together legislative bodies at places unusual, uncomfortable, and distant from the depository of their Public Records, for the sole purpose of fatiguing them into compliance with his measures.

He has dissolved Representative Houses repeatedly, for opposing with manly firmness his invasions on the rights of the people.

He has refused for a long time, after such dissolutions, to cause others to be elected, whereby the Legislative Powers, incapable of Annihilation, have returned to the People at large for their exercise; the State remaining in the mean time exposed to all the dangers of invasion from without, and convulsions within.

He has endeavoured to prevent the population of these States; for that purpose obstructing the Laws for Naturalization of Foreigners; refusing to pass others to encourage their migrations hither, and raising the conditions of new Appropriations of Lands.

He has obstructed the Administration of Justice by refusing his Assent to Laws for establishing Judiciary Powers.

He has made Judges dependent on his Will alone for the tenure of their offices, and the amount and payment of their salaries.

He has erected a multitude of New Offices, and sent hither swarms of Officers to harass our people and eat out their substance.

He has kept among us, in times of peace, Standing Armies without the Consent of our legislatures.

He has affected to render the Military independent of and superior to the Civil Power.

He has combined with others to subject us to a jurisdiction foreign to our constitution, and unacknowledged by our laws; giving his Assent to their Acts of pretended Legislation:

For quartering large bodies of armed troops among us:

For protecting them, by a mock Trial from punishment for any Murders which they should commit on the Inhabitants of these States:

For cutting off our Trade with all parts of the world:

For imposing Taxes on us without our Consent:

For depriving us in many cases, of the benefit of Trial by Jury:

For transporting us beyond Seas to be tried for pretended offences:

For abolishing the free System of English Laws in a neighbouring Province, establishing therein an Arbitrary government, and enlarging its Boundaries so as to render it at once an example and fit instrument for introducing the same absolute rule into these Colonies

For taking away our Charters, abolishing our most valuable Laws and altering fundamentally the Forms of our Governments:

For suspending our own Legislatures, and declaring themselves invested with power to legislate for us in all cases whatsoever.

He has abdicated Government here, by declaring us out of his Protection and waging War against us.

He has plundered our seas, ravaged our coasts, burnt our towns, and destroyed the lives of our people.

He is at this time transporting large Armies of foreign Mercenaries to compleat the works of death, desolation, and tyranny, already begun with circumstances of Cruelty & Perfidy scarcely paralleled in the most barbarous ages, and totally unworthy the Head of a civilized nation.

He has constrained our fellow Citizens taken Captive on the high Seas to bear Arms against their Country, to become the executioners of their friends and Brethren, or to fall themselves by their Hands.

He has excited domestic insurrections amongst us, and has endeavoured to bring on the inhabitants of our frontiers, the merciless Indian Savages whose known rule of warfare, is an undistinguished destruction of all ages, sexes and conditions.

In every stage of these Oppressions We have Petitioned for Redress in the most humble terms: Our repeated Petitions have been answered only by repeated injury. A Prince, whose character is thus marked by every act which may define a Tyrant, is unfit to be the ruler of a free people.

Nor have We been wanting in attentions to our British brethren. We have warned them from time to time of attempts by their legislature to extend an unwarrantable jurisdiction over us. We have reminded them of the circumstances of our emigration and settlement here. We have appealed to their native justice and magnanimity, and we have conjured them by the ties of our common kindred. to disavow these usurpations, which would inevitably interrupt our connections and correspondence. They too have been deaf to the voice of justice and of consanguinity. We must, therefore, acquiesce in the necessity, which denounces our Separation, and hold them, as we hold the rest of mankind, Enemies in War, in Peace Friends.

We, therefore, the Representatives of the United States of America, in General Congress, Assembled, appealing to the Supreme Judge of the world for the rectitude of our intentions, do, in the Name, and by Authority of the good People of these Colonies, solemnly publish and declare, That these United Colonies are, and of Right ought to be Free and Independent States, that they are Absolved from all Allegiance to the British Crown, and that all political connection between them and the State of Great Britain, is and ought to be totally dissolved; and that as Free and Independent States, they have full Power to levy War, conclude Peace contract Alliances, establish Commerce, and to do all other Acts and Things which Independent States may of right do. — And for the support of this Declaration, with a firm reliance on the protection of Divine Providence, we mutually pledge to each other our Lives, our Fortunes and our sacred Honor.

— John Hancock
New Hampshire: Josiah Bartlett, William Whipple, Matthew Thornton

Massachusetts: John Hancock, Samuel Adams, John Adams, Robert Treat Paine, Elbridge Gerry

Rhode Island: Stephen Hopkins, William Ellery

Connecticut: Roger Sherman, Samuel Huntington, William Williams, Oliver Wolcott

New York: William Floyd, Philip Livingston, Francis Lewis, Lewis Morris

New Jersey: Richard Stockton, John Witherspoon, Francis Hopkinson, John Hart, Abraham Clark

Pennsylvania: Robert Morris, Benjamin Rush, Benjamin Franklin, John Morton, George Clymer, James Smith, George Taylor, James Wilson, George Ross

Delaware: Caesar Rodney, George Read, Thomas McKean

Maryland: Samuel Chase, William Paca, Thomas Stone, Charles Carroll of Carrollton

Virginia: George Wythe, Richard Henry Lee, Thomas Jefferson, Benjamin Harrison, Thomas Nelson, Jr., Francis Lightfoot Lee, Carter Braxton

North Carolina: William Hooper, Joseph Hewes, John Penn

South Carolina: Edward Rutledge, Thomas Heyward, Jr., Thomas Lynch, Jr., Arthur Middleton

Georgia: Button Gwinnett, Lyman Hall, George Walton

Go throttle up
Looks like there's going to be a shuttle launch today, on the Fourth of July, even though there seems to be a problem with foam insulation on the outside of the vehicle.

Am I the only one who remembers the last time a shuttle launch was allegedly forced by the White House for public relations purposes, so the shuttle astronauts could be shown raptly listening to Ronald Reagan's State of the Union speech?
Just asking.
July 3, 2006
Jimmy D is back!
Jimmy D., a fine director and an excellent writer, has overcome his computer doldrums and is back on-line, passing along his opinions and observations. If you know Jimmy's work, all you need is the URL. If you aren't familiar with his blog, bookmark this at once and get that way:
http://www.simplyjimmyd.com/
Welcome back, my friend.
Stormy. Coming soon to a theatre near you.
Stormy gets Black Widow for her mainstream repping
Wicked Pictures contract performer/director Stormy Daniels has signed with Black Widow's for mainstream gigs. There certainly ought to be a demand for a busty blonde who is okay with getting naked on camera. Here's the press release:
Stormy Daniels Signs With Black Widow Talent for Mainstream Hollywood Work
NORTH HOLLYWOOD, Calif. — Stormy Daniels, award winning Wicked contract performer and writer/director, inked a deal with Black Widow Talent to represent her mainstream casting interests.
Daniels appeared in the mainstream film The 40 Year-Old Virgin and is an accomplished actor in the adult genre, garnering a Best Supporting Actress – Video award for her role in Camp Cuddly Pines Powertool Massacre. She also contributed to the title's Best Screenplay – Video win.
"I am looking forward to working with Black Widow to help expand my mainstream exposure," Daniels said. "I believe that this will be a successful and mutually beneficial partnership and I cannot wait to get started!"
Though Black Widow Talent will only represent Daniels for mainstream casting, the opportunities she hopes to develop through the company represents how Ric Williams, president of the company and a former mainstream Hollywood agent, plans on differentiating his talent agency from others in the XXX industry by offering adult and non-adult work.
Williams said, "Stormy is a great addition to Black Widow Talent, and we are very appreciative of the confidence she has put in us. She will be our flag carrier as we educate the mainstream on the advantage of using adult stars with their huge fan bases in mainstream movies, TV and commercials."
For more information, contact Ric Williams at ric (at) bwtalent.com or visit
www.talentbw.com
for adult casting needs; Black Widow Talent's mainstream site, www.bwtalent.com, is under development.
Vivid ankles LFP, inks new distrib pact with Pulse

Vivid's distribution agreement with LFP ends August 1 and Vivid's new distributor will be Pulse, led by former LFP honcho Jim Kohls. Vivid's sales staff will set up shop at Pulse as well. Press release follows:

VIVID ENTERTAINMENT SIGNS AGREEMENT WITH PULSE DISTRIBUTION

LOS ANGELES –Vivid Entertainment Group, the world's leading producer of adult films, has signed an exclusive U.S. retail distribution agreement for its DVDs with Pulse Distribution, a fast-growing Chatsworth, California firm headed by industry veterans James Kohls and Mark Hamilton.

The agreement takes effect on August 1st, at which time Vivid's dedicated retail distribution staff will move to Pulse from Larry Flynt Publications (LFP), which has handled Vivid's retail distribution since August 2002.

"We've looked at our options going forward and I think that working with Jim Kohls and Mark Hamilton makes the most sense for us. We think they have a great track record and feel that they are the best guys to handle our product," said Steven Hirsch, co-chairman of Vivid. "We have had an excellent relationship with LFP and we hope to work with the company on other projects in the future."

Pulse has quickly become a leading source for top quality straight and gay adult movies. The company handles a variety of adult brands across all media formats and represents studios with a wide range of styles, from feature films to gonzo releases. Mr. Kohls formerly served as president of the LFP distribution arm.

For Better Or For Worse Copyright © 2006 Lynn Johnston
Resonance
I love comic strips. I have ever since I was a small child. One of the better comic strips has been For Better Or For Worse, done in a no-nonsense style by Lynn Johnston, up in Canada, which you never notice until somebody writes a cheque. Johnston has gone against the grain in her strip, most notably in having her characters age in more-or-less real time, in direct contrast to most strips, which fix their characters at a certain age and keep them there forever. (Dennis the Menace turns six every year, and has since 1950.)
In the strip here, from last week, Johnston outdoes herself. The young woman is Elizabeth, the older daughter of the Patterson family. She was teaching at a remote village of what we used to call "Indians" and now call "Native Americans" but this is Canada so I don't know what the term is, and she has decided not to renew her teaching contract so she is leaving. The village is throwing a farewell ceremony for her.
Years ago -- and I mean, like, 20 years ago -- Elizabeth and her older brother Michael spent most of their time butting heads, as siblings do. In these fights, Michael would address her as "Lizard-breath," a typical adolescent pun on her given name.
Look at the look on her face. She must have told that to Jesse at one time.
This is why I love comic strips. They burrow into your memory and stay there, and years later they reward you.
Thar be pirates ahead
June 29, 2006
Plumbing the Depps
After leaving the Convention Center Sunday afternoon, I treated myself to dinner at the Pantry and while I was eating I thought "Why not head down to Anaheim?" I sailed down the 5 and rolled into the parking structure -- managed to find a good space on the third lap -- and took the tram to the Park.
The people in front of me were AP holders and one was furtively chatting on her cell phone. "The line starts at Big Thunder? Okay." I asked "Is Pirates open?" and she raised a finger to her lips and said "Shhhhh. Yes."
I took a shortcut through the shops on the west side of Main Street and almost took the direct route to Pirates through Adventureland when I saw signs that said "Keep to the right/Adventureland, New Orleans Square, Critter Country access ONLY." Doesn't say "Pirates." Hmmm.
Three Cast Members with clipboards were blocking the entranceway to Frontierland's stockade....
So I cut through Pioneer Mercantile, and walked into a deserted Frontierland, joining the line in front of the Mark Twain dock. The line is disorganized, with teenagers gleefully cutting in and one particularly obnoxious fat oaf with his designer shirt and two self-mobile lifestyle accessories in tow yelling into his cell phone "I CAN'T SEE YOU. YOU'RE BY THE SIGN?" when he might as well say "I'M GOING TO CUT IN FRONT OF ALL YOU PEONS BECAUSE I'M TOO IMPORTANT TO WAIT AND I DESERVE TO GET IN BEFORE YOU DO."
Once we passed under the bridge the line went fast and we were in the boats in no time. I snagged a front-row seat. The 10-year-olds in the row behind me were real excited -- One pointed out the control tower, which has been in exactly the same place since 1967: "That thing hanging over the ride? It's new!" -- and the ride began.
The boats were backed up, inching through the archways before the first drop, and that drop happens in total darkness. When you level off, I noticed the first change -- no vocals in the familiar song. Just instrumental. The skeleton tableaux are pretty much the same way they were, although they have been tidied. A skeleton of a parrot has been added to the Captain's Quarters. In the tunnel leading to the bombardment, there is a waterfall effect, projected on a mist screen, where Bill Nighy's Davy Jones warns you that there's trouble ahead.
The fort bombardment is pretty much the same, although Paul Frees' hearty anonymous pirate has been replaced by a figure of a more-diffident Geoffrey Rush. The Mayor getting dunked in the well is being asked where Jack Sparrow is, and here it gets interesting: Jack is standing right behind them, between the Mayor-dunking and the Bride Auction. Another Jack Sparrow figure is hiding in the barrel behind the Pooped Pirate, who is now holding a treasure map which Jack is trying to read.
The Jack Sparrow Audio-Animatronic figures are amazing, fully animated and lifelike. You'll think Johnny Depp is there. We finally hear the familiar lyric when we pass the trio-with-donkey, and it's the same familiar voice track.
There is one more Jack Sparrow figure, in a small stagey area where the two pirates used to be trying to pull the treasure up the hill. He's at ease, rocking back and forth in a chair, surrounded by gold treasure, a gold chalice in his hand, musing and saying things like "C'mon in, plenty of treasure for everybody."
A worthwhile improvement to the long-standing ride.
This was a sentimental journey for me. Long ago, on a family trip to the park, I saw the sign on the storefront that said "Pirates of the Caribbean" and walked into the soft opening of the original ride. This last weekend, almost 40 years later, I did it again.
Matters political
ABC News Blotter says Our Esteemed President blundered into al-Qaeda's trap. No wonder the administration is tracking their cell phone calls.
http://blogs.abcnews.com/theblotter/2006/06/al_qaeda_strate.html
Republican smear machine at work: Republican chickenhawk George Allen attacks Jim Webb for opposing the proposed flag-burning amendment. Webb is a former marine who served in Vietnam, receiving the Navy Cross, the Silver Star Medal, two Bronze Star Medals, and two Purple Hearts. Allen is the son of football coach George Allen, supported Nixon and the Vietnam war but managed to avoid service in the war he supported, go figure:
http://news.yahoo.com/s/ap/20060628/ap_on_el_se/virginia_flag_burning
XBiz reports that Net Neutrality took a hit in the Senate:
http://www.xbiz.com/news_piece.php?id=15746
Wanna play with Amy Reid?

Here's your chance. And you don't have to lose that last ten pounds, check your breath, or buy her dinner either. Here's the info:

Digital Sin Set to Release My Plaything Amy Ried

(Chatsworth, CA) - Digital Sin announced today that July 13 is the release date for the next installment in the worldwide best selling My Plaything series, featuring model turned porn star, Amy Ried.

Ried, who embodies the ultimate male fantasy with measurements of 36DD-23-35, gained immense popularity after appearing in several men's magazines including High Society, Club and Cheri and Playboy TV's Spice Hotel. "It was such an honor to be chosen as a Plaything," beams Ried "I can't wait to see the final product. It's going to be awesome!"

Digital Sin's award winning My Plaything series continues to solidify its reputation as the premier interactive sex simulator with this latest addition. My Plaything Amy Ried will include several hours of interactive video, a bonus scene of a spontaneous on set coupling between Ried and superstar woodsman Erik Everhard, an in depth interview, strip teases, and the multitude of features that fans have grown to love.

Series creator/director Tyrone Shuz remarks, "Amy is gorgeous and was great to work with. This product is a must have for her fans as well as the legions of those she is about to be exposed to."

For more information regarding My Plaything Amy Ried, contact Belle Casten at sales (at) digitalsindvd.com


I was not thinking of a clit stimulator when I first read this

A long time ago, a friend of mine set out to restore the complete three-hour version of the 1954 George Cukor-directed Judy Garland vehicle A Star Is Born. He spent weeks searching the film vaults under Warner Bros., finding a film believed lost and an unused print of a Bette Davis classic, but not A Star Is Born. He did, however, find a complete soundtrack, and with judicious use of stills and clips from the Warner Bros. stock footage library, restored the missing visuals to the film.

In one part of the film, James Mason, playing dissipated movie star Norman Maine, is dispatched to a sanitarium to dry out and he is accompanied by a mountain of a bodyguard who he introduces as "Cuddles, my soclal secretary."

So when I saw this new doodad called "Cuddles" I thought of this big hulking guy trying to keep booze out of the hands of a drunk movie star. Try to avoid thinking of this as you read about this new stimulator from Doc Johnson.

Doc Johnson's New Cuddles™ Makes Clit Stimulation During Sex Easy

NORTH HOLLYWOOD, Calif. – Women everywhere will simply adore Doc Johnson's Cuddles™, a new novelty that makes it easier for men to stimulate the clitoris during sex.

Cuddles™ is a vibrating soft jelly cock ring with an attached soft jelly clit bumper featuring rows of soft nubs that press against the clitoris during vaginal intercourse. A small vibrating bullet is inserted into the clit bumper, which sits atop the cock ring section of the novelty for enhanced sensation during insertion.

Cuddles™ is equipped with a matching remote control that allows the user to adjust the bullet from a soft steady purr to an energetic buzz with the simple twist of a dial.

Chad Braverman, Doc Johnson's product design and licensing manager, expects men will be just as pleased with Cuddles™. "Men will barely notice that they are wearing it," he said. "The bullet is placed in a position that maximizes clitoral vibration, but does not impede function or produce an awkward sensation for the male."

June 28, 2004

Reynolds to Adam & Eve

Industry veteran Peter Reynolds joins Adam & Eve, taking a high position in the sales and marketing department.

Adam & Eve Pictures Hires Peter Reynolds as Vice President of Sales and Marketing

Hillsborough, NC -- Adam & Eve Pictures is proud to announce that Peter Reynolds will become the Vice President of sales and Marketing for the company. Peter most recently was the Vice President of Sales and Marketing for VCA Pictures.

Bob Christian, Vice President of new business for Adam & Eve, is excited about the hiring, "Adam & Eve Pictures is thrilled that Peter Reynolds will be joining us as Vice President of Sales and Marketing. Peter brings to Adam & Eve over 20 years of adult industry experience, and a proven track record in innovative marketing, sales and promotion. His fresh perspective and creative mind plus his experience in all aspects of the adult industry and production processes will be a key in Adam & Eve Pictures' continued growth."

Peter Reynolds is thrilled with the opportunity. "I am looking forward to using all of my expertise and experience to increase Adam and Eve's market share and help build the Adam and Eve brand worldwide."

While working for VCA, Peter put a lot of time and effort into the revitalization of the VCA line. Prior to VCA, Peter was the national sales manager for Barzoon Entertainment (formerly Leisure Time Entertainment). In his career, Peter was the national sales manager for Vivid Film/Vivid Raw, and General Manager for Zane Entertainment/Fantastic Pictures.

"All in all, Peter brings a unique diversity to Adam & Eve," says Christian.


Temptation Awards scores major media sponsorship
The Canadian-based porn awards, to be held at the Beverly Hilton Hotel, sign on a major media sponsor in XBiz, the new source for adult-industry news. Have a look at the latest news:
TEMPTATION AWARDS™ ANNOUNCES XBIZ AS OFFICIAL MEDIA SPONSOR
(Los Angeles, CA) Temptation Awards™ is excited to announce XBiz™ as their official media sponsor. The merging of XBiz™ and Temptation News creates effective coverage of the event. XBiz™'s exclusive coverage provides further legitimacy and acknowledgement providing an unbiased overview of the event. With sponsorships by
HotMovies.com
, E-Omega Solution, and
Adult DVD Empire
, plus XBiz™ as official media sponsor the Temptation Awards™ is rounding out to be an enchanting night for all of the adult industry. Temptation News, the acclaimed Canadian news outlet will produce the first ever Temptation Awards™, July 29th, at the exclusive Beverly Hilton Hotel in Beverly Hills, California. The addition of XBiz™ confirms the level of glamour and prominence the Temptation Awards™ shall provide the adult industry.
The Temptation Awards™ is a top-notch Canadian based adult awards ceremony. The joining of American and Canadian founded industry news leader XBiz™ and Temptation News gives adds clout and authenticity to the already stellar awards show, continuing the international acceptance of all facets in the adult industry. Commenting on the merger Temptation News CEO George Whitty stated "It is my great joy to announce XBiz™ as the official media sponsor. Having a key industry news source such as XBiz™ participate ensures the awards excellence in quality and execution. With our stronghold in Canada and theirs in the States it is equally advantageous for both to reach untapped markets." Company spokesperson Su Mac verifies XBiz™ is equally excited to sponsor saying, "XBiz™ is pleased to be the official media sponsor of the Temptation Awards™. We look forward to covering this highly anticipated awards ceremony."
Temptation News has remaining sponsorship packages and advertising space available for companies interested in involvement in this elite award show, Inquires can be made by emailing sales (at) temptationnews.com <mailto:sales (at) temptationnews.com> .
The Temptation Awards™ sequence of events begins with outdoor red-carpet. Invitees will enjoy cocktails and hors d'oeuvres in the Beverly Hilton's International Terrace. Following the cocktail party attendees move to the glamorous International Ballroom. The show, hosted by Wicked Pictures' jessica drake, will commence with a four course meal prepared by the Beverly Hilton's executive chefs with awards ceremony to follow. Tickets are available for purchase now; those securing a table receive a preferred rate. Single tickets are also available. All none affiliated talent must RSVP In order to secure reservations, as they are on a first come first serve basis with priority to all nominated studios and talent. Place your request for tickets by emailing rsvp (at) temptationawards.com.
Pre-nominations for all straight award categories finalized Friday June 9, 2006, with official nominations to be announced in July. Gay adult industry pre-nominations are open now; those looking to register can submit their pre-noms online at
www.TemptationAwards.com
, for access request login user name and password by emailing prenoms (at) temptationawards.com. For more information on the Temptation Awards™, log on to their official website at
www.TemptationAwards.com
.
XBiz™ is the industry source for breaking news and business information.
Jake Malone gets his wings
Director joins Stagliano's crew, under the usual Evil Angel you-own-it-we-distribute-it deal, which puts the money in the pockets of the director-producers instead of The Man. Here's the info:
Jake Malone Finds Home with Evil Angel
Director Jake Malone has officially started his own production company which will be distributed through Evil Angel Productions.
Malone will have ownership of his product, which is a key trademark of the distribution system of Evil Angel. Company owner John Stagliano knows from experience that if a director or producer owns the product, he's going to put 100% of his effort and personality into it. The customer will notice the difference, and both the director and the distribution company will benefit from consumer loyalty.
Stagliano's praise of Jake is evident. "Jake Malone is the most underrated director in porn today. I'm really happy to have Manuel Ferrara and Jake back together. They have done incredible work for each other. Jake uses props, wardrobe, personality and rough sex as well as anyone I've ever seen."
For his part, Jake is excited about his new production family. "I've always wanted to be at Evil Angel. It was what I always aspired to. Of course the ownership of product is a really great thing. Also, I know that they care about the directors and the quality of the product that the directors do. I am looking forward to being really creative with all of my scenes, and a fresh new start."
Karen Stagliano, head of PR at Evil Angel, says that the first time that John introduced her to Jake, he told of how the first scene that Jake directed was of Kitty Yung, Tiffany Mynx and Randy West. That scene went on to win an award for Best Anal Scene. "Jake is one of the most creatively perverted people I've had the pleasure of meeting. I can't have a single conversation with him without hearing about a new idea he has that he wants to direct. I can't wait to be around that kind of energy on a daily basis."
Evil Angel is home to industry-leading directors John Stagliano, Joey Silvera, John Leslie, Belladonna, Justin Slayer, Rocco Siffredi, Christoph Clark, Jonni Darkko, Nacho Vidal, Erik Everhard, Manuel Ferrara and Harmony.
For the latest from Evil Angel, go to
www.evilangel.com
.
They'll be bustin' out all over in July, too
Digital Playground jumps gun, puts out trailer before Friday
The latest collection of Jack porn,
Jack's Big Tit Show 2
, hits the streets in a couple of weeks, but there's a trailer you can download right now, all you have to do is click on the link. I saw it and I give it a "D."
Cup.
DIGITAL PLAYGROUND RELEASES "JACK'S BIG TIT SHOW # 2"
Digital Playground is pleased to announce the release of "Jack's Big Tit Show # 2." Shot entirely on HD, Jack is busy casting music videos and he's on the hunt for big, beautiful boobies. They bounce, they jiggle and they shake. There's more than a mouthful, more than a handful - plenty of big boobies bursting out of their bras. We don't know what band is going to use the footage on MTV but we guarantee that all the bands are going to use the footage for something! Put it in and pull it out. We dare you! There's a lot of tease and a lot of action and it's all entertaining! Forget professional... this volume is all about big, hot, bouncing boobs! It's hot and kinky and Jack's found a new niche, complete with a cum-shot recap option. "Jack's Big Tit Show # 2" will quench your thirst for boobs when it hits the streets on July 13th.
In volume 2 of this delicious show, the amazingly beautiful, Krystal Steal takes over with a scrumptious fuck and suck spectacle and her fine boobs on display. Then Rebecca Love delivers the most talented titty fuck we've ever seen and Erik Everhard surely agrees. Not to be outdone by her predecessors, Jada Fires takes Marco in her tight little ass and then begs him to "cum on her big, fat, mother fuckin' titties." Sara Stone unleashes her monster titties and Marco Banderas unleashes his load. This is followed up with the very blonde and very cute Sophia, who does an intense anal scene with Erik before he pops all over her jiggling bosom. DP founder, Joone is pleased with the series, "Jack's Playground has done very well for us and organizing brand new, big boob footage within the fun series is a winning combination."
"Jack's Big Tit Show # 2" will street July 13th on DVD.
The video trailer for "Jack's Big Tit Show # 2," can be viewed and downloaded NOW:
http://www.digitalplayground.com/mov/jackbigtit2.html
Please direct all sales inquiries to Sue (at) DigitalPlayground.com or Peggy (at) DigitalPlayground.com
The flag desecration amendment didn't pass, so this is still legal
Supreme court OKs most of Tom DeLay's Texas gerrymander, says by 7-2 vote that states can "re-district" whenever they like:
http://www.washingtonpost.com/wp-dyn/content/article/2006/06/28/AR2006062800660.html
Rush Limbaugh
allegedly
in trouble for illegal possession of prescription drugs. Again. This time it's Viagra. Why the highly-moral currently-single waver of the right-wing flag would need hard-on pills is anybody's guess. Click
here
for the story.
Haw haw. Limbaugh claimed he got them at the Clinton Library gift shop. No word on how Limbaugh's doctor's name got on the pill bottle.
http://www.pantagraph.com/articles/2006/06/28/news/doc44a18f5750da8021669716.txt
California tries to power-grab cable TV regulation from local communities to state control. I remember when conservatives were against this sort of thing:
http://www.latimes.com/business/la-fi-tvbyphone28jun28,0,4563461.story?coll=la-home-business
Senate lies about Gore movie.
http://thinkprogress.org/2006/06/28/senate-misinformation-gore/
Good
My friend Roger T. Pipe clicked on a recent link I posted about the so-called "terrorist cell" busted by our valiant Homeland Security Department (in one of those rare moments when they weren't handing out seven-figure checks to Halliburton) and he didn't much agree with it, which you can see
here
.
I'm glad of it.
Let's review:
Roger clicked on the link.
He read the story.
He thought about it.
He didn't agree with it.
He
read
it and he
thought about it
. That is more than fair, and all I can ask. I don't expect everybody to agree with me, or with everything I link to. (Sometimes I think it's a little far-out. But interesting and food for thought.) But I make it a point to link to stuff that other sites don't link to, to pass along information that doesn't turn up elsewhere. I thank Roger for giving that BuzzFlash piece a fair hearing, and thoughtfully disagreeing.
Uh....
I spotted this on AdultFYI:
Former AVN'er Heidi Joy Pike apparently has a deal over at New Machine, I'm told, with a series called Fat Bottom Girls.
And I am NOT saying a WORD. Not a peep. Moving on.
Publisher Lyle Stewart passes at 83
Lyle Stewart, whose breakthrough maverick publishing career set the blueprint for lesser publishers, like the one I refer to as "Lyle Stewart with tits," died over the weekend of a heart attack. Stewart pioneered the exploitation book, publishing
The Sensuous Woman
by "J" and
The Anarchist Cookbook
. He sold off his namesake publishing company in 1990, and started another, using a clause in the non-compete agreement to reissue
The Anarchist Cookbook
. Stewart was a true champion of the First Amendment, and his courage and commitment will be missed.
http://www.nytimes.com/2006/06/26/arts/26stuart.html
Lethal Hardcore reels 'em in as they turn 18
Stoney Curtis and company gets close to the legal limit, and there is obviously a generation gap here because when I was a teenager if somebody said he was a porn director and called himself "Charlie Manson" that would end the conversation
right there
in a cloud of dust as the other person would run away as fast as they could. Times have changed.
Five Females Go Pro for Porn in Lethal Hardcore's
Just Turned 18 #4
CHATSWORTH, Calif. — Partying with more than just cake and candles, Lethal Hardcore celebrates five females who've just become legal in the latest volume of its new teen-themed line, Just Turned 18 #4.
Directed by Charlie Manson and featuring Ava Rose, Amanda West, Celena Cross, Jeannie Marie and Allison Pierce, Just Turned 18 #4, in stores now, continues Lethal Hardcore's tradition of shooting the freshest female talent for its swelling legions of fans.
"I like the girls in my movies to be young and nasty," Stoney Curtis, owner of Lethal Hardcore, said. "These girls don't disappoint and we shot over three hours of footage, five scenes -- and another bonus scene -- that made it into this volume of Just Turned 18. Anal, ATMs and gapers –- it's all here for the guys looking for hard XXX gonzo entertainment."
Supersize My Snatch 2
, Lethal Hardcore's upcoming title, features Tiffany in her first anal scene, as well as Mia Knight, Crystal Jordan, Crystal Clear and Isabella Ice.
"We have the girls matched up with some big boys – Jack Napier and Sledge Hammer among a few others," Curtis said. "It's just the thing for any perv who likes to watch white girls get it on with hung black guys."
For more information visit
stoneycurtisxxx.com
. Distributors may email Mike Ott at celestialproductions (at) socal.rr.com.
June 24, 2006

Random Notes From A Red Notebook: Party at The Day After

I went over to Sonny Malone's pied-à-terre, where I had been graciously invited to park my car instead of paying the $20 for parking in the lot... We walked over to The Day After, chatting all the way about Recent Developments In The Adult Industry... First person we run into is Roy Karch, also a Hollywood resident also within walking distance... Steve Nelson... Monstar. Ben English... Jeff Mullen, working the crowd, says "I can't get drunk tonight, I have to work an all-day concert on Northern California tomorrow"... Anh from Wanted List, one of the sponsors of tonight's soirée... Photographer Gordon says "There's too many Todds here," points out director Todd Todd... Cassie Courtland walks in with Ginger Lear, as fireworks go off over the Hollywood Bowl... Shari from All Media Play tries to guide somebody in by cell phone... Todd Todd introduces me to Ava Rose... Tyra Banxxx, who I thought was Marie Luv. Oops... New talent Moxxie Maddron, who professionally spelled her name for me when I asked...

Megan from Shane's World... Tee Reel... Sophie Dee and a contingent of talent... There's a guy standing next to me who looks like Tony Bennett, but he probably isn't... Roy Karch walks in with new talent Kim... Gia Jordan... Cherokee, who is a lot shorter than I remembered. I have to raise my camera over my head to get a picture... Danny from Wanted List, with Hannah Harper... A dark-haired dead-eyed model type struts by. I refer to her as "prematurely blasé," which cracks up Monstar, standing next to me... Brian Surewood. Cousin Stevie, amiably flipping the bird as he walks past the photographers... "It's going to get going at about 11:15," Jeff says, as he stages a scene with photographers taking pictures of a performer, calling "J-Ho" as she walks by... I finally get into the party, having done my extra bit for Jeff's camera... I cell-phone Sonny from the deafening club. She's outside, in the smoking area... I find her sitting on a low couch, by the door, next to Destiny Summers and Alexis Silver, who I recognize from my days at Adam Presents Amateur Porn and Adam Black Video Illustrated.... Alexis and I talk literature for a few minutes... Master Dominic. Brian Gross... Megan from Shane's world buttonholes me, tells me I should interview her new contract girl. I allow that this is not a good time, with all the loud music. She agrees, nodding... The exquisite Katy Zvolerin, from Adam & Eve, who I update about Recent Developments In The Adult Industry... Sunny Lane, just in from shows in New York and Florida. "I met my fans, I always like to do that"...


| | |
| --- | --- |
| Hannah Harper | "M-O-X-X-I-E M-A-D-D-R-O-N" |
| Cherokee | Denize K |
| Stretch Hummer | Cousin Stevie lets his finger do the talking |
| Gia Jordan, Sophie Dee | Emily Evermoore |
| Roy Karch, new talent Kim | "J-HO! J-HO!!" |
Layla Jade, newly brunette
Lisa Marie, who I always think I know until she looks at me blankly and I realize she looks like Serenity, who would recognize me in a heartbeat... Ashley Blue and Hillary Scott... Sonny and I get into a chat with Denize K... Nick East, who I only seem to run into accidentally... A dark-haired big-eyed waif walks up to me, looks up expectantly. "You don't know me, do you?" she asks. I peer into her eyes a moment, then recognize Layla Jade. She looks entirely different, but just as good as she ever did... Bob Christian from Adam & Eve walks by. A couple of years ago, he joined The Lovely Mrs. Hunter, Luc Wylder, Alexandra Silk and myself at an evening at the Magic Castle, a few blocks from here. I wonder if he knows how close we are... It doesn't matter, neither of us is wearing a tie... Holly Randall sees me walking by, grins, waves... Stephanie Swift... I get into a deep coinversation about literature with Scott Fayner. His big book is
The Great Gatsby,
mine is
In Cold Blood
... Kayla Quinn, looking good in an almost-not-there black ensemble.... At 1:50 large, loud bouncers push the crowd toward the stairs... Sonny and I walk back to my car, trading notes about who we saw.
It begins.
Is the fix in?
Our Esteemed President is trying to get Congress to give him a line-item veto. The line-item veto, a pet project of right wingers that Ronald Reagan managed to get as a law until the Supreme Court declared it unconstitutional in 1998. Maybe Our Esteemed President knows what will happen if
this
Supreme Court faces that question.
http://news.yahoo.com/s/ap/20060624/ap_on_go_pr_wh/bush
Our Esteemed President: L'etat, c'est moi
Looks like Bush has decided to overrule the Supreme Court's decision that communities can exercise eminent domain to seize any property they want for any purpose, public or private. I find this interesting when one considers how he became a rich by getting a Texas city to condemn private property so a consortium of rich people – that Our Esteemed President was frontman for – could build a stadium.
http://www.washingtonpost.com/wp-dyn/content/article/2006/06/23/AR2006062301722.html
Fun quiz
Which of these quotes come from Adolf Hitler, and which ones from Ann Coulter? One is a crazed Nazi, the other one is the former leader of Germany. Have a look:
http://www.people.virginia.edu/~jac3he/GiveUpQuiz/hitlercoulterquiz.html
That settles it. It's a spy program.
Alleged
prince of darkness Dick Cheney defended the bank-spying program as an important counterterrorism tool.
http://www.washingtonpost.com/wp-dyn/content/article/2006/06/23/AR2006062300919.html
Click on the image for more information about the show at the L.A. Convention Center
June 23, 2006

Party tonight

Jeff Mullen, the
Perle Mesta
of the porno-American community, works his magic again tonight at The Day After for a kickoff foe the June Show. Have a look:
LIGHTS, CAMERA, GET SOME ACTION! SUMMER BASH 2006
SUMMER KICK-OFF BASH WILL BE PACKED WITH ADULT STARS
(HOLLYWOOD, CA) Dozens of adult industry parties take place each year but few can compare to what is about to take place as the Lights, Camera, Get Some Action! Summer Bash gets set to rock Hollywood at 9PM Friday, June 23rd at the Day After nightclub.
Pure Vanilla, (PV) the leader in anonymous online payments, in association with Adam & Eve, Sex Z Pictures, Sextoy.com and WantedList.com are teaming up to throw a party guaranteed to make this a must-be-there evening as the summer sex celebration gets underway immediately following the first night of Erotica LA.
With a rooftop atmosphere and a bevy of superstar talent, a who's who of top adult stars, directors, mainstream celebrities, industry movers and shakers and gorgeous wannabes, Day After nightclub will be the hottest spot in Tinsel Town as the adult entertainment industry gathers for a spectacular party.
Organized by LA porn party titans All Media Play and Intoxicate U, the Lights, Camera, Get Some Action! Summer Bash will be donating a portion of the proceeds to the Free Speech Coalition.
The red carpet arrivals area will be ablaze in lights as a parade of sexy stars face a barrage of photographers as they make their way into the wild party. Nikki Benz, Video Team's Alexis Amore, Sin City's Hannah Harper, XRCO's Best New Starlet Hillary Scott, Penthouse Pet Charlie Laine, Pet of the Year Jamie Lynn and FOXE Vixen Award winner Sunny Lane will be joined by over 250 of today's top porn stars all partying the night away in grand fashion at the heart of Hollywood and Highland.
An adjacent media room will be abuzz with photographers, media types and national television crews including Gary Garver of the Howard Stern Show capturing the beautiful adult movie stars during this amazing evening.
At the most recent parties thrown by All Media Play and Intoxicate U sex loving souls partied the night away at the massive Dark Angels 2 Burbank bash and the Sex Z Pictures Decline party at the Knitting Factory making it one of the greatest parties of all time. The Lights, Camera, Get Some Action! party promises to deliver everything anyone could want in an amazing bash.
The Free Speech Coalition will be receiving a portion of the proceeds from this party which makes this not only a fun night but an important night as well. Don't miss the Lights Camera, Get Some Action! party because once it's over it's over!
Gentlemen are encouraged to bring as many ladies as they can fit in their car.
Expect this to be a huge bash!!
Friday, June 23rd, 2006
Doors Open @ 9:00pm
The Day After is Located @ 6757 Hollywood Blvd, Hollywood, CA 90028
*Enter through back* *Off Highland-across from Renaissance Hotel*
Keeping up with the Flynts
Xbiz is reporting that Playboy has acquired ClubJenna. The longtime dichotomy of Playboy – where the flagship magazine remains hardcore-free and other elements of the operation are free to cheerfully embrace and exhibit hardcore – is put into sharp focus here.
http://www.xbiz.com/news_piece.php?id=15647
David Lord. No matter what you may have heard before.
Lord to Bad Seed

Director David Lord, noted for his masterful touch with a DVD, moves to more-direct production duties with a new directing pact with Bad Seed, the harder division of Adam & Eve. Good for him, and good for them. Press release follows:

Award-Winning Director David Lord To Direct New Bad Seed DVD Line

Van Nuys, CA Bad Seed DVD, the new gonzo production company distributed through industry giant Adam & Eve, is pleased to announce it has signed award-winning director David Lord for two exclusive lines of Bad Seed titles.

Set to shoot June 19th and the 25th, these two new lines are titled, 'Fresh Young Things,' with all-new faces, and 'The Naturals,' featuring women with 100% natural breasts. Stars Jenna Presley, Vixen, Liv Wilder, Lexi Love and Riley Shy are scheduled for 'Fresh Young Things,' and Amy Reid, Sativa Rose, Carly Kabb, Sara Stone and Gabriella Banks are scheduled for 'The Naturals.'

Lord, an industry veteran since 1988, got his start with Private USA. His sales background led the way to the launch of DVDs with Generation XXX and DVD production with Wicked Pictures. After winning his first major award for the production of 'Euphoria,' he started directing at Evil Angel. His award-winners 'Vault of Whores' and 'Tales from the Crack' are still fan and media favorites today.

I have been lucky to work with some of the best, most creative people in the adult industry,' says Lord. 'My goal is to take today¹s best performers and create the edgiest, most compelling sex scenes I can for Bad Seed.'

Bad Seed Producer MAC says, 'We are ecstatic to be working with David Lord. He has made a name for himself in our industry and are sure he will take us to new levels of creativity and heat.'


Lori Lust, whippin' that bod into shape
Lori Lust drops a line

The blonde hardbody keeps us apprised of the ins and outs of her career, with pictures. Here's the latest report from Lori:

Lori Lust shoots Hustler and Sex Z Pictures features

The best body in the Industry had three four-stared videos in in a row. Now to top that her last two movies to just come out Cheating Wives Tales #2 and Hustlers Desperate Housewhores #5 are getting great reviews for her acting as well as her new improved looks from fans.

The girls pre-nomination for performer of the year also jolted the Industry. So much good news so fast that she's going to do two features for Hustler and Sexy Pictures within the month just for starts.

Craig Stevens her promoter landed her those two gems.

The shooter has followed her career since she set foot in California and thought her acting would fit nicely as well her looks. He also loved her personality.

Could you imagine a Sex Z Pictures DVD release party hosted by Lori Lust. Wow...
Lets cross our fingers because that would definitely be a mega huge event of the year.

So if you had one question to ask Lori what would it be?

One fan asked her what was it about her last two movies that just came out that turned her on so much? What made her so horny? Lori Replied

"I'm so comfortable on set. They gave me so many compliments that I couldn't wait to get onto of them and F--- their brains out.

Lately my shoots seem very enjoyable. I can't wait to rip off all my clothes and let them ravish me.

I don't know if it's my new body or my confidence?

I really love playing with the male and female talent.

Having orgasms on set is also a thing to look forward to. The Cheating Wives tales I was coming so much that Mario Rossi stopped the shoot three times to wipe the cum off. "

Lori Lust seems to be growing in so many directions that her fan base is exploding. But no one ever thought that another one might be her appetite for sex? Could you imagine being the lucky one who actually gets paid to be with this mega babe on set.

They must of felt like they robbed a bank or just won the lottery. Either way these two companies will definately profit on this gem of a girl.


Kelly Madison. Picture courtesy Danni.com
June 19, 2006

Oops

It has been called to my attention that Kelly Madison, whose appearance at the Babes and Aces poker tournament Thursday is mentined below, is the Danni.com Girl of the Month. In order to atone for this oversight, I have posted a big picture of Ms. Madison culled from the Danni.com website and recommend you go over to Danni.com and check her out at once.


NOT starring Erica Gavin as a band member
If you don't know, make it up
The other day I was reading the knockoff of an Erica Gavin interview – part of 20th Century Fox's promo push for their two-disc DVD release of the Russ Meyer classic
Beyond the Valley of the Dolls
– on the
Major Adult Industry Magazine website
and I found this little howler:
The movie featured Gavin as a member of an all-girl rock band which goes to Hollywood to find its fortune, but ends up falling under the influence of a perverted music mogul, nymphomaniacal porn stars and an assortment of sex-crazed characters.
It's not in the interview. It's not in the movie either. The three members of the all-girl rock band were Dolly Read (Miss May 1966), Cynthia Myers (Miss December 1968), and Marcia McBroom (Not a Playmate, but still quite attractive). Erica Gavin isn't in the band, she plays a clothing designer named Roxanne who is also a predatory lesbian who seduces Myers.
Where the hell the writer got the "member of an all-girl rock band" bullshit is beyond me. I think he made it up.
Add Russ Meyer
Russ Meyer's company, RM Films, is discounting his DVDs to $24.95 if you buy two or more before July 15. I recommend
Supevixens, Beneath the Valley of the Ultravixens,
and
Up!
They also have
Vixen
with Erica Gavin and
Faster, Pussycat! Kill! Kill!
, which I think is way overrated and it's in black and white, which is usually a plus but for Russ Meyer it's a drawback, but Mark Kulkis loves it and it does have a lot of fans. Click here for detals:
http://www.rmfilms.com/
Add Beyond the Valley of the Dolls
I bought a copy at Tower, thinking that Costco would never have it in their stock. Costco not only had it, they offered it in a twofer with
Valley of the Dolls
. So I have an extra sealed copy of
Beyond the Valley of the Dolls
. If you want it, it's yours for $20, same as anyplace else. I'll have it with me at PSK tonight.
Add PSK
Flexx from KSEX will be hosting tonight at the weekly convocation at Sardo's where the Porno-American Community can mix and mingle with fans and the occasional slumming mainstream star. I still think I saw George Lucas there once.
"PJ" Flexx to Host This Week's Porn Star Karaoke
Sardo's and the popular KSEXradio Host Invite One and All
BURBANK, CA -- You've probably heard of DJ Flexx--the popular record spinner from Washington DC seen on MTV, BET and heard on radio stations and seen in clubs nationwide. Good. Well, he won't be at Sardo's tomorrow night. But in the interest of bullshit in marketing, Porn Star Karaoke [PSKclub] has come up with the next best thing...PJ Flexx. Yes, that's right, Porn Jockey Flexx from KSEXradio will be on the mic firing up the crowd, giving away free porn and keepin' porn fans satisfied with a wild Tuesday night.
PSKclub is the longest running weekly adult industry event in the history of the Jizz Biz as it nears it's THREE YEAR anniversary. The sexy singing evening got it's start when Wankus of KSEX, Konnie from DVSX and adult star Aria went out for a drink and some karaoke. Within weeks, Sardos Bar was jammin with big named stars like Ginger Lynn, Tera Patrick, Stormy Daniels, Tyler Faith, Stephanie Swift, Ron Jeremy, Monica Mayhem, Britney Skye and Kendra Jade--just to name a few. Mainstream stars are also known to pop in for the fun some of which include Tommy Lee, Mickey Rourke, Ellen DeGeneres, John Goodman and musical group Cypress Hill, to touch on some of the many.
Join PJ Flexx, Kristen and all your adult industry peers this Tuesday night at 9pm at Sardo's Bar, 259 N Pass Avenue in Burbank. Early arriving industry folks can take advantage of reserved seating on a first come first serve basis.
Joanna Angel
Joanna Angel on KROQ tonight

The performer/director/entrepreneur sits down with Dr. Drew on the long-running Loveline to plug the b.a.b.e poker tournament, a personal appearance, and a "surprise announcement." Here's the press release:

Joanna Angel Live On the Loveline Tuesday, June 20th

WHO: Adult Film Star and founder of BurningAngel, Joanna Angel (www.burningangel.com)

WHAT: Live on Loveline, a nationally syndicated talk show hosted by Dr. Drew

WHEN: Tuesday night, June 20th from 10:00pm to midnight – go to http://www.kroq.com/loveline/ for more info and for stations in your area

WHY: To promote her appearances at Erotica LA, the Babes and Aces poker tournament (www.babefoundation.com) at Hollywood Park Casino, and a surprise announcement!
About Joanna Angel:

Joanna Angel, writer, journalist, producer, director, model, and an award winning adult film star, is founder and owner of BurningAngel.com, an independent site that celebrates the intersection of sex and rock n' roll with erotic photos and hardcore XXX movies alongside her interviews with punk and indie bands including Marylin Manson, My Chemical Romance, the Bouncing Souls, and Bad Religion, among many others. Referred to as the "queen of altporn," Joanna has been featured on Playboy TV's "Sexcetera," Fuse TV, KSEX Radio, and in numerous editorials, including the The New York Times, The Village Voice, Time Out New York, The New York Press, Esquire UK, Penthouse, SCREW, XBIZ, Fleshbot, AVN, and Heeb, which featured her on their cover and named her an "up and coming Jew." Joanna holds a B.A. in English from Rutgers University --among her numerous professional and provocative roles, she considers herself a writer above all and documents all her life's experiences in the in her BurningAngel blog, which is revered by intellectuals, hipsters and rock n' rollers across the globe. Joanna also has chapter published in Carly Milne's Naked Ambition, a collection of essays written by women who are changing pornography released by Avalon Press. She is also the new featured sex advice columnist in Spin magazine, beginning in June, 2006.
Arthur Franz, 1920-2006
900-year-old dead actor
You may not know the name Arthur Franz. I was a big fan of his work and when I saw
the obit in the L.A. Times
I thought it was Eduard Franz and I thought "Isn't he dead already?" (I was right, Eduard Franz died in 1983.)
Arthur Franz
was a likeable second-banana actor who was a featured player in the postwar dying days of the studio system and then got a lot of work in TV. He worked a lot with director Edward Dmytryk, and Dmytryk's blacklisting probably didn't help him any. Franz gave a memorable performance in Dmytryk's 1952 drama
The Sniper
, playing a young man who obsessively shoots people with a high-powered rifle. The film used its San Francisco location well and Franz was impressive in his starring role as a victim of his own urges, but it dated badly, with Richard Kiley as a glib psychiatrist who breezily discusses the nature of psychological problems with bemused police detective Adolphe Menjou over chop suey at a Chinese restaurant. The tortured exposition may have been necessary in 1952, but by the time I saw it in a film noir seminar at CSUN in the '70s it was laughable. He was also in a blink-and-you-miss-it supporting role in Dmytryk's
The Caine Mutiny
.
He was 86.
Jesse Jane (rear view)
Jesse Jane and Robby D together again

Jesse Jane is a force of nature. Robby D is a master porn director. Put 'em together, add Marie Luv, Sunny Lane, Roxy DeVille, Holly Wellin and some well-seasoned pro studs and you have a must-see video. Here's the info including a link to a site with the trailer and an image of the cover so you know what to look for when you want to get your own copy.
DIGITAL PLAYGROUND RELEASES "JESSE JANE: SEXUAL FREAK"
Digital Playground is very excited to announce the release of "Jesse Jane: Sexual Freak." Shot entirely on HD, Jesse Jane is at an all time high. Her insatiable lust and her pure power are exploited and showcased under Robby D's artful direction. Watch her take Tommy Gunn under her control, seduce Roxy Deville and Scott Nails simultaneously and order Erik Everhard to his knees. The power of sex is illuminated in this breath-taking Robby D masterpiece, complete with jaw-dropping anal scenes from Marie Luv and Holly Wellin, as well as mind numbing boy / girl fuck fest between Sunny Lane and Marco Banderas. "Jesse Jane: Sexual Freak" will leave you tingling when it hits the streets on June 29th.
DP's exclusive contract star Jesse Jane giggles, "This movie was all about me. I am a sexual freak. Robby created a backdrop and scenarios that allowed me to have total control. This movie was wonderfully fun to make and you'll see how much fun we had goofing off behind-the-scenes and in front of the camera too. It's hot." DP president, Samantha Lewis is pleased with the title: "Jesse is just unstoppable. This movie will do very well in every genre."
"Jesse Jane: Sexual Freak" streets June 29th on DVD.
The video trailer for "Jesse Jane: Sexual Freak," can be viewed and downloaded NOW:
http://www.digitalplayground.com/mov/sexualfreak.html
Please direct all sales inquiries to Sue (at) DigitalPlayground.com or Peggy (at) DigitalPlayground.com
Is it art? Yes.
Colossal Pictures sends out a DVD that's artistic, it says so, right there in the title. Have a look.
Colossal Entertainment Gets 'Artistic' With New Release
NORTH HOLLYWOOD, Calif. — Colossal Entertainment debuts its latest carnal creation,
Artistic Ways to Erotic Sex
, showcasing XXX from an arty perspective.

Artistic Ways to Erotic Sex
— available on stores now — stars Linda, Misty Mild and Lisa Rose.
Michael Glaser, Colossal's vice president of sales, said, "
Artistic Ways to Erotic Sex
is a vignette title that sets up each scene with an eye to the creative, both in setups and with the sex in the scenes. Like our other releases, our fans will find
Artistic Ways to Erotic Sex
full of top notch performances with beautiful women who are eager to please."
Artistic Ways to Erotic Sex
is another fine example of the quality titles Colossal has produced and will continue to produce, Glaser said.
"We're getting ready to put out 12 titles a month but we're still maintaining our quality," Glaser said. "Our fans can rest assured that the quality of
Artistic Ways to Erotic Sex
and our other upcoming titles will continue to meet their expectations."
For more information, visit
colossalent.com
. Distributors may e-mail sales (at) colossalent.com.
Dickless porn

A new all-girl title from Sin City with a pretty impressive cast ships today. Take a look:

"Pink Paradise"

SKU # 707419226082

Synopsis:
There is nothing as sweet as the touch of a woman, the oh-so-forbidden fruit every girl secretly wants to taste, but few dare to take that first juicy bite. Fourteen gorgeous young women are casting aside their inhibitions and giving themselves over to the most exciting, erotic pleasures they have ever experienced. The sensual art of licking, sucking each others dripping wet pussies, probing each others silky smooth bodies with their mouths, their tongues and an arsenal of outrageous sex toys will bring the moans, purrs and the screams of every woman's private sexual fantasy as it becomes an orgasmic reality.

Cast:
Cassie Courtland, Katie Morgan, Ashley Steel, Gina Austin, Taylor Hilton, Angel Cassidy, Randi Wright, Brooke Haven, Samantha Ryan, Dragon Lily, Hannah Harper, Nadia Styles, Brittney Skye, Rita Faltoyano

Director: Brittney Skye

Release Date: 6/21/06
Street Date: 6/28/06

To order, please contact sales representatives Danny Gorman at danny (at) sincityfilms.com or Leah James at leah (at) sincityfilms.com.


The new home of the AVN awards?
June 16, 2006 4:00 pm PDT
Are AVN awards on the road to Mandalay?
Word has it that the January 2007 AVN awards will be held at Mandalay Bay instead of the usual Venetian. I think the Venetian will be happy to be rid of the annual madness as the attendees troop through the casino in what has come to be known as "the gauntlet." More news as it breaks.

June 16, 2006
Don't bother to knock redux

The
New York Times
weighs in on yesterday's Supreme Court decision that it's okeydoke for cops to break into your house without knocking:
http://www.nytimes.com/2006/06/16/opinion/16fri1.html
Fats Waller had a different take on this
A dancer with the Billy Joel show "Movin' Out" got fired because her breasts got bigger. No, really. She's filing a $100 million lawsuit. Have a look.
http://www.washingtonpost.com/wp-dyn/content/article/2006/06/11/AR2006061100966.html
Vivid and Club Jenna sign on for Temptation Awards
The upcoming Canadian awards show – to be held at the Beverly Hilton Hotel, where the Golden Globes are given out each year – gets two major sponsors with Vivid and Club Jenna, adding luster and status to this north-of-the-border addition to the adult awards collection. Have a look.
TEMPTATION AWARDS™ BACKED BY VIVID AND CLUB JENNA
(Los Angeles, CA) Temptation News, the acclaimed Canadian adult news outlet is honored to announce the Temptation Awards™ has the backing of strong industry leaders Vivid and Club Jenna. Their participation confirms all major adult studio support and participation, giving added depth and fortitude to the glamorous awards show, to be held at the exclusive Beverly Hilton Hotel at 7:30 p.m. on Saturday, July 29th, in Beverly Hills, California.
Temptation News CEO and founder George Whitty is ecstatic with the support of Vivid and Club Jenna beaming, "Vivid and Club Jenna are two instrumental studios in our industry, having their support definitely provides further class and glamour to the wonderful night. With all major studios on-board there is a well rounded selection of pre-noms providing an accurate, fair and exciting awards show." Vivid spokesperson Howard Levine couldn't be more pleased responding, "We can't wait to participate in the Temptation Awards. In the last year Vivid has released some unbelievable films with four and five star reviews. It is exciting to be able to include our stellar movies in the nominations. I am positive this will be a great event for all of our industry to enjoy."
Seeking an opportunity to offer a stylish and sexy show, George Whitty, created the Temptation Awards™. Through this Canadian based awards show, Temptation News is increasing their efforts to promote the international acceptance of the all facets of the adult industry. Launching the first awards in grandiose Hollywood style, the Beverly Hilton proves the prefect backdrop for the first Temptation Awards™.
Temptation News with sponsors Hot Movies, E-Omega Solutions and Adult DVD Empire continue the awards luxurious and extravagant atmosphere with starlet jessica drake hosting, and sexy presenters from all major studios to include Vivid and Club Jenna playing a major role in the magical atmosphere. The Temptation Awards™ is positioned to be an amazing and memorable evening. Tickets are available now and can be ordered online. In order to secure VIP tables reservations are a must, as they are on a first come first serve basis. Place your request by emailing rsvp (at) temptationawards.com.
Temptation News has remaining sponsorship packages and advertising space available for companies interested in involvement in this elite award show, Inquires can be made by emailing sales (at) temptationnews.com.
For more information on the Temptation Awards™, and to enter pre-nominations, log on to their official website at
www.TemptationAwards.com
.
Kelly Madison
Kelly Madison on the radio today

Performer Kelly Madison beats the drum for the upcoming Babes and Aces poker tournament on Power 106 and the Disney-owned KLOS.

Kelly Madison Live On Power 106 and 95.5 KLOS in Los Angeles on Friday, June 16th!

WHO: Adult Film Star Kelly Madison (www.kellymadison.com)

WHAT: Live KPWR-FM 105.9 Power 106 in Los Angeles and 95.5 KLOS-FM in Los Angeles

WHEN: Friday, June 16th at 4:00pm on Power 106, and 11:00pm on KLOS-FM

WHY: To promote the Babes and Aces poker tournament being held Thursday, June 22nd at Hollywood Park and Casino (go to www.babefoundation.com for more info), and b.a.b.e at Erotica LA next weekend at the Los Angeles Convention Center

Even though Kelly Madison's natural 34 FF's standout as the adult entertainer's most obvious assets, the busty brunette considers her brains and her business acumen just as critical to the success of 413 Productions, the adult production company Kelly runs alongside, Ryan, her husband and frequent co-star. Kelly not only stars alongside her husband in 413 Productions titles such as the successful Web enterprise KellyMadison.com and the enormously popular Porn Fidelity series, which features Kelly and Ryan sharing some of the most beautiful women in adult entertainment, she also handles the finances of her rapidly growing adult enterprise, are rare combination of sexual and fiscal prowess.


The "offensive" logo
Booble out in front

A car sponsored by adult search engine Booble wins a race in Kansas despite the opposition of some people who found the company logo – with its line-drawing of bare breasts – offensive. Here's the story:

On Your Mark... Get Set... Booble Racing!
Booble Team Wins Inaugural Race at Heartland Park Topeka

Los Angeles, CA -- Booble.com – the Internet's top adult search engine and porn directory – is taking to the race courses of America with Booble Racing. Started in 2005, Peter Zekert of Zekert Racing met with the owners of Booble to discuss advertising on one of his race cars. After meeting with Booble, both companies agreed to run 2005 with the single Booble race car and the Booble Racing web site. And Booble Racing was born.

Peter Zekert, driver of the Booble Racing Nissan 200SX, won Sunday's Sports Car Club of America (SCCA) GTLite race at Heartland Park Topeka, a huge win for the team. In qualifying, Zekert and team Booble placed second in GTLite with a time of 1:59.750 on the smooth 14 turn racing course. At the start of Sunday's race, Zekert made his move going into the first turn and opened a three car length lead over the pole position driver. Zekert and Team Booble were home free, but unaware of their lead. "The radios were not working and I couldn't tell how big of a lead I had," stated Zekert. "I kept pushing the car hard thinking that the other driver would come on strong. If I knew how big of a lead I had, I would have been easier on the car. But we won and that's the important thing!" This fall, Heartland Park Topeka will host the SCCA National Championship Runoff Races where Zekert and team Booble hope to contend for the 2006 GTLite National Championship.


Good thing they didn't use this logo, featuring Taylor Wane.
Peter describes the initial hysteria of Booble racing. "A week before my first race as the Booble car, I got calls from the SCCA headquarters and from the Executive Steward telling me I could not run as the car appeared in the web site. Stewards (the primary law enforcement agent at the racetrack) were at my trailer at 7am Saturday morning telling me I could not run."
But Peter fought back, stating the following rule: ADVERTISEMENTS AND GRAPHICS, Advertising and graphics (names, symbols and logos) may be displayed on cars provided they are in good taste and do not interfere with identification marks and SCCA logos.
Finally the Chief Steward, Ken Patterson, took Peter aside and said, "I personally don't care what you do, but I'm getting a lot of heat from upstairs to find a way to keep you off the track. If you could just cover the nipples then I could say that I kept the breasts off the track". Peter decided to cover the nipples with white vinyl and took off racing. "That afternoon, two of the girls/women who work in the hospitality area came over and checked out the Booble logo. Unbeknownst to me, they snuck out to WalMart, got some bicycle streamers and came back that night and made tassels for the front boobs and took black tape, covered the side boobs and wrote the word "Censored."
Throughout the 2005 season, every chief steward made a personal trip to Peter's camp to tell him he couldn't run. Every time, he raced. Peter took Booble racing to 13 races in 2005, including the year-end championship Runoffs on Speed TV.
In 2006 Booble Racing expanded, adding racers and cars all over the country. Recently, Peter has worked with a few of the series promoters and marketing officials, as well as the drivers themselves, who run in the Drift series and Formula D. With the new Fast and The Furious movie featuring Drifting, Booble is on target to bring the Booble Racing minds to yes another part of the racing world. "We have found that Booble Racing can cross over the entire gamut of racing," says Peter. "We are working hard to give the people what they want: Booble Race Cars."
About Booble.com:
Booble was built because surfing for adult content using mainstream search engines can often lead to viruses, spyware, credit card scams, and endless pop-up ads. This is because unethical online pornographers know how to manipulate search results, or buy their way to the top, regardless of the quality or value. Booble can't be fooled because each of its 10,000+ listings have been edited and classified by hand. The listings are not manipulated by the artificial intelligence of the major search engines. In addition, Booble's listings often contain pricing information and, where applicable, Booble directs users to unbiased reviews of adult sites and products. Best of all, Booble is a 100% free to adult consumers.
http://www.booble.com
Coming soon
Sin City releases new classics line

Sin City delves into the vaults and pulls out some oldies-but-goodies, featuring Rocco, Jenna, and some performers who need both names. Have a look:

Sin City Releases New Classics Collection
Biggest Stars in Porn Now Cumming on DVD

(Chatsworth, Ca)- Sin City is proud to announce their new classics collection. The line will feature DVDs of some of Sin City's greatest titles, starring the biggest names in the adult industry including Rocco Siffredi, Jenna Jameson, and Samantha Strong.

"We've dug into the vaults to bring out the best of the best," explains Sin City National Sales Manager Danny Gorman. "We have an extraordinary library of untouched classics and we felt that now was a fantastic time to bring them to the fans once again."

With a new title being released each month, porn lovers are set to be reintroduced to some of the hottest and most unforgettable sex scenes ever shot. All of the titles are digitally remastered and new to DVD with never before released scenes. Starting next week, Sin City will be unveiling the first of the Rocco Siffredi classics; Marco Polo, The Man Who Loved Women, Backstage Pass and The Quest.

Also slated for release in the Classics Collection is Michael Ninn's first film, the timeless classic 'Black Orchid', as well as a 35mm feature from Robert McCallum titled 'Erotika' featuring Samantha Strong.

"It's really wonderful to be able to share these titles with the next generation of porn watchers," effuses Danny Gorman. These titles promise to deliver an unforgettable movie watching experience."

For more information on Sin City Films, visit the main website http://www.sincity.com where you can find news, press releases, photos, and video on demand.

Distributors may contact Sin City through National Sales Manager Danny Gorman via email, danny (at) sincityfilms.com.


Friday's Digital Playground trailer
Robby D. kicks out another one, this time a two-disc edition from the Control series. Back in January, Robby told me that he liked the Control series because he could do anything he wanted within the framework of the series: Solo, g/g, b/g, multiple partners, it all worked. And now he has stretched out into two discs. And you can click and see the trailer right now. Life is good.
DIGITAL PLAYGROUND IS PROUD TO RELEASE "CONTROL 3"
Digital Playground and the highly acclaimed and multi-awarded director, Robby D., are very proud to announce the third volume in a new line of superior hardcore adult DVDs titled, "Control 3." Shot entirely on HD, "Control 3" is delivered on 2 Discs, with 2 rock-hard, roaring anal scenes, 3 slippery-wet pussy fucks, 2 orgasm-inducing masturbation delights, 1 juicy blow-job featuring stringers and the lovely Naomi, lots of extra face fucking, plus an amazing bonus scene with Jenaveve Jolie. With over 3 1/2 hours of PURE tease, "Control 3" has more hot girls more slammin' sex than any other porn we've seen. A culmination of Robby D's incomparable experience, knowledge and talent, "Control" follows no rules and no guidelines and as a result it knows no bounds.
Early review copies of "Control 3" have caused a bit of a stir. DVD Talk writes, "In a word; YUM!... Highly Recommended for fans of hardcore gonzo sex. To sum it up, Robby D's "Control 3" is one of the most strokable releases in recent memory for all that it offers fans." Adult DVD Now concurs stating, "I've seen thousands of adult movies in my career, and very few get my pulse going, but 'Control 3' is a different story. Each scene starts out as a big tease. The performers play hard to get, strutting their stuff, all the while luring you in. When they finally start interacting with each other, you are more than ready to watch, totally captivated by their erotic moves. The performers are gorgeous, as expected with any D.P. feature and the quality of the production is a perfect 10! And the sex, well, it's off the charts. This is a movie you won't want to miss."
Robby D. is proud of the series, "I have taken everything I've learned and gone back to basics. This series is about whatever is hot and horny. There's no rhyme and no reason; its only purpose is to get you off."
"Control 3" streets June 26th on DVD.
The video trailer for "Control 3," can be viewed and downloaded NOW
http://www.digitalplayground.com/mov/control3.html
"Control" is always shot entirely on HD and offered in widescreen format with surround sound, motion chapter indexes, photo galleries, trailers and cum shot recaps. Digital Playground founder Joone is pleased. "Robby is a phenomenal director and an indispensable part of our production team. He's precise and articulate and he has spent years mastering his medium. "Control" reflects his artistry and imagery, Digital Playground's austere production values and hardcore, raincoater sex. It's hot and it's not clouded with innuendo or story."
Please direct all sales inquiries to Sue (at) DigitalPlayground.com or Peggy (at) DigitalPlayground.com
"THIS is what I think of your so-called 'civil rights,' asshole!" (Quote not exact)
June 15, 2006 1:00 pm PDT
Don't bother to knock
Fascist psychopath Antonin "Tony the Fixer" Scalia wrote the majority opinion allowing police to smash down doors without knocking, puting police (state) powers above the formerly-Constitutionally-guaranteed right to be secure in your own property. Read it and vomit.


http://news.yahoo.com/s/ap/20060615/ap_on_go_su_co/scotus_police_searches

Miami heat
June 15, 2006
Doing it right
The Miami Beach Exxxotica show seems to have been a success, based on this press release and the picture accompanying. Anybody who was there – Tera – is welcome to let me know about it in a follow-up.
FIRST EVER EXXXOTICA ~ MIAMI BEACH A MAJOR SUCCESS!
With well over 16,000 fans flocking through its doors, EXXXOTICA ~ Miami Beach roared into the record books of first-time adult entertainment events. National and international media, the adult trade publications and every local television station in South Florida recorded the action as top performers from Jenna Jameson to Tera Patrick to Ron Jeremy delighted the throngs with autographs, photos and plenty of happy smiles.
"It was an awesome show and we are just ecstatic at the results," stated J. Handy, Director of Victory Trade Show Management, organizers of the event. "The turnout is more than we could have ever imagined and the feedback we have heard from everyone is very, very positive."
Billed as "A Celebration of Sexy," EXXXOTICA ~ Miami Beach was the largest adult industry consumer event ever produced on the East Coast. Presented by HotMovies.com, this three day show featured a wide variety of all things exotic, erotic and sensual; from the newest Adult Films to 12th century erotic art.
There was also live entertainment, special appearances by major adult stars such as Jenna Jameson, Tera Patrick, Ron Jeremy, Alexis Amore and many others, contests which included the Nearly-Nude Mechanical Bull Riding Championship, the O'Face Amateur Erotic Film Festival, and over 100,000 square feet of floor space where the general public was able to shop for adult products and services.
"We are already planning again for next year -- EXXXOTICA ~ Miami Beach 2007," says Ben LaJoie, co-producer with Handy. "The Adult Industry has established a mainstream approach that has brought it widespread recognition and success. EXXXOTICA is a quality product that draws people from all walks of life to enjoy the show."
EXXXOTICA ~ Miami Beach was held June 9th through 11th at the Miami Beach Convention Center in the heart of South Beach. For additional information on EXXXOTICA go to:
www.exxxoticamiami.com
.
The second agenda
It says "Porn. Politics. Mainstream." up there, this is number two.
Michael Shaw wonders if Time is jumping on the Bushwagon on the Zarqawi killing:
http://www.huffingtonpost.com/michael-shaw/reading-the-pictures_b_22982.html
House Republican Leader John Boehner tells his co-conspirators how to frame the Iraq debate to marginalize Democrats and invoke 9/11. Follow the links and you can read a pdf of the memo:
http://thinkprogress.org/2006/06/14/boehner-memo/
The nutbird right opposes a cancer treatment because it runs counter to their pro-abstinence stance. Look for a story about this on the
AVN Train Wreck site
, any minute now:
http://www.alternet.org/story/37485/
On reading the Bible as a document of subjugation. Another religion-is-bad link. I wonder who's gonna post about this next.
http://www.alternet.org/story/37565/
How to keep the opposition quiet. Randi Rhodes said she caught Dennis Prager encouraging some of his fellow conservatives to employ tactic number one while she was speaking at a forum:
http://www.dailykos.com/story/2006/6/9/125837/3173
Jay already covered this, and well, at the
AVN Train Wreck site
, but here's a new, important piece of information: the ads are devastating. Click on the ads on the right and see why the Republicans are trying to squelch these ads by any means necessary. Then throw MoveOn some money, they could use it:
https://political.moveon.org/donate/redhanded2.html
Tyler Faith on the road again
The First Lady Of KSEX is the premiere attraction of a new strip club in New Jersey and then goes straight to the Erotic Exotic Expo in New York. I have a picture of the "Britney Rears Look-Alike" but I ran the picture of Tyler instead.
What Exit Can We Meet Tyler Faith At?
Fans in New Jersey and NYC get to hang with the elite adult star this weekend
LODI, NJ/NEW YORK, NY-- You've been hearing about the Exotic/Erotic Expo in New York this weekend. Yes, the convention everyone's talking about featuring a bunch of adult superstars like Tera Patrick, Carmen Luvana, Taylor Wane and Taryn Thomas--just to name a few. You've probably also been hearing about the Exotic/Erotic Ball this Saturday night, where once again you'll have a chance to party with the stars of adult as well as some big name national recording artists. But there is another party that's flown a little under the radar that you DEFINITELY can't miss!
This Thursday and Friday night, Nightmoves USA National Feature Dancer of the Year, Tyler Faith [www.tylerfaith.com ] has the honor of being the FIRST feature entertainer, EVER, to grace the stages of the brand new gentlemen's club, The Harem, located at 100 State Hwy 17 in Lodi. Performing three shows nightly, the Team Tyler Productions CEO will be gettin' down and dirty with those daring enough to sit in the front row. Faith will also be giving away her latest DVDs, collectable posters and taking time for Polaroid's with the fans. As an added bonus, on Thursday night from 8:00 to 10:00, the blonde bombshell from Boston will be joined by adult superstars Carmen Luvana, Rebecca Love, Taryn Thomas, Flower Tucci, Taylor Wane and scattered others who will join Faith at The Harem signing autographs, meeting the fans and jumping up on stage with Tyler for some wild, sexy fun!
Tyler, along with her business and personal partner, Wankus from KSEXradio.com will also be appearing in the GENESIS Magazine booth at the Expo in NYC on Friday and Saturday afternoon from 2:00 to 6:00. Tyler appearing as herself. Wankus appearing as
The Official Britney Rears Look-Alike
.
Then on Saturday night, join the former Jill Kelly Productions contract star as well as all the other hotties at the Exotic/Erotic Ball and party it up with Thomas Dolby, George Clinton and scattered other top acts. For more information on the event, visit
http://www.exoticeroticball.com
.
Tyler Faith at The Harem Thursday night.
Tyler Faith at The Exotic/Erotic Expo Friday afternoon.
Tyler Faith at The Harem Friday night.
Tyler Faith at The Exotic/Erotic Expo Saturday afternoon.
Tyler Faith at The Exotic/Erotic Ball Saturday night.
There are NO excuses for you to not be able to meet Tyler Faith on the East Coast this weekend. Be there!

Sinsation Pictures gets in bed with Entice.tv
The VOD company adds another notch to its bedpost as Sinsation joins the fold.
Entice.TV Adds Sinsation Pictures' High Definition Titles to its Line Up
LAS VEGAS — Adult IPTV service company Entice.TV premiers the vignette productions of two-month-old Sinsation Pictures and its latest production Asian Sinsations, uncensored in high definition, on its service now, with its other titles – Anal Sinsations and Teen Sinsations – to follow.
Entice.TV's Internet protocol television service is widely recognized as the most convenient way to view full-length XXX adult titles in HD. Entice.TV leads adult in HD delivery using the Imediasee IPTV technology platform, provided by Broadline Media Corporation, allowing Entice.TV to deliver the fastest high-quality video downloads in adult.
Asian Sinsations sparkles with XXX's brightest Oriental stars, including Keeani Lei, Nyomi Marcela, Kaiya Lynn, Charmane Star, Mya Luanna, Mia Smiles, Syren, Mika Tan and Avena Lee. The title also stars Tommy Gunn, Trent T., Chris Cannon, Van Damage, Cheyne Collins and Evan Stone.
"I'm very excited about being one of the only all-HD studios on Entice.TV," Paul Marco, president of Sinsation, said. "I think they are a perfect platform to help launch our company into the IPTV world. We will start off with 3 titles with them and put out a new title every month or so. We like to call ourselves a hybrid porn company because we offer a mix of gonzo – with hard sex that men like -- and features that girls want."
Asian Sinsations adds to the burgeoning offerings of productions shot, edited and distributed in HD via Entice.TV's easy-to-use service that offers fans the option to buy or rent. Other producers that deliver HD titles to viewers through Entice.TV are award-winning producers Wicked Pictures and Digital Sin.
"We insist that all the titles we show in HD be shot and edited in HD," Entice.TV President Susan Keil said. "Maintaining HD quality throughout the production chain and when it's distributed on broadband via Entice.TV's service ensure the fans at home can enjoy their title in the highest video quality HD can offer – and completely uncensored, unlike the satellite and cable broadcasters."
For more information producers may contact info (at) entice.tv.
Candida Royalle
Candida Royalle to participate in women's-filmmaking panel in NYC this weekend
The veteran performer-turned-producer-director will be involved in a panel about women's experiences in filmmaking – and I'll bet she has some stories about the '70s Golden Age – as part of a festival arranged by writer/activist Eve Ensler, and if the name sounds familiar you're right. Here's the detail, a lot of it:
CANDIDA ROYALLE on PANEL for:
UNTIL THE VIOLENCE STOPS: NYC FILM FESTIVAL TO EMPOWER WOMEN
NEW YORK, NY - On Saturday, June 17th, at 12:30 PM Eve Ensler will introduce the Women and Media Responsibility Panel as part of a 3-day event in connection with her V-Day festival, UNTIL THE VIOLENCE STOPS. The panel will discuss important issues impacting women in filmmaking such as whether women working in media are mandated to tell certain stories, or whether art should really be just about art. Panel participants include Academy-Award-Winning actress Kathy Bates, Monster's Ball producer Lisa Cortes of Lee Daniels Entertainment, President and CEO of the Museum of Television & Radio Pat Mitchell (formerly PBS President & CEO), Executive Director of Women Make Movies Debra Zimmerman, Program Director of HBO's Young Filmmaker's Lab Stephanie Walters-Williams, Film and Television Producer Linda Gottlieb, Co-founder of Feminists for Free Expression and women's erotica pioneer Candida Royalle, Playgirl Magazine writer Jamye Waxman, and LaSalle-Holland Managment Production principal Lillian LaSalle. Abiola Abrams, an emerging filmmaker who has hosted shows for HBO and NBC will moderate the discussion and Prudence Heyert, an actress who recently starred in M. Night Shyamalan's filmic Oscar® night commercial, will field audience questions.
As a community based event in connection with V-Day's festival Until the Violence Stops: NYC, Abiola Abrams and Prudence Heyert will co-direct and curate Until the Violence Stops: NYC Women's Film Festival. A 3-day event from June 16th-18th at The Museum of the City of New York and The Museum of Television & Radio, the fest has been billed as "the film festival for vagina warriors." Their mission is to aid in stopping violence against women and girls worldwide by showcasing diverse films and programs– documentaries, narratives, comedies and dramas, that empower women or increase awareness of violence. This film festival is presented in association with The Guerrilla Girls, HBO's Young Filmmaker's Lab, Tribeca Film Festival, LUNAFEST, Women Make Movies, The Museum of the City of New York and The Museum of Television & Radio; and features a panel with such luminaries as Hollywood actress Kathy Bates.
For two weeks in June, UNTIL THE VIOLENCE STOPS: NYC will take over the city, putting women, their empowerment and their safety on center stage in our culture and community. Produced by V-Day, the festival will feature marquee events with performances by celebrated actors, original works by noted authors, community events throughout the five boroughs, a citywide messaging campaign, and a run through Prospect Park. UNTIL THE VIOLENCE STOPS: NYC will issue a call to action to all New Yorkers, and to the world: Demand an end to violence against women and girls and become an active participant in ending it.
The UTVS: NYC Women's Film Festival opens on Friday June 16th, 2006 6-9pm at The Museum of the City of New York. Playwright, performer, and Obie©-winning activist Eve Ensler introduces her compelling film What I Want My Words to Do to You (2003), an honest window into the hearts of the women inmates of New York's Bedford Hills Correctional Facility. Directed by Madeleine Gavin, Judith Katz and Gary Sunshine, the film features Ensler, Glenn Close, Marisa Tomei, Rosie Perez, Mary Alice and Hazelle Goodman. The film will be followed by a Q&A with Eve Ensler and participants in the workshop and film.
On Saturday June 17th the film festival continues at The Museum of the City of NY from 10:30am to 6pm. From 11am to 12pm award-winning urban teen female filmmakers of the HBO Young Filmmaker's Lab introduce their films examining compelling self-esteem related topics. A brief Q&A with these young filmmakers will follow.
An important objective of the film festival is to encourage new socially-conscious media-making and so at noon LUNA®, the Whole Nutrition Bar for Women™, will sponsor The Midday Business Card Kick It Spot, a designated networking time. LUNA® also presents LUNAFEST, a series of short films by, for and about women. Onscreen during the LUNA® Networking Half Hour will be powerful images created by feminist activists The Guerrilla Girls, who aim to expose sexism, in art, film and pop culture with facts, humor and outrageous visuals, in addition to work by multimedia artist Cece Wheeler.
At 12:30pm Eve Ensler will introduce the Women and Media Responsibility Panel. The screening of films beginning at 2pm includes official selections from The Tribeca Film Festival, Women Make Movies and LUNAFEST in addition to compelling general submissions. Themes explored include feminism, body image, the beauty myth, sexuality, domesticity, honor killings, female genital mutilation, mother-daughter issues, domestic violence, politics, rape and race. As young women who create media Abrams and Heyert are proud to showcase the work of 99% female directors and "one incredible male vagina warrior." Selected films and filmmakers will be posted at
www.thegoddessfactory.com
.
On Father's Day, Sunday June 18th, the film festival continues at The Museum of Television & Radio. After a small half hour reception at 1pm, the Museum will show episodes from
The Simpsons, The Cosby Show
, and
Picket Fences
that feature various father/daughter issues. The festival will then close with a 3pm screening of
Until the Violence Stops
(2003) introduced by Eve Ensler. This Emmy Award–winning documentary follows the grassroots impact of V-Day, an international movement to end violence against women and girls that grew out of Ensler's play,
The Vagina Monologues
. The film features Ensler, Rosario Dawson, Jane Fonda, Salma Hayek, Rosie Perez, and Isabella Rossellini. Directed by Abby Epstein; 2004 V-Day Productions.
Abrams and Heyert have met with resistance regarding language around the festival. "Among young women 'feminist' is still very much interpreted as a pejorative 'f-word.' In addition, some are also wary of the term "vagina warrior" which V-Day defines as a woman or man committed to stopping violence against women and girls." Heyert and Abrams do not want to tell people how to think, only to think.
"We hope that this explosion of film and discussion inspires other women to continue to tell our stories. We demand that women everywhere – and we are 51% of the global population - recognize our incredible strength and stand up against violence NOW. Onward!" The film festival has even set up a myspace page to encourage youth participation and awareness. The film festival was created by emerging women who work in media including actress Carly Robins, the festival's Project Manager, and Swaziland Peace Corps alumna Lisa Grossman, Director of Operations.
The Museum of the City of New York is located at 1220 Fifth Avenue NY, NY 10029;
www.mcny.org
. The Museum of Television & Radio is located at 25 West 52 Street New York, NY 10019;
www.mtr.org
. General Seating. Standard museum admission / donation fees apply.
Please read more about the Until the Violence Stops: NYC Women's Film Festival at
www.vday.org
and
www.thegoddessfactory.com
.
It stands for us. All of us.
June 14, 2006

Flag day

It was on this day in 1777 that the Continental Congress prescribed that the US flag have 13 stars and 13 red and white stripes – but didn't specify the layout, which is why old-timey flags had different star patterns – so today is specified as Flag Day.

And remember, it's our flag too. It doesn't just belong to the right-wing plutocrats who so ostentatiously display them on their lapels. We freedom-lovers live here too, and as long as the Constitution still begins "We The People" we are in there too.


Skye Blue
Two reasons to get that Sirius Radio this week
One, the
Playboy Jazz Festival
is this weekend, and Playboy Radio is covering it from backstage. And two, Skye Blue is on Night Calls tonight with Christy Canyon and Ginger Lynn.
Skye Blue on Playboy Radio Tonight.
Los Angeles, CA -- Platinum Blue CEO and President Skye Blue will be titillating the airwaves tonight on Playboy's Night Calls Radio as a guest of Christy Canyon and Ginger Lynn. The show will be live at 4pm-7pm PST and can be found on channel 198 through Sirius.
There is no particular topic up for discussion tonight, but veteran adult star and director Skye Blue does have quite a bit to talk about. Her company, Platinum Blue Productions, recently signed a deal with Entice TV, and rumor has it there is something in the works with Passion Pictures.
Skye's directing adventures include an upcoming skydiving feature, the electric-meets-latex
Shock Pussy
, and the burning passion of
Beautiful Couples.
Fans are encouraged to call in during the show.
To see stills, trailers, and more of what Skye Blue's been up to, check out
www.PlatinumBlueProductions.com
. Fans can also check out
www.SummerSkyes.com
.
Everybody comes to Rick's.
NYC Exotic Erotic Ball kicks off with amateur strip contest tonight

ALL contestants – male and female – get two tickets to the ball. That's reason enough to enter right there. So get to Rick's and get those clothes off. And make it pretty. Have a look.

The Exotic Erotic Expo and Ball to Host Amateur Striptease Contest and Press Conference at New York City's Rick's Cabaret on Wednesday, June 14, 2006 from 5:00 p.m. to 6:30 p.m.

Grand Prize of 2 VIP Ball Passes to Each Contestant and 2 Free Expo Passes to Attendees*!

New York City – The Exotic Erotic Expo and Ball, in conjunction with Rick's Cabaret International, Inc. (NASDAQ: RICK), is proud to announce the Exotic Erotic Amateur Strip Off Contest and Press Conference, June 14, 2006, from 5:00 p.m. to 6:30 p.m., at Rick's Cabaret, New York City's most upscale adult nightclub (50 West 33rd Street, between Fifth Avenue and Broadway, New York City). Male and female participants who complete a 60-second "street-clothing-to-underwear" improv bump-and-grind striptease will win two All Access Exotic Erotic Ball VIP Passes (a retail value of $250.00). *In addition, anyone attending dressed in costume, lingerie or pajamas will receive two free tickets to the Exotic Erotic Expo, June 16 from 2 p.m. to 10 p.m. and June 17, from 2 p.m. to 6 p.m. Admission to Rick's Cabaret is free from 5:00 p.m. to 6:30 p.m.

Members of the press are formally invited to cover the event at Rick's Cabaret. Perry Mann, the founder of the Exotic Erotic Expo and Ball, with performers, celebrities, adult actresses and moguls, and other Exotic Erotic Ball personalities will be on hand to answer questions and confirm press credentials for the Exotic Erotic Expo and Ball.

The Exotic Erotic Expo and Ball, the internationally acclaimed Celebration of Flesh, Fetish, and Freedom, and - according to E! Entertainment TV - "The World's Wildest and Sexiest Party," comes to New York City's Pier94NY on June 16 and 17, 2006, and is sponsored by Rick's Cabaret. The Ball itself, which has been titillating San Francisco audiences with stimulating festivities for 26-years, will be held on Saturday Night, June 17, 9:00 p.m. to 3:00 a.m. The Ball will features musical guests Thomas Dolby, George Clinton, Mötley Crüe's Tommy Lee with DJ Aero and King Norris, featuring Fred Norris from the Howard Stern Show. In addition, world-renowned adult actresses Tera Patrick, Carmen Luvana, Taylor Wane, Flower Tucci, Sunny Lane, and Violet Blue will also be making stage appearances, performing, and signing autographs.

Considered New York City's finest upscale adult nightclub, Rick's Cabaret offers live adult entertainment, restaurant and bar operations and is a proud sponsor of the first-ever New York City Exotic Erotic Expo and Ball.


Taylor Wane
It's time to give back
Taylor Wane, who has benefited plenty from breast awareness, returns the favor by becoming spokeswoman for a breast cancer awareness non-profit organization. They're having a no-limit hold 'em tournament next week, at the Holywood Park casino in Inglewood. Have a look.
Taylor Wane is Babe-A-Rella: Spokesperson for b.a.b.e.
Los Angeles, CA
WHO: b.a.b.e. – breast awareness benefits everyone, a non-profit organization working to end breast cancer and "Babe-A-Rella" – Taylor Wane
WHAT: Meet Taylor Wane at the "Babes & Aces Poker Tournament." Taylor Wane is b.a.b.e.'s first Babe-A-Rella. She is an impassioned and eloquent spokesperson, and created a frenzy for b.a.b.e. when she did interviews on over 100 Radio Stations in one week! Taylor designed and implemented the b.a.b.e. website, was instrumental in the development of the Babe-A-Rella logo, and she has helped organize the "Babes & Aces Poker Tournament."
BABES & ACES POKER TOURNAMENT: "Texas Hold 'Em No-Limit Poker Tournament" – $250 Buy-In: First Place Prize: $5,000. And the "Babes & Aces" Poker & Black Jack Tables - $100 admission Play with your Favorite Adult Stars, plus celebrities from TV, Film, and Music.
SILENT AUCTION ITEMS INCLUDE: Photo Shoot by the Legendary Suze Randall; an Evening on Seymore Butts' "Party Bus" ; Adam & Eve Pictures "Cameo Role" (non sexual) in Upcoming Film.
b.a.b.e. supports: Eileen Stein Jacoby Fund at Fox Chase Cancer Center, Philadelphia; Westside Family Health Center, Los Angeles.
WHEN: Thursday, June 22nd, 2006 / 6:00 PM – registration and silent auction opens. 7:00 PM - tournament begins.
WHERE: Hollywood Park Casino / 3883 West Century Boulevard / Inglewood, California, CA 90303
SPONSORED BY: Hotmovies.com, Erotica LA, The Fame Awards, Adam & Eve, others
Taylor Wane is currently the celebrity editor for Busty Beauties Magazine and host of the Ksexradio.com show "The British are Cumming." Ms. Wane has won countless industry awards, most notably her 2004 induction into the Hall of Fame, an accolade sought by every performer in the business. Ms. Wane created Taylor Wane Entertainment, a movie and multimedia production company that she operates and for whom she directs many titles. The company also produces photographic layouts featuring the top models and adult stars for some of the world's biggest men's publications. Taylor's comic series, Vamptrix, has gained a loyal underground following. Meanwhile, her appearances at collectors' conventions around the world continue to swell with lines of fans seeking her signature on their paraphernalia. Separately, acclaimed pin-up artist Armando Huerta has painted a dazzling new work featuring Ms. Wane for an upcoming comic book in her Vamptrix line. On his site at www.padjanstudios.com, Huerta has included a step-by-step demonstration of the work as he created it. For more information, go to
www.taylorwane.com
.
About breasts, Taylor has this advice: "Check them, don't neglect them."
b.a.b.e. - breast awareness benefits everyone: A non-profit organization working to end breast cancer. Our mission – keep breasts bouncing. b.a.b.e. doesn't ignore the issue of breasts as sex objects; we embrace it. In its effort to promote the breast, b.a.b.e. works with the most successful supporters of breasts, men, as its primary source of funding and support. b.a.b.e. is committed to funding breast cancer research and educational programs, especially in the areas of early detection and prevention. b.a.b.e. is a registered 501 (C) (3) organization.
Babes & Aces Tournament Individual Tickets: $250 (includes $250 tournament buy-in) / $100 (poker & black jack for prizes)
For tickets, sponsorship opportunities, and more information visit
www.babe-a-rella.org
Running the Gauntlet
Vouyer on a roll

The Vince Vouyer/Wicked Pictures collaboration is turning out a torrent of gonzo, as this press release will tell you.

THE SAGA CONTINUES: VINCE VOUYER Lays Down THE GAUNTLET 2!

LOS ANGELES, CA -- Chatsworth-based VOUYER MEDIA's newest release tells the intriguing tale of three self-actualized young women - covergirl RILEY MASON, ALEXA LYNN, and GWEN DIAMOND - who set out on a noble quest: a search for sexual fulfillment that finds them swallowing some 30 loads between the three of them . And swallow them they do, with Riley consuming a hearty nine loads and Gwen drinking a respectable five (while catching an exceptionally gooey extra four across her grinning face). But the movie's tally is raised most considerably by little Texas cutie Alexa, who downs a stomach-stretching 16 loads before her back-to-back scenes are completed. Yes, multiple award-winning director VINCE VOUYER is back with the hotly-anticipated sequel to THE GAUNTLET, the title that launched the Vouyer Media imprint earlier this year!

THE GAUNTLET 2 begins with leggy brunette beauty Riley kick-starting the action into high gear with a fast-paced POV romp before servicing a trio of men in a fast, multi-positional bang. From there Riley is led to the next room, in which five men are sitting around waiting for her oral charms. The resulting blowbang ups Ms. Mason's cum-tally to a respectable nine loads, but that's nothing compared to what sandy-haired Alexa Lynn receives, as she jumps into her first-ever five-guy interracial blowbang, a fiery scene that's punctuated with some spirited sport screwing. The loads hardly have a chance to dry before Alexa is led to a smaller vanilla suck-fest that sets the stage for THE GAUNTLET 2's main event: Alexa's one girl, seven guy blowbang that raises her semen intake to a gurgling 16 loads! The DVD thunders to its conclusion with a star turn from voluptuous blonde beauty Gwen Diamond. After her POV screw, the actress proceeds to chalk up several personal firsts, including her first all-girl triad, which also features her first strap-on reaming. Throw some truly filthy dirty-talk into the mix and you've got one hell of a lesbian scene. Slipping into the next room, Gwen commits some more career firsts, starting with a sizzling four-way screw and concluding with a lengthy four-guy blowbang that leaves the grinsome blonde's face caked in semen.

As with all VOUYER MEDIA releases, there's an abundance of bonus footage to be found in the DVD Extras, beginning with a new feature, the AFTERMATH INTERVIEWS. These segments find the director interviewing the starlets AFTER they've performed their scenes. Sexy, revealing, and funny as hell, each Q&A sheds new light on the girls' often unusual sexual predilections. Also noteworthy is the all new BONUS CORE scene with sultry REBECCA STEEL, who throws down a feisty POV blowjob that also boasts some fine teasing for the camera. THE CUTTING ROOM FLOOR section features extra footage of the girls in action, as well as some humorous observations from Vouyer and assorted male cast members. No one knows the gonzo genre better than VOUYER MEDIA, and the high quality seen in original GAUNTLET has been taken to the next level in this more-than-equal-sequel, from the performances and extras to the packaging (which features an embossed and matte finished O card) and the DVD itself, which was shot in Widescreen HD and is presented in Anamorphic Widescreen with Dolby 5.1 Surround Sound.

With hotter girls, more extreme scenarios, and nearly TWICE as many loads swapped and swallowed than in the original, THE GAUNTLET 2 lays down the law for hard-hitting, high-quality gonzo.

BOMBSHELL BOTTOMS: Coming June 14th, 2006, BOMBSHELL BOTTOMS introduces sexy blonde KELLY BROOX in her first DP ever! Co-starring leggy SAVANNA STERN, this exciting exercise in gonzo excitement has been shot, directed, and edited for the ass aficionado in us all! Visit Vouyer Media

MAKE ME CREAMY 2: Coming June 26th from director Vince Vouyer, MAKE ME CREAMY 2 stars 18 year old blonde AUBREY ADAMS in her multiple cream pie debut! More high-quality widescreen gonzo excitement from the creator of the AVN Award-winning CUM DRIPPERS series! Visit Vouyer Media

THE GAUNTLET: The one that started it all! Directed by Vince Vouyer and starring newcomers MAYA, NOLLIE, and CHELSEA, THE GAUNTLET has proven to be a hit with both fans and critics, with ADULT DVD EMPIRE giving it a 4.25 out of 5 rating. ADE reviewer Spooky praises Vouyer's use of "fresh, young talent" and predicts that the GAUNTLET series will have "some long legs indeed" in the marketplace.

One reviewer sees THE GAUNTLET as a harbinger of great things to come from the new production house, calling the DVD "a good first outing from a hot new company with a lot of potential!" Consumer website ADULT DVD TALK concurs, succinctly observing that "the girls are hot and the sex is solid. This is a great start for Vince's new company!"


The "dirty" version involves reverse cowgirl
Funny title of the day hits the streets

As soon as I'm through watching my brand-spankin'-new copy of Beyond The Valley Of The Dolls, I'm gonna pop this in the ol' DVD player and have a look.

1st Strike Entertainment presents
Big Trouble in Little Vagina

Streets June 14

Our interracial cast of petite cuties love having their tight and tasty little vaginas stretched to the limit by men with big dicks – the only trouble is finding them big enough to satisfy the insatiable appetites of these nymphomaniacs! And Once Again you can Choose Soft front Cover and Dirty and Hard Front Cover !!!!!

Contact Sean (at) nectarmovies.com or Craig (at) nectarmovies.com


Funny title runner-up

A girl-girl title with not-really-my-sister Nicki Hunter from director Eli Cross by way of DVSX.

Whoregasm

Directed by Eli Cross
Starring: Ariel X, Cindy Crawford, Georgia, Jada Fire, Julie Knight, Kami Andrews, Kimberly Kane, Lexi Bardot, Nicki Hunter, Staci Thorn, Trina Michaels, Trinity Post, Vixen

Girlz who love girlz will be the first to tell you... only another chick will know exactly how to get them off! Whether it's tongues or toys... when horny hotties can make each other cum this hard, it can only be considered a whoregasm!

For sales contact Javier (at) dvsx.com




Karl Rove
Lisa Sparxxx. Third time's the charm.
Random Notes From A Red Notebook: PSK at Sardo's. Wham! Bam! Alakazam!

The evening started well, passing the time with Sonny Malone, crack video editor for Danni.com, and Tara from freepornstarpix. Konnnie and Powder and Rachel Worth... I see the J-shaped booth is free, marked with a RESERVED FOR PSK CLUB sign. I see the sign, ask Konnie, "Do I qualify?" She shrugs.

I sit with Sonny at the booth, and the waitress comes up immediately.

"Do you work in the adult industry?" she asks.

I assure her that Sonny and I do, indeed, work in the adult industry and place an order. Sardo's owner Seymour walks by and I flag him down.

"Tell your waitress that we're in the industry, willya?"

He turns and says, in a well-modulated I'm-in-charge-here tone "Angie —Get him out of here!" With a dismissive gesture, yet.

We all crack up.

Kristen takes the mike for a spirited "Sweet Child of Mine" as Lisa Sparxxx comes in, practically unrecognizeable with her new dark hair... Konnie starts in on "Boogie Oogie Oogie" as Vanessa Blue walks in, takes a place at the U-shaped center booth. Lisa Sparxxx sees me, strikes a pose, holds it while we both wait for the flash to go off. Three times... A woman walks by, looks like veteran performer Kiss, but it isn't. She would have recognized me... Tee Reel... Shane's World new contract performer Casey Parker... A guy with a weak voice takes on the Doors' "Love me Two Times." Not a good idea... Brian Gross belts out a spirited "Fat Bottomed Girls"... Another guy with a weak voice tries "Born To Run." Ouch... Roy Karch... Kristen takes the mike again, blasts out a spirited "Orange Colored Sky," effortlessly blasting out the lyrics that equate falling in love to being a WWII firefight. "Look out for flying glass... I've been hit! This is it!" She ends with a crescendo, bringing down the house. That girl's going places... James Bartholet... This week's host Jason Sechrest takes on "God" by Tori Amos.... Lori Lust... Sonny goes out for a smoke, John West takes her seat. Felony sits on his lap. I take a picture... The Androgynous Guy is here. When Jason offers free porn, he asks The Androgynous Guy "Do you want a gay title? Just a guess."


John West and Felony
Brian Gross sings
Mainstream actor Hal Sparks comes in, sits with Sonny and me. He's just been recording songs for a new CD he plans to self-distribute. We chat for a while, and Sonny poses for a picture with him, as do I. One of my teenage sons is incredulous that I am on waving terms with Hal Sparks... Ron Jeremy coes in, glad-hands his way around. I take my leave at about 1:30, a little wired. Drinking six Diet Cokes will do that to you...
PSK is every Tuesday night at Sardo's at 259 Pass Avenue in Burbank. Tee Reel is hosting this week:
Tee Reel Encore Host of "Porn Star Karaoke" this Tuesday
"I just want to make sure everybody has a great time!" That's what Tee Reel says about hosting "Porn Star Karoake", the best Tuesday party in LA. Back by popular demand, Tee Reel returns to host this Tuesday, June 13th at 10 PM at Sardo's Restaurant on 259 N. Pass Ave in Burbank, CA. Adult industry insiders and mainstream friends alike are invited to join this "off the hook" blast. Special guests include DJ 820 and Comedian Adam King. Join your favorite stars for free movie giveaways, drink specials and a slammin' good time. Adult industry guests please RSVP to Erica at Tee_reel (at) hotmail.com

Political stuff
September 11 commissioner blasts
alleged
tranny Ann Coulter:
http://news.yahoo.com/s/ap/20060609/ap_on_re_us/quotable_coulter_5
Though Our Esteemed President's actions look like madness, there's method in't:
http://www.nybooks.com/articles/19092
Another Ohio 2004 post-mortem:
http://64.226.238.78/PA/bh/bh210.shtml
Rove raising money for
alleged
phone-jammer defense fund:
http://www.boston.com/news/local/new_hampshire/articles/2006/06/11/rove_headlining_gop_fund_raiser/

Bush-loaded appeals court OK's Our Esteemed President's wiretaps late Friday afternoon to avoid news cycle:
http://news.yahoo.com/s/ap/20060610/ap_on_go_ca_st_pe/appeals_court_fbi
A suggestion that the Senate actually investigate who's getting tapped:
http://www.nytimes.com/2006/06/11/opinion/11sun1.html
Sen. Lieberman doomed for collaborating with Republicans?
http://www.chron.com/disp/story.mpl/editorial/outlook/3960189.html
"Christian" hatemonger goes even too far for a Fox "News" anchor, gets told "You can't do enough sinning... You have sinned away your day of grace" and called a "bimbo":
http://homepage.mac.com/mkoldys/iblog/C168863457/E20060610225829/
About fucking time
Xbiz reports on a new feminist porn award event. The usual suspects are present – Tristan Taormino, Candida Royalle – but it's nice to see a porn cenebration of something besides brutality, misogyny, and ad purchases:
http://www.xbiz.com/news_piece.php?id=15442
Are those guns in your hands, or are you just glad to see me?
Bang bang

Brad Armstrong hauls out the film camera again for a new production based on bounty hunting. This particular press release focuses on the female leads learning proper gun safety and technique. Have a look:

The Skills To Pay The Bills: "MANHUNTERS" JESSICA, CARMEN, KIRSTEN, & EXOTICA Are Lovely & Lethal!

LOS ANGELES, CA -- (June 9th, 2006 DMPR) -- Since the success of such films as THE MATRIX and CROUCHING TIGER, HIDDEN DRAGON, highly choreographed, fight-intensive films have been more popular than ever in Hollywood. But as anyone who's watched Steven Seagal huff-and-puff his way unconvincingly through even the simplest fight scenes knows, most American action flicks pull their stunt sequences together through the use of doubles and skillful post-production magic. So when award-winning adult filmmaker BRAD ARMSTRONG (ETERNITY, SOLD, THE COLLECTOR), began pre-production on his new WICKED PICTURES shot-on-film action spectacular MANHUNTERS, stars JESSICA DRAKE, CARMEN HART, KIRSTEN PRICE, and EXOTICA underwent extensive physical training, spending weeks learning how to perfect the jumps, kicks, low stances, hard and soft punching styles, and many types of weapons training needed to bring this wild look at professional bounty hunting to life.

To prepare for their demanding roles, the ladies participated in a grueling daily regimen of cardio and heavy weightlifting, and received extensive training in such areas as the legal aspects of bounty hunting, the proper use of handcuffs and restraints, how to conduct a search on a building, how to apprehend a fugitive, how to conduct a search with weapons, and how to fire a variety of weapons with maximum accuracy. Ever the perfectionist, Best Actress drake even sought certification through online bounty hunting classes, pursuing studies in such areas as Fugitive Recovery.

To hone their abilities with firearms, the team spent numerous additional days on a shooting range with professional gun handlers from the movie industry. These seasoned pros taught the ladies the intricacies of handgun and rifle safety, and helped the courageous girls develop their sharpshooting abilities.

With filming now underway, the girls have been happy to reveal in their own words how the arduous transformation from glamorous superstars to lean, mean fighting machines has helped prepare them for this most demanding production:

jessica drake: "Never have I put so much extra time and effort into preparing for a movie. We all gave 110%, and I can't wait to see all of our training pay off. This is yet one more reason I'm glad to be a Wicked Girl!"

Carmen Hart: "If I had to pick one word to describe this experience, it would be challenging!"

Kirsten Price: "My favorite part was the karate choreography. As a student of martial arts, it was fun to be able to incorporate some of my "other" talents into this movie!

Exotica: "While I am very disiplined in regards to weight lifting and working out, during our training for this movie I've developed a newfound respect for weapons and ammunition handling. I'm so excited to have been chosen to join the team!"

With just two days of principal photography completed, MANHUNTERS already promises to be an entertaining mix of gritty action, searing sex, and Armstrong's slick trademark visuals. Inspired by the lives of real-life bounty hunters, the innovative filmmaker is sparing no expense to bring this explosive melange of girls and guns to the screen with maximum verisimilitude.


Dave Cummings
The classics never get old
Dave Cummings has just revised and updated his classic How-to-be-a-porn-star essay, and as a person who has been asked this question pretty much once a week for the last 10 years, I appreciate Dave's candid and helpful facts and how-to's for the would-be porn stud. Here it is:
GETTING INTO THE PORN INDUSTRY
BY: Dave Cummings----Porn Star/Producer/Director
Many individuals, both female and male, fantasize about becoming a porn star, or somehow finding a way to get into the Porn Industry. Some folks want to be in front of the camera as actual porn stars, while some just want to be involved with porn productions and become an "insider." Now that the Internet has flourished, it's become another avenue into porn for those seeking entry. Let's look at some of the different routes one might travel in their quest to be involved with the world of porn.
For reasonably attractive females with nice figures, it's relatively easy. Knowing someone already in the Industry might facilitate their journey into porn, otherwise they'll need to do some Internet research to find and contact an agent or manager, preferably a reputable one in the Los Angeles area where most porn productions take place. In the past, there has been a steady stream of new legal-age girls wanting the adventure and/or money and/or fame of becoming a starlet; but, in the last few years there's been a significant increase, indeed almost a flood, in the numbers of women hoping to become famous and affluent porn stars and to later return to their high school class reunions and bask in the glow of stardom. The name of the game during recent years is the demand for new fresh faces; this often results in pursuits by producers and directors seeking to hire new starlets as a means of increasing sales. Thus new wannabe porn starlets are in demand. New girls can make a lot of money, especially when they first enter the Industry; but, unless they are especially good at their craft or have extraordinary professionalism and drive to make porn a career, the need for the even newer fresh faces soon becomes a challenge for their longevity as the even "newer" incoming girls seem to nudge some of the existing faces out of the limelight. The exceptional girls who end up making it a longer term career usually are well known for their dependability, punctuality, a solid enjoyment of sex which is exhibited by truly hot sex scene performances, personality, and high standards of all-around professionalism.
Let's look now at the issue of men wanting to become porn studs. Prior to the days of prescription pills to aid and enhance one's sexual performance abilities, the number of porn studs in the Industry was much smaller than at present, and viewers had to endure seeing the same core group of us guys over and over. The reason why we were qualified as career porn studs was our "functionality," something that still applies today; candidly, even some new guys presently masking their use of pharmaceutical assistance still seem to sometimes get "stage fright" and some seem to have difficulty doing a timely "money shot." I'll discuss the functionality matter a little later.
Because I (and many other Adult Industry individuals and entities) receive hundreds and hundreds of serious inquiries every month from guys wanting to know how they can become porn stars, I've written up this general response. As a Producer and Director, I'd love to have a much larger pool of proven male performers so that female viewers could enjoy watching handsome studs performing with some girl while the female viewer fantasizes about herself actually being the girl in the video. I sense that the porn viewers now include more and more women and couples, unlike the past when most viewers were masturbating men.
The problem here is for me to be candid without hurting anyone's feelings; there's no easy way to tell guys that the chance of them getting even a "tryout" or an audition is remote. (Actually, there no longer is such a thing as an "audition," let alone getting one with a new applicant's favorite porn starlet!) The present lack of "want ads" for new studs has little to do with new aspirants, but rather results from the informal system that's evolved over time based mostly upon past experiences of disappointed Directors who let themselves be talked into using some previous new guys who touted themselves as true studs (which they well might have been in their private life, but unfortunately were not when they got in front of cameras on a set with people watching -- new guys with performance difficulties are nightmares for directors, crews, and everyone involved with the shoot, including the starlet scheduled to have sex on film with the aspirant). Probably, the new guy who wants to get into performing undoubtedly is a true stud with the ladies or his significant other, and/or in a group situation like a swinger's party, but merely deciding to become a porn star does not get him even considered any more. The present lack of enthusiasm for giving new guys a shot at a career as a porn stud was informally established when similar men in the past were strongly recommended by someone (perhaps even by someone in the Industry, or by a starlet or female with first-hand knowledge), only to have "performance anxiety" and freeze up in front of the cameras, lights, and sometimes his inpatient co-star as well as the crew/director/producer, other actors and actresses, make-up persons, on-lookers, catering people, magazine photographers, location owners and their "gawking" friends/neighbors/relatives, company owners and staff, Industry media, online gossip or news columnists, etc. A new guy who loses his "functionality" causes loss of production time and filming momentum, and possibly additional expenses in overtime charges for the location, rental equipment, and crew. Resultantly, Directors and Producers usually will not accept new guys, no matter who recommends them or how impressive the new guy or his girlfriend says his penile "credentials" and sexual performance abilities are. It's been my experience, and that of many insiders, that new guys are absolutely certain and insistent that they can adequately perform in a functionary manner, but most still fail no matter how much confidence they exhibit, sometimes in spite of the prescription pills they might have privately ingested.
If so many serious and motivated "potential porn stud applicants" contact me constantly, can you imagine how many are writing/emailing/phoning the porn girls, insiders and other porn guys like me, studios, magazines, crews, gentlemen's clubs etc.? Yet, even with new guys masking their use of pharmaceuticals and/or sometimes being part of a male-female couple, I see only five or six credible new guys a year making it into the business, and even some of these get "cut from the roster" if they don't possess adequate and consistent functionality. It doesn't seem to matter (or be an adequate excuse to the studio owners, producers, directors, crews, starlets, or anyone else adversely affected by delays due to sub-par functionality) if the new guy just ran a an exhausting marathon, was taking decongestants or antihistamines for a sinus blockage or a cold, or unavoidably got only a few hours sleep the previous night -- it's an unforgiving business decision not to take a chance using the new guy ever again. Worse, the word of a new guy's non-functionality seems to spread like the speed of light throughout the Industry. There's a lot of pressure on the male performer; unlike his female co-star, he can't fake sexual excitement nor can he hide climaxing too soon before the director gives him the directive to do the "money shot." Instead, the guy has to have a solid and almost-constant erection whenever the camera is rolling, and for the hour-plus it usually takes to film the hardcore portion of the scene, and in spite of the constant stopping and restarting for such things as changing a camera battery, relocating lighting, stopping for required photos of the action, shifting back and forth between the hardcore and the cable-television non-hardcore filming, starlet make-up touch ups, potty breaks, cigarette breaks for cast/crew, water, the sound of someone's ringing or vibrating cell phone, or a passing airplane, or the starting-up of a lawn mower down the street, and on and on!
The key for a new guy is all centered around "functionality": Namely: getting an erection quickly; not climaxing too soon; and, indeed being able to do a money shot somewhat soon after the Director calls for it. Sometimes, new guys taking prescription medications intended to help them with their sexual performance have difficulty getting the money shot to happen quickly enough. Since "FUNCTIONALITY" is the name of the game for guys, let me reiterate: penis size, looks, muscles, and acting ability mean almost nothing for a guy. What DOES matter is the guy's ability to get an almost instant erection in front of people on a set, to maintain functionality for the period of the shoot including being able to get "wood" erected quickly after the many stop-and-go interruptions during the shoot, to control the erection so as to not cum before the Director gives the OK, and, upon being directed to climax, the guy should do it relatively quickly without wasting the time of the starlet or the production folks.
Of course, guys must arrive on set on time, bring the correct wardrobe, have perfect personal hygiene in every way, bring their not-more-than 30 days old Adult Industry Medical (AIM) tests done via the state-of-the-art PCR/DNA testing regimen for chlamydia/gonorrhea/HIV, and bring their ID's, including one government-issued ID showing the guy's photo and date of birth on it. I always bring my State Driver's license and my Department of Defense military ID card. Like I teach in my
www.howtomakeadultvideos.com
classes, in The Adult Industry, there's real time, military time, and porn time – yes, porn time is usually the latest of them, so be prepared to sit around for possibly hours waiting for your sex scene to (finally) begin!
OK, so other than being a multi-millionaire who buys a porn company, what possibilities exist for a new guy to get paid to have sex with beautiful women in the Adult Industry? Well, one direct way is for the aspiring new guy to "discover" a SUPER-beautiful new girl who will agree to enter the Industry while letting him ride her coat-tails, and demanding that he be the exclusive stud she will ever "work with" on film ("work with" is our term for having sex in porn shoots). This can sometimes work if the girl is truly sizzling hot; it's important, though, to understand that every year there are many hundreds of new girls entering the Industry seeking a shot at becoming a famous porn star, almost all of whom will work with any of the already-proven porn guys the Producer/Director wants to hire. A new aspirant's "coat-tail" girl must therefore be so much more attractive than the other new girls, as well as the already-established other girls, that the Director will want her in his production so much that he might agree to her demand of working only with "her" new guy. Candidly, be aware that some new coat-tail girls might sever the deal with new guys at this stage if it means that they might lose THEIR chance to get a shot if the Director balks at hiring the new guy; after all, it means the Director must take a production cost chance on the coat-tail girl and her new guy, a risk he doesn't have to take if he instead books one of the many other girls who will work with any of the famous star studs of the Director's choosing. It might help if a new guy has and shows the Director a couple of tapes of him performing with girls in front of 10 or 20 other people to prove that he doesn't get stage fright in front of lots of people. If the new guy and his coat-tail girl get some initial bookings and do well with them and another 8-10 shoots, perhaps he can then let it me known that he's available for bookings with other girls in gangbangs and other productions; if the new guy performs successfully and meets the "functionality" criteria consistently, he'll join the ranks of the already proven porn studs. Unlike the girls who make a lot of money, we guys are merely props to the point that the pay per sex scene is considerably less than what the girls make!
Another possible way to get into porn is via porn productions. Although the bi-monthly classes I teach in adult film-making are comprehensive and include information for couples wanting to film for their own private viewing or for doing "Cam" shows on the Internet, most students want to become producers as a means of making money and/or getting laid! Once a new producer firmly establishes himself or herself as a reputable player in the adult film arena, contact can then be established with agents and managers of porn talent ("talent" is the term for the women and men who appear in front of the camera) and start arranging bookings. It's not surprising to find that some male producers hire themselves as the male talent, and then hire female porn stars whom they are especially sexually excited about working with. And, some new female producers might inject themselves into sex scenes with either males or females. The AIM testing I mentioned above comes into play, as professional talent mandates the tests, even if a condom will be used for the filming – after all, condoms do sometimes break or malfunction! I'll return to productions per se in a bit, but first some information about other possible ways to be involved with productions, or to somehow find oneself as an "insider."
A crew for porn shoots can be as few as a cameraman and a still photographer (to take shots for DVD box covers, as well as for marketing materials); but, some sets have large crews, such as additional cameramen for multi-angle and/or cable version footage as well as for "behind-the-scenes" filming for inclusion into the DVD "extras." Sets can also have a Director (sometimes in addition to the Producer), Production Assistants, lighting and audio specialists, and ancillary folks for doing make-up, catering, paperwork, etc.
Disappointingly, except for the large gangbangs, very few sets have "fluffers" any more (girls who orally "prepare" porn studs to do the on-camera performing). Producers/Directors seem to prefer using the same experienced crewmembers they've previously hired. Additions to crews usually come from recommendations from other directors, present crews, and talent, thus providing a basis for experience and professionalism. Directors and crews sometimes hire new crew folks who they find out about from various other sources, but they prefer people who won't make production mistakes or hit on the girls while working on the set. As an aside, there's no such thing as "Crew Appreciation Day" where porn girls give oral pleasure to crewmembers, so don't expect any action if you get lucky and land a job through your Uncle Louie as an Assistant Production Assistant, or whatever. If you're wondering if crewmembers ever get a shot at performing, I understand that some have had the opportunity to occasionally do "stunt" cum shots for porn studs who were having a bad day -- because of the AIM and Industry-mandated testing regimen, such money shots are never to the girl's face or near her orifices. Yes, crewmembers sometimes get to date porn girls on a personal level.
Script writing opportunities to get on sets or become an insider might offer some possibilities; however, scripts seem to be somewhat favored from an inner circle of already established "insider" authors. I understand that scripts provided by new writers result in payment of only hundreds, not thousands, of dollars. Since porn films and their budgets aren't usually in the same league with productions such as "Gone With The Wind", the Directors often write their own scripts. And, since there's so much non-feature porn presently being produced, dialogue is often determined, staged, and improvised on the spot.
Some folks contact producers/directors agents, talent, and production companies with the offers of production investor funding. Although this sometimes gets outsiders inside, I need to return now to the general matter of productions per se and opine that we presently have a glut of new producers and a lot of excess footage and films looking for Distributors; thus, like the real estate markets have peaks and valleys, this might not be a good time for investing in films. Nevertheless, being involved with productions does offer a way to enter the world of porn. My class and its content at my
www.howtomakeadultvideos.com
site goes into significant detail about things like distribution, legalities and permits, cameras, lighting, resources, budgets, locations, shooting techniques, production ins and outs, casting, agents/managers, editing, packaging, marketing, happenings and problem-solving on porn sets, revenue sources, and a host of other aspects. Bottom line, getting into some aspect of production is a way for possibly entering the world of porn.
Another possibility is the Internet. More and more, we're seeing adult Internet companies actually shooting content (photos and video), instead of licensing it from content providers or streaming video feeds. The advantage to shooting such content is the exclusiveness of the content, instead of their sites using some of the same content that can be seen at many other sites. Additionally, their output can later be placed on DVD and/or Video-On-Demand delivery systems, thus making them quasi-porn production folks. I sense that porn companies and adult Internet organizations might someday mix and match, sort of converging into cooperative entities, maybe even consolidating. I think the present adult Internet direction provides another avenue for entry into the porn world. Aspiring porn studs who have contacts with adult Internet folks or who know "Cam" girls who sometimes put on shows with guys might want to explore entry into the adult Internet content business as either producers or talent members as a way to get into porn?
All of the above is my personal opinion, and even though it might not sound encouraging, I had to be truthful and candid. I think my comments are on target. Keep in mind that you're not alone in wanting to be a porn stud or production guy or insider—millions of others fantasize about it too, and hope that they personally have what it takes to become the next big-name male porn star. From time to time I'll add to these comments via my "From The Trenches" or "Getting Into The Porn Industry" links at my
www.davecummings.com
, so I recommend that you check them out every once in a while; in fact, some past "From The Trenches" columns already discuss the present porn production situation.
Good luck,
Dave Cummings
Porn Star/Producer/Director
Portrait of the Hollywood club as a party venue
June 9, 2006
Random Notes From A Red Notebook: Danni's Hard Drive Party
The venue looked promising, just off Melrose in a small side-street. I turn off Melrose and find myself in a quiet residential area. Too quiet.... There is no parking on the crowded streets, built when the Model T was as big as a car got, and no crowds of porn-industry revelers on the sidewalk... I think I got the wrong address... I mentally revise my plans and head up to Hollywood Boulevard... The sidewalks are full of revelers and up here there is a club with an address exactly 1000 more than the address I was given... Go figure... I make a qulck left into a parking lot, and the guy in the red baseball cap asks me for $20.... I remember when they used to charge $10, but the price of "outrageous overcharge" has gone up to $20 nowadays.... Red notebook in hand, I saunter up to the black velvet rope and inquire "Who's in charge of the list?" The tall, musclebound bouncer snaps to (It's amazing what politeness and grey hair will accomplish among a mob of rude 20-somethings), finds my name on the list, and unhooks the rope, inspiring awe among the leather-jacketed wannabes still waiting outside.
I walk in and the place is hopping, as one would expect of a Hollywood nightspot on a Saturday night. There is a large banner that says "DANNI'S HARD DRIVE" conspicuously hanging on one side of the club and the TV screens show a loop of sexy footage instead of the usual music videos.... The music is loud, loud, more than loud, and I look around for a familiar face.... I know that AVN award-winning editor Sonny Malone is here, she was my hook-up to the invitation. I take my cell phone and text-message her "Are you here?"... A moment later, my cell phone buzzes in my pocket. I look at the little screen. It's Sonny. Great, I have to talk in this din.... I look around to make sure I don't elbow somebody when I open the phone, and I see Sonny at the bar, cell phone glowing at her ear.... She buys me a drink, apologizes for the bum address, which she had as well.... The video loop on the screens is her handiwork, which doesn't surprise me. Good stuff... Sonny introduces me to one of her colleagues, who offers to buy me a drink. We fall into a conversation about the record industry, where he used to work, at Elektra Records among other places. I mention that I used to manage a record store, and surprise him by naming some of Elektra's other artists besides The Doors... He goes to attend the other guests, and I see Pure Play PR wizard April, who confides something and follows it up with "Don't print that!'... Well, okay... The Danni's party is an overlay on the usual evening at the club, which is cool, we don't have to see the same faces at every party... Nick Manning... Tee Reel walks by...
I find Sonny again, join her in the barred-in smoking lounge.... She tells me that Danni's is getting harder, and they're moving into video distribution as well as Internet content as we both watch a couple necking passionately... Probably just met... When we head out, we wait for her car at the valet, which costs a paltry $10, but you're probably in for a couple-of-bucks tip.... The new direction of Danni's is off to a festive start.
Net Neutrality defeated in House

Lovely. Read the gory details from XBiz:
http://www.xbiz.com/news_piece.php?id=15423
Lori Lust
Glamourcon this weekend
Lori Lust passed this along, reminding me that the mostly-Playboy Playmate Glamourcon will be held this weekend at the Radisson at Sepulveda and Century. She'll be inside, and I will be holding down my usual volunteer position working the door of the smaller ballroom with my friend Joe early Sunday, just as we have done for years. Here's the detail:
Lori Lust attending Glamourcon June 10th-11th
Lori Lust known for her tiny outfits will be attending Glamourcon June 10th through 11th.
This is the best body in the Industry's first appearance and she is pressing out special 8x10s for this event. Lori says she is in the best shape of her life and she wants to show of that body that took her so long to acheive.
Merchandise the Luster is bringing will be 8x10's, posters, dvd's of the movies she's appeared in.
Plus if you don't bring your camera you can have a poloroid picture taken with Lori Lust on your lap.
Lori will be bringing her 5 new DVD's just released. Four of them she is on the box cover.
Also you can bring a copy of a movie Lori shot in for her to sign. Some Newer movies that have come out she is featured in are :
Big Sausage 7
Milf seeker 7
My wife's 1st monster cock # 3
Bodybuilders in Heat 19
Screw my wife please 53
If you want to see Lori Lust and the other 200 pinup and website models the information is below.
Glamourcon is June 10th and 11th 2006
Radisson LAX - at the Los Angeles Airport
6225 West Century Blvd., Los Angeles
Saturday - 11 am to 6 pm
Sunday - Noon to 5 pm
http://glamourcon.com/gc38.html
Jenna Jameson, Prop., ClubJenna
Jenna and company set to make Miami hotter this weekend

The temps are supposed to be in the mid-to-high 80s in Miami this weekend but it should get considerably hotter in the Miami Beach Convention Center as Jenna Jameson and her crew descend for a series of personal appearances and parties for the Exxxotica show. Have a look:

JENNA JAMESON AND HER CLUBJENNA GIRLS TO STAR AT EXXXOTICA ~ MIAMI BEACH JUNE 9th – 11th AT MIAMI BEACH CONVENTION CENTER

Jameson and Her Contract Actresses Will Host Party at Pangaea Lounge on Saturday Night, June 10th

MIAMI – (June 7, 2006) – Cultural icon Jenna Jameson and her ClubJenna Girl protégés will be the stars of EXXXOTICA ~ Miami Beach, a sexy expo to be held at the Miami Beach Convention Center starting Friday, June 9th through Sunday, June 11th.

Guests at the expo can meet Ms. Jameson from 6-8pm Friday and on Saturday from 4-6pm and can meet ClubJenna Girls Brea Bennett, Jesse Capelli, McKenzie Lee and Sophia Rossi from noon to 4pm on Friday and from 6-8pm on Saturday. They will sign autographs and chat with fans in Hall C of the convention center.

Ms. Jameson, who recently surpassed Britney Spears as "the most popular celebrity on the Internet" according to Zoo magazine, is also one of FHM's 100 Sexiest Women in the World. She is also the New York Times best-selling author of "How to Make Love Like a Porn Star: A Cautionary Tale."

"We love Miami and we're excited about meeting our fans there," said Ms.
Jameson. "Celebrating everything sexy is a great theme for an expo and in fact, it's a great way to lead your life."

Ms. Jameson and the ClubJenna Girls will also host a party during EXXXOTICA ~ Miami Beach and will judge the Third Annual Lingerie Night fashion show at the Pangaea Lounge on Saturday evening, June 10th at the Seminole Hard Rock Hotel & Casino (5711 Seminole Way) starting at 10pm.

Guests at EXXXOTICA ~ Miami Beach will also be able to enjoy screenings at the expo's erotic film festival, plus onstage entertainment featuring burlesque, bondage and fetish performances, an erotic art pavilion, hot body contests, product giveaways and much more.


X is for Xcitement

Free porn at Exxxotica show this weekend

PPPcards for free Internet access coming from Cindi Loftus and Xcitement magazine. Have a look:

Xcitement Magazine and Cindisnakedtruth.com to Distribute Sample PPPcards for Anonymous Web Access to Top Adult Sites at Booth #623 at Exxxotica Miami June 9th - 11th

Meet Beautiful Adult Stars Mason Storm, Jennifer Steel and Nicki Hunter

NEW YORK CITY – Free Personal Privacy Protection cards from PPPcard.net, which lets consumers visit top adult websites with complete anonymity, will be distributed exclusively at the Xcitement Magazine/CindisNakedTruth.com booth (#623) at Exxxotica Miami June 9th - 11th at the Miami Beach Convention Center. (More information available at exxxoticamiami.com.)

Cindi Loftus, the popular South Florida adult industry writer, will personally give the PPPcards to visitors at her booth, which will also have beautiful stars Mason Storm, Jennifer Steel and Nicki Hunter signing copies of Xcitement Magazine.

The sample cards will provide 24 hours of totally anonymous visits to such top adult sites as Jenna Jameson's ClubJenna.com, Larry Flynt's Hustler.com, CyberErotica.com and many more.

The PPPcards are now available over 7,000 retail stores across the country in denominations of $5, $10, $20 and $50.

"For over 15 years Xcitement Magazine and I have developed a close relationship with the magazine's readers and this bond has become interactive with the launch of the Xcitement.com and CindisNakedTruth.com websites," said Ms. Loftus. "I think that everyone should be able to enjoy anonymity when they visit the hottest sites on the web. With the PPPcard they can do that. It will be fun to meet my readers at the expo and give them the PPPcards as gifts. I can't wait."

Sex to reach parity with violence in video games?

Looks like it. Take a look at this story from Reuters.



Give your lady a buzz
New buzz in cock rings
A new company has introduced a new variation on the cock ring, making it from stretchy rubber and putting a tiny vibrator in it. Even better, they have a disposable one that comes packaged in a little square box that looks like a condom three-pack and even includes a condom, so this baby oughta fly off the shelves for impulse buys. Take a look:
MP INNOVATIONS' "OMAZING RING" HITS #1
New York, NY - Move over Trojan, and make room for the new king of the novelty marketplace. The "Omazing Ring," a sexual aid manufactured, distributed and sold by MP Innovations, has become the Number One selling item in its category, according to figures released by
www.sextoy.com
.
What is the "Omazing Ring"? It's a revolutionary device which is worn at the base of the penis, designed to stimulate both sexual partners through active vibration and contact. Made of material softer and more elastic than any other competing product, and featuring very intense vibration, the "Omazing Ring" has produced a consumer response that astonishes even its distributors.
"We've had customers who called, crying, thanking us for saving their marriages and relationships," reveals Shawn Partain, president of MP Innovations. "It sounds too good to be true, but it is. We get leads on thousands of products a year and we try to consumer test as many as possible, but the response we've seen with the Omazing Vibrating Ring is through the roof."
"We've never come across anything like this, and we've been involved with a lot of products," concurs Shawn's brother, Matt Partain, CEO of MP Innovations. "Overwhelming satisfaction from consumers. It gives mutual pleasure. It's great for the guy, but it drives the girl absolutely crazy."
The "Omazing Ring" currently is being marketed in two versions, the reusable model and the disposable model. The reusable has a suggested retail price of $19.95 (compared to more than $30 for many competitive models on the market) and is available through mail order catalogues like "Dr. Leonard's."
But the most exciting news is that the "Omazing Ring" now is available at convenience stores all over the country in the disposable version, which costs just $6.99. The early returns have been phenomenal, as evidenced in the report published recently in the National Association of Convenience Stores Magazine.
"Realizing tremendous success in markets around the country," the article states, "OMAZING's superior quality and incredible retail profit margin is what separates the product from the competition…Convenience store owners are very surprised at how quickly the product is moving and the high percentage of repeat customers. This category is generating a huge amount of momentum, and the demand is going through the roof."
Next on the list of outlets will be chain drug stores, where the "Omazing Ring" will be available in the third quarter of 2006. Also, Shawn and Matt Partain are readying a hefty mass media advertising campaign with spots on television, radio, print and the Internet.
Be prepared to hear a lot more about the "Omazing Ring."
Do NOT wear this to a real honky-tonk.
I met a gin-soaked barroom queen in Chatsworth
Wicked Pictures puts out a new title featuring contract performer Carmen Hart in front of the camera and Michael Raven behind. And if you disdain country music – The Dixie Chicks have been on top of the validated SoundScan
Billboard
charts for the last two weeks (and you
know
that's legit because ad sales don't influence the
Billboard
charts) and SOMEbody is buying that country stuff.
Here's the as-usual-amazingly-well-written press release from Daniel Metcalf, who can effortlessly interleave Mick Jagger, London in the '60s, and the video at hand, and you never see the seams. The guy's like a duck: Placid above the waterline, paddling like hell under the surface.
CARMEN HART Finds Sensual Soul Down On The Delta In WICKED PICTURES' HONKY TONK GIRL
LOS ANGELES, CA -- When the Rolling Stones released their legendary single HONKY TONK WOMEN in the early days of July 1969, their rabid fan base shook their heads in collective disbelief. Coming on the heels of such acclaimed (and commercial) descents into tripped-out psychedelia as THEIR SATANIC MAJESTIES REQUEST, the song's now-classic countrified cowbell and drum lick intro, and Mick Jagger's raspy, gin-soaked delivery sounded for all the world more like vintage Hank Williams (especially his HONKY TONK BLUES) than the radio-friendly pop band responsible for such teen-angst anthems as SATISFACTION and LET'S SPEND THE NIGHT TOGETHER. In the media frenzy that followed, Jagger and co-writer Keith Richards claimed they'd actually written the song's Southern-fried lyrics as a hymn to the many charms of "Swinging London" icon Marianne Faithfull. But if the large-lipped lead vocalist had been looking into the future, he may have have been similarly inspired by WICKED PICTURES' own sultry Mississippi queen, alluring North Carolina native CARMEN HART, who headlines award-Winning director MICHAEL RAVEN's upcoming DVD release HONKY TONK GIRL, on store shelves everywhere starting Wednesday, June 7th, 2006.
To give you some background, HONKY TONK GIRL's titular Southern belle is not only one of Adult's hottest rising stars, but she's also become one of mainstream Hollywood's favorite media darlings, thanks to a slate of high-profile red carpet appearances that have made her a bonafide member of the New Hollywood. A popular guest on top-rated East Coast radio station WXQR FM, Carmen has quickly become a fixture at LA's most prestigious entertainment events, strutting her stuff down the red carpet at such soirees as the Night Of A Hundred Stars Oscar® bash, and SHOW Magazine's invitation-only Hollywood launch party. Earlier this year, Carmen worked her skills on the runway at the 2006 Miss Nude Pageant, facing off against twelve of the finest ladies in adult entertainment before winning not only the title honor, but two additional awards in the Best Body and Best Dancer categories.
As an actress and WICKED GIRL, Carmen made her leading lady debut in award-winning director David Stanley's RENDEZVOUS, which hit retail shelves everywhere April 26th. Co-starring Wicked contract actor/director Randy Spears, this entertaining show was a comedy for couples in the classic Wicked tradition.
Not expectedly due to the talent on hand, RENDEZVOUS received rave reviews from industry opinion-makers, and HONKY TONK GIRL is to be another ideal vehicle for Carmen's smoldering, one-of-a-kind screen persona.
WIth acclaimed visionary Michael (BEAUTIFUL, KILLER SEX & SUICIDE BLONDES) Raven at the helm, this new release showcases Carmen's olive-skinned beauty and heady sensuality to perfect effect. Raven's slick, high-tech direction, and opulent production values provide the perfect counterpoint to this winsome brunette's earthy, all-natural sexuality, and it's this tension, the combination of nuance and style, that makes this show one of Wicked's most rewarding releases so far this year.
In HONKY TONK GIRL, perhaps in a way not that dissimilar to HONKY TONK WOMEN years ago, blue-eyed soul meets the Delta Blues down at the carnal crossroads.
And while there may be no cowbell, there's no denying that Carmen is easier on the eyes than Keith Richards!
For More Information, please visit:
www.wickedpictures.com
Your hostess
June 8, 2006

Darklady ventures into James Brown territory
The Oregon-based sex reporter gets into sex machines today with two makers of auto-fucking machines and a photographer who has published a book of pictures of them. Here's the detail:
Darklady's "Sexposé"
Thursday, June 08, 2006
2:00pm PST/5:00pm EST
YNOTRadio.com
TOPIC: Sex Machines Across America
GUESTS:
Timothy Archibald: "Sex Machines" photographer:
www.timothyarchibald.com
Allen Stein: Mastermind behind The Thrillhammer:
www.thethrillhammer.com
Dan Siechert: Designer and creator of the Monkey Rocker:
www.monkeyrocker.com
Alabama legislators have banned the sale of sex toys in their state, apparently afraid that women who use them will lose their affection for men and turn to vibrators and dildos for comfort, affection, and sexual pleasure. If a tiny vibrator can inspire that much insecurity, just imagine how they'd feel if they knew that some sex machines can weigh 450 pounds and move at a rate of 6500 RPM - while others are manually controlled and look like erotic fine art furniture, ideal for any stylish home.
Join Darklady for yet another lively online conversation, this time with photographer Timothy Archibald, whose book "Sex Machines: Photographs and Interviews" took him across America and introduced him to sex machine scientists including The Thrillhammer's Allen Stein and the Monkey Rocker's Dan Siechert. How did these nice men put aside their respectable lives in order to provide untold thousands of men and women with deeper sexual satisfaction? Why would anyone want to use a sex machine, let alone make one? Get the answers to these questions and so much more on "Darklady's "Sexposé."
Log on. Listen. Join in the chat room conversation.
YNOTRadio.com
Thursdays
2:00pm PST/5:00pm EST
"Darklady's "Sexposé" is re-broadcast on Wednesdays at 9am PST, Saturdays & Sundays at 10pm PST -- and available NOW online for download. Podcasts are pending iTunes approval.
Anybody wanna mainstream gig?

BlackWidow sets up a talent agency for adult and mainstream casting. Take a look:

Black Widow Talent to Offer Adult – and Mainstream – Casting to Hardcore Performers

NORTH HOLLYWOOD, Calif. -- With plans to represent hardcore performers not only in adult -- but mainstream productions as well -- Black Widow Productions President Ric Williams announced Black Widow Talent is about to open for business.

Williams, who owned and operated WQ Talent Management, a mainstream entertainment agency that represented 23 actors and actresses in Hollywood, will provide casting opportunities in mainstream and hardcore projects through Black Widow Talent. With finalization of its state license imminent, Black Widow Talent will be a fully bonded and licensed agency.

"I've been getting a lot of calls recently from my friends in the mainstream asking me for porn stars to audition for commercials and TV and movie roles. I decided that the time was right to take on some talented adult actors and actresses and promote them into the mainstream side," Williams said.

Very few adult agencies, Williams added, are bonded and licensed as required by California state law, and none of them have the knowledge and contacts of his prior experience.

"Few people seem to be aware that in California, only state licensed talent agencies or attorneys can negotiate contracts and book talent legally," he said.

Black Widow Talent also pledges to operate with the high standards of the best talent agencies and ensure only the best service to all producers.

Interested adult performers who would like to discuss representation opportunities can contact Ric at ric (at) bwtalent.com.


Did the '60s come back and I missed it? Damn.
Looks good to me
The Hillary Scott drumbeat starts with this press release touting her selection as the new Britney Rears and her involvement with a new vid called
Corruption
. Will Ryder told me that she was a good actress as well as a sex performer, so we'll see how that goes. Press release follows:
HILLARY SCOTT IS ADULT'S NEXT BIG SUPERSTAR
(HOLLYWOOD, CA) Rising starlets come and go but gonzo princess Hillary Scott seems to be well on her way to making the difficult transition from all-sex performer to full time superstar. With major movie releases coming out in September from Sex Z Pictures and X-Play/Hustler Video, Hillary is making a big impact on directors and other industry insiders with her acting chops and star quality proving that she's an actress with substance and talent.
"Hillary Scott is the shit," claimed director Will Rider. "Everybody loves Hillary for her wild sexual performances, but this girl is truly becoming an excellent actor and will be a boni-fide superstar quite soon." During an editing session for the upcoming blockbuster
Britney Rears 3: Britney Rears Gets Shafted
, Rider's opinion of the Chicago native was solidified as he watched light up the screen and carry the movie. "Big time girl, big time talent, big time star no doubt," he continued.
In fact, the blond 23 year old actress is turning industry heads in a number of camps with her seamless ability to transition back and forth between the worlds of all-sex movies and story based sex features.
Industry maverick Bo Kenney owner of Sex Z Pictures has green lighted the biggest movie project in the company's history with Hillary playing the lead role.
Corruption
is being directed by veteran movie maker Eli Cross who has been extremely impressed by the surprising talent.
"Hillary blew us away during her audition for
Corruption
and so far over the first five days of shooting, it's safe to say we made a brilliant choice. She's magnificent and we are thrilled," Cross commented.
The extremely ambitious
Corruption
is being shot over a 10 day schedule which is requiring Scott to endure grueling hours on the set, long stretches of intricate dialogue and a half dozen nasty hardcore sex scenes.
"The sex is the easiest part," joked Hillary as she sat in the make-up chair staring at her script. "I'm having the best year and with me doing these really big movies it has opened my eyes to another side of the industry."
Hillary, who recently was named XRCO's 'Best New Starlet' and 'Orgasmic Oralist' for her sexual abilities now realizes that her world is rapidly expanding with more opportunities, better roles and tremendous projects.
"Hillary is a rising star because she's so much more than just a great sexual performer. She's the entire package. You wait and see," stated Sex Z's Bo Kenney who is eagerly awaiting the completion of
Corruption
.
With new girls coming in and out of the adult movie business every year, only a few ever get the opportunity to be something truly special. Hillary Scott appears to be well on her way to becoming adult's next big superstar.
Check out
www.sexzvod.com
for more information
For sales information on Sex Z Pictures contact: Noel Bloom, Sex Z Pictures, noel (at) sexzpictures.com
Wanna party like a porn star?
The guys at Wanted List know how, and they'll be happy to share the lifestyle online and in person for one lucky contest winner. Press release follows:
The Summer of Partying like a Porn Star, Brought to You Exclusively by WantedList.com
WantedList Kicks off the Summer of 2006 with Trips to Los Angeles, New York and tips on getting a porn star and much more
Van Nuys, CA There is only one way to party like a porn star. And there is only one place on the Internet where you can watch, study and learn how to party like a porn star. Wantedlist.com. This summer WantedList will be offering one lucky fan a trip to Erotica LA to interact with the stars and attend the first annual FAME Awards. Now, they're providing the fans the tools to interact with porn stars through a new feature called the
WantedList Wet Bar
.
The Wet Bar is a series of interviews each week to give fans an opportunity to learn how porn stars REALLY party. Just imagine, you are at the same bar with the illustrious Carmen Luvana! If you've ever wondered what to do if you met a porn star at a bar or what you'd say that hasn't been said, or even what kind of drink to buy her, this is your guide. WantedList goes out with a few different porn stars each week to see what they're all about. After this, fans will be armed with the knowledge to talk and party with any porn star. Think of it as the show Dave Attell would have loved to do.
WantedList will also be running rental and sales specials on all summer long on each girl or company that participates. Look out every few weeks to see what new opportunities (like maybe an all expense paid trip to New York, or a trip to the City of Sin, Las Vegas) lay ahead to make it a summer to party like a porn star.
"Liberal Media"? As if
Read these and remember them when somebody rolls out that tired canard again.
http://www.alternet.org/mediaculture/37103/
http://mediamatters.org/items/200605260016
McKenzie Lee makes friends with a vodka bottle at last year's Vivid Club opening. Photo by yours truly.
June 7, 2006
Vivid's Vegas nightclub shuttered?
Word has it that the Vivid nightclub at the Venetian in Las Vegas has reportedly gone behind The Great Velvet Rope In The Sky. The club
opened to great fanfare in January 2005
, a couple of weeks after the January show, with Jenna Jameson introducing her new contract girl McKenzie Lee, and a star-studded premiere filled with Vegas personalities and representatives of the Porno-American Community.
A correspondent writes: It will be re-named the Fine Theatre, after the financial backers of the project, and will feature an interactive show reportedly similar to the 'Tony & Tina's Wedding' concept. Jeff Beacher is involved.
Vivid the nightclub is no longer showing on the Venetian Website:
http://www.venetian.com/attractions/entertainment.cfm
As good as the idea was, the location was dreadful, a backwater tucked between two pedestrian entrances to the casino that people ignored on their way in, and if you don't know exactly where it is, it's damn near impossible to find, a problem the previous occupants – and the future ones – may find insoluble.
This version is rated "Arrrr!"
Digital Playground offers booty in Pirates display contest
The Pirates promotion juggernaut continues with a retail display contest with a top prize of $10,000, second prize of $5,000 and a third prize of $2,500. To say nothing of the money the stores will make by promoting the new R-rated version of Pirates and having the three-disc X version in the back room. Here's the detail, including a link to the contest website:
DIGITAL PLAYGROUND GIVING HUGE CASH PRIZES TO RETAIL STORES IN "PIRATES" DISPLAY CONTEST
Digital Playground is pleased to launch a 'Pirates' display contest for retail stores worldwide. To participate, retail stores must create an in-store 'Pirates' themed display featuring Joone's "Pirates." One Grand Prize winner will receive $10,000 CASH and two runners up will receive $5,000 and $2.500 respectively. Contest rules and regulations are online at
http://www.DigitalPlayground.com/contest
. Company President, Samantha Lewis states, "we are still experiencing an overwhelming response to 'Pirates' and we want to keep the buzz going. Our new R-rated version of "Pirates' will be hitting mainstream distribution channels on July 11, 2006 and this exposure will solicit a huge amount of BRAND NEW customers to the XXX version. I want all of our retailers o capitalize on the hype that is generating from the upcoming, theatrical release of "Pirates of The Caribbean: Dead Man's Chest" in July. Our retailers can turn a huge profit with a special 'Pirates' themed display."
Photos of the "Pirates" displays can be entered online at
http://www.DigitalPlayground.com/contest
.
Photo entries will be accepted from June 1, 2006 until July 31, 2006. All visitors to the website, entrants, friends and fans alike, can vote for their favorite display. Digital Playground will accept one vote for each unique email address. The grand prize and runners up will be announced August 1, 2006. To increase visibility and promotions, all participating stores will be featured on Digital Playground's highly trafficked website. Entrants will be asked to include store name and location with their display photos.
'Pirates' has become the first adult movie to successfully crossover, receiving an R Rating from the MPAA. The new R-rated DVD version of 'Pirates' will release to the public on July 11, 2006. Pre-book is scheduled for June 20, 2006, timed to coincide perfectly with the July 7th, theatrical release of 'Pirates of the Caribbean 2.'
Filmed with High Definition 24p cameras, award-winning director Joone, has created an electrifying, swashbuckling adventure that takes you on a humorous and mystical journey through haunted seas. 'Pirates' features deadly swordplay against CGI skeleton warriors, awe-inspiring Incan magic, explosive sea battles, and over 300 special effects. Shot on location in California, and off the coast of Florida, 'Pirates' was released as an adult feature in September of 2005, and has already received over 29 awards, including a record-breaking 11 at the January 2006 award Show. Shot on location in California, and off the coast of Florida, 'Pirates' stars Jesse Jane, Carmen Luvana, Janine, Teagan Presley, Devon, Austyn Moore and Jenaveve Jolie.
The political animals
Here's some new stuff. Take some solace that Francine Busby got within 5000 votes of her opponent. If they didn't use Diebold machines.
It's the evangelicals against the rest of us:
http://www.alternet.org/story/36640/
Signs that we're already living in a dictatorship, from Barry Gordon, a child actor who also went to college, became a lawyer, and still maintained his acting career, combining his interests by becoming SAG president and staying there for seven years:
http://gordontalk.typepad.com/talkback/2006/06/you_know_youre_.html#more
If Clinton got impeached for adultery, these guys should probably be stoned to death:
http://www.pensitoreview.com/2006/06/05/the-real-threat-to-marriage-top-10-gop-adulterers/
Stephen Colbert again. A commencement address this time:
http://www.alternet.org/mediaculture/37144/
Blowhard Bill O'Reilly, a Republican apologist and commentator on Fox "News" channel who previously was notorious for asking Jenna Jameson for some free videos on-air, really stuck his foot in it by re-defining a WWII war crime by Nazi soldiers into a WWII war crime by US soldiers. MSNBC correspondent Keith Olbermann takes O'Reilly on in this amazing clip:
http://www.hoffmania.com/blog/2006/06/obermann_takes_.html
Seymore is getting his bus together and taking it on the road

Seymore Butts' party bus, AKA the strip club on wheels, is taking a tour of the US, or at least those jurisdictions where they won't be attacked by pitchfork-wielding villagers. Sponsorships and maybe featuing gigs are available, check the press release for details.
Seymore Butts Announces the U.S. Adult Star Party Bus Tour
(CHATSWORTH, CA) -- Seymore Butts' xXxposed Entertainment announced today their plans to tour the country with adult stars featured on their luxury party buses.
The Adult Star Party Bus tours will move from city to city providing a unique, up close and personal performance by some of today's hottest adult stars. Events will be scheduled in cities such as Las Vegas, Chicago, New York, Phoenix, Miami, Washington, DC, Pittsburgh, St. Louis, Dallas and North of the Border into Toronto to name a few.
Here's a peak into the talent that will make appearances on the tour: Cleopatra,
Mya Mason, Amber Peach, Phyllisha Anne, Jada Fire, Kayla Paige, Sophie Dee, Venus, Sinnamon Love, Kapri Styles and Krystal Clear more adult stars will be named over the next few weeks
"We've had a tremendous response to our party bus program so far that we wanted to heighten the experience and give the masses a once in a lifetime experience to see Adult Stars in a setting like never before. We are excited to make the Adult Star tour an ongoing and long term enhancement to our local party bus program in each city. This will be the hottest tour to hit the U.S. and we are happy to be able to offer our unique sponsorship opportunity to adult and mainstream companies." Stated Adam Glasser aka Seymore Butts.
Tour Sponsorships are available, sponsors will receive Logo and Signage on exterior of the bus, logo included in all national marketing and advertising, product and promotional giveaway opportunities in each city, website link from both the MyPartyNow.com and xXxposedEntertainment.com sites.
For more information on becoming a Party Bus Tour Sponsor or a Featured Adult Entertainer - Contact Craig Price at craigp (at) xxxposedentertainment.
Deadline extended for Temptation Awards pre-noms
You have two days to get those last pre-noms in before the books close on Friday. Take a look:
TEMPTATION AWARDS™ PRE-NOMINATIONS IN FINAL WEEK!
(Los Angeles, CA) Temptation Awards™ pre-nominations are now in the last week for registration and submission. To accommodate the considerable amount of requests for pre-nominations the Temptation Awards committee has decided to extend entries from the previous June 2nd deadline. Pre-nominations now finalize Friday, June 9th with announcement of the official nominations to follow. Many top companies to include, Digital Playground, Wicked Pictures, Pure Play Media, and Teravision have submitted pre-noms for consideration. Those studios, individuals and products not already registered can submit their pre-nominations online at
www.TemptationAwards.com
, for access request login user name and password by emailing prenoms (at) temptationawards.com. Temptation News, the acclaimed CANADIAN adult news OUTLET will produce the first ever Temptation Awards™, July 29th, at the exclusive Beverly Hilton Hotel in Beverly Hills, California.
The Temptation Awards™ is a top-notch Canadian based adult awards ceremony. Through this awards show, Temptation News is increasing their efforts to promote the international acceptance of the adult industry. Founder and Temptation News CEO, George Whitty, is enthusiastic with the strong showing from top studios and industry affiliates saying, "It gives me great pride to see so much of the adult industry participating through pre-nominations and attendance for the show. My ultimate goal is to have full participation from the industry, making this a well rounded and objective awards ceremony! As this final week rounds out I urge all individuals and companies not already doing so to participate in this wonderful night of recognition and honors."
Those wishing to pre-nominate a movie for a Temptation Award must do so before the June 9th deadline. To be eligible entries must have been released between April 1, 2005 and April 30, 2006. Register today to ensure ample time judging. Awards will be presented in more than 30 carefully selected categories. A full list of Temptation Awards™ categories can be found at
http://www.temptationawards.com/nominees.html
.
The Temptation Awards™ sequence of events begins with outdoor red-carpet. Invitees will enjoy cocktails and hors d'oeuvres in the Beverly Hilton's International Terrace. Following the cocktail party attendees move to the glamorous International Ballroom. The show, hosted by Wicked Pictures' jessica drake, will commence with a four course meal prepared by the Beverly Hilton's executive chefs with awards ceremony to follow. Tickets will be available starting on June 9th. In order to secure VIP tables reservations are a must, as they are on a first come first serve basis. Place your request by emailing rsvp (at) temptationawards.com.
The Temptation Awards™ are sponsored by
HotMovies.com
and E-Omega Solution.
For sponsorship inquires to this elite awards show email sales (at) temptationnews.com.
For more information on the Temptation Awards™ log on to their official website at
www.TemptationAwards.com
.
If you don't like the bikini, don't worry about it. It'll be gone soon.
Sixth time's the charm in Miami
The amateur-themed series stacks the deck with pros like Dale DaBone and Eve Laurence. Like that matters, it's all about the action. Here's the press release, complete with a picture of a soon-to-be-de-bikinied Miami maiden.
Platinum Blue And Dale Dabone Heat Up Summer With Miami Maidens 6
Chatsworth, CA -- Platinum Blue Distribution and Edge Entertainment are part of the heat wave this summer as Dale Dabone and his friends bang their way through Miami. Their latest release, Miami Maidens 6 sizzles the asphalt today.
Their sixth title, Miami Maidens uses Florida's incredible location and local ladies Jillian, Eve Lawrence, Briana, Nikita, and Melissa.
Consumers are raving about the series and the talent. Julie writes on Adult Video Universe, "Usually Dave Canon is the man but this time he does business better than before and puts it down! He's no amateur!"
To order Miami Maidens 6, and other exclusively distributed titles from Platinum Blue, see
PlatinumBlueProductions.com
, or contact Dean Sussman at dean (at) platinumblueproductions.com.
Just the thing for those Sex in the City viewing parties.
New oral sex aid makes your dick taste like a Cosmo

This is clever. If your partner of choice wants to keep swilling a Cosmo, Fuzzy Navel, or Sour Apple Martini after last call, the salacious scientists at Doc Johnson have invented an oral lube that tastes like those and other drinks. Just say it's one of those new extra-wide straws. And you warmed it up. Here's the detail:

Doc Johnson Serves Up One-of-a-Kind Oral Lubes to Keep the Party Going Well Past Last Call

NORTH HOLLYWOOD, Calif. – America's most popular mixed drinks inspired adult novelty maker Doc Johnson to create Doc's Cocktails ™, a new line of flavored oral play lubricants that are the perfect concoction for those looking to mix up their nightlife.

Doc's Cocktails ™ are served in five flavors: Fuzzy Navel, Mimosa, Cosmopolitan, Sour Apple Martini, and Mojito. While Doc Cocktails ™ are colored to resemble the beverages they are patterned after, the lubes are non-staining and alcohol-free.

"Even in the area of lubricants, Doc Johnson is continually pushing the envelope in terms of creativity and design," said Chad Braverman, Doc Johnson's product design and licensing manager. "Because Doc's Cocktails ™ are the first oral lubricants specifically developed for oral play, we're confident they will be a huge hit with retailers and consumers alike."

A push-button spray allows for easy application of the lube, available in two-ounce, pump-action dispensers.


Jason Sechrest
June 6, 2006

Jason Sechrest brings hint of mint to PSK tonight

Everybody's favorite sybarite takes the reins of the weekly industry get-together in Burbank, the entertainment center of the Universe. I think I spotted George Lucas there once, a couple of years ago when THX-1138 was being prepped for DVD release. (Sardo's is strategically located between the Warner Bros. main lot and the Warner Bros. Ranch.) The festivities start at 9:30, and I will see you there.

'Curtain up! Light the lights! Eeeeeverything's cumming up ROSES!'
Popular porn host and director, Jason Sechrest, will be hosting Sardo's 'Porn Star Karaoke' in Burbank, California this coming Tuesday, June 6th and he's got high hopes for the night of 6-6-06. 'I hear they're looking for a replacement host,' he winks. 'So seeing as I'm going to really be working it out to make a good impression, this is going to be one night nobody wants to miss!'

SECHREST promises loads of porn giveaways throughout the night and a very diverse crowd of porn stars for fans to meet and greet. Already confirmed to appear are stars from both sides of the sex pool including Shay Sights, Lisa Sparxxx, Brittany Andrews, Ron Jeremy, Eddie Stone, Blue Blake, Bret Wolfe, Christian Owen, Markie and many more.

'I tend to bring a mixed crowd with me when I do these things so I'm really looking forward to introducing some people to Sardo's who have never been before and hopefully bringing the bar another fan base,' says SECHREST.

Sardo's has been voted the No. 1 spot for karaoke in Burbank for several years running and just recently won the No. 1 placing from CityGuide for all of Los Angeles. The ever evolving 'Porn Star Karaoke' night has seen its share of mainstream celebrities in the past year, as well, including the likes of Hal Sparks, John Goodman and Richard Dreyfuss.

'There's a real feeling of family and camaraderie there at Porn Star Karaoke,'' says SECHREST. 'It's not really fan driven or celebrity driven at all. It's just a place for all of us in the industry to come out and chill together. I'm excited to be a part of that and to bring all sides of this fantastic industry together for one hot evening.'

Sardo's is located at 259 N. Pass Ave. in Burbank, California. 'Porn Star Karaoke' runs from 9:30 pm - 1:30 am each Tuesday.


That's not all, folks
Also tonight, L.A. Direct Models Angel Cassidy, Brandy Taylor, Missy Monroe and Vixen hit the stage at Rouge in Van Nuys. Here is the detail:
Get Down and Dirty With LA Direct Models Dancing Divas June 6th
Rouge Gentlemen's Club Hosts Twice Monthly "Up and Comers Night"
(Studio City, CA) Rouge Gentlemen's Club, the site of LA Direct Models "Up and Comers Night", is proud to announce the line up of Dancing Divas scheduled to take the stage Tuesday, June 6th. Join Angel Cassidy, Brandy Taylor, Missy Monroe and Vixen as they make their feature dance debut, bumping, grinding and winding their way around the stage. Shedding their outer wear down to reveal gorgeous glistening bodies that shimmer in the spotlight, these Dancing Divas plan to pull all the punches for show stopping stage performances.
These Dancing Divas ain't no prima donnas, immediately after each stage performance Angel, Brandy, Missy and Vixen are ready, willing, and waiting to give you a lascivious lap dance, pose for polaroids, or autograph merchandise available for your in the privacy of your own home pleasure. No "Up and Comers Night" is ever complete until four Dancing Divas come together in a fantasy four way foray complete with free gifts to audience members and girl on girl on girl, well you get the picture, hot ass action! Your first Dancing Diva takes the stage at 9pm sharp. Please arrive early to ensure your seat at the stage. Industry ladies are always encouraged to attend and are admitted free.
Rouge Gentlemen's Club is located at 14626 Raymer Street in Van Nuys, CA 91343. Please visit
www.rougegentlemensclub.com
for more information. For information about LA Direct Models, please contact them at
www.ladirectmodels.com
.
Portrait of the artist as a former performer
Gina Austin hangs up the lube bottle
Sin City contract performer Gina Austin is packing it in, effective immediately, "retiring" to softcore and magazine layouts. No specific word on future plans, but we'll get 'em, no doubt. Here's the announcement:
Gina Austin Retires From Hardcore
(Chatsworth, Ca)- Sin City Entertainment announced earlier today that performer Gina Austin would be retiring from doing hardcore effective immediately.
"We have appreciated the work she has done for the company thus far and wish her the best of luck in all of her future endeavors," said Sin City General Manager Scott Justice.
Gina Austin, a Penthouse Pet who signed exclusive to the company less than a year ago, has been featured in several popular titles, including ROCK HARD by Barrett Blade and the newly released DREAM TEENS 5 from fellow contract star Hannah Harper.
"I'm satisfied with the boy girl work that I've done but I want to focus on softer stuff now and magazine layouts," said Gina. "I love everyone at Sin City and always will."
For more information on Sin City Films, visit the main website
http://www.sincity.com
. Distributors may contact Sin City through Danny via email, danny (at) sincityfilms.com.
What's going on
The political stuff keeps piling up (You did vote today, right?) so here's a bunch of links to matters political.
This is how it's supposed to work. Canadians foil terrorist plot:
http://www.nytimes.com/2006/06/04/world/americas/04toronto.html
Thank God. Librarians defy FBI:
http://www.alternet.org/rights/36953/

Senior White House correspondent Helen Thomas' new book about the White House press corps:
http://www.rawstory.com/news/2006/In_new_book_White_House_reporter_0601.html
Blumenthal: Our Esteemed President a danger to the Constitution. Of course, it's on a UK website.
http://www.guardian.co.uk/commentisfree/story/0,,1787109,00.html
Who would Jesus walk? Colorado Rockies turn to prayer in a big way:
http://www.usatoday.com/sports/baseball/nl/rockies/2006-05-30-rockies-cover_x.htm
Gen-X strapped by debt:
http://www.alternet.org/wiretap/36658/
Newsweek sees Gay Marriage Amendment as a wedge issue from the jump:
http://www.msnbc.msn.com/id/13121953/site/newsweek/page/2/
New angle on Bush's tax cuts. Basically, if you aren't Paris Hilton, you're fucked:
http://www.washingtonpost.com/wp-dyn/content/article/2006/06/04/AR2006060400782.html
Burning Angel turns up the heat
The NYC-based company releases a gonzo title with a tattoo focus. That's a new one. The vid features Joanna Angel, who caught my interest with the Margaret Atwood tattoo (Quick! Go find a copy of The Handmaid's Tale and read it!). Here's the press release:
BurningAngel Entertainment Announces The Release of "Cum On My Tattoo", the Company's first ever Gonzo Release
"Cum On My Tattoo" features the music of notorious rock band Buckcherry
New York, NY -- BurningAngel's premiere gonzo release, "Cum On My Tattoo" is a first in the adult world! Five scenes directed by Joanna Angel that feature hardcore anal sex, 3-way action, ATM, interracial sex and cum locales like you've never seen—not to mention tattooed girls you won't find anywhere else on the planet and beyond.
Shot exclusively in New York City, each scene is loaded with a sexy tattooed lady, hot sex, a cum shot that only a BurningAngel production could create, and a healthy dose of that trademark New York attitude, all set to music by notorious rock n roll band, Buckcherry. With each cum shot dribbling all over a different tattoo, Burning Angel has unveiled a fetish that has yet to be seen in porn.
"Cum On My Tattoo" is available in retail stores now.
The first new release from BurningAngel Entertainment stars many of the BurningAngel starlets you love, including Pixie Pearl, Pinky Lee, Kylee Kross and Joanna Angel. But Joanna wanted more with this movie.
"Other than yours truly and some of the girls you have come to know and love, all of the other girls in this movie are 100% amateur punk rock internet starlets that you won't be able to find anywhere else," says Joanna Angel, founder of BurningAngel Entertainment."
Besides the music of Buckcherry, Joanna features songs from indie rock band "Beat Strings" off of
xoxo records
. "I love to have an avenue where I can feature really good music, and what better way to listen to music than by watching my girls have sex!"
Cum on my Tattoo 2 is finishing production this month, and is planned to be released late this summer.
"I want this to be one of those gonzo titles that goes up to like #565, like Ed Powers, or Randy West!"
Go to
http://www.burningangelent.com
to check out the trailer.
The movie will be in stores everywhere, to be distributed by
Pulse Distribution
and will be available on
www.burningangelentertainment.com
.
For sales information, e-mail: sales (at) pulsedistribution.com
For more info on BurningAngel, please contact Brian Gross at brian (at) bsgpr.com.
Cindy Crawford lets you in the back door

The latest release featuring the performer – one of the few performers to use her real name – features an impressive cast and anal action a-plenty, as implied by the title. Here's the detail.

Cindy Crawford Invites You To Her House …

DEFIANCE FILMS PRESENTS 'HOUSE OF ANAL'

Porn Valley, California -- Defiance Films and Director Cindy Crawford present House of Anal... Cindy Crawford unleashes her own brand of blistering anal in her directing debut for Defiance Films. Cindy out together one of the most incredible casts for this all Anal fiasco, including not to be missed 4 way girl/girl scene featuring Sammi Rhodes, Tory Lane, Lauren Phoenix and Nadia Nyce. See Sammi get DP'd for the first time ever. Not to be outdone, there are 4 other scenes featruing Crissy Cums, Sophia, Nadia, Hillary Scott and Cindy Crawford herself.
Shot in High Def, see Cindy get every ANAL angle, watch tiny butt holes get plugged with huge tools. Cindy gets the most out of these girls, as each girl sucks their partner off, takes cock deep in the ass and then watch these girls suck them dry, Cindy style!!

Get this fast paced, action packed release now! House of Anal streets June 7th. To order, contact Anthony Simone via email at anthony (at) defiancefilms.com.
If I lost mine, I know where I'd look...
Another day, another clever title

Back when I was working at That Magazine, I was impressed by the wit of the gay titles. Top Brass, Hard Corps, A Young Man's Fancy, you get the idea. Looks like Nectar is helping us straights catch up with this one.

I Lost My Cock in Hillary Scott Streets June 7

Blonde, beautiful and crazy for sex, X-Rated Critics Organization's 2006 Best New Starlet Hillary Scott has fucked and sucked her way to porn stardom and earned the respect and admiration of cocks everywhere along the way. Watch Hillary demonstrate how to treat a dick so good that it will never want to leave! Plus a free bonus scene. And Now You Can Order This in Soft Front Cover And Hard Front Cover !!!!!

Contact Sean (at) nectarmovies.com or Craig (at) nectarmovies.com


Hannah Harper
June 2, 2006

Hannah Harper in the pink at Rouge this weekend
The British performer features at the Van Nuys venue through Saturday night, and you could do a lot worse with your entertainment dollar. Here's the press release:
Hannah Harper Blows Into Rouge Gentlemen's Club
Forecast Calls for Sexy Star To Hit June 1st – 3rd
(Studio City, CA) Can you feel it in the air, that moment of calm just before the storm? Brace yourself, hold on tight, and revel in the tumultuous tempest otherwise known as Sin City contract starlet Hannah Harper as she takes over the stage at Rouge Gentlemen's Club, Thursday June 1st – Saturday June 3rd. Harper, who is not only a Sin City contract performer and director and Penthouse centerfold, most recently joined the Pipedream family of superstars when she signed an exclusive five year agreement which calls for her to design and develop adult novelty products for her very own Hannah Harper Collection. Hannah has also been aggressively attacking the feature dance circuit, recruiting throngs of dedicated fans along the way. 'I can't wait to dance at Rouge. I have been there several times for "LA Direct Models Up and Comers Night" and the club is amazing. There's just something to be said about being naked on stage in front of people that turns me on", giggled Harper, in her seductive English accent.
After each stage performance, Hannah will be standing by for lap dances, polaroids, and autographs. Merchandise including copies of her latest Sin City titles
Sodom 1 & 2, Dream Teens, Dementia 1 & 2, Smokin Crack 2,
and
Stalker
are available to purchase for those who want to witness the gale force that is Hannah Harper. Rouge Gentlemen's Club is located at 14626 Raymer Street in Van Nuys, CA 91343. Please visit
www.rougegentlemensclub.com
for show times. Hannah Harper is exclusively represented by LA Direct Models and is available for photoshoots, feature dancing and more. Please contact LA Direct Models at
www.ladirectmodels.com
for more information. LA Direct Models is the exclusive booking agent for feature dancers at Rouge Gentlemen's Club. Fans may visit
www.hannahharper.net
to see exclusive photo galleries, upcoming appearance schedules, news and much more!
As seen on newsstands everywhere

Topless Tera takes cover of FHM

The latest cover featuring Tera is reportedly the biggest-selling FHM ever, and this fact even got coverage in the usually-more-news-oriented Huffington Post news-and-opinion site linking to the call-it-gossipy TMZ.com article:
http://tmz.aol.com/article2/_a/first-adult-film-star-to-grace-cover-of/20060601112209990001

If this doesn't sell comic books...

The new DC comics featuring Batwoman have reconfigured her as a wealthy socialite who is also overtly gay. Good for her, we all have to find our own path, but do we really need to know what's going on under the tights? To say nothing of the dramatic potential if she were closeted and trying to keep it quiet, blackmail possibilities, romantic overtures from men, I really think they blew it here by not developing it.
http://www.dccomics.com/news/?nw=5864

A big hey-howdy-hey to Big Al Gonzales and all the guys 'n' gals at the DOJ

Looks like the Feds are "asking" ISPs to keep track of people's Web habits, citing the same old bugaboos of terrorism and child porn, which everybody is against and leads people to say "Yeah, okay, go ahead, take away more of my privacy rights."
http://www.usatoday.com/tech/news/internetprivacy/2006-05-31-internet-records_x.htm

Homeland Security to terrorists: Hit NYC again

Saying that New York has no icons worth protecting, the Department of Homeland Security has cut anti-terror funds to protect New York City by 40 percent, raising the question: "What would happen if Bernie Kerik hadn't backed out of consideration for Homeland Security head?" (He'd probably still be allegedly screwing Judith Regan in his little love nest near the World Trade Center site, but he'd certainly bring home the bacon.)
http://blogs.abcnews.com/theblotter/2006/06/no_icons_no_mon.html



Don't pout, dear.

Swank vids join Deep Star VOD offerings

The Best New Production Company winner in January gets a leg up with a download connection. Here's the information for you people with unlimited hard drive space:

Deep Star Makes Swank Addition To VOD Catalog

(Chatsworth, CA) - Deep Star Broadcasting Systems, Inc. has added another important piece to its growing Video on Demand empire. Today's announcement that Deep Star will now offer Swank Digital products through their VOD service will strengthen the popular "Fresh Young Girls" category. It will also bring Swank's productions into millions of VOD households already serviced by Deep Star.

This latest addition expands the Deep Star menu with high-quality young girl movies. In keeping with the company goal to provide users with the best in every genre, Swank was a logical choice. "Swank Digital is yet another important studio to be offered by Deep Star Broadcasting so that we can continue to supply great new product, with a diversified mix" says Richard Arnold, CEO of Deep Star.

Long a power player in the magazine world, Swank entered video production last year and took home an award in January for "Best New Production Company." With a built-in audience already familiar with their style and quality, fans were quickly impressed by Swank Digital titles like Swank Extreme, Just 18 and Black Lust. Now firmly entrenched as a leader in "young girl" porn, Swank Digital gives Deep Star another collection of outstanding titles to offer their customers.

"Swank Digital is excited to team up with Deep Star, allowing our product to reach millions of viewers who can now get access to our DVDs from the comfort of their own home" says James Baes CEO of Swank Digital.

Deep Star VOD customers expect the very best in adult entertainment and with Swank titles now anchoring the "Fresh Young Girls" genre, that is exactly what they are going to get.

Heat on Demand: Delivering enough variety to spice up everyone's life.

For more sales information contact: Bill Furrelle, Deep Star Broadcasting Systems, Inc., bill.furrelle (at) deepstarmail.org



Speaking of downloads...

Entice.tv adds HD to its download offerings, with a Digital Sin title the first of many as people start buying HD TVs to watch their porn on. Here's the press release:

Entice.TV Offers Digital Sin's Watch Me Cum 3 as First All-Sex Full Length XXX HD Title

LAS VEGAS — Just in time for the Memorial Day weekend, Entice.TV and Digital Sin bring the first full-length all-sex title shot, edited and delivered uncensored in high definition, Watch Me Cum 3.

Digital Sin's Watch Me Cum 3 is delivered in HD via Entice.TV's Internet protocol television service, widely recognized as the only adult service to offer HD downloads of full-length titles. Entice.TV is leading the way in adult HD using the Imediasee IPTV technology platform, provided by Broadline Media Corp., allowing Entice.TV to deliver the fastest high-quality video downloads in the industry.

Starring Vixen, Jocelyn Pink, Brandy Talore, Marlena, Kelsey Michaels, Chloe Morgan, and Lela Star and directed by Tyrone Shuz, Watch me Cum 3 is the first of many more titles that Digital Sin fans can expect to see in high definition on Entice.TV. Their first HD title will also be part of the Digital Sin Entertainment Pack awarded as First Prize in Entice.TV's upcoming Erotica LA – Entice.Yourself Sweepstakes that also includes a free 30-day Digital Sin subscription channel and an annual Entice.TV membership.

"We are very excited to be a part of Entice.TV and showcase our vast library of HD products," Digital Sin President Scott Taylor said. "We have built a catalog for quite some time in anticipation of a delivery method for HD products. The time is now and we are proud to be leading the way."

Digital Sin's Watch Me Cum 3 joins Entice.TV's other full-length, uncensored XXX videos – Wicked Pictures' Camp Cuddly Pines Powertool Massacre, Curse Eternal, Crème Brulee and Internal Affairs – that are offered in HD.

Entice.TV President Susan Keil is thrilled with its relationship with all-sex production leader Digital Sin and the high quality video library they bring with them.

"Watch Me Cum 3 is the first of many HD videos we will be featuring in the newly launched Digital Sin HD channel. We already offer 5 other Digital Sin channels, each one focused on a specific niche. The channels are: Digital Sin Asstravaganza, Digital Sin Squirting 101, Digital Sin Teens, Digital Sin Monster Black Cock and a subscription only channel featuring videos from all of the channels - Digital Sin Gonzo channel." she said. "Only Entice.TV's adult on-demand download service can deliver the video quality, convenience and value consumers want – a hardcore porn television network with 100-plus channels of fantastic adult videos to choose from, that can be watched on a PC or TV."

For more information producers may contact info (at) entice.tv.

RFK Jr. in Rolling Stone: 2004 election stolen
Looks good to me. I remember walking precincts in Las Vegas the week of the election and considering the reactions we got I'm surprised that Our Esteemed President took Nevada by 20,000 votes, same as 2000. Here is the story as excerpted by Bradblog:
http://www.bradblog.com/archives/00002896.htm
And here's Greg Palast talking about how they're gong to do it again:
http://www.buzzflash.com/contributors/06/06/con06219.html
Good one
Gay porn producer Andy Fair (There are two ways to read that. They're both right.) makes an interesting observation on the Rob Black/Extreme Associates legal problems. Read it all the way through, and see if the last lines don't hit you like a 2-by-4 in the gut.
http://www.xbiz.com/article_piece.php?cat=43&id=15293
Say ahhh
Clever title of the day

I dunno, this one just spoke to me. Maybe it's the rhyme. Maybe it's the picture. maybe it's both. Either way, here it is:

Lip Lock My Cock available now

Lock and load and get ready to explode as 15 cock-starved harlots greedily put the lip lock on any dick they can find in Lip Lock My Cock. Featuring the considerable fellatio talents of 2006 XRCOs Orgasmic Oralist Hillary Scott, Eva Angelina, whose oral prowess has been recognized at the January awards, and Mysti May, whose welcoming mouth is open and ready for business on yet another of our stunning Foil Covers!!!


What's the best thing about Brazil? Besides the music?

The women, of course. Take, for example, Paola Rey here. If you need more, take a look at the press release here straight from the keyboard of Scott Fayner:

SINCE PRETTY MUCH NO ONE UNDERSTANDS PORTUGUESE, TAKE OUR WORD FOR IT THAT THESE LETTERS ARE HOT! HOT! HOT!

DEFIANCE FILMS' BRAZILIAN LETTERS
HOSTED BY PAOLA REY

Blame your boner on Rio.

Or better yet, blame your boner on the sizzling sex-pots featured in Paola Rey's Brazilian Letters. They won't mind; in fact, they'll love it! So much so that they'd love for you to come back and visit their sultry shores any time you like!

The fifth largest country is hardly in a shortage of hot sluts with wild tales of sexual exploits, and Paola Rey is here to share with the world just how decadent the Latina is.

Attitude, spark and more attitude.

That's what's cookin' 'round here…authentic recipes from the dirtiest of Latin chiquitas.

The 2 big highlights of this movie are Eva Angelina and Sativa Rose devouring each other and then manhandling Anthony Hardwood in a bone chilling 3 way ending in a wet and sloppy facial! Then Paola Rey herself gives one of her fans the ultimate fantasy, newcummer Dominique D'Amore who looks like she was just flown in from Brazil, joina Paola for a sizzling lesbian scene. Dominique has never shot porn before, she's never appeared in a magazine or anywhere else porn related, but Paola tricks this girl out and they make nasty, dirty love with a passion sure to blur your vision!

Also paired together are little mini Kat taking Brian Surewood deep in her ass. Hot latin spice Dana Vespoli takes on the bulging Ben English. And Young Daisy takes Kurt Lockwood for a sweaty ride.

An all star cast of south of the border babes. A first class hardcore, all holes filled XXX extravaganza!!

So add a little spice to your life by feasting on the likes of Daisy Marie, Sativa Rose, Dana Vespoli, Dominique D'Amore, Eva Angelina, Kat and of course Paola Rey as they heat up the night and fill their holes tight and do their men right.

…'Cause everyone speaks the international language of carnal pleasures…