This is now an Archive page. For the latest, click on 'Welcome' on the menu to the left.

Hi. Welcome to tod-hunter.net.

The top of the page was getting cluttered, so here's a link for the reviews, click here if you need to buy some Avon products or click here for links to to Ken Levine's and The Over-Educated Nympho's sites and the rest of the stuff that used to be up here.

I am offering press release services.

If you'd like me to write and distribute a press release for you, click on the newsboy and let's talk.

For the January Madness page, click here.

Nikki Daniels


November 15, 2011

Nikki Daniels co-hosting Porn Star Karaoke tonight

Porn Star Karaoke will be co-hosted by up-and-coming newbie performer Nikki Daniels tonight. Porn Star Karaoke is having a revival lately, with an impressive contingent of newer performers and enthusiastic civilians turning the weekly get-together into a festive party.

Note last week's celebration of Powder's birthday, with him surrounded by a contingent of lovelies for a celebratory lap dance with hostess/ringleader Nicki Hunter there on the right.



Happy birthday, Powder
Genial boniface Seymour welcomes one and all, overseeing the festivities and keeping the good times rolling. Drop in, say hi, catch up and spend an evening in collegial camaraderie with colleagues -- or the porn stars you always wanted to meet but didn't know how.

Porn Star Karaoke is hosted by Nicki Hunter, who can be heard weeknights co-hosting "Night Calls" from 4-7 pm. Pacific Time on Playboy Radio, channel 99 on Sirius and XM. Nicki was named Female Performer of the Year by the X-Rated Critics Organization in 2006 and has directed for Meanbitches.com, thevenusgirls.com and DeviantDavid.com.

Since its start in July 2003, Porn Star Karaoke has become the longest-running ongoing weekly event in the history of the adult business. Porn Star Karaoke is open to the public as well as to members of the adult industry.

Admission, 21 and older with photo ID, and parking are free.

Sardo's Grill and Lounge is located at 259 N. Pass Ave in Burbank, California.

Porn Star Karaoke starts at 9pm. For more information, visit the Sardo's website. Adult industry professionals are encouraged to reserve tables, especially this week. Reservations are held until 10:30 p.m. For reservations or other information email mail@sardosbar.com.




November 10, 2011

Comin' at ya

I spent yesterday morning at a screening of segments from a new production from Digital Playground titled "Jailhouse Heat 3D." The scenes were shot in the same 3D process that was used in the mainstream movie "Avatar," with computer-assisted focus to accommodate camera moves and performer actions.

"We held off on 3D for a long tine because we didn't like what was being made and we wanted to do better," Digital Playground honcho Joone said. "This process gives a lot of depth and doesn't give you a headache."

The 10-minute sequence we saw had high production value. It was shot in high-definition, and one of the people in the audience gasped "It's so clean" -- an odd choice of words to describe the three-way that was unfolding on the screen but appropriate to the image.

"Jailhouse Heat 3D" will only be released in Blu-ray. To watch it, viewers will need a Blu-ray player, a 3D monitor, and the glasses that go with it. This will put "Jailhouse Heat 3D" on a par with mainstream Blu-ray 3D discs.

"It's an investment in our industry," Joone said. "We're looking at the long term here. It's going to be one customer at a time."

As a viewer of dozens of 3D movies dating back to Paul Morrisey's "Flesh for Frankenstein" and William Cameron Menzies' "The Maze," I can say that the 3D was impressive. AVN's Mark Kernes, who has been a 3D hobbyist for decades, agreed.

Porn has been the motivating factor in early adoption of technology for years (Let's face it, people did not buy all those VCRs in the '70s so they could time-shift "Masterpiece Theatre.") and this could be one of those first pebbles down the hillside that moves people into 3D.

Ann Marie Rios at Rouge Van Nuys this weekend

The lovely Ann Marie will be featuring at Rouge in Van Nuys starting tonight. Ann Marie made an impression on me early in her career when I saw her in a For Your Consideration tape from Kick Ass Pictures. When I threw the tape in the machine, I saw her smiling and addressing me by my real name, which almost gave me a heart attack.

I plan to see her before the weekend is out.

November's Miss Exotic Dancer & Hometown Hottie ANN MARIE RIOS Headlines L.A. Area Gentlemen's Club For First Time!

The adult entertainment superstar will be the featured dancer at the Van Nuys Rouge this weekend!

(Hollywood, CA) It's going to be a rocking weekend at the Van Nuys Rouge as one of the hottest Latinas in adult entertainment, Ann Marie Rios, sexifies the stage! November 10th through the 12th, Ann Marie's hometown fans will be able to get up close and personal with the award winning adult star in a special set of striptease shows. This is Ann Marie's first ever headlining gig in the City of Angels and she intends to make this seductive dance showcase a memorable one.

"I am very thrilled to not only be feature dancing, but to be doing it for the first time in my hometown of Los Angeles, makes it even more special," Ann Marie said. "I'm an L.A. Girl and a Dodgers fan. I'm really excited to have all my local fans and friends to join me for a fun, sexy time."

Ann Marie's shows are as follows:
Thursday -- 11pm
Friday & Saturday -- 11pm & 1am.

Free admission to Ann Marie's sexy shows may be had by texting "RVNTC" to 47643. After every show Ann Marie will be on hand to meet fans and friends who attend the event. She'll also be available for photographs as well as signing her latest DVDs and 8x10s. The Rouge is located at 14626 Raymer st. in Van Nuys. More info on the set of shows may be found on the Rouge website.

A testament to how hot Ann Marie's stage shows are, the Costa Rican cutie has been named November's Miss Exotic Dancer from Exotic Dancer magazine. Ann Marie is profiled in a special showcase of images on the Exotic Dancer website. "When I received the news about being Miss Exotic Dancer for November, I was really surprised and overjoyed," Ann Marie noted. "It's always awesome to be noted or recognized for doing something that you love, and this is one of those occasions." The feature on Ann Marie may be found on the Exotic Dancer Magazine website.

Three nights of watching one of adult entertainment's top beauties nude and in-person await you as Ann Marie Rios makes her headlining Los Angeles area debut at the Van Nuys' Rouge! This weekend November's Miss Exotic Dancer is showing off her skills!

For more Ann Marie Rios,
please visit the Ann Marie network:
www.AnnMarieRios.com
AnnMariesAdventure.com - Free blog which contains Ann Marie's calendar
Twitter.com/MsAnnMarieRios
Facebook.com/MsAnnMarieRios

Mainstream fuck-up

This is an interesting story about the still-controversial 1971 "Raising Kane" piece by film critic Pauline Kael, which downgraded Orson Welles' contribution to the movie in favor of his collaborator Herman J. Mankilewicz. The piece, which was later published in the landmark "The Citizen Kane Book," unleashed a firestorm of controversy, with Kael on one side and Welles on the other, and film fans and historians worldwide taking sides.

New evidence now suggests that Kael lifted most of her research from a young assistant film professor at UCLA, including the landmark observation that there was nobody in the room to hear it when Kane said "Rosebud," a fact that had been hiding in plain sight for 30 years by 1971.

The reporter from The Wrap, telling the much bigger story of the intellectual property theft, flubbed a key identification. See if you can spot it here:

But perhaps most provocatively, the article for the first time laid bare one of the major contradictions in the film: The dying Kane mutters the immortal line "Rosebud" to an empty room.

Until Kael's piece, no one had noted that the movie's central plot point -- reporter Jedediah Leland's search to discover what the newspaper baron's dying phrase meant -- is founded on an impossibility, since no one was around to take record of the fateful utterance.

Jed Leland is not the investigative reporter trying to find out what "Rosebud" means, he's the old college buddy of Kane, played by Joseph Cotten, who has a love/hate relationship with Kane through the entire movie. The reporter, Jerry Thompson, is played by William Alland, usually with his back to the camera so he can be the surrogate for the audience.



You'd think a person writing for a mainstream entertainment news source would know the difference. Or find out before they wrote about it.

The Mainstreaming of Porn. And this time I mean it.

You know my feeling about the so-called "mainstreaming of porn." I think it's a load of crap and I also think that if porn becomes commonplace and accepted it will lose a lot of its power.

However, sometimes mainstream and porn use the same techniques. You are probably familiar with what I call the "cross-plug," where an enterprise plugs another company under the same corporate umbrella. Like when channel 7 in L.A. illustrates its weather report with a live shot from Disneyland: Both are owned by Disney.

See if you can spot the cross-plug in the press release below:

Comedian Dave Attell Returns to Host 2012 AVN Awards

Attell Shares the Stage with Co-Hosts Bree Olson & Sunny Leone on January 21, 2012!

CHATSWORTH, Calif. --- AVN Media Network is pleased to announce comedian Dave Attell as a host of the 2012 AVN Awards. Attell previously hosted the show in 2010.

Attell will share the stage with co-hosts Bree Olson and Sunny Leone at the 29th gala ceremony, which takes place Jan. 21, 2012 at The Joint in the Hard Rock Hotel & Casino in Las Vegas. The Joint is a sleek and upscale, 4,000-seat showroom with the reputation as one of the most sophisticated and authentic venues in Las Vegas.

"I am so happy to be back hosting the AVN Awards," Attell said. "It's gonna be a wild show!"

Known as a comic's comic, Attell currently hosts his own late-night cable series, Dave's Old Porn, which he describes as a Mystery Science Theater 3000-style send-up/celebration of adult cinema from the Golden Age era of the late '70s and early '80s.

In promotion of his new show, Attell is working the late night and talk show circuit. After hysterical appearances recently on Chelsea Lately and The Tonight Show with Jay Leno, Attell was on Last Call with Carson Daly November 8. On November 9, Attel was featured on The Late Late Show with Craig Ferguson. Attell's podcast appearances include popular shows by comedian Bill Burr and Joe Rogan.

One of the most popular stand-up comedians in the country, Attell has appeared on a plethora of TV shows including his own series Insomniac with Dave Attell and The Gong Show with Dave Attell.

Created in 2001, Insomniac was a travelogue show in which Attell went from city to city looking for late-night fun. The New York Times called the show, "a doubly rare beast, a comedy show without rancor and a travel show about the virtues of the American underdog."

"We're excited to have Dave Attell return to host the 2012 AVN Awards. He did a great job in 2010 and is a natural fit for the adult entertainment industry's biggest night," said AVN CEO Theo Sapoutzis.

Attell also has appeared on The Late Show with David Letterman, The Tonight Show with Jay Leno, Late Night with Conan O'Brien, The Daily Show, Tough Crowd with Colin Quinn, Arrested Development, Ed, his own half-hour, stand-up special Comedy Central Presents Dave Attell, and the HBO comedy special, Captain Miserable.

Attell also has appeared on the big screen in Los Enchiladas!, The Office Party, Pootie Tang, My Suicidal Sweetheart, Abby Singer, Scary Movie 4 and Harold. He's done voiceover work for the video game Outlaw Golf 2 and Scooby-Doo! Abracadabra-Doo.

Tickets to the gala red carpet event are also available for fans to purchase through AVNAwards.com . Industry members receive reserved seating. More information about reserved seating may be obtained by emailing Bonnie LeBlanc at tickets@avnawards.com.

Now in its 29th year, the AVN Awards show is the adult industry's biggest night, while the awards themselves are the industry's highest honor. With a stylish red carpet pre-show and lavish star-studded ceremony, AVN celebrates outstanding achievements in the world of adult entertainment.

Dubbed "the Oscars of adult" by Entertainment Weekly, the AVN Awards is a must-attend, must-see event featuring the hottest stars from adult and mainstream pop culture.

The AVN Awards will take place after the annual Adult Entertainment Expo (AEE). AEE runs January 18 -- 21, also in the Hard Rock Hotel & Casino. In 2012, AEE includes traditional exhibits, meeting rooms, exhibit suites, more networking events, more parties, more product demos and more educational components.

Attelll's show "Dave's Old Porn" is seen on cable on Showtime. The AVN awards have been on Showtime the last few years and (I'll bet) will again in 2012.

Bingo. Cross-plug.

WILL you CUT that OUT?

In that press release, the "Oscars of Adult" meme is repeated, although now the responsibility is shunted off to Entertainment Weekly.

This is not the usage recommended by the Academy of Motion Picture Arts and Sciences, which has been vigilant in protecting its trademark award. According to rule 20-B of the "Regulations for using Intellectual Properties of the Academy of Motion Picture Arts and Sciences"

neither the marks "Academy Award (R)" nor "Oscar (R)" may be used to describe awards given by organizations other than the Academy. (An award may be described as "the Uruguayan equivalent of the Oscar Award," but not as "the Uruguayan Oscar.")

(Note, by the way, that the Academy does not expect other people to put the little R-in-a-circle doohickey when they use the term "Oscar." They do it themselves but don't require it.)

I've said this dozens of times over the years and I'm going to say it again: You do NOT want to fuck with an operation that has an eight-story headquarters in Beverly Hills. It may be Entertainment Weekly's error, but when it turns up in EVERY press release for the AVN awards, AVN has to take some responsibility.




Powder (left) and friend

November 8, 2011

Celebrate Powder's birthday at Porn Star Karaoke tonight

Longtime adult-industry behind-the-scenes personality Powder White will be celebrating his 40th birthday at Porn Star Karaoke at Sardo's Grill and Lounge tonight. Powder is a contender for nicest guy in the adult business and the celebration will no doubt bring out the big guns, so make a reservation and get there early because Sardo's is only so big and after a certain point he laws of physics kick in and admission is impossible.

I have a previous engagement for earlier in the evening but I expect to get there before closing time. I'm not making a reservation so if you see me, offer me a seat.

Powder White's 40th Birthday Celebration at Porn Star Karaoke on November 8th

BURBANK, CA. -- Powder (aka Powder White) has been a mainstay of the adult industry in Porn Valley for 7 years, first as a tech, producer, talent coordinator and on air host at KSEXradio, then fulfilling similar duties at RudeTV. His cheerful manner along with constant professionalism, has made him an esteemed colleague and friend to many adult industry professionals, and he'll be celebrating his 40th birthday at Porn Star Karaoke at Sardo's Grill & Lounge on Tuesday, November 8.

Hosting the evening will be the HOT & SEXY Nicki Hunter. Nicki can be heard weeknights co-hosting "Night Calls" from 4-7 p.m. PDT on Playboy Radio, channel 99 on Sirius and XM. Nicki was named Female Performer of the Year by the X-Rated Critics Organization in 2006 and has directed for Meanbitches.com, thevenusgirls.com and DeviantDavid.com.

Since its start in July 2003, Porn Star Karaoke has become the longest-running ongoing weekly event in the history of the adult business. Porn Star Karaoke is open to the public as well as to members of the adult industry.

Admission, 21 and older with photo ID, and parking are free.

Sardo's Grill and Lounge is located at 259 N. Pass Ave in Burbank, California.

Porn Star Karaoke starts at 9pm. For more information, visit the Sardo's website. Adult industry professionals are encouraged to reserve tables, especially this week. Reservations are held until 10:30 p.m. For reservations or other information email mail@sardosbar.com.

About Powder White: Powder White has been in the industry since 2004, hosting such shows as "Pinky and The Geek" with Heather Pink, "Rebecca's Lovelines" with Rebecca Love, "The Sunny Side of Porn" with Sunny Lane on KSEXradio, "Guitarded" with Dakota Brookes, "Color Blind" with Mya Mason, and "Smell My Finger" with Roxanne Hall on RudeTV. In late 2007, he began work as the marketing and content manager for Lynn LeMay's LeMayzing Pictures. Today, Powder continues to work behind the scenes with various industry individuals in multiple capacities with in the adult business. Over the last few years, he began covering current adult industry events through his pr/news/multimedia website, PornStarsAfterHours.com. For more information on Powder White, visit powderxxx.com and pornstarsafterhours.com.

Speaking of karaoke

Rebecca Love is sending out an SOS for porn star hosts for her Monday-night Karaoke XXX in Las Vegas. If you're going out to Vegas for the weekend why not stay through Monday (and maybe Tuesday) and press the flesh with the fans?

I need Porn Star hosts for "Karaoke XXX" in Las Vegas. Please make sure you email me ASAP... karaokexxx.com

It is time to fill the Karaoke Calendar for Monday nights :)

Rebecca Love

You can contact Rebecca at karaokexxx@gmail.com. Tell her I said hi.

Cynthia Myers, Miss December 1968

Goodbye, Cynthia

Cynthia Myers was a pin-up icon of the late '60s, her pneumatic figure folding out of the December 1968 Playboy and into the fevered brains of every horny teenage boy who could get his hands on that issue. She starred in Russ Meyer's landmark 1970 film "Beyond the Valley of the Dolls" and a few other exploitation films as well.

I met her I-don't-know-how-many-Glamourcons ago right after the original "Playmate Book" came out... wait a minute, let me check the copyright date... around 1996. She was the first Playmate to join the online Playboy Mailing List, where we discussed at length the monthly magazines and the ongoing story of what's going on at Playboy. (In the late '90s the PML was very influential, avidly read by many higher-ups at Playboy including Hugh Hefner.) I was flattered when she remembered my name. Cynthia Myers knows who I am! Woo-hoo! I did not say.

She was always friendly and welcoming, and it was a pleasure to see her at many Glamourcons where she cheerfully signed autographs, posed for pictures and caught up with her fans and friends.

On the eve of this weekend's Glamourcon I was stunned by this Twitter communication from Hugh Hefner:

I'm saddened by the news of the passing of beloved Playmate Cynthia Myers, Miss December 1968.

No other details were released.

Everybody at Glamourcon was shocked and surprised by the news, and there was a moment of silence in her memory.

She was 61.

Magic Castle update

After the Halloween fire, the repairs of the 100-plus year old structure are continuing, with the west wing open for business and magic shows, including a nightly buffet and two bars open. The schedule posted on the Magic Castle website indicates that the full Castle is planned to be up and running on the 21st.

The Castle has started an "Inferno Fund" to help defray the costs of the repairs. Ironically, the week-long celebration of Halloween was called "Inferno at the Magic Castle," so they had a name for the fund ready. If you'd like to contribute, click here.



Now available form Video-X-Pix

The Porn-Politics-Mainstream trifecta

Since tod-hunter.net started in 2004, the top of the page has read "Porn. Politics. Mainstream." reflecting my interests and the information I want to share on the website. Sometimes there are crossovers where two of the three overlap, but I believe this is the first time all three have come together.

William "Sonny" Landham is an actor who has appeared in mainstream films including "Predator," John Cassevetes' "Gloria," Walter Hill's "Southern Comfort" and "48 Hrs." He has been a political candidate in his native Kentucky, on the Republican/Libertarian side of the political spectrum.

He also starred in porn films. If you look at his page on IMDB, you'll see a smattering of adult titles -- at the bottom, when he was getting started -- including "Big Abner," a spoof of the comic strip "Li'l Abner."

As you may have noticed, "Big Abner" has just been released on DVD by Video-X-Pix, the longtime distributor of '70s Golden Age movies. To get more detail, click on the cover to email Steven at Video-X-Pix.

The movie that will not die gets a leading lady. Maybe.

Nikki Finke is reporting that mainstream actress Amanda Seyfried has been cast a Linda Lovelace for a movie version of Lovelace's life. I'll believe it when I see it. This has been knocking around for years -- at one time Lindsay Lohan was mentioned as the possible lead -- but the story at its best is a sordid one, and with Lovelace and her husband/manager Chuck Traynor dead, as well as Traynor's later protegee Marilyn Chambers and "Deep Throat" director Gerard Damiano, the coast is clear for filmmakers to make any kind of movie they want with nobody jumping up and saying "I was there and it wasn't like that."

I think "Hardcore" and "8mm" did enough damage already, I don't think we need a film version of "Inferno." With luck it'll just die.

Damn it anyway

Rupert Murdoch's HarperCollins publishers has agreed to purchase Thomas Nelson Publishing, the largest independent religious publisher in the world. News Corp. already had one Bible publishing company, Zondervan, which never especially successful, overshadowed by Thomas Nelson.

I have always had a warm feeling for Thomas Nelson ever since I found out about them while researching a question on the game show. I had to determine if a particular publisher was a Christian publishing house so I called them and asked them. When the PR person said they were, I asked her if they published Bibles, because the Bibles we had in the house library were pretty beat up from constant use.

She said no, they didn't, but her roommate worked at the biggest Bible publisher in the world and did I want her number?

I did.

The roommate, who worked at Thomas Nelson, was very helpful, and she sent us a beautiful leather-bound Bible that she said was just what we needed. She was right. It was extensively cross-referenced, with all four Gospels annotated so if you looked up the loaves-and-fishes business in one Gospel the cites were right there so you could find them all. When a prophecy was made in the Old Testament there was an outline star and a cross-reference to it being fulfilled in the New Testament where there was a filled-in star and a cross reference back to the original prophecy. It had maps, it had informative essays, it had two ribbon markers, it had an Owner's Manual. This was the Cadillac of Bibles.

And now the company belongs to Rupert Murdoch. I wonder what their new revised version of the Bible will say.




Fireman with pictures from the Magic Castle. Click for L.A. Times story.

November 1, 2011

Magic Castle update

I've gotten several expressions of concern regarding yesterday's fire at the Magic Castle, for which I'm grateful.

The fire was isolated to the attic, fortunately above the executive offices which were staffed at the time. Damage is due to smoke and water from the fire hoses and the sprinklers inside the building.

The Castle has released this official statement:

As you may already know, the Magic Castle experienced a small fire this morning, starting in the attic above our administrative offices. Fortunately, no one was hurt in the incident, and the Los Angeles Fire Department was quick not only in responding to the scene, but in resolving the situation and minimizing the impact to the building.

The Castle has experienced some damage to its roof, as well as to some ceilings and fixtures. With sadness, therefore, the Board of Directors has decided to close our operations for the next several nights and, once our assessment is complete, will be announcing whether we'll be closed for business beyond that. We believe that insurance will cover any financial losses, and have notified our carriers.

We, the Board of Directors, would like to sincerely thank the LAFD (for their usual excellence and going "above and beyond" with their help), the AMA staff (who reacted with great poise and professionalism), and also all the concerned members and friends we've heard from today. We want to assure everyone that we'll do everything we can, to get our beloved clubhouse back to her original condition as soon as possible.

Right now, the plans are for the Castle to reopen on Friday. Hold a good thought.

Now, I'm going back to watching DVDs for AVN award consideration.


October 26, 2011

Celebrate Halloween early with Wicked Pictures tonight

Three contract performers from Wicked Pictures will be signing and judging a costume contest at the flagship Hustler Hollywood store on the Sunset Strip tonight. They will be promoting the company's new releases "Horizon" and "The Rocki Whore Picture Show: A Hardcore Parody" so here's your chance to get those early holiday presents for your porn-collecting friends.

It starts early, at 7:00 tonight, so doll yourself up and get there early. And when you're finished stroll down the street to Book Soup because they deserve some support too.

Hustler Hollywood and the Wicked Girls to Host a "Sex-Tacular" Autograph Signing and Costume Contest

jessica drake, Kaylani Lei and Alektra Blue Signing at Hustler Hollywood

LOS ANGELES, CA -- Wicked Pictures is pleased to announce that the glamorous stars of Horizon and The Rocki Whore Picture Show: A Hardcore Parody will be signing autographs for their fans at Hustler Hollywood this Wednesday night, October 26, 2011. The Hustler brand's flagship retail location, Hustler Hollywood is located at 8920 West Sunset Boulevard in West Hollywood, California. As part of the evening's festivities, contract superstars jessica drake, Kaylani Lei and Alektra Blue will judge a fun and "sex-tacular" costume contest.

The festivities are slated to begin promptly at 7:00 PM, and the posh venue promises to be the perfect place for the Wicked Girls to promote their two Editor's Choice releases. In commemoration of the films' ongoing success, limited quantities of promotional items will be given to customers purchasing either Horizon or Rocki on DVD. Jessica, Kaylani, and Alektra will be on hand to meet and greet their fans, take pictures, sign posters and DVDs, and much more. Once the costume contest begins, the lovely ladies will be judging entries in four categories - Best Women's, Best Men's, Best Couples' and Most Unique costumes. Prizes will be awarded to the finest costume in each category.

The ladies have been in promotional overdrive in the days leading up to the costume contest and signing, most recently appearing on 987fm.com with noted radio personality Darren Rose. Their interview can be experienced in its entirety at bit.ly/tcekI2.

So whether you're a sweet transvestite from transsexual Transylvania or a space invader from the Eighth Dimension, the hauntingly beautiful women of Wicked Pictures can't wait to see you at Hustler Hollywood! For more information, please visit wicked.com.



Camille Crimson, WITHOUT her boyfriend's dick in her mouth. You have NO idea how rare these pictures ARE.

Heh

Professional fellatrix Camille Crimson passes along a funny clip in her blog. If you spend enough time watching porn this is not a new concept to you - although fast-forwarding the sex scenes might be.

A whole new level of 'wrong' at Homeland (In)Security

The total-invasion policies of Little Boots and his merry band of fascists are still with us. A TSA baggage inspector put a note in with a vibrator he found in a woman's luggage. Ew.

As seen on Peeperz.com: http://www.peeperz.com/tsa-agent-leaves-creepy-note-for-woman-with-a-sex-toy/

Nacho Vidal is back

I pass this along for two reasons: One, a new Nacho title is always welcome, and two, L.A.-based performers will be interested to know that Nacho is back in the States and that means that there could well be WORK available.

You can thank me later. Buy me a drink.



Six Sex Superstars Welcome 'Nacho Vidal: Back 2 USA'

Spanish Stud/Director Re-Establishes Camp In Porn Valley With New Evil Angel DVD

Van Nuys, CA -- He's known for injecting his XXX scenes with shockingly rough, edgy sex as well as his own massive, relentless penis. But for several years Evil Angel director/stud Nacho Vidal created his uncompromising porn in Brazil, Colombia and his native Spain. In search of fresh inspiration -- and fabulous female talent -- Vidal has returned operations to Los Angeles. And "Nacho Vidal: Back 2 USA," his new Evil Angel DVD and VOD releasing on November 14, commemorates the reunion with visceral intensity that shows why L.A.'s "Porn Valley" is the smut industry's Mecca. Vidal tests his talent, ravaging six top sex stars in the movie's five scenes.

"I was looking for some fresh air -- more energy to shoot different stuff," says Vidal of his move. "I was stuck in Barcelona. There aren't enough performers in Spain." "Back 2 USA" shows that he made the right move with a stunning cast including Vidal's fellow Evil Angel performer/director Bobbi Starr; French-Asian favorite Katsuni; rising star Holly Michaels; Spanish siren Rebeca Linares; American beauty Dana DeArmond and Latina knockout Franceska Jaimes.

Vidal describes the movie: "It's basic POV, really sexy, arousing, so real -- just me, camera in one hand, cock in the other -- that's the way I get the best energy. Every scene is special. Bobbi is amazing -- she let me do whatever I wanted to. Holly is so fucking incredible -- I had to stop fucking every five minutes or she would make me cum. Rebeca was really welcome -- I hadn't seen her in many years, after I did a scene with her when she was 19. Katsuni, it had been six years. We had sex in my apartment; it was so fun! And Franceska and Dana-- that was really intense." The heat with Jaimes and DeArmond, in the movie's climactic threesome, is no surprise given that Jaimes is Vidal's wife!

After a short leave from Evil Angel back in 2003, Vidal marked his return with the edgy, highly acclaimed "Back 2 Evil." He continues the tradition of hard-ass homecummings in "Nacho Vidal: Back 2 USA."

Adds Evil Angel General Manager Christian Mann "This company has always been director driven. Nacho Vidal is one of the elite director/performers with a vision uniquely his own. No one directs a Nacho Vidal scene like Nacho himself. Those are only found at Evil Angel."

See the trailer for "Nacho Vidal: Back 2 USA" at http://www.evilangelvideo.com/title/1000009651

"Work faster, OK? That'll be swell!"

Disneyland uses 'electronic whip' to motivate hotel workers

The hotels of the Disneyland Resort have implemented electronic monitoring of hotel workers to increase productivity. They now are not taking breaks or going to the bathroom to keep the numbers up, and one of the workers called the monitoring an "electronic whip" and it stuck. I can't imagine how frustrating it must be to clean hotel-room bathrooms when you can't take time to GO to the bathroom. I mean, it's RIGHT THERE.

Steve Lopez took a look at it in the L.A. Times.

Nude beach humor

I saw this picture and this caption just came to me. I think it's funny. Feel free to send outraged comments here.



"Does being naked make my butt look big?"
Brooklyn Lee

October 25, 2011

Straight inta Brooklyn

Mark Spiegler has just signed performer Brooklyn Lee. Note that the offer to contact Spiegler in order to book her is extended to bona-fide producers only.

Folks,

Spieglergirls is proud to now be representing the porn phenomenon known as BROOKLYN LEE. Hailing from Ohio by way of Boston and New York, Brooklyn Lee launched her porn career in 2010 and quickly began turning up in high-profile projects.

Lee gravitated toward porn incrementally, making her way from waitressing at a regular club to cocktailing in a strip club, then dancing, then taking the plunge and coming out to the west coast.

"I had long suspected myself to be an exhibitionist," she reflects. "The extent to which I enjoyed dancing on stage as a stripper furthered this suspicion. My first scene as an adult performer confirmed it."

Saying that porn performing "comes more naturally than I could have anticipated" to her, Lee asserts, "I love the thrill of people watching me. I love the rush of inviting others into my intimate moment. I love to shock. I love to entice. I love to cause erections. I love to push boundaries."

Adult legend Tabitha Stevens has said of Lee, "Brooklyn is not only super sexy and an absolute pleasure to work with, but she can also act. Nowadays, it's hard to find a girl with that package ... Brooklyn is that total package."

Lee's notable roles of late include starring in Wicked Pictures' "Heart Strings," Vivid's "Spiderman XXX," as the Black Widow, and most recently, she is also being featured as the lead character in an upcoming dramatic release from John Stagliano.

Brooklyn is currently available for the following types of scenes: Solo, BJ, G/G, B/G, Fetish, Group, Anal & DP.

Please contact me if you are interested in booking her.

Porn Star Karaoke honored by LA Weekly

The alternative newspaper complied a list of 50 reasons Los Angeles is the best effing city in America -- and ever since LA Weekly was bought by the Village Voice it's a major accomplishment for them to acknowledge that ANYTHING in L.A. has merit -- and longtime adult industry celebration Porn Star Karaoke at Sardo's Grill and Lounge made the list.

Hooray.

Festivities begin at 9 o'clock tonight, as usual, and I'll see you there.

PSK Celebrates we're Number 38!

In the LAWEEKLY article "50 Reasons Los Angeles Is the Best Effing City in America" Porn Star Karaoke was listed as reason Number 38 on why LA is the best EFFING City. It's nice to know PSK is recognized by all our hard work and support from the Adult Industry and all its fans. Come on down this Tuesday night to toast we're number 38 and will strive to make it Number ONE!

http://blogs.laweekly.com/stylecouncil/2011/10/50_reasons_los_angeles.php

Since its start in July 2003, Porn Star Karaoke has become the longest running ongoing weekly event in the history of the adult business. Porn Star Karaoke is open to the public as well as to members of the adult industry.

Admission, 21 and older with photo ID, and parking is free.

Sardo's Grill and Lounge is located at 259 N. Pass Ave in Burbank, Calif.

Porn Star Karaoke starts at 9 p.m. For more information, visit the Sardo's website. Adult industry professionals are encouraged to reserve tables, especially this week. Reservations are held until 10:30 p.m. For reservations or other information, send an email to mail@sardosbar.com

AVN launches page for awards

AVN has launched its awards page site. Take a look: http://avnawards.avn.com/

Free sex toys!

That oughta be good for a few hits...

Digital Playground is providing prizes for a couple of contests through EdenFantasys.com so if you're in the Halloween spirit, you can cash it in for a couple of sex toys.

DIGITAL PLAYGROUND NOVELTIES TO SPONSOR EXCLUSIVE HALLOWEEN PROMOTION WITH EDENFANTASYS.COM

Get 30 percent off Tricks, Treats and Treasures at EdenFantasys.com

VAN NUYS, Calif. -- Digital Playground Novelties is sponsoring the Tricks, Treats and Treasures Halloween promotion with EdenFantasys.com.

Take advantage of the best prices of the year on Digital Playground Novelties and DVDs with a limited time 30 percent.

Digital Playground's Pirates novelty line, which launched in January 2010, is based on the biggest blockbusters in adult film history, Pirates and Pirates II. The Pirates films were created by Digital Playground and have won numerous awards, international acclaim, and incredible amounts of mainstream coverage. In 2010, The wearable Pirates Pendant Vibe won the prestigious and highly coveted AVN "O" Award for Outstanding Powered Product.


Unique packaging allows consumers to see the entire product easily
Exquisitely designed 100% medical grade materials
State-of-the-art engineering
Multiple powerful speeds and variable vibration modes
Exceedingly Quiet
Discreet
Body Safe
Waterproof
The stimulating and tasteful designs of the Pirates Novelty Line deliver intense pleasure coupled with beautiful designs. The playful line features some of the most beautiful stars of the adult industry: Jesse Jane, Riley Steele, Katsuni, Stoya and Janine. The Pirates' treasure chest of toys includes Rockets, Rabbits, Pendant Vibes, Pleasure Rings and Strokers. For a closer look at these one-of-a-kind novelties and more, go to digitalplaygroundnovelties.com.

Let's go to the movies!

The Academy of Motion Picture Arts and Sciences has announced a series of films featuring the work of two upcoming recipients of honorary Academy Awards, the Thalberg award winner, and also a 40th-anniversary screening of Peter Bogdanovich's "The Last Picture Show."

The honorary awards are going to actor James Earl Jones, who will be honored with a screening of "The Great White Hope," and make-up man Dick Smith, whose work will be showcased in "The Exorcist."

If you have never seen "The Exorcist" on a big screen, do not miss this opportunity. People were fainting and running screaming out of theaters all over the world when it came out in 1973, and I was working in Westwood where people were routinely waiting six hours to see it at the National theater at Gayley and Lindbrook. Every night there was an "unscheduled" midnight show, except on Friday and Saturday when there was a scheduled midnight show and an "unscheduled" 2 a.m. show.

I have always liked "The Last Picture Show," ever since I first saw it in November 1971. It was the opening night film of the first Los Angeles International Film Exposition, held at Grauman's Chinese, and it was gleefully ironic that the opening night of the first Filmex was "The Last Picture Show."

Not everybody was equally impressed by the irony. I spoke with Peter Bogdanovich at a book signing a few years ago and I mentioned that it had been the opening night of the first Filmex and he had forgotten.

Tickets go on sale Nov. 1 and as usual at the Academy they are $5, which would be cheap at twice the price.

Click here for details.



Remembering Mary Blair. Inage copyright Google.

October 21, 2011

Happy birthday, Mary Blair

Pioneering Disney color stylist and Imagineer Mary Blair was born 100 years ago today. Her eye-popping style was developed during a WWII-era trip to South America with other Disney artists, and was immediately put to work in the compliation films "The Three Caballeros" and "Saludos Amigos." She then moved over to Imagineering and developed the style of attractions including "it's a small world" (the white facade "painted" with colored lights at night is her creation) and prepping two massive tile murals for the walls of Tomorrowland (now unfortunately obscured by other murals; the north one is pretty much intact but the south one has some damage).

There was a tribute to her at the Academy of Motion Picture Arts and Sciences last night, and as the celebration was winding down, "Up" director Pete Docter looked at his watch and said "It's after 9, so right now there's a Google doodle commemorating her on her hundredth birthday," giving us something to look forward to when we got home.

Happy birthday, Mary Blair, wherever you are. Our lives are a little brighter thanks to you.

Roy Karch needs your help

If you got one of those phony calls for help from his hacked email account, you should get in touch with him at roykarch@pacbell.net because some of the collateral damage was that he lost his address book.

And be careful when you are asked for your password. You should only use it to log in. Anything else, your BULLSHIT detector should glow red.

Gram Ponante looks at the Brian Surewood case

I've always liked Brian Surewood. He was the first person I ever met on a set, for a long-forgotten Thomas Paine video where I also met Stacy Valentine, Kiss, Sharon Mitchell, and Jill Kelly. He is currently serving time for his involvement in a road-rage incident where a child was killed and the child's sister and mother were critically injured.

Gram Ponante has taken a look at Surewood's situation, including a lengthy post from Surewood's wife, in this post on his site.

Check it out.

Mainstreaming of porn, example #708

We've been down this road before, I think the so-called "mainstreaming of porn" is a crock. Mainstream will never put -- or accept -- hardcore sex in its product, with occasional rare exceptions like "The Brown Bunny," "Shortbus" and "9 Songs."

However, they know we're here and they will appropriate terminology and ideas where appropriate. Take this quote from director Joe Dante, for a Halloween page on the Academy of Motion Picture Arts and Sciences website:

[F]or many of my peers, Frankenstein, Dracula and the Wolf Man were movie nirvana. Now of course the culture coarsened to the point where most horror films are structured like porno pics, with the death and dismemberment as the Money Shot...

"Money shot"?


Is das nicht eine Porno-Flik?
Ja, das ist eine Porno-Flik!

New Sensations has placed two productions from its "Romance" line in the Berlin Porn Film Festival. I've been a fan of the Romance series since it started, primarily because I think the only way this industry is going to grow is by getting the young women, and we can get them by showing them what they see on Hallmark and Lifetime -- with some sex.

And now the productions are getting international attention. Cool.

THE ROMANCE SERIES MAKES ITS INTERNATIONAL THEATRICAL DEBUT!

Highly Acclaimed Films, "Lost and Found" and "A Little Part of Me," to Screen at the Berlin Porn Film Festival.

CHATSWORTH, Calif. -- The Romance Series will be making its first appearance at The Berlin Porn Film Festival this October with its films "A Little Part of Me" and "Lost and Found." The festival runs from October 26th-30th at the Cinema Moviemento in Berlin, screening 100 movies from over 30 different countries with more than 70 filmmakers attending from around the world. The Berlin Porn Film Festival, now in its sixth year, shows a wide range of films from shorts to features to documentaries. There will be several workshops, panel discussions, and vibrant entertainment including parties every night at the hottest alternative clubs in Berlin. Featured guests include Tristan Taormino, Adrianna Nicole, Jiz Lee, Judy Minx, Emilie Jouvet, and Aidan Starr to name a few.

The line-up this year will feature the first European screenings of two films from New Sensations' The Romance Series, "A Little Part of Me" and "Lost and Found." These are the only two commercially-available heterosexual films from the United States showing at the festival. Program Director, Jurgen Bruning says, "Among the strongest candidates for our festival's selection this year were The Romance Series' films we selected. Both represent a cinematic and narrative approach in their storytelling which elevates them from most other adult features in today's market."

For more information about the Berlin Porn Film Festival, visit
http://www.pornfilmfestivalberlin.de.

"Lost and Found" became a notable film among mainstream audiences after sexy pop culture site Nerve.com introduced its trailer to over four million visitors. For the full article, visit nerve.com. The movie, starring Xander Corvus as David, centers around a swinging bachelor who can't believe his luck when Jen (Allie Haze) moves in next door. After being uncharacteristically at a loss for words, David is helped by his roommate, Steve (Chad Alva), who devises a scheme that is certain to bring Jen and David together. However, when the plan backfires will David be able to win his way back into Jen's good graces? Rounding out the cast are Kimberly Kane, Lexi Belle, Zoe Voss, and Tony De Sergio.

"Lost and Found" director Eddie Powell says, "Getting widespread exposure for 'Lost and Found' is a great achievement for everyone at New Sensations. Touching people's lives with high quality entertainment has always been something we've strived for, so receiving international recognition is truly validating. I couldn't be more thrilled that our stories have had an impact all over the world."

To watch the safe-for-work trailer for "Lost and Found" visit YouTube or TheRomanceSeries.com.

"A Little Part of Me" received critical acclaim and secured the coveted Feminist Porn Award for the Steamiest Romantic Movie in April 2011. The film is a heartfelt story of the struggle to move on and rediscover love. After losing the love of her life, Linda (Bobbi Starr) finds herself in need of a new inspiration. Thankfully, her close friends have the "perfect" solution, as it just so happens Linda's lost love was an organ donor. In an effort to find closure, she seeks out each of the organs' recipients to see the impact "he" had on their lives. As Linda searches for answers, she begins to wonder what it is she's even looking for - or if she'll ever find it. Each answer Linda discovers brings with it a hundred more questions. Other A-List cast members include Allie Haze, Kimberly Kane, Zoe Voss, Danny Mountain, Mark Davis, Rocco Reed, and Michael Vegas.

James Avalon, director of "A Little Part of Me," says, "I am very excited that 'A Little Part of Me' was selected to screen at the Berlin Porn Film Festival and will be playing on the closing night. The film is a great mix of romance and light comedy, with four very interesting and very different female characters, all of whom have different attitudes towards sex and romance. It's a sweet and entertaining look into their lives. A lot of explicit erotic films come from a dark, nightmarish place. 'A Little Part of Me' brings a light-hearted, yet realistic charm to erotica, which is actually very rare."

To watch the safe-for-work trailer for "A Little Part of Me" visit YouTube or TheRomanceSeries.com.

Odds and sods

Some links from the political files, mostly

Why this guy is voting Republican

How to make a Creationist weep

This went up a week before the Occupy Wall Street demonstrations started and it's interesting reading

and here's the latest from the Outdoor Co-ed Topless Pulp Fiction Appreciation Society, because there's more to life than getting screwed by banks and corporations

This just in

I just fielded this from Help A Reporter. If you have academic cred on the topic, contact the reporter directly.

Porn as a positive social influence?

Name: Liz Langley Alternet
Category: General
Email: query-1mda@helpareporter.net
Media Outlet: Alternet
Deadline: 7:00 PM EST - 23 October

Query:
Looking for authors, historians, sexologists to talk about the
effects of accessibility of adult entertainment on a society. We
hear a lot about the negative effects - what are some of the
benefits on society of having increased access to sexual
materials/entertainment?



October 17, 2011

AVN starts Adult Expo registration, doesn't tell anybody

AVN has opened registration for Adult Expo and kept it to themselves, only posting a hard-to-find article on their own website. Click here to go to the January Madness page and read it, or just scroll down.

You may want to bookmark the January Madness page, there's gonna be a lot of news.

AEE Registration Now Open

LOS ANGELES -- Registration for both trade attendees and fans to the world's largest adult entertainment show, the AVN Adult Entertainment Expo (AEE), is now open.

Early-bird pricing for trade attendees is in effect until Oct. 31, and starts at $100. For registration information, click here.

AEE fan tickets are on sale, and early-bird pricing, starting at $55 per day, is active until Oct. 31. Click here for fan registration.

AEE will be held Jan. 18-21, 2012, at the decadent Hard Rock Hotel & Casino in Las Vegas. For the first time ever AEE will be located on the same property as the AVN Novelty Expo (Jan. 18-20) and the AVN Awards (Jan. 21), creating the ultimate event for all your networking and buying needs.

The first day of the show, Jan. 18, is reserved for a trade day, while Jan. 19-21 features the AVN Fan Fest.

The format of the show will be familiar to past attendees, but with some fresh twists that add value for both the industry professional and the consumer. AEE and ANE both include traditional exhibits, meeting rooms, exhibit suites, more networking events, more parties, more product demos and more educational components.

The change of venue also affords attendees a substantial discount on room rates at the hippest hotel in Sin City. The Hard Rock is offering rooms from $99 (Sunday-Thursday) and $179 (Friday/Saturday). To book your accommodations, click here.

The AVN Awards, the showpiece of the adult entertainment industry, is set to rock The Joint on Jan. 21. The Joint is a sleek and upscale 4,000-seat showroom that has the reputation as one of the most sophisticated and authentic venues in Las Vegas.

Honoring achievement Down Under

Australia's all-purpose Eros Association, which functions as a trade group for the country's adult industry, helps defend copyrights of adult material, tries to make sense of the truly bizarre laws involving adult material in Australia (where it is legal to possess adult material in most of the country, including regions where it is not legal to sell it) and also sponsors the legally-sanctioned Sex Party political party, is now presenting its own awards, November 23 in Melbourne.

Check it out and if you're in the neighborhood, buy a ticket and go. Tell Fiona that Tod said hi.

Welcome to the Eros Shine Awards

The EROS Shine Awards is a glamorous new awards night celebrating the erotic arts and adult business but with plenty of breaks into mainstream erotic fashion, music, performance and body politics.

The awards will recognise excellence and achievement among businesses which provide services or products that are mainly 'adults only'. Like retailers of adult media and toys, online dating sites, burlesque schools, erotic dance and music, gentlemen's clubs, pole dance schools, fetish and fantasy costume and lingerie, adult party plan and online adult retail businesses.

As well as recognising hard work and talent, the awards night will also shine a light on businesses that are often excluded or shunned by mainstream business awards because they dare to deal in sex. Awards will be given for professionalism, innovation, leadership, integrity, imagination, creativity and for promoting positive role models. A special gong called The Nanny State Award will recognise that person or group who has helped us lose more personal freedom than any other.



New recruit, Vette Nation Army

Julia Ann, Vicky Vette get in bed together

And we all know what a rare and exotic thing a busty blonde is in this business, so when two of them get together they should be encouraged.

Seriously -- when two stars of this stature team together it is news. I've known them both for some time (I did Vicky's Fresh-off-the-Bus feature for AVN when I was there) and it looks like this will be a good move for both of them.

I left in the laundry lists of accolades instead of editing them out like I usually do because they're so impressive. I also had forgotten that Julia Ann was a contract performer at Digital Playground.

JULIA ANN & VICKY VETTE ANNOUNCE POWERHOUSE PARTNERSHIP IN THE VETTE NATION NETWORK & CREATE THE "DIRTY DOZEN" OF PORN

Two of adults biggest performers Julia Ann & Vicky Vette announce a blockbuster signing today - Julia Ann's Official Site will be joining Vette's popular "Vette Nation Army" Network (VNA) of pornstar websites. Julia Ann is an AVN Hall of Fame Inductee, was a Wicked, Vivid & Digital Playground contract star and multiple winner of countless industry awards. She is one of the industry's most sought after MILF Performers shooting with the likes of Kink, Brazzers, Zero Tolerance, Girlfriends Films & recently featuring in Naughty America's new series "Tonight's Girlfriend". Julia Ann is AVN's reigning MILF of the Year (having won the award two years running) & was recently nominated by Nightmoves for MILF Performer of the Year 2011. She is an active participant in rescuing dogs. Vicky Vette is one of adult's best known internet stars having been recently nominated by AVN for Web Star of the Year 2011. She is easily the No. 1 followed active Adult Performer on twitter with over 185,000 followers at @vickyvette. Recent awards include Best Web Presence - Fans Choice 2011 from Nightmoves, runner up in overall fan voting in Miss Freeones 2011 & FameRegistry.com winner of MILF of the Year and Website of the Year 2010. Vette webmasters and runs the VNA Network & performs actively online.

Julia Ann is quoted as saying: "Vicky and I discussed the possibility of us joining forces on the web because she runs her own Network. I just makes a lot of sense. Vicky has built a terrific online presence & promotes like no one else. It is really exciting to ramp up my Official Site & give my fans more bang for the buck. I can't wait to get started and be a part of things with the VNA. Expect to see a whole lot more of me on the web!"

Vicky Vette is quoted as saying: "Julia Ann is flat out one of the biggest names in the business - let alone just the MILF genre. I have respected her for a long time and am honored that she trusted me with her Official Site & becoming a VNA girl. We plan on ramping up her website & spreading her love all over the world. I'm trying to build the best place on the net for fans to meet & really get to know stars. With the addition of Julia Ann, the VNA now boasts what I think is the best line up of MILFS in any adult internet website network around. Fans can now meet some of the biggest names in adult every night in the privacy of their own homes just by opening up their computer and saying 'hello!'... how cool is that for fans? We now have 12 "VNA Girls" & are calling them the 'Dirty Dozen' of Porn. Be prepared for a 'Dirty Dozen XXX' flick very soon, hehehe... You can never get enough of girls in scanty camo..."

Julia Ann & Vette plan to re-launch juliaann.com with an all new look & all new features.

Julia Ann's Awards, Nominations & Achievements Include
2004 AVN Hall of Fame Inductee
2001 Exotic Dancer Hall of Fame - Blondage
1994 AVN Best All Girl Sex Scene - Film
2000 AVN Best All Girl Sex Scene - Film
2004 AVN Best Actress - Video
2007 AVN Best Scene - Video
2010 AVN Best Makeup
2010 AVN MILF Performer of the Year
2011 AVN MILF Performer of the Year
1994 XRCO Best Girl-Girl Scene
2009 XRCO MILF of the Year
2011 XRCO MILF of the Year
Wicked Contract Star
Vivid Contract Star
Digital Playground Contract Star
Playboy Magazine Sizzling Sex Stars March 2002 Edition & Video 2003
Penthouse Magazine Layouts
Hustler Honey 1994
Spokesmodel for Third Rail Clothing

Vette's Nominations & Awards Include:
FameRegistry Nomination 2011 Best MILF, Sexy Webmistress, Social Network Sensation
Nightmoves Winner 2011 Best Web Presence
AVN Nomination Best Web Star 2011
XBIZ Nominee Best MILF Website 2011
FreeOnes Best OCSM 2011
Miss Freeones Runnerup 2011
Fame Registry Most Popular Star Website 2010
Fame Registry Milf of the Year 2010
Miss Freeones Runnerup 2010
Milf of the Year nominee by XFans 2010
Nightmoves Favorite Milf Performer 2010
XBiz Webstarlet of the Year Nominee 2010
XBiz Webstarlet of the Year Nominee 2009
FAME Nominee Best Star Website 2009
Booble Girl of Year 2008
Miss March Myspace USA 2008
Miss Feb Booble 2008
Miss March Booble 2007
Exotic Dancer (Club Owner Favorite) Nomination 2006
AVN - Best Tease 2005
Vette Nation Network

What becomes a legend most?

In an industry where the word "legend" is thrown around about as casually as "honorable" in Congress, Jef Hickey is truly a legend, distinguishing himself in several areas that may be libelous if I mention them. Let's just say that he's led a really interesting life and he's looking for financial help for writing his memoirs.

I recommend kicking in -- because I want to read this book myself.

http://www.kickstarter.com/projects/jefeffinhickey/publish-the-uncensored-book-from-legendary-roadie



A recent, really dramatic cover from Sweet Sinema

October 14, 2011 2:00 p.m.

Nica Noelle, Mile High Media splitsville

The producer/director/performer, who was responsible for the Sweet Sinner, Sweetheart Video and Sweet Sinema lines, has parted ways with Mile High Media -- amicably, it says here, and I have no reason to doubt it.

There is an opportunity mentioned for a qualified director of lesbian scenes. I point this out because I am not a qualified director of lesbian scenes.

MILE HIGH MEDIA & CONTRACT DIRECTOR NICA NOELLE AMICABLY PART WAYS

Sweet Sinner, Sweetheart Video & Sweet Sinema to Maintain Same Level of Excellence, While Evolving Under New Directors!

MONTREAL, Quebec -- Mile High Media announces the amicable parting of ways with its contract director, Nica Noelle. After years helping to develop and run several of Mile High's studios, Nica is moving on to pursue other ventures. Mile High Media Vice President Jon Blitt assures consumers the studios under Nica's care, Sweet Sinner, Sweetheart Video and Sweet Sinema will maintain the same level of excellence, while evolving under the care of new directors.

Acclaimed feature director James Avalon is retained to take over couples-friendly studio Sweet Sinner, as well as the newly created Sweet Sinema. In regards to Sweetheart Video, Mile High Media is interested in speaking with qualified adult vignette and feature directors in the lesbian genre. Interested directors may email Jon Blitt at jonnyb [at] mile-high-media.com .

Blitt says, "We wish Nica the best, as we acknowledge her numerous contributions to Mile High Media during our period of collaboration. She has been instrumental in shaping the 'Sweet Studios' into their critically acclaimed success. Our consumers can rest easy knowing their favorite studios will remain true to their origin, while continuing to evolve. "

Nica Noelle says, "I'm very proud of the studios I created for Mile High Media, and being their exclusive director for four years was a very rewarding experience for me. I am confident that the studios will continue to succeed under new writers and directors, and I thank Mile High for giving me the opportunity to grow into the filmmaker I am today."

People have different sexual fantasies and preferences, so Mile High Media is committed to establishing studios catering to the various consumer needs. Sweetheart Video produces lesbian movies with more realistic sex. Sweet Sinner provides a new kind of erotica for couples, offering real lovemaking and real orgasms. Reality Junkies specializes in producing reality-based vignettes using the sexiest porn stars. Doghouse Digital, Mile High Media's first studio, releases gonzo DVDs with the following niches: interracial, gay, POV, foot fetish, ass fetish and more. Recent addition Sweet Sinema produces high-end interpretations of classic Hollywood movies.




October 14, 2011

Taschen drops the other shoe

We knew it was coming. The latest addition to the company's large-format explorations of breasts, legs, penises and asses is The Big Book of Pussy. The cover model is Kimberly Kane, who got paid in Taschen books, for which I envy her. The book has 372 foot-square pages, like its anatomical brethren, and features authoritative, informative text along with the pictures in several languages, so if you want to brush up your French or German this beats the hell out of "Where is the library?"

I like the fact that the clothing piece on the cover is on a removable mylar jacket so the body part of choice is unapologetically on the cover.

The cat's out of the bag

The body part series wraps up with the origin of us all

First, The Big Book of Breasts, then The Big Penis Book, The Big Book of Legs, and the weighty Big Butt Book. What could follow but an in-depth exploration of the female pudendum, that coveted orifice man spends nine months trying to escape, and a lifetime attempting to reenter? The Big Book of Pussy, not to be confused with a book of big pussy, closes out this popular series with an offering sure to be as controversial as it is popular. As in previous volumes, editor Dian Hanson delves into the historical significance of this humble os, to show how the yoni has been coveted, feared, reviled, and worshipped by civilizations worldwide, from New Guinea to old Ireland. The text is supported by playful photographs of women exposing their vulvas, from 1900 to the present day. Because depiction of this body part has long been wrapped in unwarranted shame, The Big Book of Pussy reframes the subject, featuring models who expose their most private part enthusiastically, happily, with smiles spread wide as -- well, you get the picture. And with 400-plus photos the point is made emphatically, in images both naturally furry and stylishly groomed.

Included are interviews with the auteur known as Pussyman, the ex-cop who turned masturbation into millions with a toy called the Fleshlight, Vanessa del Rio, squirter Flower Tucci, vaginal performance artist Mouse, and the singular Buck Angel. Contemporary photographers Terry Richardson, Richard Kern, Ralph Gibson, Jan Saudek, Guido Argentini, Ed Fox and others share their favorite pussy photos, so that by page 372 even the shiest reader will be calling, "Here, kitty, kitty!"

http://www.taschen.com/pages/en/catalogue/sex/all/05741/facts.the_big_book_of_pussy.htm

According to Amazon, release date is in November, according to Taschen it's this month. It will be available at the two L.A. area Taschen stores, in Beverly Hills and the Farmers Market, at Book Soup on the Sunset Strip, and by clicking on the link below. I get a piece of the Amazon sales if they straightened out their problems with the state of California.





Add Taschen

Be careful where you put your Taschen anatomy books. When I had mine vertically on a shelf my cat decided they would make fine claw sharpeners. Keep 'em horizontal.

India Summer. Picture courtesy Girlfriends Films.

India Summer scores Showtime gig

The long, lean performer will be strutting her stuff in an episode of "Dexter" to air on Sunday on Showtime. I will be SO glad when Daylight Savings Time is over and I don't have to worry about whether a PST notation is accurate. Check your local listings to be on the safe side.

Girlfriends Films Contract Star India Summer Featured on Showtime's Hit Series 'Dexter'

India Continues Her Mainstream Crossover in the Episode Airing Sunday, October 16!

RESEDA, Calif. -- Girlfriends Films contract star India Summer guest stars in the upcoming episode of Showtime's hit series, "Dexter." The episode, titled "Smokey and the Bandit," airs Sunday, October 16 at 9:00 pm EST/PST. Cast as a police department secretary, India has a steamy encounter with one of the show's main characters. Coupled with recent roles in mainstream movies and TV shows, like the popular "Sons of Anarchy," India Summer is one of the hottest crossover adult stars of the year.

For more information about the episode of Showtime's "Dexter" with India Summer, including listings, visit the Showtime website.

"I had so much fun on the set of 'Dexter'!" exclaims India Summer. "The cast and crew were a pleasure to work with and always made me feel extremely comfortable. If I reveal too much about my character, it will be a spoiler, and I hate spoilers. I can say I'm in a sexually charged episode, which sees all the main characters of the show faced with some tough decisions. Watch, and you'll find out soon enough."

The episode of "Dexter" is India Summer's most current crossover role. The raven-haired beauty appears in episodes of FX's "Sons of Anarchy" in 2009, 2010 and 2011. She has also earned parts in movies like "National Lampoon's Homo Erectus." In 2011, the adult industry recognized India's acting prowess when AVN bestowed the award for Best Actress upon her.

"I know what I'll be doing Sunday night," states Girlfriends Films Vice President Moose. "Everyone at Girlfriends Films is extremely proud of India and all her mainstream success. She is one of the most talented performers I have ever met."

India Summer is exclusively under contract with Girlfriends Films for all her lesbian adult scenes. Her most recent movies include "Lesbian PsychoDramas: Volume 7," "Lesbian Sex: Volume 1," "Women Seeking Women: Volume 76," "Strays 1" and "Net Skirts 5.0." India's directorial debut for Girlfriends Films will be released in late 2011.

More grab-shot nudity

I think this one was shot at Valley College.

Naked on campus
It isn't all swingers parties

Dave Cummings checks in this month with a somber look at his more grown-up duties. With the recent death of my father and his interment at a veterans cemetery I have a whole new appreciation of the commitment our country makes to its veterans.

FROM THE TRENCHES

Dave Cummings, Porn star

October, 2011

I was the U.S. Army officer who accompanied the Army Chaplain in Berlin in 1966 to notify wives of their husband's death in Vietnam.

In Vietnam, I was the Commanding Officer of a 4th Infantry Div unit in 1968 during the enemy's Tet Offensive involving near-constant ambushes, rockets, and mortars against us. It was a combat situation, yet luckily, I lost none of my hundreds of soldiers (thanks to a unique system of bunkers we built for refuge during the rocket attacks), though some soldiers experienced minor shrapnel wounds. Our base camp perimeter was the target of probes by Viet Cong trying to get inside our barbed wire and claymore mines to blow up helicopters and fuel bladders at the combat gunship airfield across the street from my command.

I'm now part of a large group of military retirees/veterans who participate in "Welcome Home" events at military bases for our troops returning from Middle East deployments, in escorting caskets/hearses/family to mortuaries and military funerals, and in military ceremonies involving "Angel" flights bringing fallen military back to the San Diego Area and their families for burial. Last Tuesday, at a San Diego area Marine Air Base, we honored a 22-year old Army Ranger who was KIA in Afghanistan last week, and escorted his hearse to a mortuary; then, Saturday, we escorted him and his family to, and participated in, his funeral.

I've experienced combat, and I've seen and participated in some of what CBS showed recently on their "Sunday Morning" segment about the dignity with which the military returns KIA personnel to America. This link shows that report, and is almost exactly what we do here in San Diego.

http://www.cbsnews.com/video/watch/?id=7384042n&tag=contentMain;contentBody

I realize that this column is supposed to focus mainly on sex, but bear with me on this one. Thanks!

Concerning the above mentioned Army Ranger who died in battle in Afghanistan, here's a copy/paste of an email concerning his arrival back on American soil the Tuesday before his Saturday funeral last week. I sent this email to my son, an Army "Brat" -- "Mike, I've just came back from being part of a group of active duty and retired soldiers and Marines who met a plane carrying the casket of an Army Ranger Sgt who was killed in combat last week in Afghanistan. Military police provided on-base escorts to the flight line for us, the family and the military honor guard and many active duty folks who just wanted to be there to honor the fallen soldier, including us all saluting the plane as it was landing, and as it pulled up in front of us (next to a giant Air Force C-5), and as the casket was unloaded and placed into the hearse, and as the hearse later drove between our two lines of American flags. Approx 50 of us then escorted the soldier to a mortuary 8-9 miles away; for that trip, as we were escorted from the runway and towards the exit leading to the freeway, Marines piled out of their work sites along the route to salute the hearse, and drivers pulled over and stood by their cars to salute/place their right hand over their heart. Very impressive and sincere, something I wish every American could have witnessed. The Highway Patrol took over as we exited the base -- they had traffic stopped on the freeway, and they, local police and sheriff motorcycle authorities facilitated our convoy to the mortuary 11 miles north of the base. For the funeral this coming Sat, we will form an American flag honor guard to salute the Sergeant as he's carried out of the mortuary, and again at his gravesite 23 miles to his final resting at a historic military (VA) national cemetery."

Besides the above honoring for the Active Duty Army Ranger Sergeant, I am privileged to have participated in other military events, too. Two weeks ago, our group formed a Patriot Guard line of American flags for the urn of a retired individual for his military funeral at the newly opened VA National Cemetery bordering a San Diego Marine Base. Since most of his career was in Army Intelligence, a U.S. Army Honor Guard was a major part of the funeral, including the presentation of the American flag to his wife, and the playing of "Taps." It was somber. Afterwards, as a retired U.S. Army Lt Col, I sought out the Army Honor Guard and thanked them for being there and for their dignified participation.

The next evening as Marines and Sailors were returning from a 7-month Middle East deployment, we were there with our lines of American Flags for them to walk between and into the arms of their families. I particularly focused upon welcoming home those single men and women (yes, there are also military women serving in Iraq and Afghanistan) who didn't have family there to greet them. As I was driving home, I was reminded that I almost had tears of sadness during the previous day's funeral, and in contrast experienced feeling some tears of joy for those returning safely from overseas combat areas. I also feel a little bit like I am comfortably back in the military, though in a different role!

Yes, the last month did include sex, lots and lots of sex. Swinger events abound in San Diego, so I have inserted myself into that social crowd, something made easier for this single guy by me being "Dave Cummings." Many women want to know if they are pretty and sexy enough to get a porn star "up" and off. And, husbands are so proud of their mates that they sometimes arrange the session. Swingers are a cross-section of American society, so there are all ages, sizes, shapes, and personalities. They are happy people, the kind I enjoy hanging out with; and, their culinary skills for potluck events is legend. For them, sex is sex, and lovemaking is for their spouse. Fortunately, besides formal swinging events, I get "sex fun" with them at other times, too. Besides swinging, there are many women who just want a no-strings-attached sex session from time to time; my challenge is to make time for them in between so many things I do. If they are at least 18 and reasonably attractive, consenting, willing to use condoms, and are breathing, I'm usually agreeable to play with them. Yes, I prefer the younger ones, but I have to admit that some of the middle aged females are fabulous in bed!

Dave Cummings


Jenna Haze T&A on display in the OC

Director/performer Jenna Haze will be taking her traveling show to the notoriously straitlaced Orange County this weekend. Tonight's topless show is at California Girls in Anaheim, right near the hot-spot corner of Brookhurst and Ball which has a 24-hour Jack in the Box, a 24-hour Walgreens and a 24-hour gas station if you need to fill up your car, your stomach or your prescription after a long day at the Happiest Place on Earth just a couple of miles east on Ball.

If you're holding out for full nudity that'll be in Santa Ana on Saturday. I wouldn't bet against seeing Roger T. Pipe there, that's his turf.

Jenna Haze: 'Most Important Performer So Far This Century' Appearing Live at California Girls Friday and Saturday Nights

VENICE, CA -- Critics and fans alike have acknowledged through both reviews and sales that Jenna Haze is the hottest new director in the adult industry. Even as she continues her reign as the best performer of this generation she is expanding through her production company, Jennaration X Studios, with stunning results.

She's all over the AVN charts, with both Just Jenna 2 and Breast in Class: Naturally Gifted doing great on the AVN Top 200 and the chart-topping Breast in Class 2: Counterfeit Racks remaining at #3 on the AVN Top 50 Specialty Rentals chart.

Her movies have consistently received raves and this one just in from Blue Screw Review is a whopper, calling Jenna "the most important performer in the adult industry so far this century."

It's heady stuff, but it's also backed up by her unprecedented 10-year run combined with what she has already accomplished as a director. The site calls Just Jenna 2 her "third home run of the summer," going along with two Breast in Class blockbusters.

"There are very few performers who would be worthy of a five-hour compilation from a career, let alone in one release of all-new material. Jenna Haze is not like other performers," they conclude. "When has Jenna ever let you down before?"

Also RogReviews just gave Just Jenna 2 an 11 of 12 star rating.

"Four hours of Jenna Haze," they wrote. "Let that sink in sports fans. Four hours one of the hottest girls in the adult industry. That's four hours to enjoy the splendor that is Jenna Haze. If you are ready to stop reading now and just buy the DVD, go ahead.

"Just Jenna 2 is the perfect way to spend four hours of your day, unless of course you can actually be with Jenna herself," they concluded.

AVN has also issued its review for her previous release, Breast in Class 2: Counterfeit Racks, giving it an Editor's Choice with a rating of 4.5 stars. XCritic also recently gave JJ2 a coveted XCritic Pick.

Jenna will be performing at 10 pm and midnight both Friday and Saturday nights at California Girls. Friday is a topless show at the 815 S. Brookhurst St, Anaheim, CA location. Call 714.635.8040 for more. Saturday will be a nude show at 1109 N Harbor Blvd, Santa Ana, CA. Call 714.554.0491. Go to calgirlz.com for more information.

Read the AVN review of Breast in Class 2 at avn.com. Blue Screw Review's write-up of Just Jenna 2 is at bluescrewreview.com. RogReview's review is at rogreviews.com.

Check out Jenna's Tumblr page at JennarationX.Tumblr.com.



I don't like the look of this

I got an email today from Brian Gross on behalf of LA Direct Models announcing that they had just signed Lizzy Borden. A few weeks ago, I got another email saying that LA Direct Models had signed Tom Byron.

The last time I saw Lizzy Borden was on a soundstage where she was shooting a spoof of "Mork and Mindy." Tom Byron doesn't need any introduction, he's been a top-shelf star for more than 20 years and has directed several series for his own company.

What the hell is happening in this economy that people the stature of Lizzy Borden and Tom Byron are LOOKING FOR WORK instead of HIRING OTHER PEOPLE FOR THEIR OWN STUFF?

BiBi Jones image courtesy Digital Playground.

October 10, 2011

BiBi Jones ready to take Manhattan

The Digital Playground contract performer takes the unusual step of appearing with Howard Stern -- how often does that happen? -- and then continues off the beaten path with an appearance at a strip club.

Take a look and if you see her in Manhattan tell her I said hi.

DIGITAL PLAYGROUND'S BIBI JONES INVADES NEW YORK

The DP Starlet Appears on Howard Stern October 12th and Feature Dances at Xpertease Gentlemen's Club Oct. 14th & 15th

VAN NUYS, Calif. -- Digital Playground's newest and youngest Contract Star, BiBi Jones, pays an encore visit to The Howard Stern Show on Wednesday, October 12th.

Fans can also meet BiBi in person at Xpertease Gentlemen's Club where she will feature dance on Friday, Oct. 14th and Saturday, Oct. 15th. She will dance 2 shows nightly at 11pm and 1am. For more information go to xperteaseny.com.

"Being on the Howard Stern show the first time was one of the best experiences of my life!" says BiBi Jones, "I love everyone that works over there and I can't wait to go back. Hopefully I can get to know some of them even better this time..."

To hear BiBi's Howard Stern interview, tune in live to The Howard Stern Show on Sirius XM, channels 100 and 101, on Wednesday, October 12th starting at 6am EST, with repeated shows all day long. The interview will also air on Howard TV, Stern's hugely popular and uncensored On Demand channel.

BiBi was signed with Digital Playground in December 2010. and stars in DP's latest blockbuster "Fighters" alongside DP superstars Jesse Jane, Riley Steele, Kayden Kross and Stoya. Check out the special fan site at fightersxxx.com.

To view the super hot trailer For BiBi's first signature feature "The Crib" click here.



You can't do this. The official Magic Castle photographer has to.

Something magical

There is a wondrous performer named Lindsay Benner who plays the Magic Castle occasionally. She is a street performer, a mime and a juggler who combines a wistful sweetness with pinpoint timing and amazing juggling skills. Her act is over and she is taking bows before you realize: She didn't do any magic tricks.

She was at the Castle last week but I didn't want to make a big deal out of it because, you know, it sounds like taunting, but she is performing tonight at a magic show at Meltdown Comics in the Sunset-and-Gardner area east of the Sunset Strip. It's only $10 and the best part is you won't have to dress up.

She won't do any magic tricks. It doesn't matter. There are other magicians in the show who will meet your pick-a-card needs. The one you'll remember is Lindsay Benner.

For more details click here.



Goodbye, Charles Napier

Actor Charles Napier died last Wednesday, the same day Steve Jobs died. I first became aware of him during a misspent youth watching Russ Meyer films. Napier was the handsome, square-jawed good ol' boy who could change a welcoming smile to a hostile snarl in about six frames. He made an indelible impression on me in Meyer's "Ultra-Vixens," where a domestic-violence sequence suddenly turned cartoon-violent and went from scary to outrageous-funny in a matter of seconds. Napier was so likeble that when I saw an all-night marathon of Meyer films he got spontaneous welcoming applause when he reappeared after being absent from the film before.

Napier also was excellent in the little-seen Jonathan Demme film "Citizen's Band," where he played a long distance trucker with two wives and families in two different cities who gets found out after he has an accident. The film never found its audience -- the people who would have liked it were turned off by the title, thinking it to be a stunt-filled trucker comedy like "Smokey and the Bandit," and the people who did see it were disappointed that it wasn't a stunt-filled trucker comedy like "Smokey and the Bandit" -- but Napier kept working, maturing from good-old-boy hellraisers (like in "The Blues Brothers," there to the right) into more-stoic characters like the judge in Demme's "Philadelphia."

To read Roger Ebert's interview with him from 1985, click here.

He was 75.

Automobile and lube not included.

Partner no longer needed for road head

Very few things match the combination of physical pleasure and death-defying danger as getting a blowjob while you're driving. Usually you need a long stretch of isolated road (I-15 between Barstow and Las Vegas is good) and a willing partner as dedicated to pleasure and danger as you are.

Enter California Exotic Novelties, which has just released the Sue Johanson Travel Head Honcho Kit for guys who have the car but not the partner. Add a little lube to the compact kit and you can let your imagination run drive wild.

California Exotic Novelties Releases Sue Johanson Travel Head Honcho Kit

Best-Selling Stroker Now Compact for Guys on the Go

Chino, CA - California Exotic Novelties releases the Sue Johanson Travel Head Honcho Kit. The compact size makes it perfect for guys on the go.

Susan Colvin, President and CEO for California Exotic Novelties, says, "Sue Johanson is an incredibly popular celebrity and sex educator. Her branded products have always done well for CalExotics. It's a natural progression to make the best-selling Head Honcho into a smaller version designed for travel."

The Sue Johanson Travel Head Honcho Kit consists of the compact-sized version of Sue Johanson's Head Honcho, plus it includes three sturdy silicone rings in three graduated sizes.

Sue Johanson says, "This kit is the perfect masturbation solution for guys on the go. The Travel Head Honcho is compact and grips snuggly for total satisfaction. I recommend it to men who travel a lot and those who lead busy and active lifestyles."

Jackie White, Vice President of Sales for California Exotic Novelties, says, "Turning one of our all-time best-selling strokers in to a travel sized version kit is like hitting a trifecta. The product is popular, kits are popular, silicone rings are popular, and this combination is sure to be a hit at retail!"

The Travel Head Honcho is tight with a ribbed inner chamber. It is made out of stretchy TPR and is open-ended for easy cleaning.

Sue Johanson recently brought a sample of the new toy with her when she was on the Tonight Show. She had fun showing off the new product to the camera backstage.

"Sue is a beloved celebrity with a spontaneous spirit," says Al Bloom, Director of Marketing for California Exotic Novelties. "As an author, lecturer, and former host of Talk Sex with Sue Johanson, she has a solid fan-base which is the reason her toys sell so well."

The Sue Johanson Travel Head Honcho Kit is in stock now and available to order from California Exotic Novelties.



Harry Shearer

October 7, 2011

Harry Shearer calls Fox's bluff: 'Simpsons' dispute is all about greed

Nikki Finke is relaying a statement from "Simpsons" voice actor Harry Shearer indicating that he tried to follow the same path that I suggested and Fox said no, absolutely not, he and his colleagues would get no participation in the back-end what-so-ever. I don't kid myself that he got the idea from me, but we both seem to have had the same idea:

http://www.deadline.com/2011/10/simpsons-co-star-speaks-out-on-salary-negotiation-stalemate/

Sometimes you get no satisfaction from being right. It looks like "The Simpsons" is doomed for reasons totally unrelated to merit or ratings. Just corporate greed.


Shoot me now

October 6, 2011

Adultcon sets January show in Vegas during CES

According to a press release posted on Xbiz.com, Adultcon is planning a show at the Riviera Jan. 12-14, overlapping with the massive Consumer Electronics Show which is set for Jan. 10-13. This is the traditional time frame for the AVN Adult Entertainment Expo, which has been moved to Jan. 18-21, the week after CES.

This means that the thrillseeking mainstream tech guys who have provided a dependable audience for Adult Expo ever since the show started as the dirty little secret of CES back in the '70s will be able to see a show in Vegas the same time as CES.

The count of exhibitions in the Jan. 7-21 two-week period has now ballooned to seven, plus two awards shows. Check the January Madness page for more detail as it develops.

Doing the right thing, even though they're Evil

Evil Angel is recruiting performers and adult industry professionals to walk in AIDS Walk Los Angeles. Last year, the adult industry group raised more than $13,000 and they want to do better this year.

Read, click, join in and help. We're part of this community too.

Evil Angel is doing a final recruitment to the entire adult industry for team members and donations for this year's AIDS Walk Los Angeles. In 2010, the team from Evil Angel was the 19th highest fundraising team, raising over $13,000. While there are only 2 days left to join the team through the online registration site, people can join all the way up through the day of the walk.

The 27th annual AIDS Walk Los Angeles takes place Oct. 16. The walk is 6.2 miles in and around the Hollywood/West Hollywood area.

Many adult industry stars will be walking as a group, including Kelly Divine, Sophie Dee, Eva Karera, Angel Vain, Nima Rad, Krish Dee and Lee Bang. Industry veterans such as Jenny Tse and Tisha Cavazos are once again supporting the cause.

"Even though the team is organized by Evil Angel, we welcome everyone from the adult industry, friends, or fans who would like to walk on our team. We would love for as many as people from the adult industry to show a unified front in support of the AIDS Walk LA 2011. With so much overblown negative media towards the adult industry this past year, AIDSWalk LA is an event that I'm even more dedicated to supporting," said Karen Stagliano.

For people registered to walk with the adult industry team, there will be an official group photo taken by AIDS Project LA at the team meeting station at 8:30am the morning of the walk. The walk starts at 10am, but it's recommended to show up around 8am to find parking, as over 30,000 people are expected to be at the event.

To register for the walk, or to donate, the Evil Angel team page is located here.

For more information, please contact the team leader Karen Stagliano at karenstagliano [at] aol.com.



Nice design. Lou Dorfsman?

Marilyn and Mailer together again

Fine-art book publisher Taschen has announced a reissue of Norman Mailer's 1973 biography of Marilyn Monroe in a new edition including the pictures from Bert Stern's famous Last Sitting with Marilyn. It's an oversized limited edition of 1,962 copies, all signed by Bert Stern, 125 of which are Art Editions with a pigment print from the Last Sitting also signed by Bert Stern.

The price is Not Cheap -- $1,000 for the regular edition, $2,500 for the Art Editions -- but like all Taschen books they are worth every penny. And in a couple of years they will probably issue a lower-priced edition like they did with the Dennis Hopper photography book and Vanessa Del Rio biography.

Dear Tod Hunter,

Why should you buy another book about Marilyn Monroe, when there have been so many already? The answer is simple: Norman Mailer and Bert Stern.

As The New York Times and many other publications around the world have said, Norman Mailer -- one of the most important writers of the second half of the twentieth century -- wrote one of the most provocative and penetrating biographies of Marilyn Monroe ever published.

Nearly fifty years after her tragic death, TASCHEN did not have to search far to find the single photographer whose work had the same emotional insight, passion, and artistry in capturing the real Marilyn. The answer was clear: It is in Bert Stern's astonishing photographs -- as alive today as they were when he took them just six weeks before her death -- that Mailer meets his match.

This new edition pairs Mailer's literary masterpiece with the best of Stern's legendary Last Sitting in 278 pages. Collected in a single oversized volume, the photographs, all-new reproductions from the original transparencies and negatives, are more vibrant than ever -- even Stern himself has said many of the pictures look better than he's ever seen them before.

Bert Stern has personally signed every copy in this exclusive limited run of 1,962 numbered copies, available in a Collector's Edition of 1,712 copies, and two Art Editions of 125 copies each, which come with a pigment print on archival paper also signed by the photographer.

Quantities are limited, and we do expect to sell out quickly, so please be sure to secure your copy today. You may order your copy now online at taschen.com. As always, shipping is free of charge.

Sincerely yours,
Amy Quinn
TASCHEN America

If you want to order one at once, I have Amy's personal email and office number. Email me.



Currently sold out, but they'll make more.

Jeff Mullen buries the lead

Tucked deep in the end of this press release is the announcement that Mullen will be holding another Halloween party on October 29. Aside from his other skills, Mullen is renowned as the best party organizer in the adult industry and on those rare occasions that he does throw one it is the must-go event.

In other news, Mullen's "Rocky" parody is doing very well, selling out its first replication run.

Rocky XXX Sells Out of Initial DVD Replication Run on Way to Blockbuster Status

Selling DVDs is Tough Unless You Have What Customers Want

(Hollywood, CA) It's not easy selling DVDs these days but Rocky XXX from Adam & Eve Pictures and X-Play has broken through a glut of movies and the buffet of free porn to reach customers that were looking for a different type of adult movie. The DVD has sold out of the initial production run and a second replication order has been placed. The movie entered the national sales charts at #5 proving that boxing and sex sell.

Starring rising superstar Andy San Dimas as the soft-spoken cat glasses wearing Adrian and Anthony Rosano as Rocky Balboa, this action adventure love story captures all of the classic elements of the Rocky movies in a stirring porn parody that features graphic hardcore sex as a backdrop.

Never before has director Will Ryder attempted a movie of this depth and magnitude or with this many live action sequences that nearly drove the cast and crew to physical exhaustion during a weeklong shoot in Los Angeles that included action sequences downtown and on skid row.

"When we were shooting Rocky XXX I wanted to make sure that if Sylvester Stallone ever saw this movie he would at least appreciate the effort and high production quality that went into making it," Ryder said.

"I wanted to make sure that instead of Sly being pissed off he might feel a bit honored to get the porn parody treatment and in such an epic magnificent fashion."

"The film is a colossal knockout," stated Art Koch in his NightMoves Magazine review.

Check out two movie trailers now. The action trailer and a second trailer that features some of the perfectly delivered dialogue are available on YouTube.

AVN Director-of-the-Year Will Ryder delivers an X-Rated 'Thrilla in Manila'. Desperate for glory, Rocky is outmatched as he battles Apollo Creed & Clubber Lang but sweet Adrian gives her love while prostitutes & gorgeous TV reporters spread their long luscious legs and offer their bodies for casual sex as Mick finally builds Rocky into a winner!

The music score by Jeff Mullen is awesome and a huge part of the overall appeal making this a movie destined for numerous industry award nominations.

Join Anthony Rosano, Andy San Dimas, Madison Ivy, Chastity Lynn, Lilly LaBeau, Vanessa Naughty, Jack English, Tyler Knight, James Bartholet, Jack Lawrence, Chad Diamond, Mani Cruz, Ron Jeremy and Mr. Marcus as Apollo Creed in a once in a year happening.

Fan Edwin Garcia blogs about Rocky XXX, "Greatest of all time, my new favorite parody."

Disclaimer: This film is a parody. United Artists, MGM, Twentieth Century Fox Home Entertainment, Sylvester Stallone or the producers or director of Rocky in no way authorize, endorse or sponsor this movie.

Beverly Hillbillies a XXX Parody also from Adam & Eve Pictures and X-Play is available in stores and delivers classic television gone XXX in a playfully funny parody of the iconic 1960 television show The Beverly Hillbillies which ran on CBS. Check out the trailer starring Kagney Linn Karter as Ellie Mae on YouTube.

Both movies will have a celebration that takes place at the big Heaven & Hell Halloween party Saturday, October 29th at Ecco in Hollywood. Details coming on that super Halloween event.

For DVD wholesale orders contact Ryan Thomas at rthomas [at] adameve.com. For worldwide broadcast rights contact Marc Bruder at CED at bruder [at] brivideo.com



Kayden Kross tapes herself up for "The Fighter." Picture courtesy Digital Playground.

Kayden Kross scores mainstream gig

Digital Playground contract performer Kayden Kross is scheduled to appear on FX's "The League" tonight. No word on what she'll be doing, I guess we'll have to watch.

DIGITAL PLAYGROUND'S KAYDEN KROSS GETS 'DIRTY' WITH SETH ROGEN ON FX's "THE LEAGUE"

Don't Miss Kayden's "Krossover" Performance on Thursday at 10:30pm on FX

VAN NUYS, Calif. --- Digital Playground's exclusive contract star Kayden Kross appears opposite Seth Rogen in "The League" season premiere airing Thursday, October 6th at 10:30pm E/P. "The League" is FX's hilarious comedy about friends competing in the same fantasy football league.

Last season on "The League," one of the more memorable characters was Raffi (played by a hirsute and wild-eyed Jason Mantzoukas), who dropped out of the league while being sodomized in a car by sex addict Russell (Rob Huebel). This past weekend, show creators Jackie and Jeff Schaefer announced that Raffi's friend Dirty Randy ("He scouts locations for pornos. And he mostly cleans up everything") will be played by Seth Rogen.

The Season 3 opener will at long last introduce viewers to the legendary-ish "Dirty Randy," who will be played by big-screen funny man Seth Rogen (Knocked Up). Kayden plays "Kayden" but we can't reveal what her role is! Check out the promo here.

"I couldn't believe I got to work with Seth Rogen!" exclaims Kayden, "He is a comedic genius and we had a lot of fun with the improvisation part."

"Kayden is such a versatile actress that she's equally comfortable with comedic roles as she is with drama." says Digital Playground's CEO, Samantha Lewis. "She puts everything into her performances and her mainstream career is blossoming as a result."

Kayden's latest Digital Playground blockbuster, "Fighters" released last week with rave reviews. To see more check out fightersxxx.com



NBC cancels 'Playboy Club'

NBC announced the cancellation notice for the new show "The Playboy Club," the first casualty of the new season. I liked the show, it brought me back to the time I was a Playboy Club keyholder myself, but it was slow-moving and had a really large cast that was challenging to keep track of. I liked the subplots involving the lesbian Bunny and her gay husband in the sham marriage going to Mattachine Society meetings, the Bunny who wanted to be the first "chocolate Playmate" (because in 1963 nobody would have said "black" and in the 2011 re-creation nobody would say "Negro") and the interplay between the club manager and the maneuvering Bunny supervisor who had no problems with going straight to Hef to get what she wanted.

I particularly liked the scene where the young Keyholder/lawyer/political candidate enters into a dating relationship ("Just for show") with the daughter of a major wheeler dealer. The lawyer is already in a serious relationship with the Bunny supervisor who has Hef on speed dial. She plays along but still pensively watches the couple dancing together as Lesley Gore is on the Club stage singing her hit "It's My Party." It gets really complicated later in the episode when the daughter turns up at the Mattachine Society meeting and flirts with the lesbian Bunny, saying that the sham relationship with the lawyer "will give my father the heterosexual daughter he always wanted" -- which makes the Lesley Gore tie-in resonate even more.

One bright spot, my wife picked it in her office pool for first show cancelled. She had to split the pot (it was a popular choice) but she called it. I remember when I worked on the game show we used to have that pool every year.

Oh well, I guess we'll never find out the endgame of that guy who got killed in the first episode. I wonder how many episodes are completed.

Speaking of NBC...

Did anybody see "The Office" last week? Well-meaning dimwit office manager Andy set up a table of incentive prizes to encourage the employees to increase their sales, and one of the prizes was a Cal Exotics COLT vibrator.



Not just a vibrator, a vibrator tied in with a gay production company. When I saw those big red letters on my screen I think they heard the howl of laughter at the Cal Exotics offices in Chino.

Nice product placement, people.



October 5, 2011

Director/cinematographer 'Jane Waters' dies

Longtime adult industry cinematographer/director Jane Waters died of a heart attack in Pittsburgh earlier this week, according to AVN.

I remember when I met him on a set. He was a big guy with a beard who introduced himself as "John." I only later found out that he worked under the name "Jane Waters." I always liked him, and we had a shared interest in the fine art of the lighting cameraman, a trade my grandfather practiced as well.

As a critic, I was always impressed by the ingenuity and creativity of his scenes. He shot the first tease-blowjob through a glass door I ever saw, and I was surprised by his audacity, notably in his "Return of the Night Stalker" for Extreme back in the late '90s when he featured gay performer Paul Carrigan as a guy jerking off while watching porn as he gets spied on by Tiffany Mynx -- and then she breaks in and nails his ass with a strap-on. Really edgy for the time.

He was 68.



Jesse Jane with Fleshlights. Picture from Digital Playground's "Top Guns."

New Jesse Jane Fleshlights released

Fleshlight has just released two new toys molded from Digital Playground contract performer Jesse Jane, so now you can pleasure yourself with a replica of her ass or mouth to go with the previously available pussy.

Better, Fleshlight is offering a 15 percent discount across the board on new purchases, and if you click on that graphic to the right I'll get a piece of the sale. Everybody wins.

Fleshlight Releases Jesse Jane's Butt & Mouth

Austin, TX -- The world's number one selling male sex toy company, Fleshlight, has just released Fleshlight Girl and Digital Playground Contract Star Jesse Jane's Butt and Mouth.

The most realistic oral sex experience in existence, Jesse Jane's Mouth starts with a moderately tight opening and finishes with intense stimulation with Fleshlight's Super Ribbed texture. For Jesse Jane's Butt comes Forbidden, the most realistic anal intercourse experience in existence. The perfect molding from the tiny little body of Ms. Jane creates the wild simulation and the unique and naughty pleasure of this treasured sweetheart.

"I'm so excited to release my ass and mouth with Fleshlight," says Jesse Jane. "Now you guys can choose which part of me you want to pleasure yourselves with. It's such a great product."

To celebrate the release, Fleshlight is giving a 15 percent site wide discount, so you can get Jesse's new orifices and whatever else you want to add for 15 percent off!



A pep talk for the twentysomethings

Like everybody who passes the half-century mark, I despair for the world once the young people take over because my generation was a helluva lot better than the young whippersnappers who are just now achieving adulthood. My father felt the same way -- he had served in World War II and I was a hippie with hair down to my shoulders protesting Vietnam -- and I think that this feeling goes back to Socrates, who bemoaned the youth of ancient Greece.

I also think that to be true to the current attitude of young people the end of the remake of "Footloose" should entail the town's teenagers betraying the dancing rebel and driving him out of town.

I felt better after I read this statement encouraging the people who are involved in the ongoing Occupy Wall Street protests nationwide. Illustrated by the image of a New York cop grabbing the breast of a protestor as her mouth drops open in outrage, the statement gives me hope. Read on:



Copping a feel
What They did not want you to ever find out is that your generation, the generation born between 1980-1995, actually outnumbers the Baby Boomers. They knew that if you ever turned your eye towards political reform, you could change the world.

They tried to keep you sated on vapid television shows and vapid music. They cut off your education and fed you brain candy. They took away your music and gave you Top Ten pop stations. They cut off your art and replaced it with endless reality shows for you to plug into, hoping you would sit quietly by as They ran the world. I think They thought you were too dumb to notice.

Indeed, I thought They had won.

But I watched you occupy the capital of Wisconsin. I see you today as you occupy Wall Street. And I see a spark, a glimmer of the glorious new age that is yours. A changing of the guard, a guard that has stood for entirely too long and needs your young legs to take his place.

I watch you turn away from what is easy and stand up for what is right. I see you understand we as a society are only as strong as our weakest link. I see you wise beyond your years. And I am proud. Give 'em hell, kids. You are beautiful.


Interesting wrinkle in 'Simpsons' voice actor dilemma

According to Nikki Finke, the distribution contract for "The Simpsons" requires episodes to be syndicated only to individual local stations and not cable channels -- while the show is in production. This puts the voice performers in a somewhat untenable position when they ask for raises.

If I were advising them, I would say take the pay cut and get a fat piece of the syndication and DVD/video sales.

Remember two pieces of Hollywood history: Walt Disney terminated his distribution contract with United Artists because of a disagreement about television rights in 1937, a good 10 years before commercial television got started in the late '40s.

Also remember that the week after "The Godfather" opened, Marlon Brando, Francis Ford Coppola and Mario Puzo got an accounting firm to audit Paramount's books to make sure they got their proper return on their contracts.

It'll be interesting to see how this shakes out.


Sophie Dee, rear view

Sophie Dee making a mark in mainstream

Performer Sophie Dee will be appearing in two mainstream independent horror films. Good for her. She gets work, I get a story, we can all look at the picture. We all win.

Sophie Dee Wraps Two Mainstream Horror Movies

(LOS ANGELES, Calif.) Welsh starlet Sophie Dee has the uncanny ability to infatuate all in her gaze, and recently mainstream directors are taking note. The actress landed roles in two upcoming indie horror movies which recently completed production. From her soft features and hypnotizing blue eyes to her stellar body and bountiful breasts, Dee's appeal is transcending the artificial lines between adult and mainstream and positioning her to be the next crossover star.

The reigning Miss FreeOnes' innocent disposition fits perfectly into the horror genre, and she even manages to look ravishing while covered in blood.

"It was very fun to work on these two projects, and very cool to play the killer in one of them. I cannot wait until they come out!" remarked Dee.

Dee will first appear in "Theater of Derange," a compendium of five short films from top indie horror directors. She will play a deranged, cannibalistic, "Carrie-esque" killer in the segment titled "Cannibal Blood Girl" directed by horror veteran Creep Creepersin.

She will then appear in the horror/comedy "Unmimely Demise" as Kate, the wife of titular Cheeky the Mime. Armed with an arsenal of invisible weapons, Cheeky the Mime returns after 10 years to wreak havoc on anyone in his path. The film is from acclaimed writer/director James Cullen Bressack, hailed by the media as "Horror's New Hope."

"Sophie is one of the most professional people I have ever had the pleasure of working with. Not only does she know her lines and always on set on time, but she also has a very warm on-screen presence and a natural ability to perform. Her adorable qualities and dedication to her craft make her onscreen presence amazing. You truly forget who she is in the adult industry, and just get lost in her spot-on portrayal of the role. An amazing actor" lauded director James Cullen Bressack.

The two films represent a fraction of the mainstream attention the beloved adult actress has received lately. Along with recognition for her site ToplessMovieReviews.com on the world famous KROQ, Dee is currently being featured on the cover of Australia's "People" magazine.

When not busy filming or working on her various projects, Sophie Dee dedicates her time to charity. This month she will return to raise money with Team Evil Angel at the 27th Annual AIDS Walk on October 16th in West Hollywood. Fans and supporters can help her reach her goal by visiting her donation page: http://www.clubsophiedee.com/donate

Sophie Dee is represented by Valley Babes XXX, please contact them directly to book her.

Follow Sophie Dee on Twitter: @sophiedee

Sophie Dee can be booked for feature dancing through A List Features.




October 4, 2011

Dane Cross, 'Tosh Porn Oh' host PSK tonight

The weekly adult industry get-together will celebrate the release of "Tosh Porn Oh," which was directed by Dane Cross. Based on the cable TV show that features viral videos, the DVD features an impressive cast.

Remember, the stars bring out the stars at Porn Star Karaoke so make a reservation, get there early, and be sure to drink up (support Seymour like he's been supporting us all these years) and tip your servers. Be sure to tell Dane Cross happy birthday, it was yesterday but close enough.

See you there.

TOSH PORN OH Public Release Party at PSK

Tosh Porn Oh public release party comes to PSK. This hilarious XXX Parody directed by Dane Cross showcases an episode of Tosh too hot for TV. The party is this Tuesday, Oct. 4th at 9pm. Stars of the movie are India Summer, Rachel Roxxx, Lily LaBeau, Georgia Jones, Heather Starlet, Skin Diamond, Dane Cross, Xander Corvus, Michael Vegas, Ron Jeremy, Misti Dawn, Sinn Sage & Peter O'Tool. To purchase the DVD go to http://www.adultdvdempire.com/1588844/tosh-porn-oh-porn-movies.html

Produced by Seduxx and distributed by Sunlust distributed through Vivid

This one is a must see. At last, an episode of Tosh showcasing clips too hot for TV! Dane Cross and Xander appear as Leroy Jenkins & the "Star Wars Kid" as you've always wanted to see them having raunchy sex with hot dirty broads! Lily Labeau, Georgia Jones and India Summer pay homage to some of the internet's biggest viral videos. Rachel Roxx and Heather Startlet give viewers a brown "surprise" in their own version of "2 girls 1 cup." Come on down to PSK this Tuesday night and meet the stars of Tosh Porn Oh.

Hosting the evening will be our HOT & SEXY hostess, Nicky Hunter. Nicky can be heard weeknights co-hosting "Night Calls" from 4-7 p.m. PDT on Playboy Radio, channel 99 on Sirius and XM. Nicky was named Female Performer of the Year by the X-Rated Critics Organization in 2006 and is also directing for Meanbitches.com, thevenusgirls.com and DeviantDavid.com

Porn Star Karaoke is open to the public as well as to members of the adult industry. Since its start in July 2003, Porn Star Karaoke has become the longest-running ongoing weekly event in the history of the adult business.

Admission -- 21 or older, with photo ID -- and parking is free.

Sardo's Grill and Lounge is located at 259 N. Pass Ave in Burbank, Calif. Porn Star Karaoke starts at 9 p.m. For more information, visit the Sardo's website. Adult industry professionals are invited to reserve tables, which are held until 10:30 p.m. Email mail@sardosbar.com.



Cum fly with me...

Will Ryder completes porn-spoof hat trick

The parodymeister has managed to produce and release three parody DVDs in the last few weeks. There were the "Beverly Hillbillies" and the "Rocky" parodies for Adam & Eve, and now a parody of the new ABC drama "Pan Am" for Digital Sin/New Sensations.

Ryder has pulled out all the stops on this one, getting Kayden Kross on loan from Digital Playground and shooting in mainstream working studios that offer airplane and airport mockups.

Porn Parody of ABC TV's PAN AM set for Take-Off October 25th from Digital Sin & X-Play

Not PAN AM XXX is Packed with Beautiful 'Stews' having Fantastic Sex

(Hollywood, CA) Not PAN AM XXX is cleared for take-off as X-Play and Digital Sin are set to release a spectacular airborne parody of the ABC Television show Pan AM on Tuesday, October 25th that promises to deliver much more than coffee, tea or milk.

Not PAN AM XXX, directed by Will Ryder (the same guy that turned the Brady Bunch into a mega porn hit with Not the Bradys XXX) is a mile-high adventure that features an all-star cast of beautiful stewardesses including Kayden Kross, Misty Stone, Kacey Jordan, Teagan Presley, Sunny Lane, Shyla Stylez, Hillary Scott, Lexi Love, and Kenzie Marie who can't keep their horny hands off of the handsome pilots and other well-endowed airport personnel.

Porn parodies of Hollywood shows are nothing new but this one was notably ambitious and expensive. Shot on a Hollywood soundstage that actually has been the realistic setting for numerous mainstream, movies, television shows and commercials involving airports and passenger jet aircraft, Not PAN AM XXX is entertaining in every conceivable way. But don't say 'conceive' around these sexy aerial waitresses as getting knocked-up is the last thing on their minds.

"I don't want to get knocked up, not even in a movie," joked superstar Kacey Jordan who became famous for her infamous affair with Two and a Half Men actor Charlie Sheen.

Girls just wanna have fun and that's exactly what they do in Not PAN AM XXX as the life of a career-minded stewardess is rewarding in multiple ways. An appearance by world-famous porn celebrity Ron Jeremy as a worried orthodox Jewish passenger seals the deal and brings home Not PAN AM XXX for a picture-perfect landing.

A PG movie trailer for the new adult spoof will be released soon.

Will Ryder and X-Play have a lot of experience with movies involving jet aircraft having won numerous adult industry awards including the 2010 AVN Award for Best Comedy for their spectacular "Flight Attendants."

"I guess you could call this a sequel or sorts," Ryder said. "But it's a brand new movie and I really think that ABC TV actually copied us when they created Pan AM so this parody is all in fair play."

Check out other Will Ryder/X-Play movies including "Not the Bradys XXX," "Rocky XXX," "Beverly Hillbillies XXX," "Not Charlie's Angels XXX," "Not MASH XXX," "Not Married with Children XXX," "Not the Cosbys XXX," "Not Charlie Sheem's House of Whores XXX," "Bionic Woman XXX" and dozens more at sitcums.com.

Disclaimer: ABC Television, Sony Pictures Television, Pan Am Systems or the producers or director of Pan AM in no way authorize, endorse or sponsor this movie.

"Not" is a Registered Trademark of X-Play in the world of adult entertainment titles.

Not PAN AM XXX will be ready for takeoff October 25th from Digital Sin and X-Play.

For wholesale DVD sales please contact Belle C at New Sensations / Digital Sin Sales@NewSensations.com or nsdssales@newsensations.com. For worldwide broadcast rights contact Marc Bruder at CED at bruder@brivideo.com



T.I.T.S brings breast cancer aid direct to victims

The T-shirt brand Two In The Shirt is starting another breast cancer fundraising program. The plan is to more-than-double last year's collection and give the money directly to breast cancer victims after some unpleasantness with a territorial charity that got upset when last year's campaign has a similar name to theirs. Thus the redundant name of this year's campaign.

They also found that many breast cancer charities refused last year's donation. For what it's worth, I remember in 2001 when the adult industry had a fundraiser for September 11 relief: Some charities refused to accept "porn money" but the American Red Cross not only welcomed the contribution, one of the executives at the office posed for a picture when the porn stars handed over the check.

T.I.T.S. for TITS 2011

The mission of the T.I.T.S. for TITS campaign is to raise funds and awareness through the production and promotion of a dedicated tee shirt line, where net profits will be donated directly to those affected by breast cancer.

Last year, without the partnership of any major research foundation, the overwhelming support and involvement from the Two in the Shirt fan base helped us raise nearly $12,000. Building on a year of experience and the increased awareness of our campaign, we hope to raise $25,000 this year.

Due to the risque and sexy nature of our brand's image, we were unable to find a recipient to proudly accept the $12,000 we raised last year. The responses ranged from respectful decline to outright offense. To our further dismay, we received a Cease and Desist from the Save The Tatas Foundation because of our similar campaign name "T.I.T.S. for Tatas". We found this to be an appalling use of funds by a major non-profit, and further research into the organization revealed that Save the Tatas regularly sends out Cease and Desists to smaller Breast Cancer fundraising efforts. We decided to donate the money to the Keep A Breast Foundation, although we were hoping to support breast cancer research as opposed to awareness.

Because of this negative experience with these breast cancer foundations, we decided to cut out the middleman this year and give directly to those battling breast cancer and their families. We are reaching out to our fans and asking them to submit their stories. At the end of our campaign, we will choose a number of recipients to share the $25,000.

We hope that you will help us in our mission to help those affected by breast cancer by spreading the word and encouraging your audience to submit their experiences to us. You can also help the campaign by purchasing T.I.T.S. for TITS merchandise where net proceeds from these items will be donated to the campaign. These items are available on shoptits.com starting October 1st.

For more information please go to twointheshirt.com/tits_for_tits.




Somebody loves us on Stage 15

Those lovable scamps at "Conan" sneaked another porn reference in their episode titles. Those with long memories remember "The Double-Fudging of Vanessa Del Rio" back in February and about a week ago this reeled across my TV screen:



Good thing there's a 10 p.m. repeat.

Both of the shows that had porn-influenced titles featured Marisa Tomei as a guest. Anybody who wants to read something into this is welcome to. She found it funny.




George Kuchar, 1942 - 2011

George Kuchar was a San Francisco-based underground filmmaker whose masterwork "Thundercrack!" became one of my favorite movies at the long-ago midnight show at Filmex when I first encountered it in the '70s. Written by and starring Kuchar, it was a theme-and-variations on the old dark house horror movie with a bunch of strangers caught in an isolated house in a rainstorm.

Shot on 16mm in a San Francisco apartment (!), "Thundercrack!" was notorious for having hardcore sex, lots of it, pretty much any sex act you could think of and one you wouldn't come up with in a million years involving a gorilla and a man in a wedding dress.

If you can scare up a copy of the AVN 15th-anniversary supplement I referenced it as one of my top-15 adult films.

Kuchar was an inspiration to John Waters and a teacher of film at the San Francisco Art Institute for some 30 years, from 1971 until illness forced him to leave teaching last year.

He was 69.

http://www.nytimes.com/2011/09/08/movies/george-kuchar-underground-filmmaker-dies-at-69.html


Andy San Dimas

October 3, 2011

Andy San Dimas joins Juliland's jGrrl ranks

The performer, whose birthday is today, coincidentally, is featured on the subscription site with pictures much like the one there on the right. For what it's worth I'm in total agreement that hooking up with a female is a magical experience.

Andy San Dimas at Juliland.com!

We are all aware of the saying, "Blondes have more fun." In fact, many of our Juliland dolls can testify to the validity of this statement, claiming their blonde locks have gotten them into more fun and more trouble than their dark-haired counterparts. But, our new jGrrl, Andy San Dimas, is here to put that aphorism to rest once and for all.

This brunette bombshell has ruled the adult industry for almost half a decade now, fucking and screwing with conviction. She tells us that her favorite part about being an adult star is the ability to work in a different place with different people almost everyday. "There's really nothing better than dressing up, making my fantasies come to life, and getting paid in the process."

But, Andy wasn't always surrounded by sexuality, nudity, and cameras. She grew up in a small town outside of Baltimore and came to L.A. with a few expectations in mind. "It was always my dream as a kid to live in Los Angeles, even though I had a slightly different image in my head of what it actually was like. I thought everything would look like Beverly Hills!"

She tells us that before she started her profession in the adult industry, she worked at a porn shop at the ripe age of eighteen. A year later she began her stripping career, and at age twenty, she finally did porn. When we asked her about her name, she laughed and said, "Andy San Dimas, well, first of all, it's a bad porn name that I wish I could change. Andy is a quiet and mellow type of girl, but somehow, still some sort of sexual dynamo." She tells us further that despite the cliche nature of doggy-style, it's her absolute favorite position to partake in. And when it comes to kissing, she surprisingly views it as a very personal act that she'll only enjoy with someone she truly likes (like the time she had her first kiss when she was thirteen years old at an ice skating rink).

It seems that Andy San Dimas knows exactly what she likes and what she wants. She tells us quite confidently that she enjoys the aspect of having outsiders watch her fuck, she has an affinity for guys with long hair (like Keanu Reeves in River's Edge), she feels she's very similar to the cartoon character Daria, she gets off on '80s porn ("because the porn today involves too many broads she knows"), and she believes that hooking up with a female is a magical experience. She says coyly, "I know I'm a little on the 'handsome' side, so grrls either find me attractive or frightening. I love that feeling of slight dominance over grrls." Well Andy, we love watching you take on that dominating role, so keep it cuming darling!



Takin' it to the streets

Vivid and Axel Braun have rediscovered the sex-in-public genre, which has lost none of its excitement since, oh, Bill Osco and Howard Ziehm sent two stars on a naked run through a shopping center in "Harlot" in 1971.

Here's the press release:

VIVID AND AXEL BRAUN PRODUCTIONS LAUNCH NEW PUBLIC SEX SERIES "SOS: SEX ON THE STREETS" ON VIVID.COM AND IN STORES NATIONWIDE ON MONDAY, OCTOBER 3RD

LOS ANGELES -- The first volume of a new adult series featuring sexual acts shot in public places, "SOS: Sex on the Streets" will be launched and available on vivid.com and in stores nationwide on Monday, October 3rd by Vivid Entertainment, the world's leading adult film company.

The series is produced by multi-award-winning director Axel Braun. "Public sex remains one of our biggest turn-ons, but it's also somewhat dangerous" Braun says. "Couples need to be pretty sneaky to indulge in consensual public sex nowadays, especially since it's against the law in most states. There's always the danger of getting caught, and this creates a heightened adrenaline rush that definitely increases the drama and heat of the movie. We think 'SOS' delivers the fantasy way beyond what most of us would actually experience."

Having sex in public is considered by many as a way to heat up a couple's sex life. Mainstream articles and advice columns in publications ranging from Men's Health to New York Magazine have offered all kinds of advice on how and where to try it, suggesting public washrooms, elevators, parked cars and even the Grand Canyon.

"The popularity of this erotic fantasy has only gotten stronger over the years," Braun adds. "We believe we're tapping a new vein of viewers who will be more than eager to experience the thrill of public sex vicariously."

Raw and unscripted, the first entry in the outrageous new series stars Tara Lynn Foxxx, Brooklyn Lee, Jessi Palmer and Nicole Aniston, and is helmed by veteran director Brother Love.

Deja vu

I found this on the Internet and the place looked familiar, if not the model. Is this the shopping center at Tampa and Rinaldi?



Mystery girl, familiar location
Not a picture of Alex because it's about the WORK...

A Monstar accomplishment

Publicist Alex Raymond -- aka "Monstar" -- has been honored by the NightMoves Awards for achievement in the adult industry. Good for him. Alex has been a longtime colleague and I have always been impressed by his professionalism and enthusiasm for his work.

ALEXANDER "Monstar" RAYMOND Of STAR FACTORY PR Receives NIGHTMOVES Special Recognition Award!

The accomplished adult industry publicist is recognized for an exciting and unparalleled career.

(Hollywood, CA) The Monstar gets his due! At the 2011 NightMoves Awards a special recognition award will be presented to Alexander "Monstar" Raymond of Star Factory PR for his work behind the scenes in adult entertainment. Raymond is the co-founder of Star Factory PR, a publicity team with over half a decade of service in the adult industry. Working with some of the adult entertainment's biggest stars, Star Factory PR brooke ground by providing publicity to individual performers and continues to leap forward with new avenues of exposure for its clients. In addition to publicity services, Raymond has been involved with some of industry's biggest events; from the AVN Awards red carpet to working with Exxxotica expos, Raymond has been there. Now, NightMoves recognizes Raymond's contributions with the Adella Award.

"Alex from Star Factory PR has been a big help for many years for the NightMoves Awards weekend as we can always count on him to represent the top, most professional talent in the business," said Paul Allen, Publisher of NightMoves Magazine. "The Adella Award represents excellence in the adult industry and its recipients are selected for the positive effects of their actions within it. We are proud to recognize Alex with this year's Adella Award."

This award has previously accoladed accomplished industry professionals like Dan Davis, Brian Gross and Katy Zvolerin. Raymond is ecstatic to be joining the ranks of that exceptional group.

"It is an honor receive this award from NightMoves," Alexander said. "The NightMoves Awards have a rich history that spans nearly two decades, and to be in the company of the previous recipients of this award is very thrilling."

Due to a previous commitment, Raymond will not be able to attend the 19th annual awards show, but has prepared a statement:

"I thank Paul and Tracy Allen, and all the staff at NightMoves that have shown Star Factory PR their continued support. I need also thank Star Factory PR co-founder Mike Moz who gave the company direction, guidance and made the first half decade an unforgettable success with his unique talents, Dan Davis and Steve Javors - personal and professional friends that lent support when needed, J. Handy and the staff at Exxxotica - for their continued acceptance of my ideas and abilities, the current, past and future clients of Star Factory PR who have trusted me with their careers, Peter Warren and everyone at AVN, Alec and Moe Helmy from Xbiz, Dr. X and his crew and EMM Report, Stormy Daniels who is the person in this industry to provide me with my first opportunity and aided me in establishing myself, my staff at Star Factory PR and most importantly Tanya Tate, who not only believes in my capabilities, but helps me expand upon them every day with her support."

The 19th annual NightMoves Awards is set to take place October 10th at the Round Up located at 13918 W. Hillsborough Ave in Tampa. More information may be found on the show's official website.

Being recognized with this special NightMoves award is a memorable milestone in the career of Alexander "Monstar" Raymond and Star Factory PR! The forward moving publicity team continues its path of success.



And oh by the way...

Happy birthday to my pal Dane Cross.

He's clean-shaven nowadays but TRY and find a picture of him dressed and clean-shaven.


'Horizon' crew

September 30, 2011

Random Notes from a Red Notebook: 'Horizon' event

The invitation was extended via email, a screening of Wicked Pictures' new blockbuster "Horizon" at the Landmark theater on the site of the old Picwood theater at the corner of Pico and Westwood. Great theater, the Picwood, with seats that came up to the back of your head, a highly-elevated screen that was clearly visible from every seat in the house and a wicked-good sound system. I remember seeing "Brewster McCloud" there and a 70mm roadshow print of "Apocalypse Now" -- the version with no titles, just a copyright -- but it was torn down to build a mall with, ironically, a multiplex movie house on the same site.

I had been warned in no uncertain terms -- several times -- that there would be no sex in the movie to be screened. I think the warning was so that I wouldn't report that Wicked had stopped making porn and had moved on to low budget sci-fi (and let's face it, $100,000 is big bucks in porn but on a mainstream film it's the bagel budget). After a leisurely stroll through the upscale mall and a quick snack at the McDonald's I walked over to the theater and started taking notes.

The theater has a bar nearby, cleverly labeled "Lounge." I haven't set foot in a Landmark theater for 20 years but nothing much has changed... Remind me to tell you the story about the dimwitted owner of Landmark and the up-yours "Thank You" credit he got at the end of a mainstream movie he tried to ruin... In person, if you please, it's one of those stories I don't want to post on the Internet so people can tell them to me later... I catch up with photographer Dominic about industry gossip, including a juicy tidbit about the last AVN awards that I have to follow up on... Wicked Pictures publicist Heth Mares comes over, welcomes us, hands us press lanyards and warns us that there's no sex in the version that we're going to see. I grouse "I'm going to have to watch it twice?" and. Fortunately, get the laugh... Kimberly Kane and Lee Roy Myers come walking up, chat with Heth before the Porn Star Contingent arrives, Brad Armstrong, jessica drake, Tommy Gunn, Marcus London, Kaylani Lei, Chanel Preston, Rocco Reed and Rick Garcia. They brought their own photographer... A contingent of the cast poses around a "Horizon" poster on a tripod as Misty Stone walks up and asks "Is it OK if I get in the picture too?" Of course it is... I tell her about my mistake of thinking she got the gig in the new "Charlie's Angels" TV show and she laughs, fortunately... Wicked Pictures honcho Steve Orenstein is here... jessica drake is introducing an older woman as "Mom"... I later find out that the woman is Brad Armstrong's mother. No wonder there's no sex in this screening... Lee Snijders. I met him on the Amy Fisher shoot and fond that we had a shared interest in a Major Mainstream Studio, where we both used to work... Peter Warren and mark Kernes are here from AVN, and Jared Rutter is here as well...

Dr. Chauntelle is here, she's been involved with Wicked for a while. We chat about a back-stories interview I haven't finished yet. That reminds me... Brian Street Team... I get a chance to talk with Steve Orenstein, for the first time in a couple of years. We don't cross paths that often. He tells me that he likes this movie "And I'm not a science fiction fan"... The beatific Daniel Metcalf tells me that there's a preview screening of the new mainstream film "50/50" in the same auditorium and I'm welcome to watch that if I'd like. That's very kind of him and I'd jump at it if I had any interest in seeing "50/50" but I pass. The open bar with rows of wineglasses and beer has nothing to do with this, honest... Isis Taylor is here... The lounge has TV monitors that give the starting times and availability of auditoriums. Very handy if you're killing time before your movie, and silent...

As we walk into the theater, the row in front of the transverse aisle is reserved for press... Sam Hain welcomes us and apologizes for the lack of sex scenes in the movie we're about to see... I look around, see Brad Armstrong's mother and figure we've dodged a bullet... The lights go down and the movie starts. It is dark, both the images on the screen and the story being told. The story involves a alien invasion of earth and the evacuation of the survivors to a base on Mercury. I honestly don't remember a lot of it because I only had four hours of sleep the night before and if you are working on four hours sleep and you're in a very comfortable chair in a dark room you're a goner. The explosions were effective, I'll tell you that...

After the movie, there is a q-and-a with the participants. I am surprised that they don't give out copies of the movie, but I figure that they aren't ready. I did get some "Horizon" dog tags, though, and I got the movie on DVD this week. It's on top of my Must Watch This pile.

As we were leaving, Daniel Metcalf told me that Seth Rogen and Tommy Chong were at the "50/50" screening and Tommy posed for pictures with some of the "Horizon" stars. I wonder where those pictures turned up...

Are you a married porn star and you don't care who knows about it?

This reality-show company is looking for participants in "a pilot for a major cable network about true love and the different forms it can take, even if they seem unconventional." I don't know what kind of tack they'll take with you or what other kinds of "unconventional" relationships they'll be looking at, but here it is if you're interested.

CASTING - Adult Film Stars who are in happy, commited marriages (this is not for porn)

Name: Brian Small Reality TV
Category: Entertainment and Media
Email: query-1k3e@helpareporter.net
Media Outlet: Reality TV
Deadline: 7:00 PM EST - 8 October

Query:
Seeking adult film stars who are happily married. THIS IS NOT AN ADUT FILM PROJECT.

VPE Talent is casting a pilot for a major cable network about true love and the different forms it can take, even if they seem unconventional. We would like to find a married couple in which one or both are adult films stars, yet the two are madly in love- they can be straight, gay, whatever but the couple must be married or in a long term relationship and MADLY in love, and willing to share their story (we do not blur for this project).

Requirements:
Ages 20's-30's
One or both partners in adult films
Married or serious committed long term relationship
Live in NY, NJ, Philly, Miami, or Alabama (flexible)

A good sign

There will be an autograph show at the LAX Marriott tomorrow, with a rather-impressive collection of stars and Playmates in attendance.

Sunset Thomas and Kent Wallace sent this:

Sunset Thomas Signing in L.A.

Adult Super-Star Sunset Thomas will be part of an autograph signing extravaganza at the LAX Marriott (5855 West Century Blvd. Los Angeles, CA) on Saturday, October 1st from 10am - 5pm.

Sunset will be joining a gaggle of Playboy Playmates, WWE Divas and TNA Knockouts at the Sign of the Times event.

"I'm bringing movies and 8x10's, and I'm told they even have a private area for racier photo opportunities!" cooed the never camera shy sex symbol.

For more information: wedosignings.com

And the show management sent this:

It's quickly approaching! Sign of the Times is coming.
LAX Marriott
5855 W century blvd
Los Angeles, CA
Sign of the Times
October 1st 10am-5pm
www.wedosignings.com

JUST ADDED
OLIVIA PAIGE, AVA FABIAN, CAROLINA RUSCO, SUELYN, KAMERON DASH, NICOLE TRINIDAD, JADE WIFEY, HIROMI OSHIMA

PMOYs
Karen McDougal, Corinna Harney, Stacy Sanches, Julie Cialini

FEATURING CROSSOVER TALENT / MAINSTREAM ACTRESS
ANGELINA ARMANI

Models / Playmates /Playboy Pictorial / Wrestlers

Jessica Burciaga, Suzanne Stokes, Brooke Berry, Ashley Harkleroad, Susie Feldman, Christi Shake, Kayla Collins, Mia St John, Erika Eleniak, Vanessa Goodmanson, Ariella Ferrera, Sunset Thomas, Camille Anderson, Carmen Berg, Devin Devasquez, Tiffany Selby, Alison Waite, Casey Durkin, Amber Smith, Stephy C, Rosa Acosta, Daphne Joy, Tarah Paige, Taylor Wane, jewell Marceau, Anastasia Pierce, Stacy Burke, Mahina Zaltana, Soniya Lei, Summer Altice, Cathy St George, Lisa Gleave, Spencer Scott, Syd Wilder, Patricia Kara, Jasmine Dustin, Aubrie Lemon, Kimberly Phillips, Enya Flack, Claudia Jordan, Lindsey Lockwood, Jamie Everett, Brooke Banx, Lorraine Michaels, Jen Rovero, Terry Lynn Doss, Rachel Sterling, Irina Voronina, Cassandra Lynn, Teri Harrison, Patrice Hollis, Marketa Janska, Donna Perry, Qiana Chase, Michelle Baena, Audra Lynn, Jordan Monroe, Jessica Hall, Nicolette Shea, Melissa Dawn Taylor, Brittany Ireland, Echo Johnson, Pennelope Jimenez, Tiffany Taylor, Rebecca Mary, Adrienna Lareina, Skyler Haze, Pamela Paulshock, leilene, Paris TheBarbie, Ashely Massaro, Brooke Adams, Velvet Sky, Jeanne Basone, kristen Myers, Shelly Martinez, Bethanie Badertscher, Maria Kanellis, Angela Fong, Jeannie Kim, Cher Ferreyra.

Looking through the list I see some pretty impressive gets here, including May 2000 Playmate Brooke Berry, August 1982 Playmate Cathy St. George, and April 1981 Playmate Lorraine Michaels. If you're an autograph collector check it out.

Tell Sunset I said hi.

I'm thinking grandpa was an influence-peddling crook too. Call it a hunch.

Supreme Court 'Justice' Thomas in ethics trouble, again

Looks like Supreme Court "Justice" Antonin "Tony the Fixer" Scalia's hand puppet Clarence Thomas is facing serious charges by members of Congress for the hundreds of thousands of dollars that his wife is receiving from the Koch brothers (channeled through their "Heritage Foundation" front organization) and not reporting it.

In a not-surprising show of party fealty, no Republicans joined in the call for "Justice" Thomas to adhere to the most rudimentary ethics rules that the newest Congressional page has to follow.

It's not the first time that the right-wing stooge/corporate puppet has taken payoffs from right-wing confederates and not disclosed it. Apparently one of his benefactors is a real estate magnate named Harlan Crow whose organization "gave" Thomas a $15,000 bust of Abraham Lincoln -- and the irony on that is staggering -- and has personally funded a "museum" that honors "Justice" Thomas in his home town.

Thomas's well-documented devotion to porn (I'll bet he's the only person on Capitol Hill who reads the free Hustler magazine Larry Flynt sends to hundreds of Washington offices every month) would probably make him a good guy in my eyes, even if he is a right-wing apologist (I don't fault Bill O'Reilly for asking Jenna Jameson for some videos, for example) but the hypocrisy and above-the-law attitude, including lying about it, may get him into trouble.

Thanks to Gene Ross at Adult FYI for spotting this.



Cal Exotics adds new 'First Time' starter line

The latest from Chino is this group of kinder, gentler toys for people who don't already have a drawerful of sex toys to play with already. The new toys are pastel colored and have enticing packaging, but a look at the press information indicates that they are amply powered, taking two AAA batteries, so they pack a punch where it counts.

They're available now from wholesale distributors and maybe even at retailers.

California Exotic Novelties Unveils First Time Line
Because Everyone Remembers Their First Time

Chino, CA - California Exotic Novelties knows there is something special about a person's first time, that's why the leading novelty manufacturer is introducing First Time. The gentle, feminine, introductory toys target women experiencing a pleasure product for their first time.

"We understand the perspective of the consumer who may have never entered a sex store or experienced a pleasure product," explains Susan Colvin, President and CEO of California Exotic Novelties. "The First Time Collection is our way of responding to the needs of the newcomers to the adult novelty market segment."

First Time features an array of vibrators in classic shapes and designs. There are three First Time Softee Vibes, Teasers, Pleasers, and Lovers. They have a plushee, soft, removable sleeve and come in three designs. The other five vibrators in the collection are hard ABS with a silky, soft PU cote. They include: Power G Vibes, Tulip Vibes, Power Vibes, Mini-G Vibes and Mini-Vibes.

For women new to anal play, the line also includes the First Time Love Beads. Sized right for beginners, the flexible beads are slim, graduated and have an easy-to-pull retrieval ring. All of the First Time products are available in pink and purple.

Jackie White, Vice President of Sales for California Exotic Novelties, says, "As the market grows and more people are introduced to adult toys, it makes sense to offer products that are in sync with their sensibilities. Retailers have a sure-hit with the First Time Collection."

The packaging is designed to capture the attention of women shopping for their first vibrator. The pink and purple graphics, the pretty woman, and the inviting copy all work together to target the novice consumer.

Al Bloom, Director of Marketing for California Exotic Novelties, says, "Focus groups helped us really understand the mindset of the first time toy user. This line is destined to be a big hit."

The First Time Collection is in stock now and available to order from California Exotic Novelties.

When anti-government psychos get in government, they try to destroy it from within

The mess the Post Office is in isn't being helped by right-wing nut jobs like Darrell Issa, who infamously funded the 2003 recall of Gray Davis in the hope that he could engineer a corporate-style takeover of the governor's office for himself. Didn't work.

Now, Issa is turning his gnarled hand to the U.S. Postal Service, trying to set it up for failure and privatization -- which always leads to higher costs and worse services -- in order to please his skewed right-wing corporate worldview.

This is the end game of electing anti-government officials to government positions. They end up destroying government services.



West Coast Productions moves

The ethnic-themed company has moved, lock, stock and lube bottle, to new digs at 19801 Nordhoff Place, Unit 110, in Chatsworth.

To put it in the porn vernacular, that's "over by the Burger King and Mimi's."

Phone and fax numbers remain the same.


Together again

September 27, 2011

Jesse Jane re-ups with Digital Playground

The is-you-is-or-is-you-ain't drama is over and Jesse Jane has renewed her contract with Digital Playground. As usual with the play-it-close-to-the-vest Digital Playground, terms of the contract -- little mundane ones like how much time it entails and how many movies she'll be appearing in -- are not mentioned.

I've always liked Jesse. She's a pint-size spitfire who energizes a room when she walks into it and she has a star quality that radiates into the camera. This is a good move for both of them, and I look forward to seeing new projects in the future. Like "Fighters," which is sitting on top of my Watch This pile.

JESSE JANE RE-SIGNS WITH DIGITAL PLAYGROUND

The World's #1 Porn Star Will Remain Exclusively With Digital Playground

VAN NUYS, Calif. --- The exclusive relationship between Jesse Jane and Digital Playground will continue.

"I'm very excited to re-sign with DP! They're the best in the business and like my family!" remarks Jesse, "I couldn't imagine being anywhere else. I love DP and everyone at DP, so I'm going to keep rocking it there for the next few years!!"

"Jesse Jane is by far the biggest anomaly that the adult entertainment industry will ever experience." adds Digital Playground CEO Samantha Lewis, "Her dedication, loyalty, beauty and charm have kept her at the top and we are so grateful that our partnership will continue. She started her career with Digital Playground and she will go out being a DP girl forever."

Digital Playground Founder, Joone agrees, "When we discovered her nine years ago, we knew she was going to forever change the face of our industry. Her unrivaled success and the fact that she is still the most demanded porn star on the planet affirms our belief."

Jesse's upcoming performance in Digital Playground's "Fighters" showcases the actress in the most dramatic role of her career. Not only are critics calling her an award contender, but pre-order sales have far exceeded expectations. Get a first look at: http://fightersxxx.com/.



It's Banned Books Week!

This story in Sunday's L.A. Times caught my attention because if there is any book I revere it's "In Cold Blood." It made me want to be a writer when I first read it when it came out in my early teens, and I have had a copy at hand ever since, for more than 40 years.

Now the bluenoses are getting all pissy because the book tells the story of a murder. Sorry, guys, but "The Bobbsey Twins Go To The Beach" isn't a good choice for advanced-reading classes.

Here's $250. Buy a vowel.

I saw this howler in an ad for the Center Theater Group promoting their upcoming production of Samuel Beckett's "Waiting for Godot":

Recognized as the most significant English language play of the 20th Century, this self-described "tragicomedy in two acts" by the Nobel Prize winner Samuel Beckett tells the story of two men waiting on a country road: Waiting for Godot. And what a wait it is!

I'm not questioning the value or merit of "Waiting for Godot" -- de gustibus non est disputandum and all that -- but it was written in French. So I chased it down, wondering where this crap was coming from, and I found a mention of the original screw-up in this 1999 article. It was based on a poll from the British Royal National Theatre:

Waiting for Godot was recently voted the most significant English language play of the 20th century in a British Royal National Theatre poll of 800 playwrights, actors, directors and journalists.

This article also calls Tom Stoppard English. Uh, yeah. Stoppard may have grown up in England but he was born in Tomas Straussler in Czechoslavakia.

Aw, c'mon, fellas

The L.A. Times is reporting that producers allegedly shot adult videos on real fire trucks. I suppose the investigations will determine whether the rules were broken, but I remember when Wicked Pictures made a fireman movie and they went to a company that rents real fire trucks for production use and Wicked shot an orgy on it. Somewhat-fuzzy screen cap below.


Don't tell me you have to use fire fighters to take a picture of a firetruck.
I just wanted to mention that. There's a fire inspector who often shows up on porn shoots: He's always polite, professional and businesslike, and I think we should extend that same courtesy to the Fire Department.


Latest entry in the parody sweeps spoofs 'Honeymooners'

Parodymeister Lee Roy Meyers puts baby boomers in the cross-hairs with his latest parody, based on Jackie Gleason's classic "The Honeymooners" which despite its landmark status ran for only one season in 1955-56. Or maybe that explains its landmark status: It didn't stay on the air long enough to suck.

For those to whom Jackie Gleason and "The Honeymooners" are as remote as big-band leader Glenn Miller and actor John Barrymore, Myers has increased contemporary-viewer appeal by including Katie St. Ives, Misty Stone, and Lily LeBeau in the supporting cast, which is reason enough to see the DVD for those to whom watching Ralph bellow "YER GOIN' TO THE MOON, ALICE!!" isn't enough of a draw.

Dreamzone Entertainment and Lee Roy Myers Unveil Box Art for 'Honeymoaners'

Fleshbot Hosts Exclusive Sneak Peek at Award-Winning Director's Hilarious XXX Spoof

VAN NUYS, CA -- The release of The Honeymoaners' box art confirms that Director Lee Roy Myers has wrapped another hilarious adult parody. This time he takes aim at one of television's most celebrated series in The Honeymoaners. Releasing October 25 from Dreamzone Entertainment, Myers' sexy send-up of the classic 1950s Jackie Gleason/Art Carney sitcom promises to send viewers "to the moon" and back! The Honeymoaners stars Peter O'Tool as Ralph Kramden, Anthony Rosano as Ed Norton, Kristina Rose as Alice, and Aiden Starr as Trixie, with gorgeous co-stars Katie St. Ives, Misty Stone, and Lily LeBeau. Fans can now get a sneak peek at the women of The Honeymoaners in a revealing photo gallery available exclusively on Fleshbot.com.

To see the women of The Honeymoaners on Fleshbot, visit:
http://fleshbot.com/5843970/a-sneak-peek-at-the-retro-bombshells-of-the-honeymoaners-a-xxx-parody-ready/gallery/

According to writer/director Myers, The Honeymoaners will be released in both black-and-white and color versions, adding to the authenticity by giving viewers the option to see the adult spoof in a format that duplicates the original series. Myers also praises the cast as one of his best to date on a resume that includes x-rated spoofs of a variety of other mainstream movies and TV shows.

Myers has carved out a profitable niche for himself as the king of porn parodies. A recent profile in "Heeb" magazine called him "the bastard son of Mel Brooks and Linda Lovelace." Myers' most recent release A Wet Dream on Elm Street is grabbing major media attention; and with the porn parody craze showing no sign of slowing down, The Honeymoaners is sure to attract a similar audience of pop-culture junkies.

The Honeymoaners also stars Bill Bailey and Rocco Reed. The Dreamzone Entertainment DVD will be released by Vantage Distribution.

For more information about Dreamzone Entertainment, visit dreamzoneent.com.

For wholesale ordering information, contact DreamZone VP Adam Hasner at adam [at] evolutiondist.com.



September 22, 2011

Cool movie alert

Yeah yeah I went to Wicked's "Horizon" premiere and I have a thing or two to say about that porn-on-a-fire-truck business but this is time-sensitive and if you want to act on it you have to do it tonight or tomorrow.

If you've been reading this site for a while, you know I love old movies and I particularly like the work of director Francois Truffaut. And I have thought Catherine Deneuve is the most beautiful woman in the world since I was a teen. This means that when I saw this in my email I dropped everything and posted this.

Truffaut's "La Peau douce" is playing at the New Beverly Cinema (Q. Tarantino, Prop.) tonight and tomorrow. It stars Francoise Dorleac, who was Catherine Deneuve's older sister and was even more beautiful than Deneuve, if such a thing is possible. And Dorleac died in a car crash at age 25 so she didn't get a chance to appear in many movies. And it's a new print. It's playing with a Truffaut I haven't seen, "The Woman Next Door," so I'll get myself a Truffaut fix that'll hold me till I can't resist and throw "Shoot the Piano Player" in the DVD player again.

I'm busy tonight but I'll make it to the New Bev tomorrow. See you there.


Elizabeth Warren

September 21, 2011

The corporations' worst nightmare

The lady on the right is Elizabeth Warren. She is a law professor at Harvard and a fearless advocate of the middle class and a critic of the banks and their predatory lending schemes that stole trillions of dollars from ordinary people. The Republicans in Congress hate her. When she has testified before Congress she was interrupted and called a liar, and when President Obama finally got the legislation passed that would create a Consumer Financial Protection Agency the Republicans refused to fund it and also refused to confirm Warren to head the agency.

The banks and corporations are scared shitless of this woman. She calls them on their lies and obfuscations and explains what's going on in clear, plain English. For example:

"There is nobody in this country who got rich on his own. Nobody. You built a factory out there -- good for you. But I want to be clear. You moved your goods to market on the roads the rest of us paid for. You hired workers the rest of us paid to educate. You were safe in your factory because of police forces and fire forces that the rest of us paid for. You didn't have to worry that marauding bands would come and seize everything at your factory... Now look. You built a factory and it turned into something terrific or a great idea -- God Bless! Keep a Big Hunk of it. But part of the underlying social contract is you take a hunk of that and pay forward for the next kid who comes along."

She's running for the U.S. Senate in Massachusetts. I'm supporting her and I hope you will too.



California Exotic Novelties offers new point-of-sale impulse item display

I saw this at ANME a few weeks ago and I was very impressed. These attractively packaged, modestly priced items should be a no-brainer for any retailer who already stocks condoms -- like convenience stores, gas stations and vending machine operators, who won't need the spiffy wire rack.

The products are available now, unless the distributors ran out.

California Exotic Novelties Offers Sex on the GO
Counter Display Targets Horny People in a Hurry

Chino, CA -- California Exotic Novelties releases the Sex on the GO Counter Display. Ideal to place next to the cash register, the Sex on the GO Counter Display targets consumers as they are heading out the door.

Susan Colvin, President and CEO of California Exotic Novelties, says "These affordable, handy, products are the perfect upsell to nearly any purchase the customer makes. We designed the display and selected the products based on our research of the most popular novelty impulse items. Everything on the display is a winner."

The Sex on the GO Counter Display comes with four each of six new products. There is a 3-Pack of Lubricant Infused Intimate Wipes, a 3-Pack of Desensitizing Anal Wipes, a 3-Pack of Intimate Arousal Wipes for Her, a 3-Pack of Desensitizing Delay Wipes for Him, a 3-Speed Waterproof Mini-Bullet and a Power Ring.

"The Sex on the GO Counter Display is perfect for any type of retail store. It is compact and easy to assemble," says Jackie White, Vice President of Sales for California Exotic Novelties. "Stores can't go wrong with this counter top display."

The Sex on the GO Counter Display is compact and light weight. It was designed to maximize precious retail counter space. It is also easy and quick to assemble.

Al Bloom, Director of Marketing for California Exotic Novelties, says, "Market research verifies that affordable, easy-to-grab, impulse purchases at the point of sale can produce larger profit margins for retail stores. That means the Sex on the GO Counter Display is a must-have for brick and mortars."

The Sex on the GO Counter Display is in stock now and available to order from California Exotic Novelties.



'You talkin' to me?'

One of the scariest movies I ever saw is getting a porn parody. I remember working on the Warner Bros. lot in 1976 and we had a screening of "Taxi Driver." All we knew was that it starred that De Niro kid who had been so good in "The Godfather Part II." Half the staff went to the early screening and half went to the later one.

When the first people got back to the office we asked them how it was and they would only say "You have to see it." They were right.

The film has resonated in the oh-good-lord-has-it-been-35-years since it came out, and is a cultural landmark in its look at the gritty underbelly of Manhattan and the one guy who wants to do his part to clean it up. Presumably Jessie Andrews is NOT playing an underage hooker this time out (mainstream studios can get away with a lot that adult studios can't, because people really have sex in adult productions) and like my comrade-at-arms Dan Mlller I'm looking forward to this one.

Pleasure Dynasty's "Taxi Driver: A XXX Parody" Releases Exclusively from Exile Distribution
One of the Sexiest & Most Intense XXX Depictions of a Hollywood Classic!

MIAMI, FL -- Pleasure Dynasty and Sensuous Diamond's "Taxi Driver: A XXX Parody" is now available exclusively through Exile Distribution. "Taxi Driver: A XXX Parody" is the anticipated debut from Pleasure Dynasty's new parody platform. In compliance with Pleasure Dynasty's unique formula for employing experts in all aspects of production, "Taxi Driver: A XXX Parody" is directed by the acclaimed General Stone. The safe-for-work trailer introduces viewers to adult performers perfectly cast as fan-favorites Travis Bickle, Iris and Sport.

To view the full-length, safe-for-work trailer for "Taxi Driver: A XXX Parody", visit http://taxidriver.pdfilmsllc.com/.

Director General Stone states, "The entire cast and crew were dedicated to making 'Taxi Driver: A XXX Parody' as close to the classic as possible. Though the original was controversial for its time, it didn't quite have the freedom we have to completely dive into the sin of 1970s New York. This is the 'Taxi Driver' fans want to see."

'Taxi Driver: A XXX Parody" stars Tommy Pistol as Travis Bickle, a man beginning to disconnect from society and on the verge of a breakdown. Unable to sleep at night, Bickle takes a job driving a cab through the dark streets of New York, receiving an education in sin. A high-profile cast supports Pistol, including Jessie Andrews (Iris), Lily LaBeau (Betsy), Evan Stone (Sport), Misty Stone, Nikki Charm, Sean Michaels and 6-time Best New Starlet recipient Chanel Preston.

"'Taxi Driver: A XXX Parody' is quite possibly the most anticipated parody to ever come out," states Dan Miller, managing editor of adult news source XBiz.com. "I love someone is doing an edgy, controversial film with substance. I can't wait for this."

"The sex is as intense as the movie itself," exclaims Howard Levine, president of sales for Exile Distribution. "This was a labor of love for General Stone, who successfully turned the masterpiece of American filmmaking into a masterpiece of pornographic filmmaking. The iconic character of Travis comes through perfectly in the parody and will help make 'Taxi Driver: A XXX Parody' an instant classic, selling consistently for years to come."

When discussing the move to bypass a VOD or pay site release of 'Taxi Driver: A XXX Parody", Levine states, "Everyone at Exile Distribution fully supports our retail outlets, and we feel releasing the movie solely on DVD will help prevent pirated copies from flooding the Internet."

Another move by Exile Distribution aiding retailers and preventing online piracy of "Taxi Driver: A XXX Parody" is the employment of Takedown Piracy (TakedownPiracy.com). Takedown Piracy is one of the most effective companies patrolling the Internet for pirated content and copyright infringements. Its services help steer consumers back to stores.

"Taxi Driver: A XXX Parody" is available for broadcast through Coastline Licensing. To inquire about obtaining the rights, please email david@coastlinelicensing.com or chris@coastlinelicensing.com.

Upcoming releases from Pleasure Dynasty include "Training Day: A XXX Parody," directed by General Stone; "Real Housewives of South Beach: A XXX Parody," directed by Dana Dana; and "True Grit: A XXX Parody," directed by Jack the Zipper.


Sienna Sinclaire

September 20, 2011

Raw Sienna at Porn Star Karaoke tonight

Sienna Sinclaire is coming to Porn Star Karaoke tonight. The last few weeks PSK has been hopping, with fans and adult industry professionals crowding the place from about 9:30 until the lights go up for the 2 a.m. finale. Last week was especially intense, with a birthday cake and a number of longtime PSK regulars including Konnie and the long-departed Rebecca Love, who took the long trek west from her Las Vegas stomping grounds to ring in a new year at PSK.

Here's the press release.

Sienna Sinclaire at Porn Star Karaoke
Author Introduces Porn Tours to Her Naughty Tours Packages

VENICE, CA -- Southern California fans of Sienna Sinclaire can see another side of the superstarlet Tuesday night as she hits Porn Star Karaoke to rock out and hang out with friends and fans.

"I'll be singing '80s rock jams," an excited Sienna said. "I love this kind of thing and I'm ready to bust it out!"

Sienna has also busted out with Naughty Tours packages for folks looking for advice and information on a night out or a complete weekend guided and hosted by Sienna. Among her packages is Porn Tours, which ranges from taking one person or a group to the set of a porn video all the way to fulfilling the dream of directing a movie. While you get to pick the talent and write the script, Sienna sets up the entire production.

"Either way they will get a very intimate experience that allows the opportunity to see what it's really like and to meet the stars and get autographs and photos," she said. "I don't think there's anyone who would love to spend an afternoon on a porn set. It's an unforgettable experience."

To find out more about her Porn Package and other tours, and to learn more about her upcoming book, The Naughty Girl's Guide to Los Angeles, which will be available this winter, go to thenaughtygirlsguide.com.

She can also be found at siennasinclaire.com and her social network is at siennasinclairesocial.com.

For more on Sienna visit risingstarpr.com.

Porn Star Karaoke is open to the public as well as to members of the adult industry. Since its start in July 2003, Porn Star Karaoke has become the longest-running ongoing weekly event in the history of the adult business.

Admission -- 21 and older, with photo ID -- and parking are free.

Sardo's Grill and Lounge is located at 259 N. Pass Ave in Burbank, Calif. Porn Star Karaoke starts at 9 p.m. For more information, visit the Sardo's website. Adult industry professionals are invited to reserve tables, which are held until 10:30 p.m. Email mail@sardosbar.com.

Don't do this in New Jersey, ladies.

Saving the outraged citizenry from the dreaded bare-tit menace

A two-judge panel has ruled that a woman sunbathing topless in New Jersey violated the public's moral sensibilities. Good thing nobody sued "Jersey Shore," those judges would shut down the state. Either that or MTV.

Note that we had to go to the Daily Mail in the U.K. to get the story. I'm thinking U.S. newspapers don't want to use an emotionally charged and controversial word like "breasts."

http://www.dailymail.co.uk/news/article-2037604/Breasts-moral-threat-New-Jersey-rules-topless-sunbather-Phoenix-Feeley-bizarre-ruling.html

And the hits just keep on comin'

A mayor in Georgia has seen fit to close down a local production of "The Rocky Horror Show" because he found it offensive. Lovely.

I bow to very few in my contempt and loathing of the movie version of "The Rocky Horror Show," which I was compelled to watch against my will as a theater employee charged with making sure the fans didn't set the place on fire. But I am in favor of free expression, so if somebody wants to put on the play, I say goaheadon.

http://www.alternet.org/newsandviews/article/667950/censorious_georgia_mayor_shuts_down_%22rocky_horror%22_production/

Academy starts new documentary series tomorrow night

The Academy of Motion Picture Arts and Sciences is starting another series of documentaries tomorrow night with "Inside Job" and "Casino Jack and the United States of Money," two looks at the criminal activities that went on with the help and encouragement of the Little Boots administration. The screenings are free and will be at the Linwood Dunn Theater at the Academy's Pickford Center, 1313 North Vine Street in Hollywood. Parking and admission are free.

Just like Jack Abramoff.

http://www.oscars.org/events-exhibitions/events/2011/09/contempdocs.html



Bad girls, bad girls, whatcha gonna do?

New DVD dropping today features Stoya's first interracial scene

I don't know if this is a big deal, but Digital Playground sure thinks so. Interracial never interested me as such. I'm not claiming a moral high ground here, there are a lot of different kinds of porn and everybody has their preferences.

On the other hand, Stoya and Mr. Marcus should do a helluva scene together and I certainly want to see it. And, as usual lately, Digital Playground is generously including a DVD and a Blu-ray in the package, so you get one disc to play and a second one to use a coaster for your drink.

Detail, with link to trailer, is below.

DIGITAL PLAYGROUND PRESENTS STOYA'S FIRST INTERRACIAL SCENE IN "BAD GIRLS 6"

Robby D's "Bad Girls" Series Has Jesse Jane and Stoya Breaking All The Rules!

VAN NUYS, Calif. -- Digital Playground, the adult leader in technological innovation and content, releases "Bad Girls 6" on September 20th. Available in a DVD/Blu-ray Combo Pack, the gonzo includes exclusive contract star Stoya in her first ever interracial scene with the incredible Mr. Marcus. "Bad Girls 6" also stars quintessential Bad Girl, Jesse Jane who won't be outdone in her quest to get her hot lovers to break all the rules and get naughty with her.

The trailer for "Digital Playground's Bad Girls 6" is available at:
http://www.digitalplayground.com/store/video-details.php?id=319

Don't miss insatiable Stoya in her first IR scene! "Bad Girls 6" explodes with hard pounding lust with Jesse Jane, Tori Black and Bridgette B. They go where good girls fear to tread, ready to take on the big boys.

Digital Playground's "Bad Girls 6" on DVD and Blu-ray includes a photo gallery, and trailers to hit Digital Playground films and upcoming releases. The DVD version also includes a slide show. "Digital Playground's Bad Girls 6" is presented in 16:9 widescreen format with 5.1 digital surround sound and no regional coding.

"Bad Girls 6" should be available from your retailer of choice right now.


September 19, 2011 11:00 a.m.

I feel the same way myself

I just got a new DVD from Evil Angel. Here's the cover, which I have modified to emphasize some elements and cover up some others that would require me to keep 2257 paperwork.


My reaction mirrored the title exactly.

"A new DVD from John Leslie? What the fuck?!???"


Katsuni's back

September 19, 2011

Katsuni's back and Spiegler is booking her

The Asian temptress with the French accent is back in town through early November. I can personally say that I saw her on a set a month or two ago and she looks good and did a helluva scene with Miko Lee and Brandy Aniston.

Check with Spiegler for availability and tell her I said hi.

Folks,

World famous adult superstar (and multiple AVN Award winner) KATSUNI will once again be gracing the U.S. with her presence. However, her availability is limited. She has dates available through November 2. KATSUNI is currently available for the following types of scenes: Solo, BJ, G/G & B/G.

Please contact me to book her ASAP!

Regards,

Mark Spiegler

Playboy goes retro

The venerable men's magazine has rolled back its price this month to its 1963 level. This is even before my time, I paid six bits for my early Playboys.

Cal Exotics looking for new Euro-partners

California Exotic Novelties is taking its act on the road to eroFame in Hannover (sometimes known as Hanover) in Germany, looking for new European distributors for their extensive toy lines.

California Exotic Novelties Seeks New European Distribution Partners at eroFame

US Novelty Manufacturer Initiates New Market Penetration

Chino, CA - California Exotic Novelties, the world's leading adult novelty manufacturer, seeks new European distributing partners at the upcoming eroFame Show. Having identified key European market opportunities, the company is rolling out a market penetration strategy. The development of an extensive network of distribution channels means California Exotic Novelties will have a stronger presence in a broad spectrum of European geographic markets.

Susan Colvin, President and CEO of California Exotic Novelties, says, "We currently have an incredible network of European distributors. Distra, Orion and Scala are our original partners. Recently Net 1on1, ST Rubber and Tonga joined us. As regions open up and we identify opportunities, we'd like to continue our expansion and add new, qualified, distribution partners."

California Exotic Novelties will be at the eroFame Show October 5th, 6th and 7th. The B2B trade fair in Hanover, Germany, is for trade members only and features some of the top companies in the industry from around the world.

This is the first year the company will have a booth at the tradeshow. California Exotic Novelties will be in Hall 32, Booth #7 on the lower level. There visitors will see the latest products and collections from the Summer 2011 Product Release. Show attendees are invited to stop by and pick up a new 545 page Super Catalog, titled Intimacy is an Art Form. Distribution companies are encouraged to visit the booth to learn more about partnering with California Exotic Novelties.

Jackie White, Vice President of Sales for California Exotic Novelties, says, "This is an exciting time for California Exotic Novelties. Our growth rate is phenomenal and we're looking forward to expanding with the help of our established European distributors, and with new businesses who are looking to grow along with us."

The eroFame Show is free for registered trade members. For more information, visit www.eroFame.eu.


Alana Evans, Misti Dawn lining up their pwns

The '50s-era joke was that the ideal woman was oversexed and owned a liquor store, but this could well be the postmillennial ideal: Porn stars who like to play video games.

Alana Evans and Misti Dawn not only fall into this desirable demographic, they have started a website that celebrates it: PwnedByGirls.com. (That sound you hear is the collective swoon of thousands of guys who have just seen their two major interests combined.)

The grand launch is set for Tuesday, to coincide with the release of Gears of War 3. Read on:

Porn bad girls, Alana Evans and Misti Dawn, have come together to create a website that is innovative in both the video game industry and adult worlds combined... PwnedByGirls.com. The self proclaimed ninja and nerd are two of the most addicted female gamers on the planet. With that being said, the girls wanted to find an awesome way to mix the two things they love most, video games and porn. After many late night gaming sessions, the ladies discovered a plan to involve their fans and include them in a way that has never been accomplished before. The ladies have decided to form a Porn Star Gamer Girl party!

Not only can you play with them live but you can also watch the girls get down and dirty as they are pwning gamers across the world! The website pwnedbygirls.com will eventually host every party, as well as provide in-depth profiles of each Porn Star Gamer Girl, video game reviews done by Alana and Misti, plus clips and photos from previous gamer girl sessions. The very first gamer girl session will take place on Tuesday September 20, to celebrate the release of Gears of War 3.

" I am a huge Gears of War fan! It's my favorite game to play on Xbox Live, so when I came up with this idea and presented it to Misti, I knew the release date of Gears would be the perfect start date," Superpinkninja Alana exclaimed. "Misti is probably the most dedicated gamer girl I know, so she was the obvious choice as my partner for PwnedByGirls.com."

Upon asking Misti Dawn about the venture, she stated "I'm very excited to share with our fans the new project we have started. Are you a gamer?? Are you sick of pretend gamer girls, yea us too! Time to pwn some n00000bs with our b00bs!"

With Alana and Misti hosting the parties in Misti Dawn's Nerd Lair, the girls will have various Porn Star Gamer Girls join them to play their favorite video games, online with fans via Xbox Live or PS3 Online. The best part about every party is that the ladies and their friends will be playing topless and streaming every minute of game play through Streamate and Camworld! To join the girls in a gamer session on Xbox Live, their gamers tags are meowmistidawn and superpinkninja Be sure to follow the girls on twitter on @pwnedbygirls and join their facebook page at facebook.com/pwnedbygirls.

Reality check

I was driving past a bus with a big ad plastered across it and I took a quick glance at the hair and the smile it looked like Misty Stone had gotten a mainstream gig in the new "Charlie's Angels" on ABC.

For one brief moment I thought this "mainstreaming of porn" had gotten a foothold. Oh well.



Not Misty Stone on the left
Jack Cannon. Make your own "Cannon" joke here.

Jack Cannon/'Captain Rob' starts performing, will appear at NightMoves and Exxxotica NJ

Jack Cannon is working his way into performing, and will be appearing at NightMoves and Exxxotica in New Jersey. Good for him. I remember when he was just hanging out at PSK.

Jack Cannon to be Featured guest and performer at the 2011 Night Moves awards in Tampa, Fl

Who is Jack Cannon you may ask? Well most of you know him as the one and only Captain Rob. He is most well know for his appearances as a Captain Jack Impersonator at various Adult Conventions such as Adult-Con, AEE 2010 & 2011, Exxotica LA 2010 & 2011, Fetishcon 2011 + many others.

He is also an Adult Photographer for his Co. Compass Photography and this year founded Compass Productions Adult Video. Captain Rob made a name for himself by treating all the industry talent and producers he comes in contact with respectfully and professionally. He's been a guest numerous times on Playboy Radio Night Calls and is a supporter of PSK at Sardo's in Burbank.

2011 brought new ventures to the Captain as he Became New Male Talent YES Captain Rob is now not only filming behind the Camera he is Now in front of the Camera his first scene was with Toni Andreas and Alice in BondageLand being yes of all things a captured pirate captain by two very demanding wenches he went on to do scenes with female talent: Shandra London, Rochelle Lynn, Nikki Sebastian, Julie Simone, and Shannon West. He has also appeared in Digital Playgrounds Pirates XXX 2 in a non-sex extra role and then in a cameo role in Deal or No Deal an Adult Parody Captain Rob / Jack Cannon is also now the official spokes person for: BETWEEN THE SHEETS ADULT NOVELTY CO. SPECIALIZING in adult toys, novelties, and clothing

He is SO very excited and Honored to be apart of this years NIGHT MOVES
AWARDS and can't wait to see what the future holds.

Jack Cannon will also be appearing at: EXXXOTICA NEW JERSEY this Nov.

You can find the Captain on Twitter at @CaptainRob73, @captjackevents, also on Adult Talent Registry under Compass Photography.

I wonder if she keeps her briefs on

A young lawyer is facing the troubled economy and making ends meet by working as a topless dancer. An interesting story from MSNBC: http://redtape.msnbc.msn.com/_news/2011/09/13/7730301-lawyer-turns-topless-dancer-to-pay-the-bills?GT1=43001

An outsider's look at U.S. 'morality'

After you get past the amusing image of a naked laughing two-year old on a beach running from her parents as all three are pursued by an armed law enforcement officer, this writer makes some interesting points about the nature of Puritanism in the U.S. I liked this passage:

In the Bill Clinton case, can we really say that he was sanctioned because he lied more than because he had an affair with a White Houses' intern? This is wrong of course because George W. Bush lied about weapons of mass destruction in Iraq, a far more serious deception, but was not condemned for it. If he had slept with his assistant, he would have been punished. But murders are apparently less important than extra-marital affairs.

Take a look. I found it interesting and worth sharing.



Ryder beating the drum for 'Beverly Hillbillies XXX'

Producer/director/writer/keyboard player Will Ryder is starting the promo push for his big release "Beverly Hillbillies XXX" with the press release below. Look for more news and information about the DVD as it's released and presented for awards consideration.

Old School with 'Beverly Hillbillies XXX'

(Hollywood, CA) Old school is back with the upcoming double disc DVD release of "Beverly Hillbillies XXX" from Adam & Eve Pictures and X-Play. The fast-paced laugh-out-loud porno is as close to classic television as you can get but this time the producers and director decided to give the fans something that has been missing recently from the onslaught of new parody releases and that is a well-written sex comedy. The collectors DVD set will be in stores September 27th.

"The telling of an entertaining story is a lost art and that is where we started with this Beverly Hillbillies spoof," stated director Will Ryder.

"We had to have a great script and if the script wasn't television quality then we would be peeing against the wind." Ryder remarked. "I think a well-written story should be as important in Chatsworth as it is in Hollywood."

Ryder and X-Play have been at the forefront of the parody revolution charging ahead with well-made funny television-like pornos that they call sitcums. They have spoofed some of the greatest shows in television history such as the Brady Bunch, Married with Children, The Cosby Show, M*A*S*H, Bewitched, Monday Night Football, Charlie's Angels, The Bionic Woman, Three's Company and many others but there is nothing like going back to the early 1960s to create a porn parody of a show that was #1 on CBS for years.

Granny, Ellie Mae, Jed Clampett, Jethro, Miss Jane and Mr. Drysdale all come to life with fantastic performances that fit in more with the actual TV show than just about any parody movie out there.

The first YouTube trailer is available here: http://www.youtube.com/watch?v=e_XgWAQomKQ&

"I don't know if I'd call it magic in the David Copperfield sense but when you have hot sex, beautiful girls and a very funny story your chances of having a hit comedy movie just when through the roof," offered actor James Bartholet who in perhaps his best performance yet plays Mr. Drysdale.

"Oh God, these guys were good and really funny and Kagney Linn Karter is fantastic as Ellie Mae," stated co-producer Scott David.

Like a lost episode of a favorite television show, Adam & Eve Pictures and X-Play blend classic TV with hardcore sex in an authentic porn parody so accurate you will think you're watching the TV series. Ellie Mae & Jethro start a Hollywood talent agency right in their magnificent Beverly Hills mansion but since they really don't know much about the movie business they quickly find themselves in over their heads. When gorgeous actresses strip naked & have sex during their "auditions", Granny & Uncle Jed head for the hills and return to the Ozark Mountains and their dilapidated shanty fearing Beverly Hills has become too fast-paced for them.

Kagney Linn Karter is joined by Haley Hewes as Granny, Dana DeArmond as Miss Jane and Taylor Vixen, Annie Cruz, Kaylee Hilton, Aubrey Addams, Courtney Page, Vickie Chase and Lucy Blaze round out the females. Gary Lee, Otto Bauer, Giovanni Francesco, Ryan Driller, Eric John, Tucker Slain and James Bartholet co-star.

"Beverly Hillbillies XXX" is from the producers that brought you Not the Bradys XXX and will be in stores Tuesday, September 27th from Adam & Eve Pictures and X-Play.

For DVD wholesale orders contact Ryan Thomas rthomas@adameve.com at Adam & Eve Pictures.

For worldwide licensing of "Beverly Hillbillies XXX" contact Peter Reynolds at Plaid Bag Media peter@plaidbagmedia.com

Y'all cum back now ya hear!



Ignore that guy in the yellow shirt on the bottom, he usually looks better.

September 12, 2001

Big week for Sardo's

Tuesday night adult industry hangout Sardo's Grill and Lounge is celebrating two big anniversaries this week.

Today is the 35th anniversary of the place, which places its opening in 1976. I personally have been going there since 2003, which brings us to the second big anniversary, which is being celebrated tomorrow. I've been a regular since the early days, and to give you some Idea of how long I've been writing up PSK, I have auto-corrects on my computer that change "pskk" to Porn Star Karaoke and "sgl" to Sardo's Grill and Lounge. I have also memorized the address, 259 N. Pass Avenue.

There will be plenty of memories and nostalgia when the tribe re-gathers for the anniversary tomorrow night. I plan to be there, early, because the place will fill up fast and stay busy until the lights go up at 2 a.m. Make a reservation, get there early, keep the orders coming -- you know, support Sardo's and Seymour just like they've been supporting us all these years -- and let's have a good time.

PSK Celebrates it's 8th Anniversary Party

Come celebrate 8 Erotic years of Porn Star Karaoke on Tuesday, Sept 13th at 9 pm. Call for Industry reservations, tables will be held until 10pm.

On a personal note, as I'm trying to create this press release I'm looking back and seeing the fun, charity work, supporting one another , all on our Tuesday nights and I'm very proud to be part of this.

Eight Years have passed since a group of 8 came in to sing karaoke one night and then asked me the question; do you think we could have a weekly gathering here at Sardo's? We promise we'll behave ourselves! I said sure, let's give it a try.

Now eight years later, on a Tuesday night, I get to see old friend in the adult industry, make new ones and see their fans come to my little bar to have fun. Many who have been here since the 1st year have said to me they never thought it would go this long. Many have left the industry the past 8 years and come back and have said they were happy that PSK was still around. It was a place they were comfortable with and proud that the industry still supports it.
Some even ask for the set of "RULES" we use to post and place on the tables. Those were the days!

We couldn't have made 8 years without all of you in the industry and the fans supporting us week after week.

I hope everyone can come out this night to help celebrate our 8th anniversary.

Thank you for 8 great Erotic years my friends, NOW come on down and PARTY

Seymour Satin

Now for the familiar part that you all have read more than once!

The festivities begin at 9pm and go until closing at 2am

PSK is open to the public as well as to members of the adult industry. Porn star Karaoke is the longest-running ongoing weekly porn event in the history of the adult business.

About Porn star Karaoke

Karaoke -- sometimes when it's bad, it's better.

Every Tuesday night, adult industry members gather to kick back at this little bar & grill in Burbank, CA called Sardo's. We get drunk and entertain each other in any way that the law will permit, all loosely disguised as karaoke.

It all started back in July of 2003 with a cozy group of friends. More people kept showing up every week, and it blew up into the phenomenon that is now Porn Star Karaoke. This weekly event is generating lots of press and notoriety as well as good times for all.

* Location: Sardo's Grill & Lounge 259 N. Pass Ave., Burbank, CA.
* RSVP: If you are in the industry and wish to RSVP for a table or booth for you and your party, contact Seymour from Sardo's at mail@sardosbar.com.

What's wrong with this picture?

This guy died from a toothache, because he didn't have health insurance. Isn't it nice that the Republicans are maneuvering to destroy Obamacare even before it gets started?

http://improper.tumblr.com/post/9831729462/the-madame-hatter-thedailywhat-this-is-all

No, she's not using a sex toy. I don't think.

Kim Airs planning a grand opening

Longtime sex toy retailer and authority Kim Airs is taking her act to the stage, presenting "Kim Airs' Home Sex Toy Party!" at the Elephant Theater at 6322 Santa Monica Blvd. in Hollywood, on October 7, 8 and 9. If you know Kim, you know how she shares her extensive knowledge in a funny and entertaining way. If you don't have Kim on speed dial, here's a chance to get amused and also schooled in what's going on in the wide and wacky world of sex technology for the price of a ticket.

Get ready to attend a sex toy home like no other home toy party you've ever been to!

It's Carrot Top meets Lucille Ball meets Dr. Ruth with Kim's wacky presentation of what they are, what they can do, & what you WANT to do with 'em! Sex facts! Sex tricks! Sex toys! Great for all ages as long as you're over 18. There's something for everyone in this hysterical, over-the-top show!

Kim Airs' Home Sex Toy Party is the perfect bachelorette party or night out with the girls complete with door prizes, too!

Kim's been featured in many media & has been described in papers "Kim Airs makes buying a vibrator as easy as buying a toaster." She has a one hour HBO feature & has been in countless magazines, newspapers & interviews around the world. She owned her own sexuality boutique, Grand Opening!, for 12 years in Massachusetts, now on the web at grandopening.com where all of the products are from.

All products will be available to order at the show for discreet home shipping, just like all those other "normal" home sex toy parties.

So join in on the fun and be at this wacky premiere of Kim Airs' Home Sex Toy Party! show!

Click here for more details and to buy tickets.

One rm, fake-ocean view, lights and TV cameras incl.

The "Conan" people are offering digs at their studio for one night in October. I don't know precisely what they're up to, but the price is right.

http://www.airbnb.com/rooms/200419#photos



Elegant Angel, 2011

The classics, redux

I saw the cover of the latest "Let Me Suck You" title from Elegant Angel (right) and the ice-cream-cone-as-phallic-stand-in in Alyssa Branch's mouth triggered a deja vu reaction from my teen years. Take a look at Miss June 1969, Helena Antonaccio, below. I call attention to her grin, with her tongue touching her teeth, and the ice cream cone in her hand.

The classics just get better with age.




Playboy, 1969. Image Copyright Playboy
Comedy and Tragedy, illustrated by Digital Playground contract star Bibi Jones from "The Crib." Picture Courtesy Digital Playground.

Bartholet sets new acting workshop for Sunday

Performer James Bartholet, who has become the go-to guy for parody video producers, is offering one of his periodic acting workshops this Sunday. There's a reason I refer to people in adult videos as "performers": What they do isn't acting. It's sex performing, which is a different skill from acting. Like singing and dancing, some people can do both, but just because you do one doesn't mean you can do the other -- or have to.

If you're a sex performer who wants to improve your acting, Bartholet can give you a hand.

James Bartholet to conduct new acting workshop this Sunday, September 18th

(LOS ANGELES) Award winning actor, James Bartholet will be conducting another of his popular acting workshops this Sunday, September 18th in West Hollywood.

Adult performers who want to sharpen their acting chops, will find this is a must do workshop, and the new one day workshop will cover the basics of acting and improvisation, with on camera tapings of acting scenes.

The workshops will be in West Hollywood. The price will be $30.00 per student.

The classes are four to five hours long, and interested students should sign up now for workshop on the 18th. The workshop will start promptly at 12:00 noon to 4:30pm. Interested performers should contact Bartholet by email now at james@galaxypublicity.com.

"The workshop will go over scene study, character development, improvisation skills, and we will tape a scene that the students pick from a mainstream film, television, or stage production so they can have tape of themselves doing a mainstream scene. It's important to work on your acting skills nowadays in adult with so many parodies and features being produced. Many fellow performers in the adult industry have taken this workshop, and have stated this workshop has helped them land the job, and helped them to shape and define the characters they have been playing," stated Bartholet.

Bartholet has many years experience in acting and directing in the mainstream industry, and acts in many adult features. Bartholet co stars in some of the industry's biggest parodies and features. In January 2010, Bartholet received the 2011 AVN Award for "Best Performance Non Sex" for his portrayal of Bosley in XPlay/Digital Sin's "Not Charlie's Angels XXX".

Bartholet has a degree from Los Angeles Valley College, and has received several acting awards and nominations from his many years on stage. Bartholet trained with ACT in San Francisco and with many different acting coaches in Los Angeles. Bartholet has performed in various stage productions from coast to coast, as well as television and films, and performed sketch comedy at The Comedy Store and The Ice House.

Sign ups for the workshop have started now. Please put "Workshop Sign-up" in your email header to james@galaxypublicity.com.

Department of corrections

April O'Neil asked me to point out that the picture of the naked girl in the Stormtrooper helmet that I posted earlier was swiped from her site and asked me to provide a link to her site, which I am happy to do.

I would like to point out that I would not have been quite so engaged if I had recognized a picture of April on her own site, where I would have expected to find her.

No matter. it's her picture, the picture thief should be ashamed of himself, and DVDs featuring April O'Neil can be found at better brick-and-mortar and online retailers.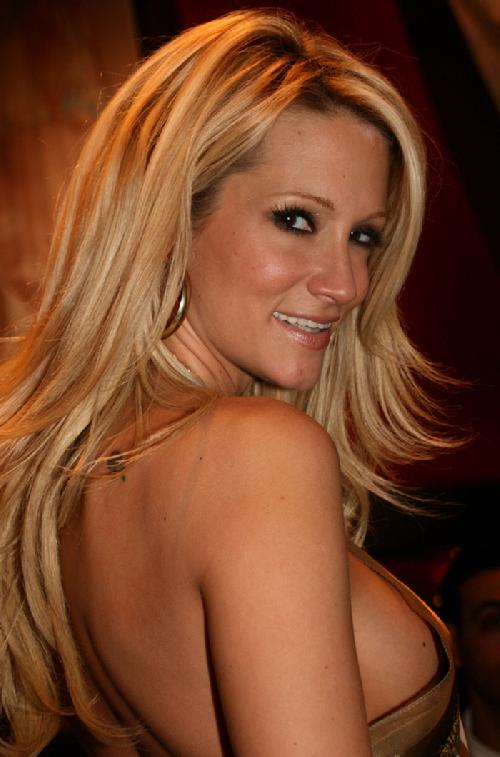 jessica drake. Lower-case only, please.

September 9, 2011

Wicked Pictures contract performer jessica drake guesting with Heidi and Frank on Friday

Heidi and Frank, the latest incarnation of the long-running talk show that has gone through more personnel changes than Fleetwood Mac, will be hosting jessica drake Friday as she talks about her ongoing series of educational videos. Here's the detail, and although the Heidi and Frank website says the show runs from 1 pm to 2 pm PST I'll bet it's PDT.

Wicked Pictures Contract Superstar jessica drake to Grace The Heidi and Frank Show Friday

AVN Best Actress Winner and Emerging Sexual Wellness Authority Discusses Exciting New Projects

LOS ANGELES, CA -- Wicked Pictures is pleased to announce that AVN Best Actress winner and emerging sexual wellness authority jessica drake is gracing The Heidi and Frank Show this Friday, September 9th. The popular podcast streams live weekdays from 1 pm until 2 pm PST at www.heidiandfrank.com.

The enterprising Ms. drake has been a friend of the program since it ruled Los Angeles airwaves as The Frosty, Heidi and Frank Show, and even famously joined the hosts - and her fellow Wicked Girls - in a heavily-publicized search for a new Wicked contract star.

In the months since Frosty Stilwell's departure from the program, Heidi Hamilton and Frank Kramer have found a faithful audience on the Internet with a new subscription-based podcast edition of the venerable show.

For jessica, who hosts her own successful podcast entitled The STFU Show, experiencing the program's new format promises to be a welcome treat. "I first met Heidi and Frank during our Wicked Girl search, and I loved their sense of humor and on-air dynamic. My STFU Show listeners have been asking me to do the show for quite some time, so be sure to tune in this Friday as I get Wicked with Heidi and Frank!"

At press time, topics are expected to include her role in director Sam Hain's science fiction blockbuster Horizon, and jessica drake's Guide to Wicked Sex: Anal, the latest release in Wicked's line of erotic educational DVDs.

While The Heidi and Frank Show is subscription based, surfers can enjoy a free audio-only stream Friday by visiting heidiandfrank.com. The STFU Show can be enjoyed without cost anytime; for more information visit http://stfushow.com.

A three-time AVN Best Actress winner, Ms. drake is a gorgeous woman to be sure, but sheer physical beauty is thin and superficial if it simply sits there asking to be admired like a collection of pretty china plates. So do yourself a favor and listen to Friday's interview, because every word jessica slings at you is certain to glow with vitality.

Just like the woman herself.

For more information please visit wicked.com.

Add Heidi and Frank

On the website I saw "Frank's Butthole Bong," which strikes me as the most creative misuse of a Fleshlight I've ever seen.



Mainstream equivalent of AVN awards opens grandstand drawing

If you want bleacher seats for the Oscars on Feb. 26, 2012, the lottery starts Monday. Click here for Nikki Finke's report and click here on Monday.

A look at the Republicans from the inside

If you follow my Twitter at @ttodhunter you have some idea of my political leanings. This guy, who was in the middle of the Republicans from the relatively-sane days of Little Boots and Newt Gingrich to the scorched-earth crazies like Eric Cantor and Mitch McConnell, calls them on the carpet for their extremism and zeal for destroying social programs that have helped everyday working people for decades in order to further enrich a few millionaires.

Read this and shudder. And don't forget to register and vote.

Passing observation on NBC's 'The Playboy Club'

There is a piece of music called "Playboy's Theme" that would probably be just right for the show. The music was composed by Cy Coleman and originally recorded with members of the Chicago Symphony and used for the syndicated "Playboy's Penthouse" TV show. it has been covered by many artists (including Henry Mancini and Nelson Riddle) and was updated for the '70s "Playboy After Dark." It even made an appearance on the first Playboy pinball machine, with the opening notes played on chimes when you pushed the start button.

I'll bet they don't use it. And Playboy's Alta Loma Productions is involved in the show, so it's not like they don't know about it.

We'll see.



Comes with a controller. You will too.

Searching for Mr. Just Right?

California Exotic Novelties has released a new dildo "with the perfect shape and size, with ten functions of vibration, pulsation and escalation." That's a serious improvement on the old-fashioned flesh penis which can usually only deliver four or five speeds.

California Exotic Novelties Does the Impossible

They Created Mr. Just Right

Chino, CA - California Exotic Novelties introduces Mr. Just Right, a vibrating dong with the perfect shape and size. Life-like detail, along with ten incredible functions of vibration, pulsation and escalation, make this fella "just right".

Susan Colvin, President of California Exotic Novelties, says, "We designed the Mr. Just Right to be the optimal size for most women. Not too big, not too small, these vibrating dongs are just right!"

There are two sizes and colors. The Mr. Just Right Super Seven measures seven inches from tip to the base of the penis, and has 5.25 insertable inches. The Mr. Just Right Elite Eight is eight inches long from the tip to the base and is 6.25 insertable inches. Both are available in black and ivory color.

"Feedback from retailers indicates that many consumers look for dongs that are sized just right and life-like. Mr. Just Right fills that demand," says Jackie White, Vice President of Sales for California Exotic Novelties.

The Mr. Just Right dongs have 10 powerful functions of vibration, pulsation, and escalation. The LED push button power pack has a plug-in jack and is easy to turn off by simply holding down the button. The superior suction cup base holds the dong in securely in place.

The Mr. Just Right is in stock now and available to order from California Exotic Novelties.



Courtney Taylor

More boobs!

Performer Courtney Taylor has increased her boobage to 34 DD (note picture, right) and she is healed and ready to work according to OC Modeling.

Courtney Taylor Is Back...And Bigger Than Ever!

(Los Angeles, CA) Courtney Taylor took a little time off from the biz to reinvent herself, and she's back bigger than ever -- after a breast enhancement, she is now sporting 34DDs. The blonde babe who looks like the girl next door is always in demand and has worked with such studios as Bang Bros., Evil Angel, Hush Hush, Devil's Film, Overboard Video, Sticky Video and West Coast Productions.

"This is something that I wanted to do for sometime and I'm so glad I did it," says Courtney Taylor. "The fans are really excited that I did this. I had about a year in the industry looking like a young girl, but now I look like a woman. I know this will open doors for me and I'll get bigger projects coming my way."

"We are so glad Courtney's back and she's healed 100 percent," says Sandra McCarthy, Co-Owner. "We're already getting a lot of calls to book her and she's really excited. She was always a beautiful girl, but now she's even more so."

Courtney Taylor is available exclusively at OCM for girl/girl, boy/girl, solos, softcore, print/stills, bondage, fetish and more. For more information, log onto their website, ocmodeling.com.



Boo!

Scary. Scary. Scary. Scary. Scary.

Tabitha Stevens and Gary Orona have been putting out porn variations on mainstream thrillers for a few years now, and Zero Tolerance has put five of them together in a package for those who want an economy-size package of shocks and chills (and a little sex). It'll be available on the 20th, but you can probably order it now.

Zero Tolerance invites you deep into the twisted world of official XXX scary movie parodies! Take home this five film collection of sexy sinister cinema that delivers thrills, chills and spills from your favorite thriller and horror classics! From the cursed Crystal Lake nudist camp in Friday the 13th to the 'internal affairs' of Basic Instinct, this terrifying quintet features famous femme fatales and sex-crazed serial killers alike! Follow the hardcore scary action around every perverted curve and take each film to its sexually explosive climax!

I don't know how to feel about this

I was nosing around online and I found the picture below.

I instantly knew who it was and where the picture was taken. Not just "somewhere in Los Angeles" but the address and which room in the studio.

My knee-jerk reaction is "OK, that tears it, I've been doing this way too long." But then I realized that this is part of my work, it's a matter of professionalism that I recognize the girl (and let's face it, that tattoo on her hip is pretty distinctive) and I've known the guy who runs that studio for something like 10 years.

Nice picture, though, eh?





Mystery girl in mystery place.
Back atcha, toots.

September 6, 2011

Tanya Tate strapping on the jodhpurs

Performer Tanya Tate is stepping behind the camera for a new DVD called "Tanya Tate: The MILF Masseuse." With that title, I wouldn't bet against her being in it as well. Tate has a refreshing maturity and a withering wit. I only wish I hadn't listened to so much loud rock 'n' roll in the '70s so I wouldn't spend most of my time with her saying "What?"

Then again, she has trouble with my American accent as well.

Multi-Award Winning Adult Actress TANYA TATE Makes Her Directorial Debut For Filly Films With 'Tanya Tate: The MILF Masseuse.'

The U.K. Sexlebrity brings her unique vision of girl on girl erotica to life with a film that showcases the sexiest of adult starlets in passionate performances.

(Hollywood, CA) After a successful Exxxotica L.A. appearance, Tanya Tate launched into production of her directorial debut for Filly Films; titled Tanya Tate The MILF Masseuse. Set for a fall release, Tanya Tate The MILF Masseuse is to feature a 'Beauty Parlor' theme and stars Tanya in scorching hot sex scenes with some of the most strikingly beautiful women in adult entertainment. Tanya makes love to adult glam model Jelena Jensen, hot new starlet Dani Daniels, AVN Award winning Best Actress India Summer and many other stunning women. Tanya has starred in several best selling lesbian based adult entertainment titles and has established her credibility when it comes to knowing how to please a woman. Tanya knows exactly what the fans want to see.

"I wanted this to be something I would watch," explained Tanya. "I've hand picked these women because I've been attracted to them for so long. Now, I finally have the chance to have sex with them. I'm directing the action as I would like to see it happen. So, I'm inviting viewers to explore these girls with me. Connoisseurs of girl on girl movies are going to enjoy the organic chemistry of this video. Tanya Tate The MILF Masseuse is filled with passion, heat and intimacy."

Tanya Tate The MILF Masseuse finished filming this week and is set for a fall release. Tanya has been posting updates and candid on set pictures via her twitter profile; http://twitter.com/TanyaTate. The British bombshell is also posting clips on her Youtube channel; http://Youtube.com/user/TanyaTateTube. More info on the Tanya Tate The MILF Masseuse will be released on the Filly Films website; http://www.FillyFilms.com.

Before she started filming, Tanya made an exciting Exxxotica L.A. appearance. The Sexlebrity signed at both the Club Spotlight's booth as well as the Penthouse booth representing Danni.com in honor of her title as Danni Girl of the Month for August. There she rocked fans who came out to meet her with autographed posters, 8x10s and DVDs. It was a thrilling weekend for the sex star; "I had an awesome time at Exxxotica, I always do," Tanya said. "Anytime I have an opportunity to meet people who enjoy my work, I take it. Exxxotica brings people out and provides an amazing experience to which I am glad to be a part of."

Images of Tanya at Exxxotica L.A. have already begun appearing in the media. Sites like L.A. Weekly showcased the busty babe at the event. A Tanya Tate gallery of images from Exxxotica will be found on her official TanyaTate.com blog.

Tanya Tate is adding another feather to her cap, as the award winning performer has now made her directorial debut with Filly Films in Tanya Tate The MILF Masseuse. Look for it this fall!

For more Tanya Tate, please visit the Tanya Tate network:
www.TanyaTate.com
www.BookTanya.com
ItsMyUrls.com/TanyaTate

Zero Tolerance going it alone in Europe

The Canoga Park based company (Remember, kids, if it's south of Nordhoff it's in Canoga Park) has reached the end of its European distribution contract and is now looking to blaze its own trail into the European market.

Personally, I'm looking forward to ZT's "My Roommate's Lesbian 2" with October 2007 Playmate Spencer Scott but we have a week or so before that comes out.

Zero Tolerance Seeks European Expansion

Zero Tolerance and its associated companies have decided to move forward with a new distribution plan to expand their reach in the European market. Retailers and distributors can now deal directly with Zero Tolerance for sales and marketing opportunities.

"We were tremendously happy with our relationship with Scala, [their former exclusive distributor] but we've arrived at a place now in the European market where we can handle things directly," said Greg Alves, President of Zero Tolerance Entertainment. "We look forward to maintaining vital relationships with our retailers and our other partners in Europe."

With the recent addition of Angela Bocelli to lead their International Sales Team, Zero Tolerance is confident that their vision to expand their market share will come to fruition. As a 15-year veteran of International sales, Bocelli brings vast experience in product placement working for Fortune 100 companies.

"I'm thrilled about the prospect of further expanding our brand in Europe and beyond," Bocelli said. "I know my passion for this industry will translate into wonderful new relationships and opportunities to work hand in hand with distributors and retailers for years to come." In addition to speaking many languages, Bocelli lived and worked in Europe for over 15 years.

"We're excited about having Angela on board and aggressively expanding our major new initiatives, including Zero Tolerance Toys," said Marcus West, Marking Director at Zero Tolerance. "With our growing team, it is a natural progression to take on the role of distributing directly, and Angela is exactly the right person to be our European liaison."

For inquiries about Zero Tolerance and related companies and products please do not hesitate to contact Angela Bocelli at angela [at] ztemail.com or via fax at: 001-818-717-1905

Please contact her to book an appointment for the Venus or EROFAME shows.

Visit the Zero Tolerance booth at EROFAME October 5-7, 2011, Hanover, Germany.

Sabrina Deep checks in on the condoms vs. testing controversy

The essay is titled "Imposing Condoms Is Not The Solution" which ought to give you a hint about where she's going with this.



The Mainstreaming of Porn, Example #758

We've been through this before, I still think that the so-called "mainstreaming of porn" is a crock, not gonna happen, and if it does ever happen I think porn will have lost a lot of its power. Note the relative power of the word "fuck," which is casually thrown around, and the racial epithet that can now only be referred to as "the N-word" because to even utter it is to brand oneself an irredeemable racist.

Porn does sneak into the national consciousness, however, sometimes by mistake or oversight. Go to this website and click on the "Bowl of Happy" link. C'mon back when you're finished, we'll still be here.

Catchy little tune, no? Nice beat and you can dance to it. It's called "More, More, More" and it was a disco hit in 1974, hitting #4 on the singles chart.

It was recorded by a porn star. Andrea True. She was a porn star before she was a recording artist and the song was released under the name "Andrea True Connection" so they were upfront about it. It's not like the bass player was Stroker Number 18 in a bukkake.

If anything, this is the opposite of the "mainstreaming of porn" because if the uptight crazies get hold of this they'll go nuts. Even though the song was recorded almost 40 years ago.



Sam Peckinpah

Picking the bones of Sam Peckinpah

Sam Peckinpah (1925 - 1984) is an underrated director who is remembered, if at all, for the violence in his 1969 masterpiece "The Wild Bunch." Not the whole movie, just the violence. This is unfortunate, because not only is the violence in "The Wild Bunch" motivated by the story -- and remarkably tame compared to the slice-and-dice slaughterhouse gorefests that masquerade as "horror movies" nowadays -- the knee-jerk "Peckinpah = violence" reaction takes no notice of Peckinpah's ability to build and develop character relationships and his sheer directorial audacity (like the "Wild Bunch" train robbery that takes place in total silence) that make Peckinpah's movies worth seeing and re-seeing.

He also had a great nose-thumbing attitude, best illustrated by his director credit in "The Wild Bunch," which comes right after William Holden's snarled line "If they move -- Kill 'em!"

There are two remakes of Peckinpah movies looming.

First is Rod Lurie's "Straw Dogs," which is coming out in a week or so and looks like a stinkburger as awful as Gus Van Sant's "Psycho." It wasn't helped by the TV ad showing Kate Bosworth shouldering and firing a shotgun down at a 45-degree angle as the muzzle flash illuminates the room. Kind of gives away the ending.

Next is Tony Scott's planned attempt to remake "The Wild Bunch." I hesitate to call this sacrilege or give too much credit to the original, but Sam Peckinpah's "The Wild Bunch" is, like I said, a masterpiece, a look at the end of the old west (it takes place in 1913) as a group of aging outlaws try to make one last score, as they are pursued by a ragtag bunch of vigilantes led by a former member of the outlaw group who has been blackmailed into trying to capture them. There are layers upon layers in the film: the recurring use of "Let's go" is worth a thesis.

I feel about these remakes the same way I did about Gus Van Sant's "Psycho": if they're good movies, that's great. If they're bad, it'll bring people back to the originals. It's all good.



Inari Vachs

September 5, 2011

Inari on the menu at Karaoke XXX in Las Vegas tonight

Karaoke XXX in Las Vegas has found a new venue, The Red Label on West Sahara. The headliner this week is veteran performer Inari Vachs, who is back in the adult industry after a recent hiatus.

Drop by, say hi, buy her a drink. Her birthday was Friday so we're in the zone.

Inari Vachs Hosts KaraokeXXX Mondays
Monday, September 5 at 10pm
The Red Label In Las Vegas, NV

Inari Vachs (www.XXXInari.com) - "Happy Birthday XXX Porn Star" - will be hosting this Monday, September 5 at 10pm. It's happening at The Red Label Bar & Lounge on Sahara.

Welcome to KARAOKE XXX where All Adult Film Stars are welcome. It is a place for the people in the porn industry from talent to adult related companies, just to have fun and network. Now our industry has a place to go every MONDAY to meet more individuals in our line of work. Yes, there will be some outrageous moments and FANS are WELCOME. We want to invite EVERYBODY to our unique version of KARAOKE.

No Door Cover - Always FREE

Bottle Service

Giveaways and prizes throughout the night

The Red Label Bar & Lounge is located at 332 W. Sahara Ave in Las Vegas, on the north side of the street just east of I-15 near the Golden Steer and the derelict Crazy Horse Too. The phone number is 702.382.6288.

The bare-ass Tessa.

Tessa Lane birthday bash in NoHo tonight

Neophyte performer Tessa Lane will be celebrating her birthday tonight at The Federal in North Hollywood, for those who find Las Vegas out of their comfortable-driving perimeter.

I'm running this press release intact from the website where I found it, with the website's own comments deleted because it's their opinion, not mine. I'm mainly running this because I like Tessa Lane, I think she has a lot of potential.

See you there, maybe. It's been a long weekend and I may be too beat to go.

Ideal Image Management Throw's Birthday Bash for raising star Tessa Lane

Raising star Tessa Lane celebrates her birthday at The Federal Nightclub.

North Hollywood, CA, September 1, 2011 (North Hollywood, CA)- This Monday, Sept. 5th, Tessa Lane are pleased to invite everyone to her birthday bash. Rising starlet Tessa Lane returns from her fan-pack debut at Exxxotica in LA where she met fans and signed copies of her self produced gonzo film titled: "Down and dirty with Tessa Lane."

The highly praised venue will be hosted by Tessa Lane and three high profile stars including Khloe Kush, Imani Rose and Amanda Blow.

Music will be presented by DJ Kid Fresh, who toured with celebrities such as Mariah Carey, The Dream and T-pain.

"I'm so excited it is finally my birthday! I've conquered so many things this year; moving to LA, starting in the business, and now celebrating my birthday, says Tessa Lane. I'm really excited to see my industry and celebrity friends coming out to celebrate with me."

"Tessa is everything you want and more in a porn star. She has a knock-out body, wonderful personality and is an amazing performer " says Corey Carnes, co-partner at Ideal.

This exclusive event in honor of Tessa Lane's birthday will be held at The Federal Bar, where she has decided to go all out this Labor Day. The two floor venue includes 2 bars and a roof top and patio. Doors open at 9:30 and red carpet will start at 10pm. The event is expected to reach maximum capacity. Dress to impress. 21 over to enter.

The Federal Bar is located 5303 Lankershim Blvd. North Hollywood, CA.
91601. Industry Free all night!

Ticket prices are $5 dollars before 11pm and $10 after and enjoy 2 for 1
drinks until 10.

Tessa Lane currently can be contacted through Ideal Image Management.




The face of the enemy

August 29, 2011

Here we go again

Free Speech Coalition has announced their discovery of a possible HIV-positive performer in the active performing community and has called for an industry shtudown until it's sorted out. This is the first time this kind of report -- and it is just a report, not a verified occurrence -- has surfaced since the demise of AIM.

The problem -- as AIM found out to its regret -- is that federal medical confidentiality regulations make it difficult if not impossible to distribute information that would help the industry deal with this kind of situation. I was going through the back pages of tod-hunter.net the other day and found the 2004 quarantine list on a disabled page. That was a helluva tool to keep track of the progress of the quarantine.

It was also a helluva tool for the enemies of AIM (notably the AIDS Healthcare Foundation) to attack, disable and eventually kill AIM.

Look for a self-serving press release (and maybe press conference) from the AIDS Healthcare Foundation advocating on-camera condom use.

Information Regarding Possible HIV Exposure of Industry Performer

CANOGA PARK, Calif. -- Free Speech Coalition (FSC), as administrators of the Adult Production Health & Safety Services Program (APHSS.org), would like to address recent reports that an active performer may have tested positive for HIV.

FSC was made aware of the purported incident on Saturday by a reliable industry source. Most importantly, FSC would like to make clear that these reports were not involving APHSS.org testing facilities. This fact has limited the information gathered by FSC/APHSS.org and we can neither deny nor confirm specific facts about this incident. Due to legal issues concerning patient privacy, FSC/APHSS.org, as of yet, is unable to implement exposure protocols and procedures.

It is the recommendation of FSC/APHSS.org that an industry-wide moratorium on production be instituted immediately and continued for a time period until the primary reports are confirmed, and possible first and second-generation exposures have been identified. The quarantine can be extended after that point, if necessary.

According to the information that is available, the performer in question may have tested positive for HIV at a testing facility that does not appear to have protocols or procedures in place for medical follow-up (including generational testing).

However, FSC/APPSS.org cannot act on the behalf of any testing facilities outside the APHSS.org system until we are requested to do so by the performer or any medical advisor authorized by the performer. Again, we have been in contact with concerned parties and have offered to assist them in anyway possible, while still remaining compliant with the performer's wishes for assistance, in respect to legal constraints that require that the performer's privacy be protected, as well as other compliance issues.

In addition to the moratorium on production, FSC/APHSS.org also recommends that active performers who are concerned about possible exposure (or that would like to take extra precautions to confirm their own well-being) consider being tested as soon as possible.

FSC/APHSS.org also recommends that industry members avoid spreading unverified information until the involved parties are able to confirm developments, or until information is received from an appropriate medical authority.

We are committed to assisting any industry members that have concerns involving this incident; if you have questions, please contact diane@freespeechcoalition.com or joanne@freespeechcoalition.com. But because this situation has occurred outside of the APHSS.org database program, we are limited in any available information until we are informed of any details or allowed to assist in implementing industry protocols.

APHSS.org was launched on August 1, two months after the AIM clinic closed due to financial hardship and issues involving litigation that targeted the clinic. As such, FSC/APHSS.org is committed to protecting performer privacy and also to uphold regulations governing compliance with state and federal standards for medical privacy.

The APHSS.org database program was developed by legal and medical experts, as well as industry stakeholders, in order to fill the gap created by the closure of AIM. The program not only offers reliable testing facilities to the adult production community, but also upholds the standards and protocols regarding possible exposure incidents. We strongly encourage all performers, producers and agents to support this program. Our first priority is to protect performers with reliable health services and assist producers with protocols that minimize liability, while remaining compliant with state and federal regulations regarding medical privacy.

For more information on APHSS.org, please contact joanne@freespeechcoalition.com.

I'll be keeping an eye on this. So will you.



One of the revelations in "American Werewolf": The transformation hurts.

Bad moon rising

Jim Powers and Smash Pictures have announced plans to do a parody of John Landis's 1981 comedy/horror romp "An American Werewolf on London." One of my favorite guilty-pleasure movies, "An American Werewolf on London" starred David Naughton in the title role with the luminous Jenny Agutter and the underrated Griffin Dunne as Naughton's buddy who gets killed by werewolves on the Scotland moors and then goes back to London to warn Naughton of his own impending doom -- as he decomposes. (Great makeup work by Rick Baker, which holds up on repeated big-screen viewings.)

I was fortunate to see the movie a week or so before the release and I can tell you a great story about the q-and-a session afterwards if you ask me in person but I'm not going to post it here because it's one of those stories I want to tell myself, not distribute on the Internet so people can tell me about it later.

I think Landis will get a kick out of the porn version. We traveled in the same circles in the '70s and I knew him tangentially, and it appeals to the sense of humor I knew. He also set one scene in "An American Werewolf on London" in a porn movie theater and shot a trailer with the two "porn movie" performers.

Hell, he may even be willing to be a consultant.

Smash Pictures Announces 'An American Werewolf in London XXX'

CHATSWORTH, Calif. -- Smash Pictures has announced that it will be parodying the classic 1981 John Landis film "An American Werewolf in London" in October. Casting for the movie commences next month.

"There's definitely some erotic fixation on werewolfs and vampires lately. It's really the Twilight craze," Smash Pictures Vice President Stuart Wall told AVN. "We have big things in store for this movie -- especially the effects for the transformation from human to werewolf."

Jim Powers is set to direct the movie for Smash Pictures.

On the Hollywood side, there's been news for years that Harvey and Bob Weinstein's Dimension Films is working on a remake after Landis optioned the rights. With the movie not expected to be released to 2014, fans of the original can get their hands on Smash's decidedly sexy version in January 2012.

Get your buzz on

A new romantic comedy from England revolves around the invention of the vibrator, which included among its medical uses the relief of women's maladies that were lumped under the catch-all term "hysteria" and were cured by what we now casually call orgasm.

Nikki Finke has posted the trailer: http://www.deadline.com/2011/08/hot-trailer-hysteria/



Pulp fiction and tits

The Outdoor Co-ed Topless Pulp Fiction Appreciation Society looks like an elaborate publicity stunt for the neo-pulp-fiction imprint Hard Case Crime, but what the hell. It's legal for women to go topless in New York (and other places too, but that's not important right now) and if they happen to be reading books from a particular publisher who am I to argue?

I read one Hard Case Crime book, one that is set in the contemporary porn industry called "Money Shot," and I liked it. This reminder may motivate me to get some more Hard Case titles.



Note prominent foreground placement of book. No need to rush, you'll get to it eventually.
And that's the point, isn't it?

Hard Case Crime books are available at online and brick-and-mortar booksellers and also at the Hard Case Crime website.


August 26, 2011

Academy sets Malcolm McDowell tribute

The Academy of Motion Picture Arts and Sciences, as part of its ongoing programs, has slated a tribute to actor Malcolm McDowell for September 16. Tickets will only be available online and through mail order, which tells me that the Academy expects sales to be brisk.

I have been a fan of McDowell ever since I saw him play the fresh-faced student rebel Mick Travis in Lindsay Anderson's 1969 masterpiece "if...." (a film I have described to more than one person as "Dead Poets Society" with automatic weapons) and I've watched him ever since, for four decades now.

The tribute will include a screening of "A Clockwork Orange," which Warner Bros. is pushing, what that it's the 40th anniversary of the film's release. It's a good choice and a chance to see it on a big screen for those who never have. I would have picked one of his lesser-known films like "Time After Time," "Blue Thunder," "Cat People," "Gangster No. 1" or the maybe-lost "Get Crazy" where he plays a larger-than-life parody version of Mick Jagger.

Or maybe things could come full circle and they could show the complete version of "O Lucky Man!" That would be a joke only I would get, but I can live with that.

Here's a reminiscence from September 2008, the last time I crossed paths with McDowell.

An evening with Malcolm and Lindsay

As I passed Westwood Village and took the turn off Wilshire up Sepulveda Boulevard to go to the Skirball Center, a familiar melody came into my head: the "Sanctus" from the "Missa Luba," an African-music Mass that director Lindsay Anderson had used in his 1968 film "if...." Just the "Sanctus," I assume there was more to the Mass than that but you wouldn't know it from "if...."

Roy Karch had scored tickets for a screening of "Never Apologize," a filmed record of a one-man show actor Malcolm McDowell presented of his memories of working with Anderson. Anderson had directed McDowell in "if...." and I first saw "if...." at midnight screenings in Westwood back in the '70s.

I became a fan of Anderson and McDowell back then, and when I happened to be in London in 1973 when their next collaboration -- "O Lucky Man!" -- opened, I was at the first public performance. I saw the three-hour movie three times before a week had passed, and bought a copy of the script and hand-imported it back home. I was completely pissed off when the truncated version was released in the United States -- which I found out at the L.A. premiere -- and I had carried the book to a screening of the uncut version of the film at the Academy a few years later.

Anderson and McDowell were there at that screening, and before the film ran somebody asked if the print was "the long version."

Anderson replied, "I like to think if it as the complete version."

It wasn't; it was a cut print. The lady I went with, a film fan herself, bristled when I whispered that to her.

"That will be a surprise to Lindsay Anderson," she hissed.

She was right, Anderson was quite surprised.

I took my copy of the script up after the Q-and-A session, and got Anderson and McDowell to sign it. I still have that book. Ask Gram Ponante, he's seen it.

You can imagine how I reacted when Roy Karch told me about the show. I leaped at the chance.

Unfortunately, something came up and Roy couldn't make it, so I went up there alone.

The screening was part of a celebration of the 10th anniversary of the BAFTA L.A. Archive, a collection of oral histories of British filmmakers in Hollywood, so before the show started there was a reception for BAFTA invitees, and as I walked by I heard a familiar diffident voice: McDowell was chatting with some friends at a table outside the reception.

In theater, after an introduction, "Never Apologize" began. On a black screen, the sound of the "Sanctus" was heard over the credits, and then McDowell came out in black T-shirt, jeans and tuxedo jacket, and spent two hours telling about his friend Lindsay.

Anderson was a film scholar as well as a theatrical director. He had been one of the founders of the British film magazine Sequence and wrote a major study of John Ford, an influence and a personal friend. He directed documentary films -- won an Oscar for one, "Thursday's Children" -- industrial films and TV shows before his first feature, 1963's "This Sporting Life," before "if...." in 1968. After "if...." he directed several more feature films including "The Whales of August."

After two hours, the film ended and McDowell came out and talked about Anderson some more, plus his own work with other directors and his current work on "Heroes" -- "I don't know what it's about," he said, telling of a bit of business he did with another actor and being told "You can't touch him, you're dead."

As I walked back to my car, I reflected that I had been an appreciator of McDowell and his work for almost 40 years.

See you at the Academy.



Alana Evans

August 16, 2011

Look for a full house at Porn Star Karaoke tonight

Performer/cutie Alana Evans will be hosting tonight and as I have said for years, the stars bring out the stars so be ready for a good time tonight in Burbank.

As genial boniface Seymour put it in an email today:

The beautiful Alana Evans will be taking the hosting duties this Tues, Aug 16th. Alana is no stranger to hosting karaoke but this will be her first time hosting PSK. Porn Star Karaoke has been a packed house with a lot of the Adult Industry in attendance, so come on down early, grab a seat and have the time of your life with Alana and the rest of the PSK'ers!

Porn Star Karaoke is open to the public as well as to members of the adult industry. Since its start in 2003, Porn Star Karaoke has become the longest-running ongoing weekly event in the history of the adult business.

Admission -- 21 and older, with photo ID -- and parking are free.

Sardo's Grill and Lounge is located at 259 N. Pass Ave in Burbank, Calif. Porn Star Karaoke starts at 9 p.m. For more information, visit the Sardo's website. Adult industry professionals are invited to reserve tables, which are held until 10:30 p.m. Email mail@sardosbar.com.



Ryder wraps 'Hillbillies' spoof

Parodymeister Will Ryder has wrapped principal photography on his upcoming "Beverly Hillbillies" parody and is rushing it into post for awards consideration. The star-heavy cast and Ryder's usual keen eye for replicating mainstream makes this one to consider.

He also threw in a plug for his "Rocky XXX," which has the advantage of not starring Sylvester Stallone and I'm ready to pre-nom it in every category for that reason alone.

Will Ryder Wraps 'Beverly Hillbillies XXX': Box Cover Released

Two Shifts of Post Production Now Underway

(Hollywood, CA) Will Ryder has wrapped principal production on "Beverly Hillbillies A XXX Parody" and now the big budget comedy is undergoing virtually round the clock editing in Hollywood in order to complete the DVD for a late September release. The big budget comedy will be in stores at the end of September from Adam & Eve Pictures and X-Play and early indications are that it will firmly deliver classic television, XXX style, in a most magnificent way.

"We're going old school again with this one," stated a happy Ryder from his bustling office in Hollywood.

"There are a lot of parody movies coming out lately that are science fiction and super hero in nature so we wanted to get back to our roots and deliver classic television with hardcore sex and a witty script for the people that want to see good old fashioned comedy. This movie will also appeal to multiple generations of fans that grew up with the show."

"Beverly Hillbillies A XXX Parody" stars a large ensemble cast including Kagney Linn Karter as the critter-loving Ellie Mae Clampett. One look at the box cover shows that no expense was spared when recreating the iconic look and feel of the 1960s CBS television show.

"We spent a lot of money to deliver a great product to the fans," Ryder remarked.

"It took four days to shoot this movie and I really think the producers nailed this one better than anything I've ever seen before. It was awesome just to be a part of if," remarked Kagney.

"Kagney really became Ellie Mae and you'll be blown away by the accuracy of not only the way the cast looked in their costumes but by the story and how it really is like a sexed out version of the TV show," stated Scott David, co-producer of the movie.

Joining Kagney Linn Karter is Dana DeArmond playing Miss Jane along with Haley Hewes as Granny. Other female roles went to Taylor Vixen, Annie Cruz, Kaylee Hilton, Aubrey Addams, Courtney Page, Vicki Chase and Lucy Blaze. Gary Lee, Otto Bauer, Giovanni Francesco, Ryan Driller, Eric John, James Bartholet and Tucker Slain as the backwoods-challenged cousin are the men.

"I don't think we've ever done a better job creating a spoof episode of an original TV show," Ryder said.

"This was a joy to make and I want to say thanks to our wonderful cast and also to our dedicated crew led by my gaffer and our do-everything guy Tim Studley. He is the best lighting director in the business."

Scenes were shot at a magnificent Beverly Hills mansion with a sprawling curvaceous staircase, marble interiors and a bright blue cement (See-ment) pond just like the TV show and at the LFP soundstage where even a backwoods dilapidated shanty was constructed. The producers also purchased a 1926 Ford Model T Roadster from a farmer in Minnesota and had it trucked to California, then converted into an exact replica of the Clampetts' truck complete with rocking chair for Granny.

"Wow, the box cover looks just like the TV show. I can't wait to see this one when it gets completed," remarked Bob Christian, general manager of Adam & Eve Pictures.

Also due in September is the Sylvester Stallone inspired "Rocky XXX a Parody Thriller" in stores in September. "Rocky XXX" is unlike any other porn movie ever made. Two advance trailers are available to watch now. The latest is the 'Action Trailer' on YouTube at youtube.com/watch?v=Yny3_4fNtO4 and also the original trailer at youtube.com/watch?v=IDak9SgYXGU

Both movies will be in stores from Adam & Eve Pictures and X-Play in September.

For DVD presale wholesale orders of both movies contact Ryan Thomas at rthomas@adameve.com



Erica McLean, Photoshopped onto a picture of my friend Dianne Chandler

It's a small world

The recent interest in the historical Playboy Clubs, partially ginned up by the right-wing terrorists who want to ban anything they disapprove of, brought an interesting skeleton out of director Erica McLean's closet -- she used to be a Playboy Bunny.

I am totally relieved that she worked in an East Coast club because I was a member of the Club but only went to the one in Century City. It would have been embarrassing if she had waited on me and I didn't remember it.

Erica McLean goes from Playboy Bunny to Acclaimed Director

Los Angeles -- Long before the upcoming series "The Playboy Club" was announced, acclaimed director Erica McLean herself donned the iconic ears and one-piece for a role in the real life version. Before "The Flying Pink Pig" courted controversy and the Barely Legal franchise was just a twinkle in her eye, McLean was a Playboy Bunny in one of the premiere Playboy Clubs on the East Coast.

This brief gig has since become a footnote in the director's story, but the small momentum it provided pushed her on the long path to where she is today. After moving on from the Playboy Club, McLean moved to the West Coast and was once again hired by the company. This time, instead of serving cocktails to celebrities and practicing the famous "Bunny Dip," she would be doing makeup for the magazine's centerfold shoots. After working in stills she soon graduated to video, and working on exclusive playmate profiles. She then went on to work music videos for heavyweights like Garth Brooks and Reba McEntire and embarked upon a variety of other projects before returning to the adult industry to found the Hustler's Barely Legal franchise with her late husband. With the success of Barely Legal, McLean soon set her sights on original features with "Erica McLean's Hardcore Circus," and the rest is history.

Fast-forward to today and we can see the successful director in her prime, creating original stories and universes with new own unique authorial stamp.

"It's been a long road, but now I've found my calling in producing and directing adult--and I absolutely love it. Being able to work and create is a dream come true," said McLean.

McLean's highly anticipated sequel "The Flying Pink Pig 2" for CalVista and Cheeky Monkey Pictures and distributed by Metro will be hitting the streets August 30th.

This latest chapter in the food truck caper promises to be more colorful, have more sex scenes with greater intensity, and adds Alexis Texas to the roster with co-stars Sunny Lane, Nicki Hunter, Cytherea, Mika Kim, Breanna Sparks, and Tessa Taylor. Ron Jeremy reprises his role as the villainous rival threatening to take down the food truck once and for all with a naughty sex tape, and Lee Bang, Dale Dabone, TJ Cummings, and Tyler Knight show up to sample the truck's tasty goods.

"I'm proud of it, we had such a great cast. The production was essentially a lot of fun sprinkled with hardcore sex. We took it to a whole new level" said McLane.

McLean's earlier feature "Alice" starring Sunny Lane was recently nominated for a 2011 Nightmoves Award for "Best Parody."

"I'm ticked pink to find out that 'Alice' is up for a Nightmoves Award" said McLean. "So many people get their first recognition from Nightmoves and I'm honored to be considered."

Her latest release "Erica McLean's Flying Solo" for CalVista and Cheeky Monkey is on store shelves now. The fresh compilation features Shayla LaVeaux, Sunny Lane, Cytherea, Nicki Hunter, Sasha Heart, Emy Reyes, and Megan Foxx all exploring their bodies and living out steamy masturbatory fantasies.

McLean will be signing at the upcoming Exxxotica Los Angeles August 26th to 28th at the Galaxy Publicity booth.

Follow Erica McLean on Twitter at @ericamclean and her official Website is ericamclean.com.

Add 'Playboy Club'

As a former keyholder and a longtime Playboy fan, I have been very interested in the new "The Playboy Club" series scheduled to premiere this fall on NBC.

As a longtime graphic-arts hobbyist, I took particular interest in the logo for the new show. I have never been a fan of using the Playboy Rabbit to substitute for the "O" in "Playboy" but that's my particular hangup.

However... I just confirmed (by a look at an ad insert in the September issue of Playboy) that the words "The" and "Club" are in Avant Garde Gothic, a typeface that premiered in the late '60s and was exclusive to one particular magazine until it was released for general use in 1970. (The ends of the C's are cut off parallel to the baseline, a dead giveaway.)

"The Playboy Club" is set in 1962.

Oops.


Western Visuals goes to the vault

The classic-video company re-releases a Samantha Strong title with stars like Ron Jeremy and Cal Jammer along with Tianna Taylor and Nikki Sinn. Check with your retailer of choice about getting your own copy.

'Dark Dreams' Now Available from Western Visuals and Vantage Distribution

Samantha Strong's Lascivious Visions Materialize for the First Time on DVD

Van Nuys, CA -- Samantha Strong's deepest desires come to fruition in "Dark Dreams." Western Visuals and Vantage Distribution are proud to release this classic for the first time on DVD. Helping Strong fulfill her fantasies are Ron Jeremy, Dallas St. Clair, Tianna Taylor, Cal Jammer, TT Boy, Jake Steed, Nikki Sinn, Stacy Nichols, Peter North and Shanna Rose.

Struggling with writer's block, erotic novelist Rachel (Samantha Strong) discovers inspiration during a night of sultry dreaming. Her slumber swiftly turns seductive as her mind wanders into an after-hours dance club where carnal pleasures take center stage. While the derisive DJ (Ron Jeremy) spins the hits, the hedonistic hardcore performances spin out of control. From a lesbian tryst to an interracial three-way, Rachel is provided abundant material for her perverse prose.

"Samantha Strong captivates viewers once again in this steamy story," stated Steven Marks, Vantage Distribution's Production Liaison. "With her commanding role in these provocative scenes, I'm quite confident that Dark Dreams will be a hit all over again."


August 15, 2011

Journey number 1: From Holmby Hills to Universal City-adjacent

October 2007 Playmate Spencer Scott (not "former Playmate," never "former Playmate," it's a lifetime designation like "Oscar winner") has crossed over to The Dark Side, sort-of (she's only doing solo and girl/girl) but whenever a mainstream-type joins the adult side it's news. Maybe she'll do a g/g with Teri Weigel, that would be kinda cool.

PR with errant "former Playmate" designation follows.

LA Direct Models Signs former Playmate, Blonde Bombshell Spencer Scott

Los Angeles, CA-- LA Direct Models (ladirectmodels.com), the largest and most prolific agency in adult entertainment officially signs swimwear and lingerie model Spencer Scott to an exclusive contract.

Wanting to move into the mainstream adult industry for quite some time, former Playboy model and Playmate of Oct 2007 Spencer agreed to contract terms with LA Direct Models earlier this week. The 5'4" blonde bombshell has been in the business for over 5 years, making appearances on the reality show, "The Girls Next Door" as Holly Madison's assistant.

Portrait of the artiste as the October 2007 Playmate. Picture Copyright (c) Playboy.

"I'm really excited about the opportunity to work with Derek and the team at LA Direct Models," says Spencer. "I've been doing nude, swimwear and lingerie spreads for awhile and been thinking about going into the adult business for quite a long time. This is the perfect partnership in helping me to do that while being represented by the most reputable agency in the business."

"Spencer was referred to us by a cable television producer client of ours," says LA Direct Models owner and founder Derek Hay. "We are delighted to work with her. She is as beautiful as you would imagine a former Playboy model to be, but equally as important, she has a spark about her and the motivation to succeed that is so important in the industry today. We foresee a bright future for Spencer."

Spencer has her first girl/girl shoot this weekend and is shooting with Earl Miller and can't wait for more opportunities to come her way.

For more information on Spencer, please visit: spencerscottnaked.com.

Disclaimer: Playboy and Playmate are registered trademarks of Playboy Enterprises which is entirely unaffiliated with this website, Direct Models or the adult acting career of Spencer Scott.



Journey number 2: From Flamingo Road and Arville St. to Paradise Road and Harmon Avenue

The AVN awards and Adult Entertainment Expo have been moved to the Hard Rock Hotel & Casino from the planned Palms Casino Resort, which has been the venue for the AVN awards the last few years. Details follow:

AEE, ANE, AVN Awards Moves to Hard Rock Hotel

CHATSWORTH, Calif. -- The dates for the Adult Entertainment Expo (AEE), Adult Novelty Expo (ANE) and the AVN Awards will remain January 18-21, 2012, but the venue is changing to the hip and happening Hard Rock Hotel & Casino.

The trio of events at the Hard Rock gives attendees a bigger space to mix business with pleasure. The hotel has more meeting space and gives customers more flexibility with suites, meeting rooms and exhibits.

AEE runs January 18-21, ANE takes place January 18-20 and the must-attend AVN Awards will be Saturday, January 21 at The Joint, a world-class concert venue inside the Hard Rock. Internext also will be taking place at the Hard Rock, January 15-17.

The format of the show will be familiar to past attendees, but with some fresh twists that add value for both the industry professional and the consumer. AEE and ANE includes traditional exhibits, meeting rooms, exhibit suites, more networking events, more parties, more product demos and more educational components.

The change of venue also affords attendees a substantial discount on room rates at the hippest hotel in Sin City. The Hard Rock is offering rooms from $99 (Sunday-Thursday) and $179 (Friday/Saturday).

In the coming weeks and months, look for more exciting announcements on AdultEntertainmentExpo.com about the January 2012 events, including the registration website, which will be live by mid-September.

The AVN Awards, the showpiece of the adult entertainment industry, is set to rock The Joint on Jan. 21. The Joint is a sleek and upscale 4,000-seat showroom that has the reputation as one of the most sophisticated and authentic venues in Las Vegas.

The new venue will have tables for industry attendees interested in purchasing them. For more information, contact Bonnie LeBlanc at bonnie.leblanc@avn.com. Information about submitting pre-nominations will be forthcoming.

ANE exhibitor inquiries may be directed to AVN Director of Sales Sara Harter at sara.harter@avn.com.

ANE seminar/workshop inquiries may be directed to AVN Senior Editor Sherri Shaulis at sherri.shaulis@avn.com.

AEE exhibitor inquiries may be made to January Robbins: january.robbins@avn.com.

AEE seminar/workshop inquiries may be made to Tom Hymes at tom.hymes@avn.com.

All other inquiries should be directed to Beth Noonan at beth.noonan@avn.com.



Hard Rock Hotel & Casino floor plan. Click for a better image.

This strikes me as a step in the right direction because although the Palms has a lot to recommend it, it does not have a convention center. The Hard Rock does, and it's right next to The Joint where the AVN awards will take place. (I think it's a new Joint because I think the old Joint was elsewhere on the property, I believe in the two black areas near the Luxe Bar. Anybody know for sure?)

ETA: I was right, the old Joint closed in 2009. This one is new. Still don't know where the old one was, though.

This makes January a complicated month. If you look at this painstakingly hand-annotated January calendar below, you'll see that the ANME Founders show (Green) will take place Jan. 7-8. That's at the Burbank Marriott. Right after that, Xbiz rolls in with its own retail show (Light Blue) Jan. 9-10, also at the Burbank Marriott; the digital media conference (Dark Blue) will be Jan. 9-11 at the oh-so-trendy Sofitel in West Hollywood (across the street from the Beverly Center where -- in the words of the sainted Steven Dorfman -- "You can buy clothes that you can only wear at the Beverly Center"); and the Xbiz Awards (Gold Star) Jan. 10 at a location to be announced "in Hollywood."

The traditional Consumer Electronics Show (Orange) will take place at the Las Vegas Convention Center and surrounding venues Jan 10-13, and the AVN is now tail-end Charlie with the Novelty Expo (Pink) running Jan. 18-20, concurrently with the AVN Adult Entertainment Expo (Red) Jan 18-21 and the AVN awards (Gold Star) on January 21.



So if you thought four days was too much, see what you think when it's TWO WEEKS.

Good news about the Hard Rock move

The venue change means that the boutique Rumor hotel -- which has some suites that are begging to be used for locations -- is right across the street from the Hard Rock.

I have been in touch with them and if they have any announcements or offers they'll let me know.



Grauman's Chinese, now and forever. FUCK that other guy .

Sic semper shithead

Back in the '70s, a moneyed asshole (whose previous claim to fame was producing the teen romance "Buster and Billie") put his name on Grauman's Chinese Theatre like a tagger with a can of spray paint.

From the day he committed that atrocity, I waged a one-man crusade to restore name of showman Sid Grauman to his best-known creation, one of the two most famous movie theaters in the world -- and it still has daily film showings unlike the other one, Radio City Music Hall. Every time someone ignorant of Hollywood history used the other name in a newspaper or on television, I sent a polite letter saying that the real name of the place was "Grauman's Chinese" and please use it.

The rat-bastard died in 2001 and the place officially was renamed "Grauman's Chinese" in 2002 and no one was happier than I was -- although my pleasure was somewhat mitigated by the other "improvements" which included removal of the '50s-modern neon marquee, removal of the custom-made seats (one inch wider than standard theater seats) and their replacement with reclining seats with cup holders and the removal of the projection booth and its replacement with a larger concession counter, destroying the front-on projection that made Grauman's a movie showplace for half a century.

A couple of nights ago I was coming home from the Magic Castle and I noticed that the accursed name was no longer showing on the electronic marquee for the adjacent multiplex, which still held the old name. I looked in Sunday's paper, and it seems that none of the company's theaters -- and they used to have scores of them all over the Southland -- are under the company's control. The company doesn't even run ads in the Times any more, and every theater chain used to get free ads in the Times in exchange for running the L.A. Times trailer.

Piqued, I looked on the company's website and it said they were a "boutique theatre chain which currently owns and operates 3 theatres with 21 screens in Southern California, with the circuit's primary area of operation being the greater Los Angeles area."

Couldn't happen to a more-deserving person, that his name be lost and forgotten. Except for the credits of "Buster and Billie," which is a more appropriate memorial anyway, seeing as it is also forgotten.




National Airport. And don't you forget it.

Add Grauman's Chinese

A friend of mine just pointed out that she has the same problem with the relatively-recent addition of the name of Ronald Reagan to DC's National Airport, part of the RWNJ crusade to have something named for the right-wing idol in every county in the United States.

And she lives in the DC-adjacent area, so she finds herself saying "It's National Airport" a lot. As she puts it, "Reagan's already dead, so I don't know who will have to die to get his damned name off of the place."

Fortunately, I lucked out because the Los Angeles tribute is the Ronald Reagan State Office Building in downtown Los Angeles and "Ronald Reagan SOB" rolls off my tongue very easily.


I wouldn't worry about geting sied by Howie Mandel. He'll probably be laughing too hard.

August 13, 2011

Bobbi Starr's 'Bobbi's World' website premieres Sunday

When you're hot, you're hot, and Bobbi Starr is smokin' lately. First the Juliland-affiliated website, then the Evil Angel directing contract, now this, released so quickly that I only got the information yesterday.

Check it out.

'Bobbi's World' Premieres Worldwide on EvilAngel.com

Bobbi Starr's Directorial Debut Offered as Pre-Release Web Broadcast
Studio Gives Streaming Exclusive to EvilAngel.com Members

Van Nuys, Calif. -- Evil Angel is pleased to announce the Web-exclusive movie premiere of "Bobbi's World," Bobbi Starr's first release under her newly inked directing deal for John Stagliano's Evil Angel Video. The XXX superstar's "femme POV" movie is slated for hi-def streaming on EvilAngel.com starting August 14 as a pre-release available exclusively for the studio's membership site customers, a full 10 days in advance of the DVD, VOD and download street date of August 24.

"The timing of Bobbi's debut at Evil Angel coincides perfectly with our marketing goal of offering our loyal members above-and-beyond value as an added reward for their monthly support of our studio," said Evil Angel General Manager Christian Mann. "The staff at Gamma (FameDollars' parent company) has worked with our in-house team to leverage their expertise on the Web with our pervert's vision of how online porn should be presented. John Stagliano's insistence on a quality experience for the consumer is and always has been the objective. At Evil Angel, financial success is not the goal by itself; rather, it's the byproduct of providing value."

Magalie Rheault, FameDollars' Director of Product Development, adds, "This is a perfect example of the synergy between our company and Evil Angel. For the affiliates of FameDollars, who know how great the Website is performing right now, this is just more good news! The window of exclusivity will bring more attention than ever to Evil Angel's official Website. We're very proud of this announcement. Rest assured, this is only the beginning...."

Director Bobbi Starr discussed her feelings about her new venture: "I'm very pleased with the support and attention Evil Angel's given my debut movie, 'Bobbi's World.' The world premiere on EvilAngel.com makes all the hard work and all the time I've put into 'Bobbi's World' worthwhile. Evil Angel's push of my movie reaffirms my belief that this is the best home for my directorial endeavors."

See the trailer for Bobbi Starr's "Bobbi's World" at EvilAngel.com.



August 11, 2011

Moving on

Thanks for the expressions of condolence, it's good to know that when you're going through troubles, you're not alone.

PT takes on 'The Graduate'

The subversive 1967 classic, which rewrote the book on film comedy, will get the PT treatment. I'm looking forward to seeing it.

"The Graduate XXX: A Paul Thomas Parody"

Stars AVN's Best Actress India Summer, Raven Alexis, Kagney Linn Karter & Lexi Belle

Releasing in September, the New Paul Thomas Presents & Exile Distribution Collaboration Answers the Market Demand For a True Parody

CHATSWORTH, Calif. -- Paul Thomas Presents and Exile Distribution teamed up to give "The Graduate" the XXX makeover it deserves. The anticipated parody will release on DVD in September. It hysterically satirizes the 1967 classic, starring Dustin Hoffman, with some of today's top adult performers including AVN's Best Actress India Summer as Mrs. Robinson, Anthony Rosano as Ben, and Raven Alexis as Elaine. Joining them are Dale DaBone, Veronica Avluv, Kagney Linn Karter, Lexi Belle, Marie McCray, James Bartholet, Herschel Savage, Rod Fontana and Ron Jeremy. Packed with exaggerated comedic interpretations of the original source material, "The Graduate XXX" answers the market demand for a true parody.

"The cast of 'The Graduate XXX' is perfect," says Director Paul Thomas. "Anthony Rosano and India Summer each found the extra bit of humor and satirical angle when playing the iconic characters. I instructed them to make the parts their own and give them a farcical reinterpretation. I respect and love the original movie, but also feel it is ripe to poke fun of, while injecting the right amount of sex and comedy to keep the parody flowing."

"The Graduate XXX: A Paul Thomas Parody" puts a XXX spin on one of mainstream media's most promiscuous features. Just like the original, "The Graduate XXX" follows the life of Ben after he graduates college. Ben falls in love with Elaine Robinson, but in the process gets mixed up in an affair with his parents' friend and Elaine's mother, Mrs. Robinson. The parody treats viewers to a movie ripe with perfect comedic timing and erotic encounters.

Paul Thomas has directed 12 films honored with AVN's Best Picture award. The production company, Paul Thomas Presents gives the famed director the freedom to fully explore the darker aspects of his mind and soul to create cutting-edge, erotic films. Paul Thomas Presents' first releases included the award nominated films "The Twilight Zone Porn Parody" and "Pervert". "The Graduate XXX" reveals a new side to the prestigious director, as Paul Thomas looks to make it his 13th Best Picture.

Exile Distribution Head of Sales Howard Levine states, "'The Graduate XXX' is a masterpiece and Paul Thomas proves how amazing his directorial skills are with this feature. Fans of the original will love the tribute to the original, as well as hysterical spoofing of the iconic movie."

Exile Distribution is aiding retailers and preventing online piracy of "The Graduate XXX: A Paul Thomas Parody" by employing Takedown Piracy (TakedownPiracy.com). Takedown Piracy is the most effective companies patrolling the Internet for pirated content and copyright infringements. In addition, there will be no downloads or VOD sold on the title for one year to promote DVD sales.



Bogdanovich didn't shit-can all the footage from "The Terror," as you can see

Taking aim

The New Beverly Cinema will be showing Peter Bogdanovich's "Targets" on Sunday and Monday. If you've never seen "Targets," I recommend it. Shot on a shoestring budget, the film cuts between two stories: an aging horror-movie actor (Karloff) who is ready to retire, much to the consternation of a young director who wants him to star in his next movie, and a (heavily implied but never stated) Vietnam veteran who snaps and goes on a killing rampage. The two stories come together at the actor's film premiere at the now-defunct Reseda Drive-in, where the offices of Girlfriends Films are now located.

The film was based on the Texas university sniper in 1966 and molded by the fact that Boris Karloff owed producer Roger Corman two days of work. Corman's idea that Bogdanovich take unused footage from Corman's "The Terror" was ignored and Bogdanovich, his then-wife Polly Platt, and writer/director Samuel Fuller put together a different story entirely. (Fuller refused credit, telling Bogdanovich "They'll think I did it all myself." Bogdanovich renamed the film director character "Sammy Michaels" after Fuller's first and middle name.) It was shot on location and mostly silent, with an exceptionally creative and realistic soundscape created by editing wizard Verna Fields, who rescued "Jaws" for Steven Spielberg a few years later.

It's playing with "Two Minute Warning," a film about a sniper at a football game. I haven't seen it and the cast looks pretty good. I think I'll check it out.



Cute little bugger, innit?

Fly takes wing

New online lad mag Fly has surfaced, with a new omnimedia look at the adult industry. It's free to subscribe and there is a really interesting on-the-set article about Miko Lee's "Forbitten Desires" near the back.

Check it out.

Free To View UK-Based Digital Magazine, FLY Magazine Ready to Take Flight!

LONDON -- Launching today 11th August, FLY magazine will be the Internet's first fully interactive Adult online magazine that is at the very forefront of adult entertainment.

FLY is a totally free monthly digital magazine covering all aspects of the burgeoning adult industry. Written and designed by industry experts, FLY previews the biggest stars and productions and reviews the top titles that are making news worldwide.

Utilizing an innovative approach to appeal to the widest possible audience of both men and women, FLY is at the cutting edge of technology and design, giving the reader a cool, witty and informed guide to all things adult, supplying a unique platform and medium for consumers to read.

FLY will champion the adult industry and give it a cool bespoke voice to an ever growing readership from all demographics.

FLY was originally introduced as Knuckle Magazine, but Publisher Neville King said, "Exhaustive and extensive market research helped fine-tune the product, which has become the hipper and hotter FLY.

"FLY will connect with both the young and the old, men and women, from the hardcore fan to the casual and interested users FLY will appeal to all."

The debut issue of FLY is packed with exclusive features, reviews, news and interviews covering every aspect of the adult industry. Among the highlights of this great issue are interviews with top French adult movie producer Gregory Dorcel and stunning sex starlet Tori Black, who is also its cover girl. We'll be taking a look at Barbie porn -- lucky old Ken, eh? -- and the weird and wonderful Japanese sex industry, plus checking out the porn parody that everyone's talking about: Vivid's sensational spoof of The Incredible Hulk!

In addition, porn's sexiest agony aunt, Bobbi Starr, will be sorting out your sex lives and we'll be going on set with a spoof vampire movie that features some of Hollywood's top studs and starlets vamping it up. Our up-to-date review section covers the biggest new adult movie releases, including the likes of Ghostbusters XXX and a raunchy hardcore version of Star Trek: The Next Generation. There's also plenty of juicy news and gossip and where else could you read about how to buy a bottle of Ron Jeremy's rum?

FLY magazine is a unique product, and one that the adult industry has been waiting for. If Variety and Maxim got together to have a love child, this would be it! FLY delivers a fully rounded and completely objective view of the adult industry yesterday, today and tomorrow.

The first issue of FLY will be launched through trulyfly.com, a website that will give the users a great platform to start there FLY experience.

FLY will make its presence known when it launches in July with an international TV advertising campaign a worldwide direct mail campaign spanning over a million email addresses collected from proven adult consumers also in conjunction the web presence will be pushed though an aggressive online campaign and a bespoke viral video push.

FLY's editor explained, "The media integration that goes into FLY is something publishers in the adult industry have tried to do for years. There's no reason why video content has to be distinct and separate from a centerfold or a video review, or why our readers can't access the magazine no matter where they are in the world. Fast internet connections and computing technology have come to a point where an online magazine like FLY is possible, and we're excited to be the first to launch something truly new and revolutionary in the adult industry.

"This magazine will be truly fly"

For editorial inquiries, contact Jason Maskell at jason@trulyfly.com. For advertising information, contact Neville King at neville@trulyfly.com.

Follow FLY on Twitter at @TrulyFlyMag.



The only thing missing is naked people

You can leave your hat on

The clothing-optional Terra Cotta Inn in Palm Springs won the L.A. Times readers poll for Southern California Getaway. Good for them. The place caters to couples and it is not an anything-goes swingers resort but if you feel constricted by a tanning booth and you want to get away for a little outdoor social nudity check it out.

They don't make 'em like this any more

Back in the '70s Golden Age, porn movies were movies. Shot on film -- usually in New York or San Francisco -- with plots and acting and some production values, and shown in theaters. I'm not making the argument that it was better, but it was sure as hell different from the all-sex-for-home-viewing that most porn is now.

One of the best practitioners of the erotic cinema was Radley Metzger, who crossed the hardcore/softcore line regularly, using the nom de porn "Henry Paris" for his hardcore offerings. His unquestioned classic is "The Opening of Misty Beethoven," a 1976 theme-and-variations on Shaw's "Pygmalion" where man-about-town Jamie Gillis takes on the challenge of turning Constance Money from a small-time hustler offering $5 handjobs in a storefront grindhouse to a courtesan.




Before that, he shot "The Private Afternoons of Pamela Mann," where private detective Eric Edwards tails possibly-cheating wife Barbara Bourbon. I haven't seen it since it came out in the '70s and I'm looking forward to it.

Distribpix Inc. is very proud to announce the inaugural offering in their exclusive Henry Paris series which represents definitive editions of the adult films of Radley Metzger. The Private Afternoons Of Pamela Mann, restored in high definition from the original 35mm blow up negative and completely uncut for the first time ever on DVD, arrives August 22, 2011 in a director approved two-disc special edition loaded with an unprecedented amount of supplemental material which presents the film in its proper historical context.

The film that Al Goldstein called "the best film of the year" in 1974 tells the story of a private detective named Frank (Eric Edwards) who is hired by Mr. Mann (Alan Marlow) to investigate the infidelities he believes his wife, Pamela (Barbara Bourbon), to be involved in. Frank's job takes him on a tour of New York City but also finds him becoming more and more interested in the woman he's being paid to follow.

Made with the same flair and style that director Radley Metzger employed in established softcore classics like Score and The Image, his first adult film, The Private Afternoons Of Pamela Mann, is erotica for the discerning cinema fan, a perfect blend of arthouse sensibilities and a keen eye for the sensual and the sublime. Featuring a host of top tier talent from the golden age of adult filmmaking, the film also stars Darby Lloyd Rains, Georgina Spelvin, Sonny Landham, Marc Stevens and Jamie Gillis.

In their ongoing quest to preserve the legacy of the golden age of adult movies, Distribpix has made every effort to document and explore the history of this important masterpiece of erotica, sure to appeal to adults of all ages, male and female alike. Metzger's unique brand of erotic cinema has gone on to legendary acclaim from critics and fans alike. By focusing more on story and production values as much as on the sex itself, his filmography stands the test of time as some of the most mature and beautifully made adult motion pictures in history.

All New Exclusive Special Features Include:
Disc One:

All new restored HD transfer of the UNCUT hard version (83 minutes)
Audio commentary with director Radley Metzger and adult film historian Benson Hurst
Music commentary track detailing the history and stories behind the score
'Eric Edwards: A True American Actor' 40 minute interview/featurette
Original theatrical trailer
Still gallery of color and black and white production stills from the Metzger archives

Disc Two:

All new restored HD transfer of the soft version (72 minutes)
'The Legendary Georgina Spelvin' 40 minute interview/featurette
'The Locations of Pamela Mann' now and then location comparison featurette
'Metzger's Manhattan' featurette with never before seen location and test footage
'The Cutting Floor' collection of never before seen outtakes and rare deleted scenes
2011 DVD release trailer
Ephemera Collection of vintage magazine and newspaper articles and print memorabilia

Also included inside the deluxe packaging is a full color 44-page booklet, "The Story Of A Classic" which includes essays from Benson Hurst, Ian Culmell and Lawrence Cohen providing detailed insight and analysis into the history and cultural significance of this film and the people who made it. The first 1000 copies will also include a limited edition 5 x 7 photo insert of beautiful leading lady Barbara Bourbon and one of her baby tigers, reproduced from vintage 1974 ad campaign materials.

Magic in Las Vegas

An excellent act is playing the Orleans in Las Vegas August 20-21. Kalin and Jinger have impressed me at the Magic Castle several times. Tickets are in the reasonable-for-Vegas $25-$45 range and I recommend them.

Click here for details.